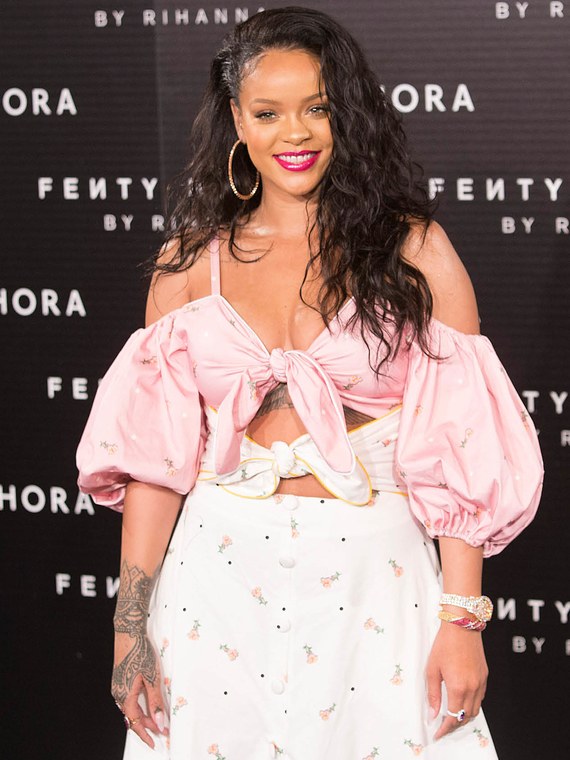 Robyn "Rihanna" Fenty popularly known by one name Rihanna, is unarguably one of the biggest cultural icons of the modern era and has proven that just like she sang years back with Nicki Minaj, she came to win and to thrive. A music artist, fashion designer, beauty creator, actress and philanthropist, she is one of the most influential and successful artists in the world today and dominated across these industries, all before the age of 30! Today, we celebrate this phenomenon as she turns 30 on Tuesday, February 20th by listing reasons why she rocks.
1. She Puts the "C" In Confidence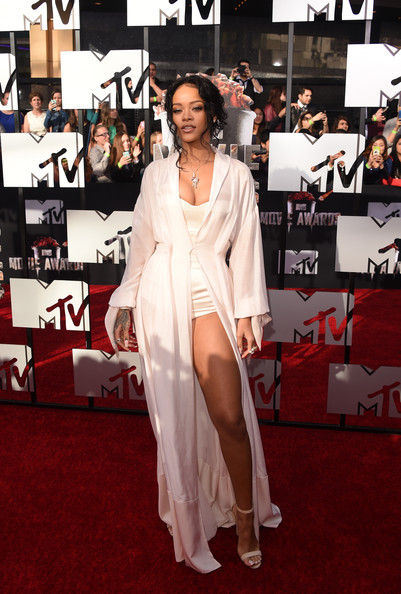 "When you realize who you live for, and who's important to please, a lot of people will actually start living. I am never going to get caught up in that. I'm gonna look back on my life and say that I enjoyed it – and I lived it for me." – Rihanna
Rihanna is one of the most confident women in the world, she is not afraid to be herself in a world that has become increasingly pretentious. She shines the light for young women (and men) everywhere by being a beacon of confidence and self-acceptance. Only Rihanna will wear a bath robe and look like a million bucks because she understands that the clothes doesn't make the person, the person makes the clothes. With various researches proving that confidence is one of the secret ingredients for success, it is no surprise to see Rihanna being the mega superstar that she is today.
"When I was fourteen and first started going out, I always wanted to be the opposite of everyone else. So I would go to the club in a polo T-shirt and pants and sneakers and a hat on backward, just so I would not be dressed like other girls." – Rihanna
2. Highly Entrepreneurial and Excellent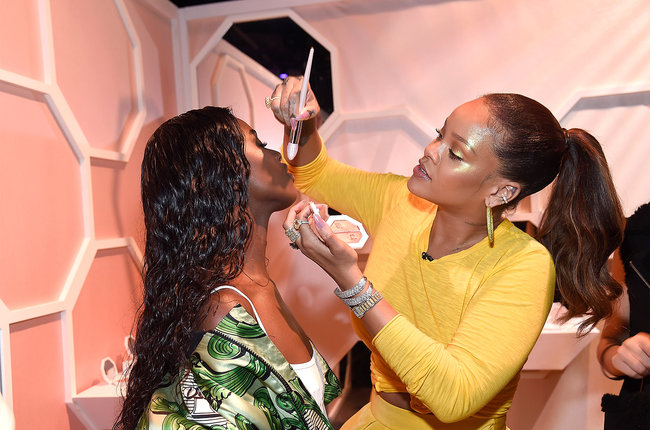 From 2005 when she was discovered by Jay-Z in Barbados, Rihanna hit the ground running and has never looked back. Releasing hits after hits, the singer constantly displays excellence in her music racking up nine Grammy Awards, becoming the youngest person to receive the MTV Music Video Vanguard Award, Over ten American Music Awards and many other accolades.
Over the course of her career, Rihanna has released  eight studio albums, 7 of which were certified RIAA platinum and has 71 singles under belt. Riri has 14 No. 1 hits on the Billboard Hot 100 and is the No-3 artiste with the most number 1 songs ahead of Michael Jackson, Madonna and Janet Jackson, making her the youngest and fastest solo artist to ever hit that number. She is the only artist that produced number-one singles on the Hot 100 chart from seven consecutive albums!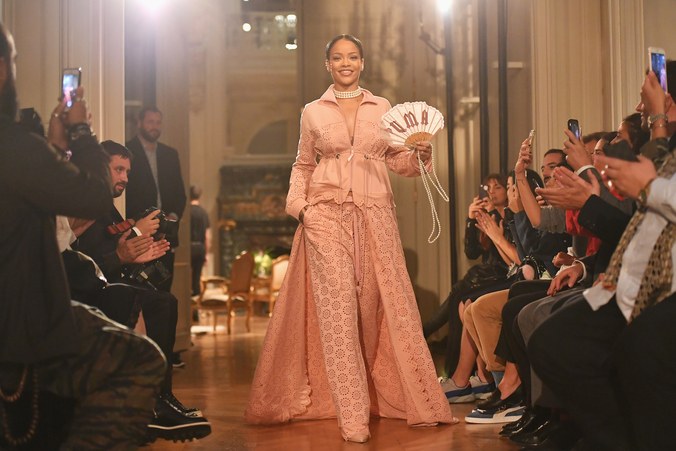 Rihanna's reign is not limited to music as the artiste has consistently demonstrated great entrepreneurial spirits branching off into the film, fashion and beauty industries. From Manolo Blahnik to Chopard, Puma, Gucci and more, Rihanna has collaborated with some of the biggest brands in the world. In 2017, Rihanna released her beauty line, Fenty Beauty and went on to re-define inclusion and diversity with an impressive range of 40 foundation shades. True to her winning ways, Rihanna's Fenty Beauty has won several awards including being named as one of the "25 Best Invention of 2017" by Time Magazine.
3. She is Loyal and Kind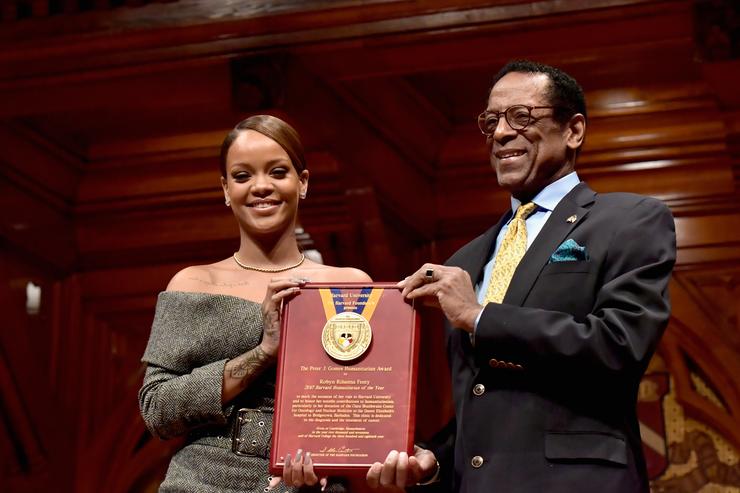 In 2012, Rihanna donated $1.75 million to the Queen Elizabeth Hospital in Bridgetown, Barbados in honor of her late grandmother. She takes her kindness to higher levels through her work with the Clara Lionel Foundation and as the current ambassador for the Global Partnership for Education. in 2017, Rihanna was honored by Harvard University with the Humanitarian Of the Year Award. She recently led world leaders including President of France, Emmanuel Macron to raise over $2 Billion at the Global Citizen Conference in Senegal to aid education in challenged countries.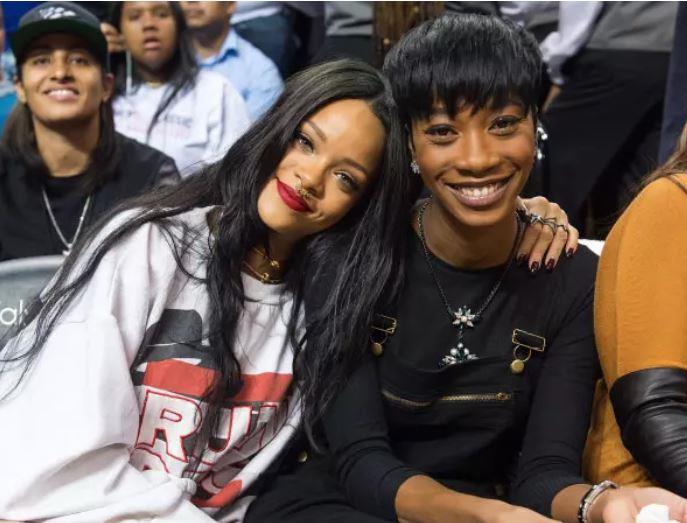 Regardless of her fame, Rihanna has stuck with her friends and extended family whom she's known since she was a little girl in Barbados and has found a way to have some of them work as part of her team. Many who know her closely, attest to the fact that the superstar has maintained her humility and remained grounded.
"You want people who are better than you at their job. If I can do your job better than you, I can't hire you; that's a waste of my time and money. If you have something to offer, I know there is an expertise that I can respect, and I put people in place based on what their strengths are. Most important, I like people who want better for themselves—you could come and work with me for one day and flop at your job just out of spite. I want people who respect their jobs and the position." – Rihanna at Vogue's Forces of Fashion Conference 
At just 30, there is so much more to come from Rihanna…  In June 2018, Ocean's 8 starring the Bajan Ambassador and other Hollywood big wigs like Sandra Bullock will be released and we can't wait to see it and the other amazing things this hard working woman has up her sleeves.
Want more Badgal Riri? Click here to enjoy for some of our most interesting Rihanna stories.