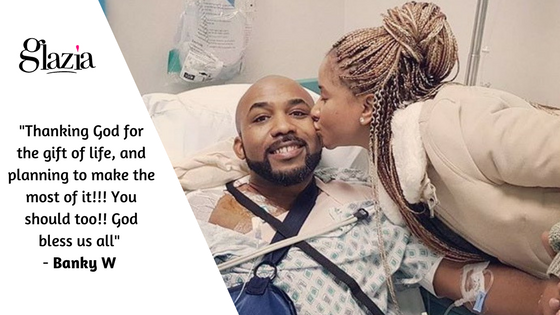 R&B artiste and entrepreneur, Banky W is taking the positive road after his skin cancer surgery revelation. There was an outpouring of love, prayers, support and some worry from fans, colleagues and more following his announcement and this prompted the singer to reassure everyone that he was doing okay.
"Thanks for all the love. I'm sooo grateful. I'm back on my feet thank God. Surgery was a month ago and I'm in the clear, so just thank God for me and be a blessing to someone around U. God is good!! 

Thanking God for the gift of life, and planning to make the most of it!!! You should too!! God bless us all" Banky W wrote on his Twitter page, Thursday evening.
Earlier on Thursday, the singer, actor and all round entertainer took to his
Instagram page
to let the public in on his health issues due to a the reemergence of a rare strain of skin cancer tumors found on his shoulder. He revealed that it was the third surgery he was having for this with the first 2 surgeries being over 10 yrs ago.
"The past few weeks of recovery have been tough, but beautiful. I'm finally back on my feet, feeling stronger and ready to get back to life" he wrote, but he was quick to also thank God, his family, pastors and fiancee, Adesua Etomi for being by his side and supporting him every step of the way.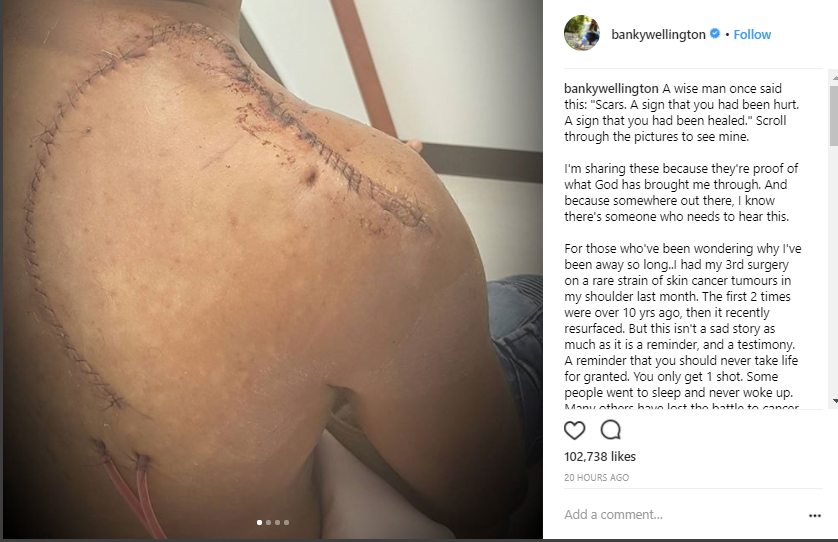 This also means that Banky W was probably fresh off from surgery almost one month ago at the time he was headlining  the 
#RedeemAdewole
 campaign – imploring the Reedemers University to forgive student who was expelled and stopped from graduating due to a Facebook post the school found wanting –  on Twitter.
Talk about selflessness! Wishing Banky W a complete recovery.
Photo credit: Instagram