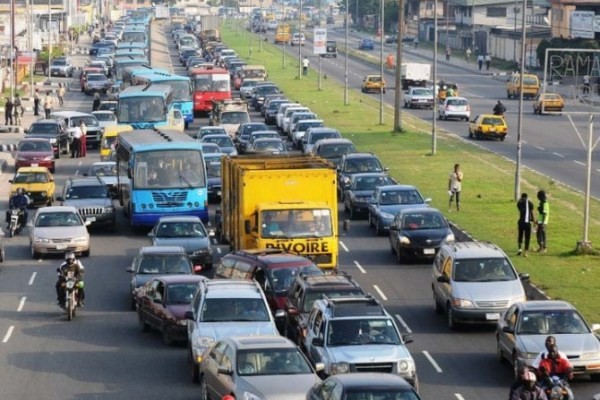 Recently, I visited my good friend and the gist was so sweet, I had to sleep over at hers till the morning when it was time to return home. The rain started very early and we waited till past 6am when the downpour had reduced to the level we can walk with our umbrella before setting out.  It was a 20 minutes walk and it wasn't going to be an easy one, the road wey dey the street nor follow for the Lagos package. 
We finally got to her estate junction and the real battle began! It took us more than an hour to get a bus to Ajah and in that hour, we hustled to jump in moving keke marwa but the Warri in us was more of an ajebutter type than we thought. Even in Warri, we didn't have to hustle and fight to board a bus or a marwa so we really had to dig deep to find the rugged Warri in us and sprinkle a little bit of the rugged Lagosians that we have managed to gather since we started living in Lagos.
Heck, that didn't work too, as we needed more than digging deep for our rugged inner warri or a sprinkle of almost crazy Lagosian. So we just decided to be typical hustlers and literally become careless, we had one goal only – to board a bus or any means of transportation to get us to Ajah because trekking wasn't an option. We finally got out our inner warri and boarded a bus mind you, with me sitting on my friend's laps as there was only one space in the bus which was very scary as I weigh more than more than my friend. So, I had to suspend a part of my weight in the air and held on tightly to the seat in front not forgetting the fact that my legs were so close to whatever was in front of us.
Somehow, the conductor thought that I was pregnant because I had placed my backpack on my stomach and tied my jacket over it. I had to protect my stuff from the rain… We all know the rain that falls in Lagos is highly unnecessary and very annoying. Anyways, we finally got to Ajah, now to face the hustle to get a bus that will get my friend safely to her office and me to the house. We didn't really struggle this time (thank goodness, because I had lost all my inner Warri). We hadn't even moved for 2 minutes before the bus stopped due to lack of fuel. My friend didn't waste time to scream like a proper Warri girl, so una nor get fuel una dey collect N250?
At last, fuel came and we got stuck in traffic but trust a danfo driver to maneuver. I got to my junction leaving my friend to continue on her journey and decided to walk home because my street was flooded. Lagos drivers with their small madness won't fail to drive without care and splash water at ease. So yeah, I got splashed water by every car, and even small keke marwa that I can just smash with my inner Warri strength, also  splashed water on me.
Lagos is definitely not for the fainthearted.
About The Author
Omi T is just a girl with big dreams… Look out for more stories from this Warri girl trying to find her way in life, one experience at a time.