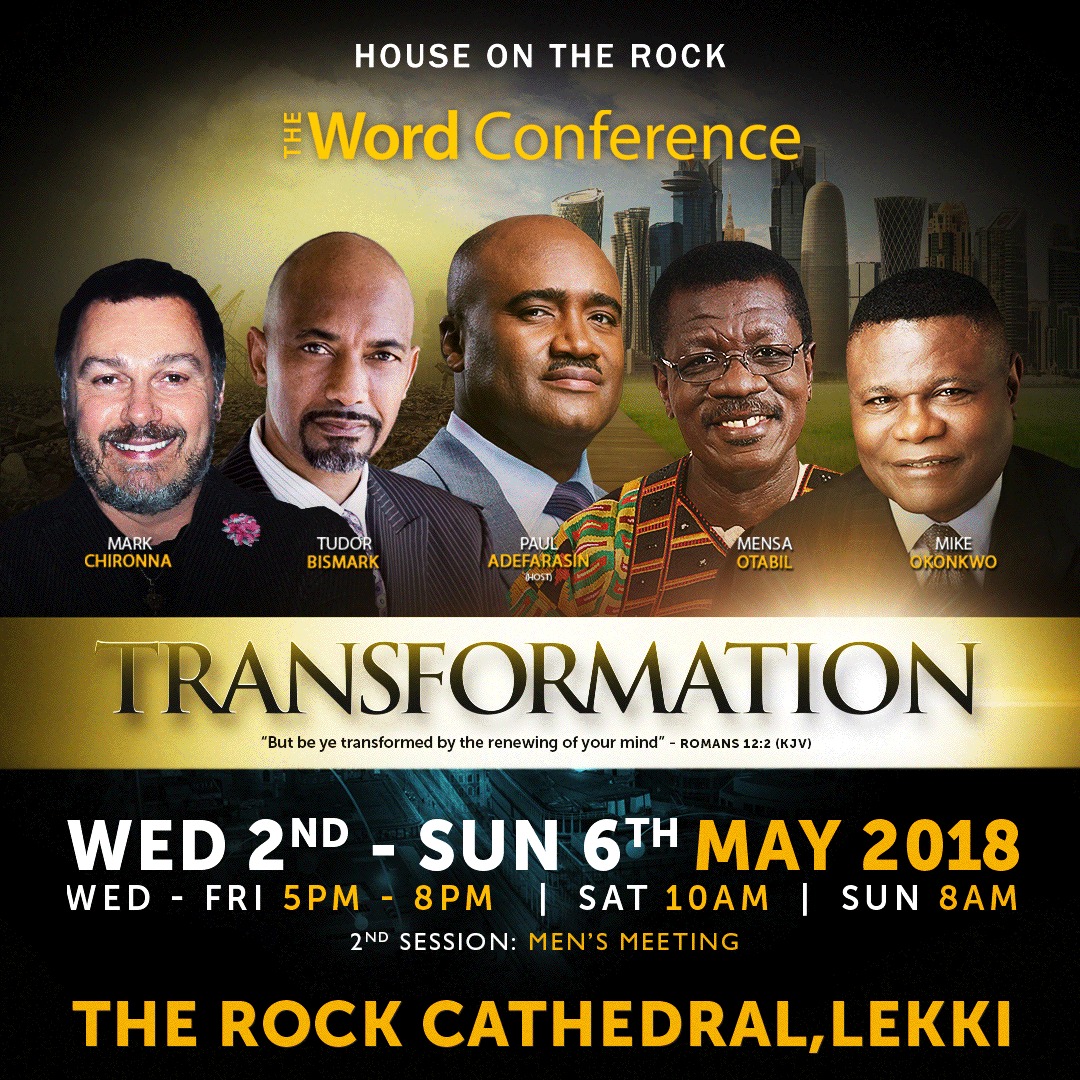 From 2nd to 6th May 2018, House On The Rock, Lagos will host the 2018 edition of the Word Conference. One of the major conferences Nigerians look forward to, the Word Conference has been themed TRANSFORMATION. Considering the times we are in, this transformational conference comes at such a time when there is dire need to experience a change of status quo in the different phases of our individual and collective lives.
On the bill to speak at the faith based conference include Bishop Mike Okonkwo, Dr. Mark Chironna, Bishop Tudor Bismark, Dr. Mensa Otabil and the Conference Host, Paul Adefarasin – the Metropolitan Senior Pastor of all House on the Rock churches. Music is not left out as there will be ministrations by Nathaniel Bassey, ONOS Ariyo, Micah Stampley and Eben.
https://www.youtube.com/watch?v=hde521v1Xz0
According to the organizers, "nothing brings the desired transformation to a person's life than the creative Word of God. This is because when God speaks, He is not merely communicating but essentially impressing upon and impregnating the human mind with the seeds of possibility that can take a prisoner to the palace, take a man from the guttermost to the uttermost and make the least likely become the most mighty". "Transformation is when the acorn becomes the oak tree, when the stump of a tree ends up in a sprawling edifice as a piece of delightful furniture or when the egg becomes the adult butterfly" they added.
Sessions will hold at 5pm daily from Wednesday to Friday, and on Saturday at 10am with a special session exclusively for men immediately after the morning service. There will be a Super Celebration Service on Sunday at 8am. Join the conversation social media with the hashtag #WC2018