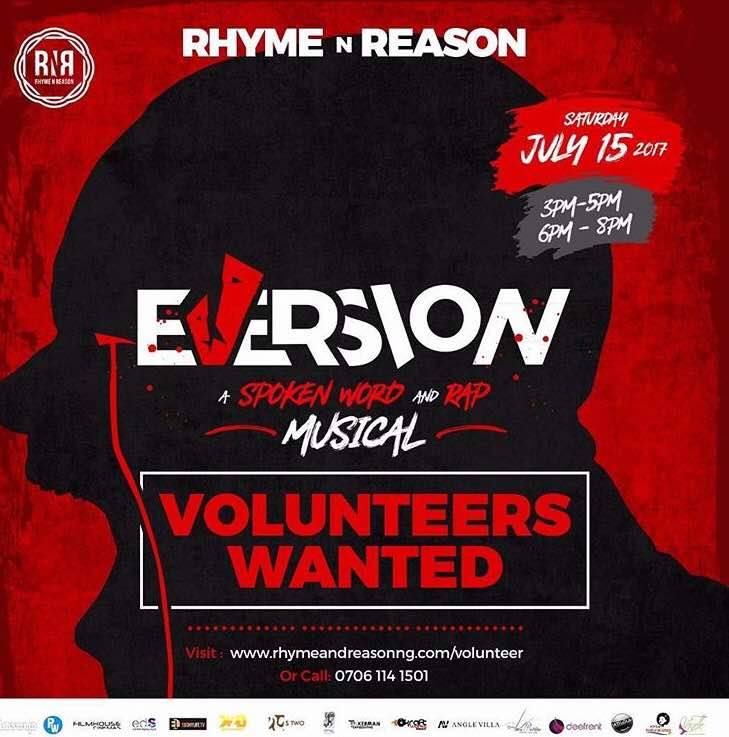 GET YOUR RHYME ON!
On the 15th of July, Rhyme N Reason will host the Eversion 2017 , a one of its kind concert focusing on the vastly growing art form,"Spoken Word". For this year's concert, renowned artists such as Ezekiel Azonwu (USA), Daboomsha, Gamie, Ami (Provabs) and many more will perform at the Lekki Coliseum, Lekki, Lagos sharing Spoken Word, Poetry and Rap Music to the delight of attendants.
The good thing is, you can get your ticket delivered to you wherever you are in Lagos. Visit  Spiricoco and at Ariiya Tickets now to order yours! A great concert is one where you're up every second and remain at the edge of your seat even when you sit down. Those who attended last year's concert titled 'The Excision' can testify that this year's Rhyme N Reason BroadWay Show concert will bring creativity, development and growth at the highest level. Known as one of the most prestigious concerts hosted in Nigeria, the Eversion is set to take Lagos by storm. You will experience so much passion and love, as top artists share life changing lyrics at the event.
Over the past three years, Rhyme N Reason has successfully hosted such unique events featuring local and international artists such as Ezekiel Azonwu, Preston Perry, Jackie Hill Perry, Atilola, DJ Mordu, Plumbline, IBK Spaceship Boi and many more.  This year will be no different so get ready to be entertained.
What are you waiting for? HURRY NOW to Spiricoco and Ariiya Tickets  to buy tickets for you and a friend or two. For more information on ticket purchase, call 07061141501.
By Rhyme N Reason