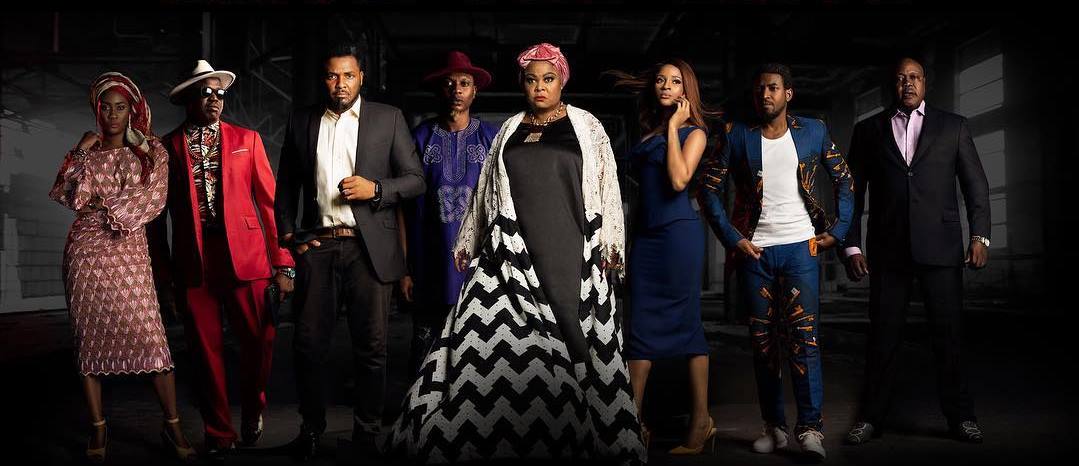 King of Boys has maintained its spot as the number one movie in the last five weeks after making its entry into cinemas across Nigeria.  King of Boys is an ambitious take on Nigerian politics and the dangers of power. First let's give big kudos to the screenwriter and director, Kemi Adetiba for a job well done as she has broken all the records set by the EbonyLife TV movie Wedding Party (Adetiba directed part 1 of the movie) and set to break that of Black Panther (in Nigeria) maintaining the No 1 spot for over five weeks and also the first non-comedy movie to reach N100 million box office. If you are still contemplating on whether to see it, here's a review on the movie to help you decide if it's worth your 3 hours.
King of Boys opens with a birthday celebration, Lagos owambe style, complete with a musical performance by Fuji veteran, K1 De Ultimate. The Nollywood veteran and film's protagonist plays a powerful Lagos politician, Alhaja Eniola Salami (Sola Sobowale) at the a lavish party to celebrate her birthday. The scene introduces the central character of the movie, Alhaja Salami who walks majestically into focus, with her heir apparent, Kemi (Adesua Etomi, who both played mother and daughter in The Wedding Party) trailing her like a shadow.
As far as Lagos is concerned, Eniola Salami knows where all the bodies are buried. She has commissioned a few of the hits herself but has cleaned up good for her birthday in an attempt to reconnect with respectable society. This opening scene establishes all these, but it quickly overstays its welcome as it drags unnecessarily, eventually moving to a shocking display of violence that barely adds an extra dimension to Eniola Salami's character.
Kemi Adetiba takes Eniola Salami on a journey from her childhood, in her Parents' one bedroom apartment, to a brothel and eventually to a palatial home in Lagos where she is not only extremely powerful but where she controls power and has a say on who becomes the next Governor in a vast state like Lagos.
The dialogue, especially on the part of Eniola Salami, is quite heavy on proverbs delivered in indigenous languages and with English subtitles to ensure that the audience can appreciating the gems shared. You'll definitely need a jotter to write them down. The manner in which the writer chooses to have events unfold is a big part of the film's ability to hold interest despite its length which has been a major aspect of the post-premiere conversation.
PROS
King of Boys manages to pull out the most breath-taking performances for most of her cast. Toni Tones as the younger Eniola Salami is able to send shivers down spines in some scenes. Adesua Etomi as Kemi Salami gives a memorable performance for a character that is vastly different from her usual roles. Paul Sambo also stands out as the incorruptible financial crimes operative – Gobir, and Nigerian rapper, Reminisce made a dazzling acting debut in his role as the Makanaki like the part was written specifically for him.
CONS
The habit of not knowing when to quit trails King of Boys, and this shows up in scenes that are either redundant or overstay their welcome. Whilst some of the actors stood out, some failed to deliver. Some roles should have been given to upcoming actors. Nollywood movies now prefer to use big names to sell their films, and lose the opportunity in discovering great new talents.
OVERALL RATING
Kemi Adetiba proves with her 2nd feature film that she is here to stay and carve her name in the history of Nollywood. For a non-comedy movie of that length and with its technical quality, we give King of Boys a solid 8.5/10.
Cast: Sola Sobowale, Adesua Etomi, Reminisce, Jide Kosoko, illbliss, Akin Lewis, Toni Tones, Osas Ajibade and others
Producers: Kemi Adetiba, Remi Adetiba, Kene Okwuosa
Best Dressed | Top 15 Looks from the "King of Boys" Movie Premiere
Review written by Niyi Agbaje