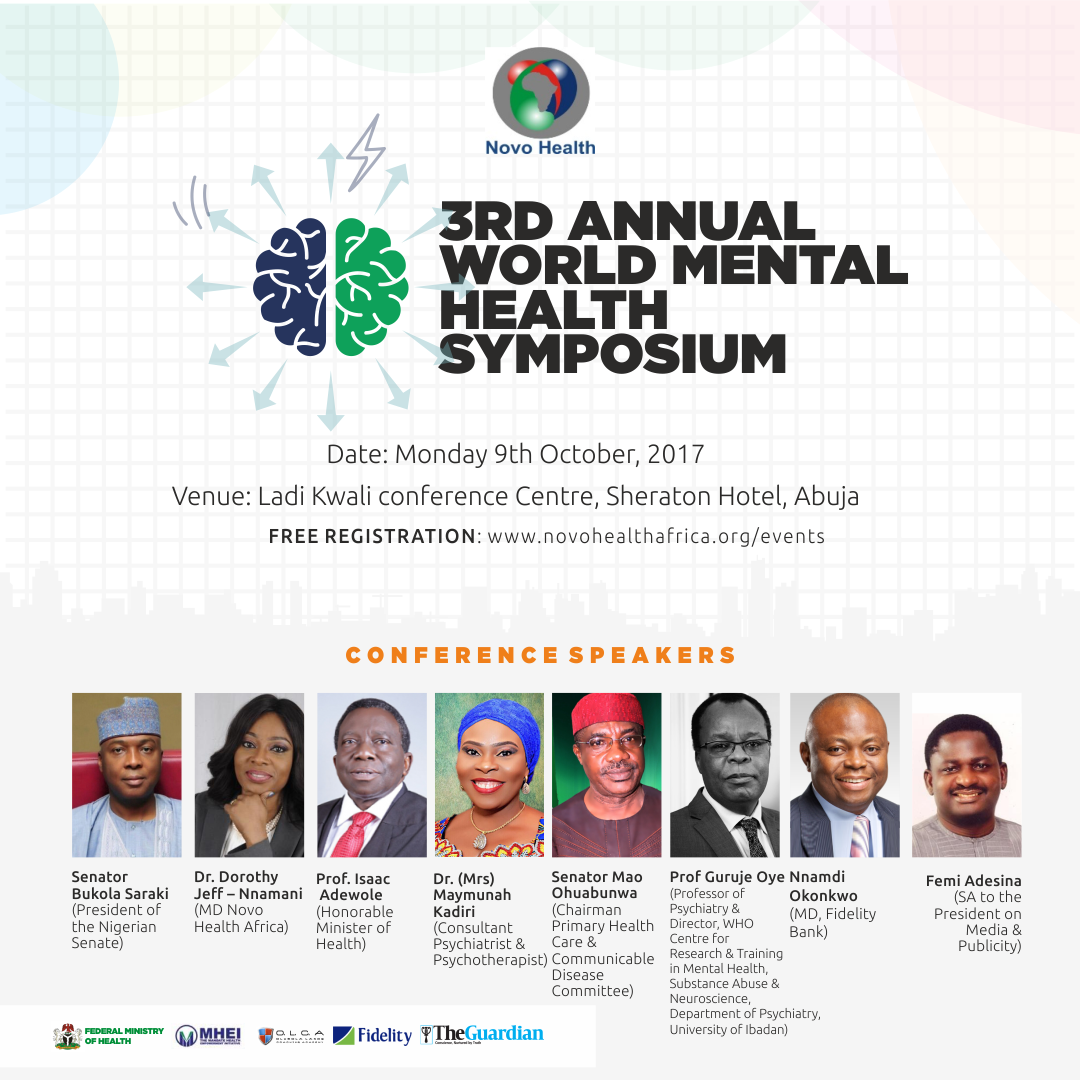 On the 9th of October 2017, Novo Health Africa in collaboration with the Federal Ministry of Health and other partners will host the 3rd annual World Mental Health Day Symposium at the Ladi Kwali Conference Centre, Sheraton hotel, Abuja. Mental health advocates, government representatives, leaders and professionals from different sectors are expected to attend this event as they discuss this year's theme  : 'Mental Health in the Workplace: Role of the Nigerian Corporate Community'
The honorable minister of health, Prof. Isaac Folorunso Adewole who will deliver the keynote speech at the symposium noted that in 2016, there was a 59% increase in demand for mental health services at the Federal Neuro-Psychiatric Hospital, Yaba. Recent medical studies also show that about 64 million Nigerians suffer from one form of mental disorder or the other, with research from the WHO showing that Nigerians are the most depressed in Africa.
Mental Health Challenges And Your Organization's Economy
Scientific research shows that mental illness is the leading cause of sickness absence at work. A staggering 70 million work days are lost each year due to mental health problems in the UK, costing employers approximately £2.4 billion per year. Understanding how the world works and with the environment we are in, it is safe to say this reflects the situation here in Nigeria.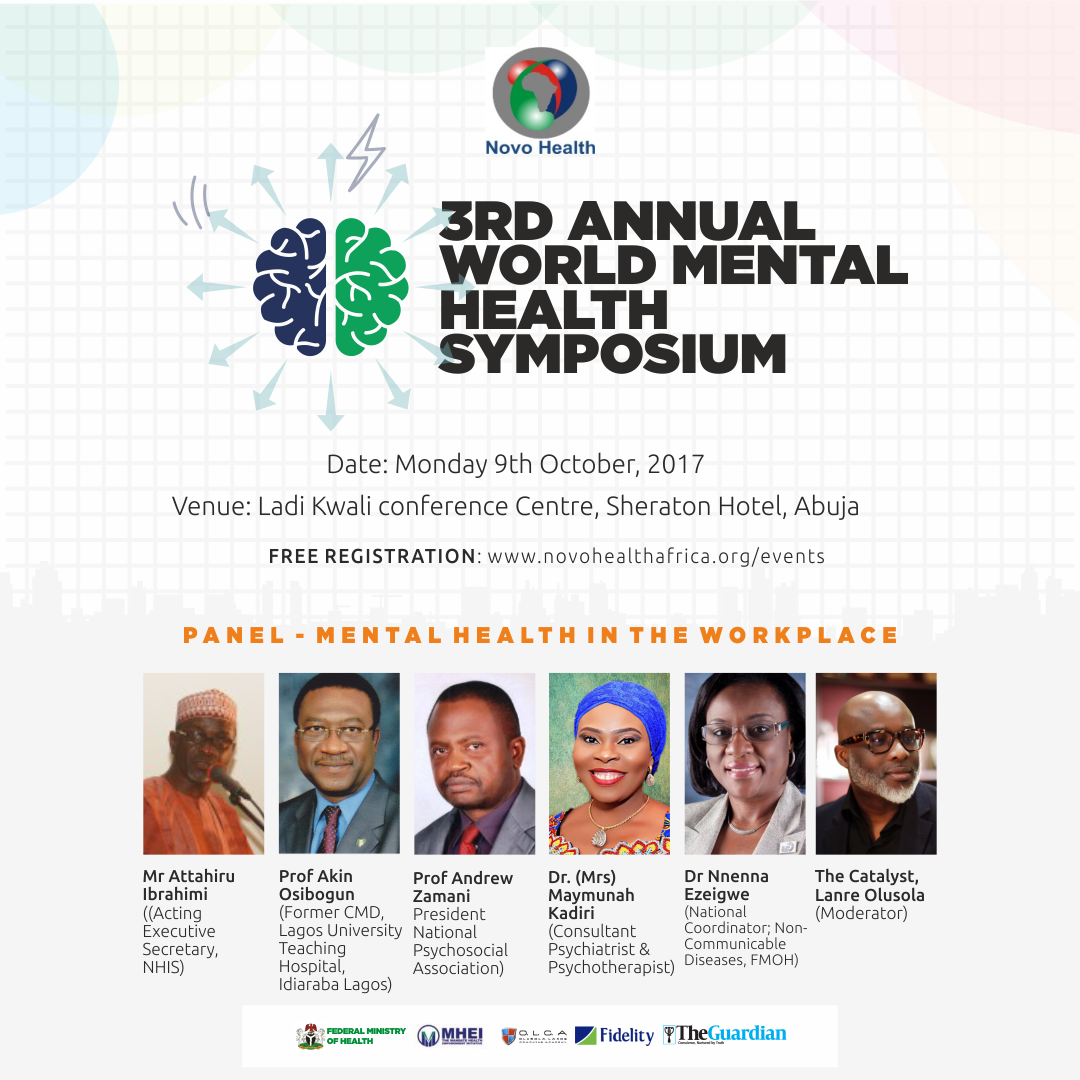 Considering also that most of us spend a huge percentage of our time at work than anywhere else, the importance of the work environment to the general well-being of the employee, the employer and the organization can neither be overemphasized nor ignored.
Dr. Dorothy Jeff-Nnamani, MD/CEO at Novo Health Africa, spoke on the importance of the symposium, commenting that "the socioeconomic and environmental factors are two key determinants of mental health. There is therefore no time such as in these hard economic times to pay great attention to our mental well being. Organizations must take practical steps to foster good practices in mental health to boost employee productivity and in return profitability" she added.
The question thus arises, what is the role of the Nigerian corporate community and our society at large in mental health and general wellbeing of the modern day worker? How do we know when someone around us is suffering from mental illness?
Renowned Life Coach, Psychotherapist and founder of the Olusola Lanre Coaching Academy, Lanre Olusola pointed out that in today's world where we daily experience numerous global issues such as economic recessions, personal financial problems, political instability, social and family instability (separation and divorce), insecurity, abuse and violence, all these and  more create heightened anxiety, fear, trauma, frustration etc. thereby threatening many people's state of mental and emotional stability. Frequent encounters and pressure from common day stressors in the workplace, family and society at large will continue to push our emotional well-being to the brinks.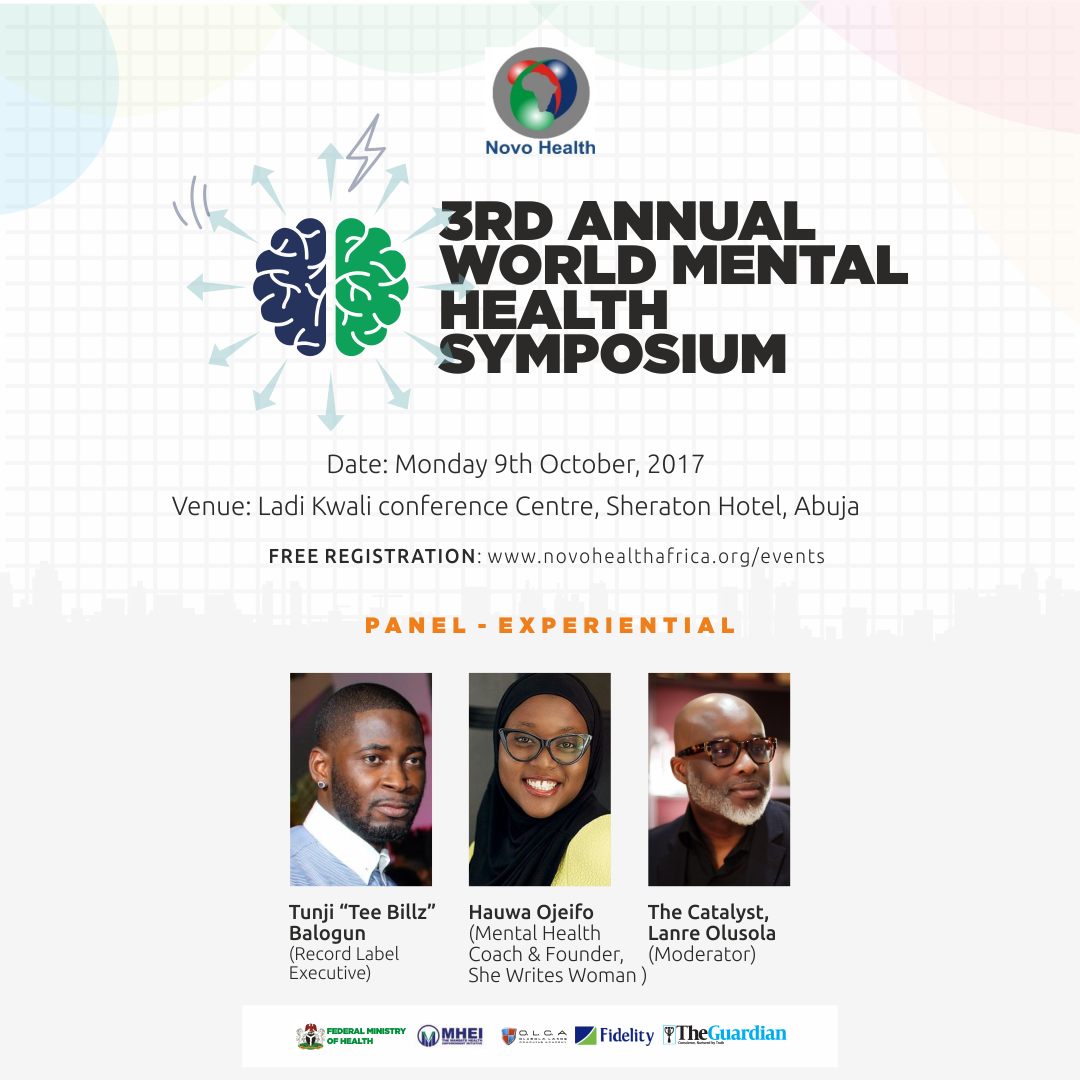 Participants will be equipped and prepared to face mental health challenges head-on, in order to emerge stronger and maintain holistic emotional and psychological wellness.
More Details
Date: 9th of October, 2017
Time: 9.00am
Venue:  Ladi Kwali Conference Centre, Sheraton hotel, Abuja.
Access Free Registration by clicking HERE 
Aside from the minister of health's keynote address and remarks from the senate president, the symposium will host other dignitaries and a panel of stakeholders to address the public concerns on policies, legislation, access to care and real life cases of coping with mental ill-health in our society. Speakers and panelists include:
Mr Femi Adesina (SA On Media & Publicity To The President)
Senator Mao Ohuabunwa (Chairman, Senate Committee on Primary Health Care)
Prof Owoidoho Udofia (Registrar, National Postgraduate Medical College of Nigeria)
Prof Guruje Oye (Professor of Psychiatry and Director, WHO Centre for Research and Training in Mental Health, Substance Abuse and Neuroscience, Department of Psychiatry, University of Ibadan)
Prof Akin Osibogun (Former CMD, Lagos University Teaching Hospital)
Mallam Attahiru Ibrahim (Acting Executive Secretary, NHIS)
Nnamdi Okonkwo (MD/CEO Fidelity Bank)
Dr Maymunah Kadiri (Consultant Psychiatrist& Psychotherapist)
Mr Wole Musugu (Acting HOD Admin., National Bureau of Statistics)
Tunji "Teebillz" Balogun ( Record Label Executive)
Use the hashtag #NovoSymposium to join the mental health and wellness conversation on mental social media, across all platforms.