Iyabo Ojo, Ubi Franklin, Olubunmi Aboderin Talabi, Imma A. Anozie and Amanda Iheme star on our Faces of Hope special issue.
When we stayed up late into the night clinking wine glasses, laughing with joy, hugging and congratulating each other after the countdown to midnight, we had absolutely no idea the historic wave of events the year 2020 would hit us with – and it hit very hard. Everybody's life took a different course when the COVID-19 pandemic caused us to question our original routines, lifestyle, priorities, desires, mentality and also the future.
Our second quarter edition of the year unveils Faces of Hope, featuring five astonishing individuals who sought amazing ways to serve as a "beacon of hope" to others during the lockdown.
They brought us hope in the form of laughter and smiles, child education and entertainment, mental and psychological aid and also, relief materials for the neediest amongst us. "Whilst the world was thrown into disarray, our cover stars took the initiative to provide support through their various platforms.", says Omawumi Ogbe, Editor-in-chief, Glazia Magazine. 
Amanda Iheme works as a psychotherapist and an architecture photographer in Lagos. In 2015, she started practicing as a volunteer counsellor and became the Head of the Counselling Department of the Stand To End Rape initiative until 2018. In 2017, she opened her private practice called NDỊDỊ – which means
'patience' in her native Igbo language – where she currently works with private clients suffering from depression, anxiety, trauma and existential crisis.Glazia editor, Benedicta Omoruyi had a chat with Iheme;
What is the biggest lesson you've learned from the Covid-19
pandemic so far?
It has re-emphasized the truth that nothing is permanent. There was a certain level of comfort and certainty that we lived in as the human
race. We thought nothing could change the way things were going but here we are. Every being's life has been affected by the pandemic and it has allowed for other causes that were ignored or swept under the carpet in past times come to the surface. Change has been the lesson. I should be ready to change which means letting go of what I thought happiness, success, love, being a woman, a human being was, and embrace something new.
As a much sought-after actress, most of Iyabo Ojo's calendar for April was booked. She had movie locations to be at, pre and post production meetings with producers, and her business to attend to. The outbreak of coronavirus all around the world forced the government to close the border and halt economic activities. It looked like her plans would have to take a back seat till when normalcy would return. Welcome to the world of Iyabo Ojo during a global pandemic;
During the pandemic and the consequent lockdown, you brought so much joy to so many with your Tik Tok skits. Why do you think your skits on the app have been such a hit with audiences?
It was because I decided to put in more effort by combining creativity and acting together. Anything worth doing is worth doing well, when I lay my hands on a project, I like to go the extra mile, social media is a powerful tool that can be used to entertain, educate and inform amongst other things so it's important to do it with excellence.
Ubi Ekapong Ofem, popularly known as Ubi Franklin, is an entrepreneur, investor, politician and record label executive. He is the founder of the famous Made Men Music Group where he managed artistes like Iyanya, Tekno, Emma Nyra and many more. Earlier in the year, Franklin was appointed as Special Adviser on Tourism to the executive governor of Cross-River State, Governor Benedict Ayade. Ubi had a chat with Glazia's Rachael Mordi, and this is what he shared with us;
In your SME support initiative during the pandemic, what are some of the things (cash, mentorship etc.) that beneficiaries got, and how are they doing today? Was there any form of follow up?
We gave 45 businesses 100 thousand naira each (i.e. 4.5million naira in total was given out), while two businesses got 5000 dollars each also. And yes, there was follow up on our beneficiaries, and so far, from conversations I have had with the beneficiaries, they are doing well.
Imma A. Anozie is the Founder and Chief Responsibility Officer (CRO) of Livingstone's off-the-street (LOTS) Initiative and Founder of Naysa Cleaning Company. She is a trained Montessori director, certified counsellor, and practicing interior designer. She studied Physics at the University of Ibadan and is presently studying for a Masters in early childhood studies, at Walden University. Imma birthed a vision to transform the minds and character of street children, while supporting their personal development, working with them to create the best versions of themselves so that they in turn, would become positive agents, transforming their own communities and country. Imma's devotion to helping the less privileged children get education in these times, earned her a spot as a Face of Hope
What is the biggest lesson you've learned from the Covid-19 pandemic so far?
The biggest lesson I have internalised is that there is need to redefine our values and the lenses through which we view the world. For me, without living in denial, I have chosen to see beyond the devastating effects of the pandemic to opportunities that are inherent to any crisis. I sought and took advantage of opportunities that came with the pandemic – me time (recognizing my reality and defining myself), family bonding, selfless service, reading books, growing in intimacy with the Father, birthing new business ideas and so forth. My perception of the pandemic has led to an avalanche of opportunities for the students at the Continuous Learning Centre such as being fore-runners amongst their peers to embrace the 'new normal' in education, receiving lessons from seasoned tutors that may never have taught in their schools, learning life principles from motivational videos, utilising phones as a learning tool, accessing seasoned mentors, and developing non-cognitive and leadership skills that position them on the trajectory of life success beyond exam success.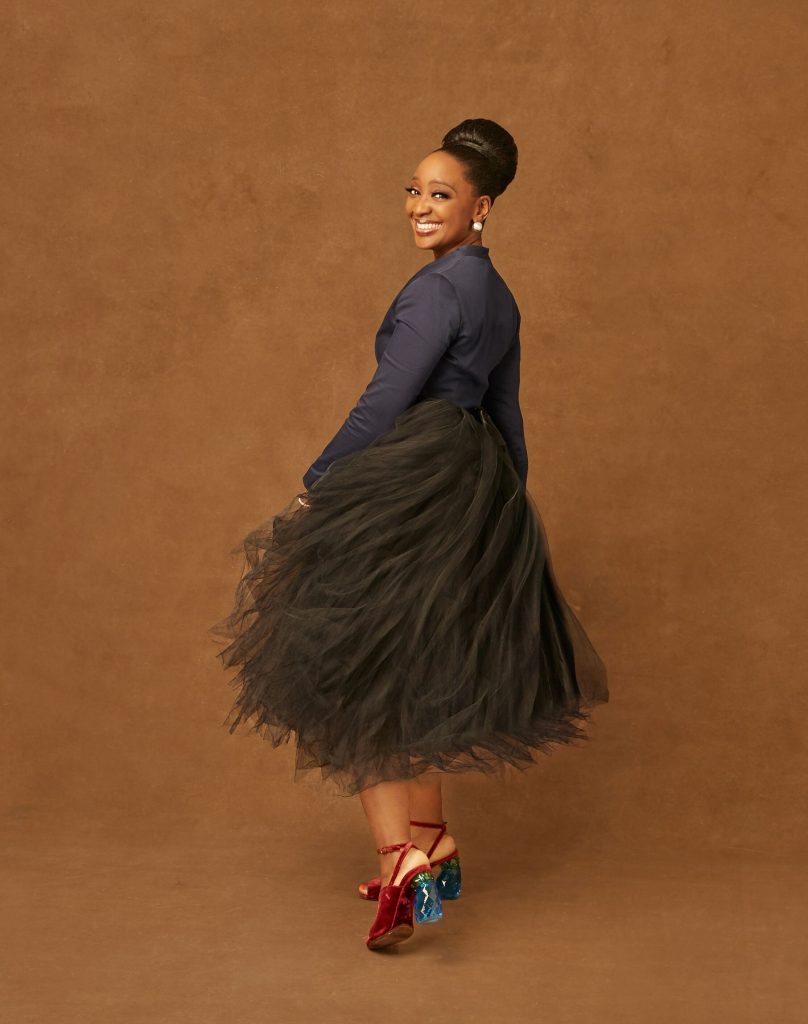 Olubunmi Aboderin Talabi is an author; the founding publisher of Clever Clogs Books – a Nigerian children's publishing company, and the convener of Akada Children's Book Festival, the first book festival in Nigeria specifically for children. The immediate past Executive Council Chairperson of Women in Management, Business and Public Service (WIMBIZ); Talabi is passionate about creating visually-engaging, culturally-relevant content for children. Through her publishing company Clever Clogs Books, she continued to promote the culture of hand washing amongst children and provide useful tips on how children can be productively engaged during the lockdown.
A word of hope to the person reading this?
I will say that this is a new phase, a new world. Enough of the regrets of yesterday, enough of the procrastination, press ahead. Dig deep within yourself, you have talents that you know about. Instead of doubting, keep practicing. Find what you can do best and adapt it to our current environment. Be authentic because each of us has a unique role to play. Build yourself continuously. Build reliable connections too. Take breaks when you need them. Find time to do something new which excites you. Stay connected with people who make you happy. Look out for someone in need and help them if you can; there's a sense of fulfillment that comes from helping others. And lastly, wash your hands, wear your facemask when appropriate, and practice all necessary precautionary measures. Stay healthy and stay safe.
Aside from the cover stories, this edition of the magazine showcases themes around the world of lifestyle and the future of work, listing career fields that will be in high demand in these times. The food segment is popping with insights to help you eat your way to good health. Want to go vegan but don't know how? It's all covered with real-life tips to get you well on your way. Glazia also highlights some of your favourite celebrities on the exclusive best dressed list, plus interesting interviews and contributions from people you should be reading now.
To read their personal interviews and see all the spice in this issue, download the edition for free at www.glaziang.com/magazine and use the hashtag #GlaziaNow to join the conversation on social media.