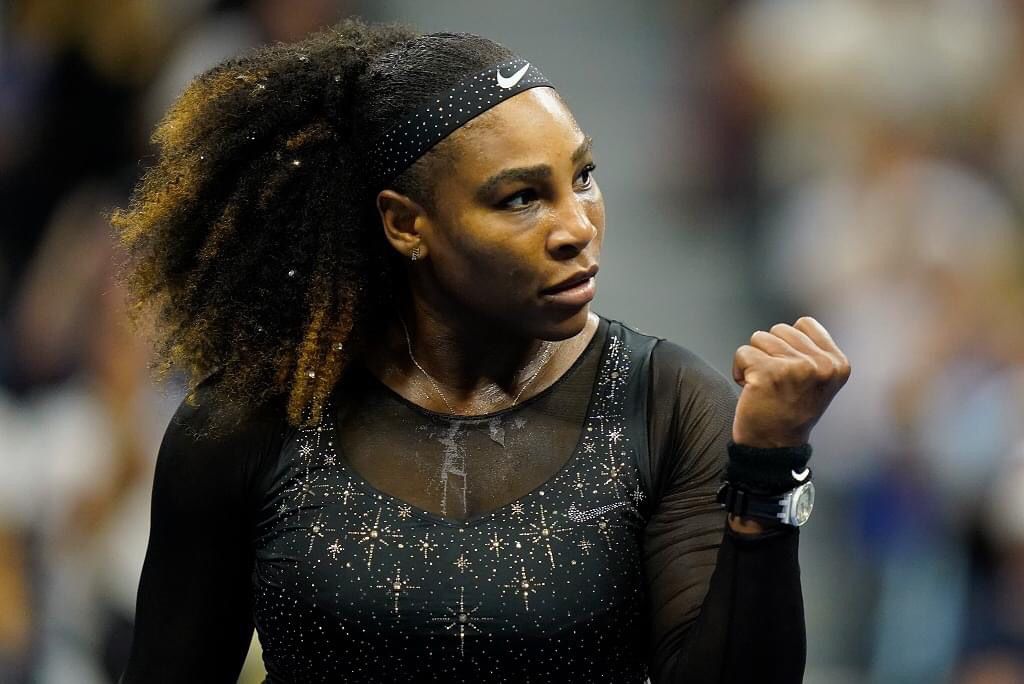 Of the world's population, only a handful make a huge mark in history and leave an incredible legacy behind. These people are called legends, icons, and so on. They carve a path for themselves in industry and leave a visible trail for the world to see. While some are dead and long gone, many others are still alive and presently making a huge impact. Among them is tennis legend and icon, Serena Williams.
Serena Williams
Although Williams has been featured as Glazia's woman of the week; there are many an achievement she has made in the past few days which are worthy of mention. Even better is the fact that although she had announced her evolution from Tennis, (a game she has changed forever), she still has a lot more to give on the court and off the court.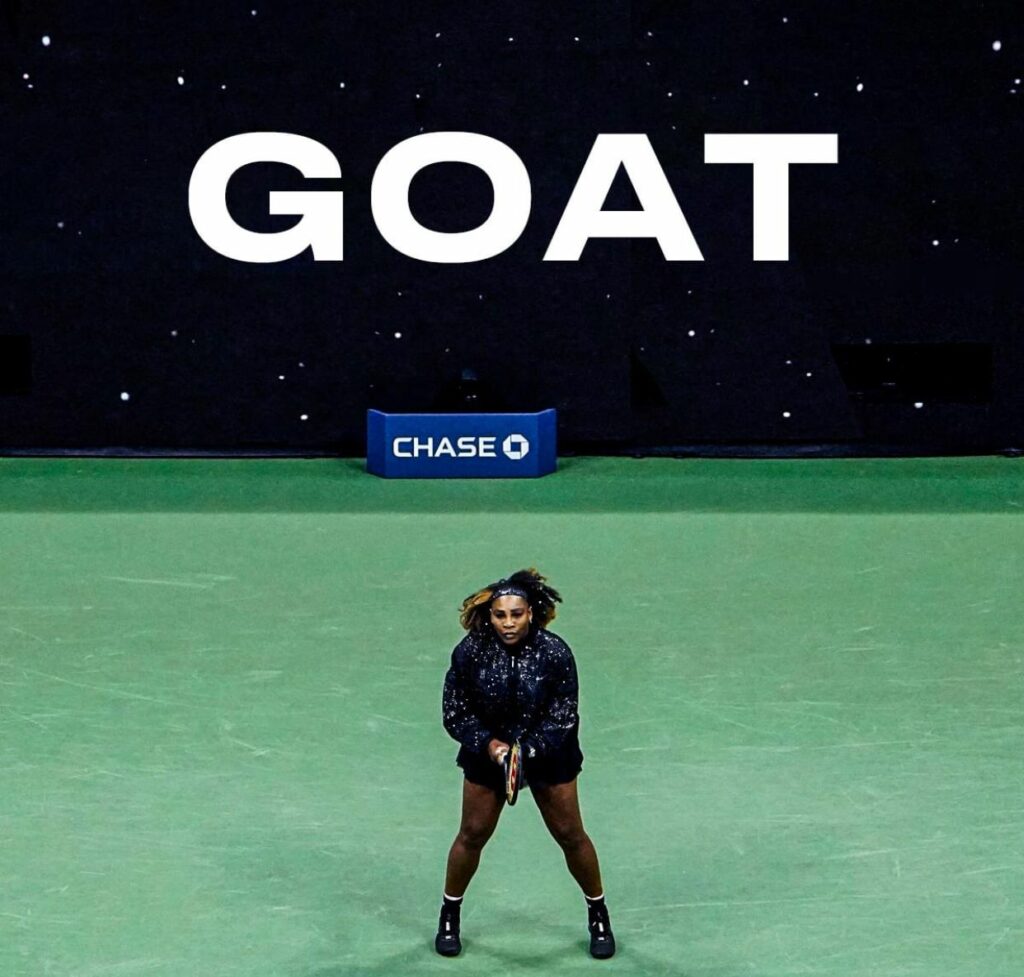 According to a Twitter user, "Serena started with beads, and ended with diamonds". Edging towards 41, Williams has surprised and continues to surprise the world with what she could pull and matches she could win. A fifty-year-old would likely comment on how Williams has always been around tennis because she was phenomenal in her 20s, her 30s, and now, her 40s.
The US Open 2022
The US Open which kicked off on Monday had a record-shattering attendance. First, the US Open records a total of 29,402 fans to watch the legend play; a first-of-its-kind for an opening night. The number, combined with the opening day session record of 41,930 fans set the second-highest single-day attendance mark in US Open history; a total of 71,332 people. Then, channel ESPN pulls in over 2 million US people on the first night; the first time for a first night for the popular sports channel too.
The 23-time Grand Slam Singles winner, Williams has again proved why she is called the "Greatest of all Time" as facing Danka Kovinic of Montenegro on Monday and the current world No. 2, Estonia's Anett Kontaveit on Wednesday has been nothing short of greatness. "It's no rush here (to leave)," Williams said after the match. "There's still a little left in me."
With sister Venus Williams…
Another highlight of hers in the US Open is the doubles she played yesterday alongside her iconic sister, Venus Williams. Both sisters playing their last doubles together after their last appearance four years ago stirred emotions and roars from fans. They lost to 37-year-old Lucie Hradecka and 17-year-old Linda Noskova.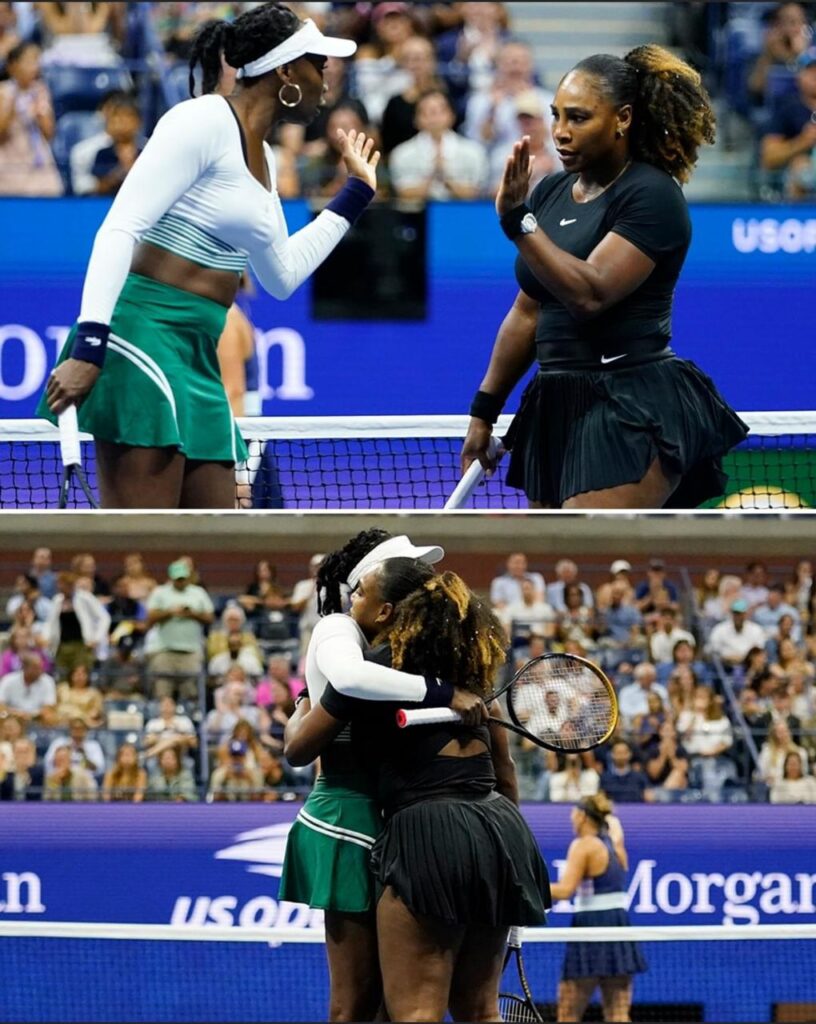 It was also a huge moment to see Williams' good friend and golf legend, Tiger Woods, cheering her on, on Wednesday during her match against  Kontaveit. In an article by PEOPLE Mag, Serena Williams revealed that Tiger Woods is one of the reasons she is still playing and that she had reached out to him when she decided to retire. 
"It was good, because I didn't know what I wanted to do … was just lost, so many questions. When you can rely on someone like that, I mean — my goodness, he's Tiger Woods — it was really helpful to get clarity."
Olympia Ohanian Jr. – Like Mother Like Daughter
Another fan worthy of mention is Williams' daughter, Olympia Ohanian who was spotted in the bleachers, wearing a matching outfit, and holding a camera just as Williams' father did when she won her first major singles title at the US Open in 1999. Olympia Ohanian also paid homage to her mother Serena Williams' iconic beaded hair era for the 23-grand slam winner's first US Open game. See it here.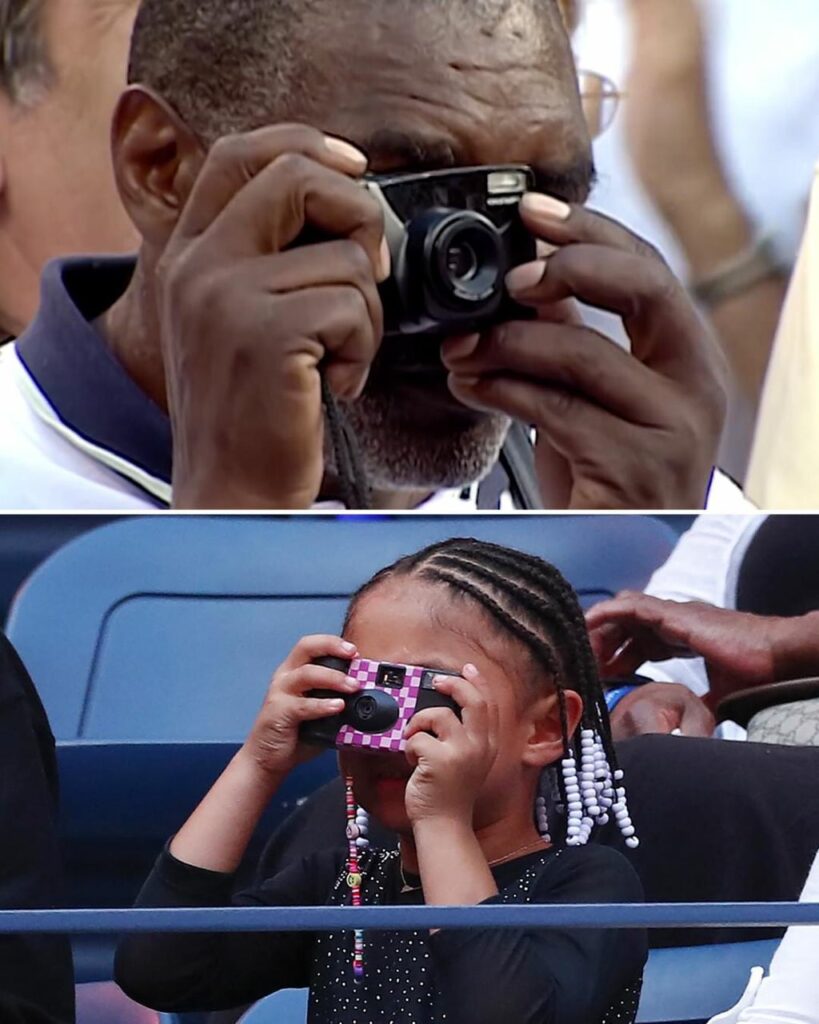 The possibility of breaking another record
A good run so far, Williams would play her last singles against Ajla Tomljanovic today. All fingers are crossed to see if Serena who is one behind Australian Margaret Court's all-time record would strike a tie with the latter's record.
Williams' 23 Grand Slam Singles is the most by any player in the Open Era, and the second-most of all time (behind Margaret Court's 24). She has been ranked singles world No. 1 by the Women's Tennis Association (WTA) for 319 weeks, including a joint-record 186 consecutive weeks, and finished as the year-end No. 1 five times.
An article by the New York Times showed some notable VIP fans who made appearances at the Arthur Ashe stadium on Monday.  They include; former U.S President Bill Clinton, Boxing legend Mike Tyson, Actress Queen Latifah, and Mayor Eric Adams of New York, among others. 
About Serena's iconic US Open look.
Serena Williams wore a custom Nike Court Flare 2s with diamond-encrusted swooshes and Serena Williams's jewellery deubrés on the laces that read "mama" and "queen". Paired with an embellished bodice and tutu skirt inspired by the night sky above center court in Flushing, New York.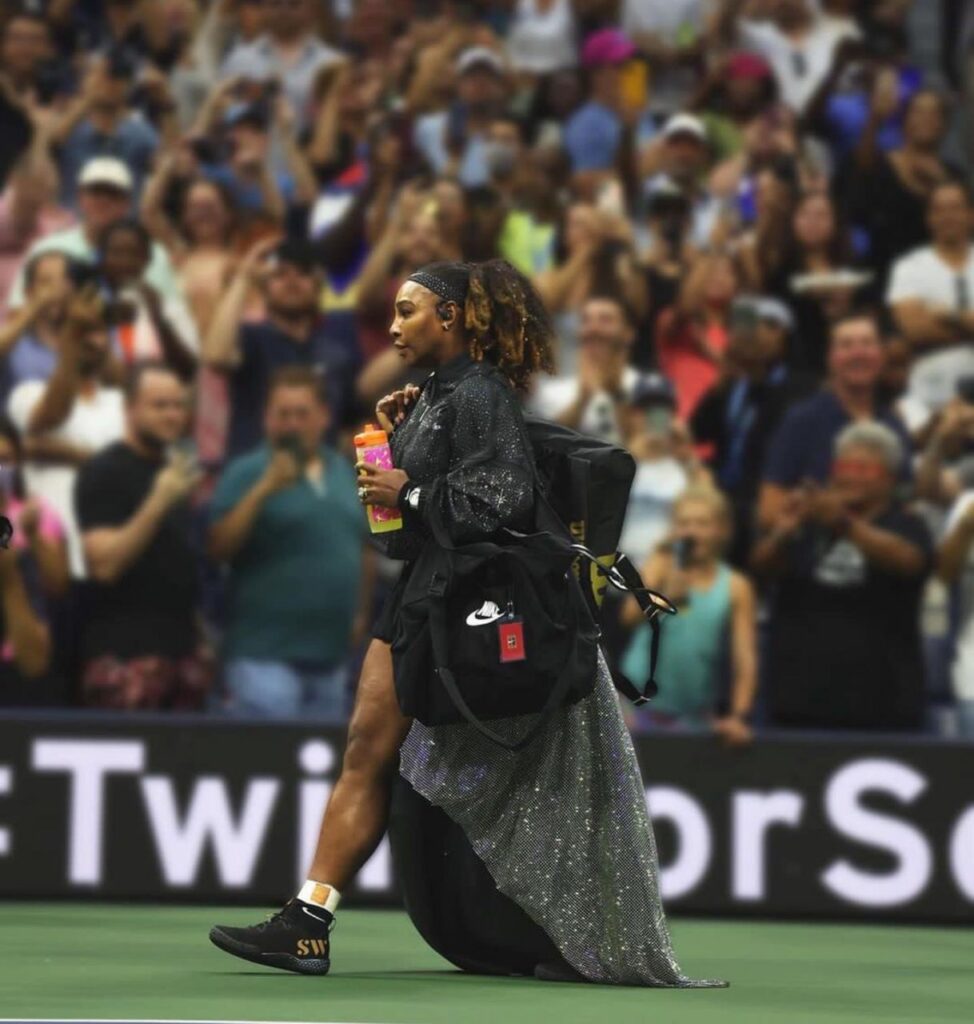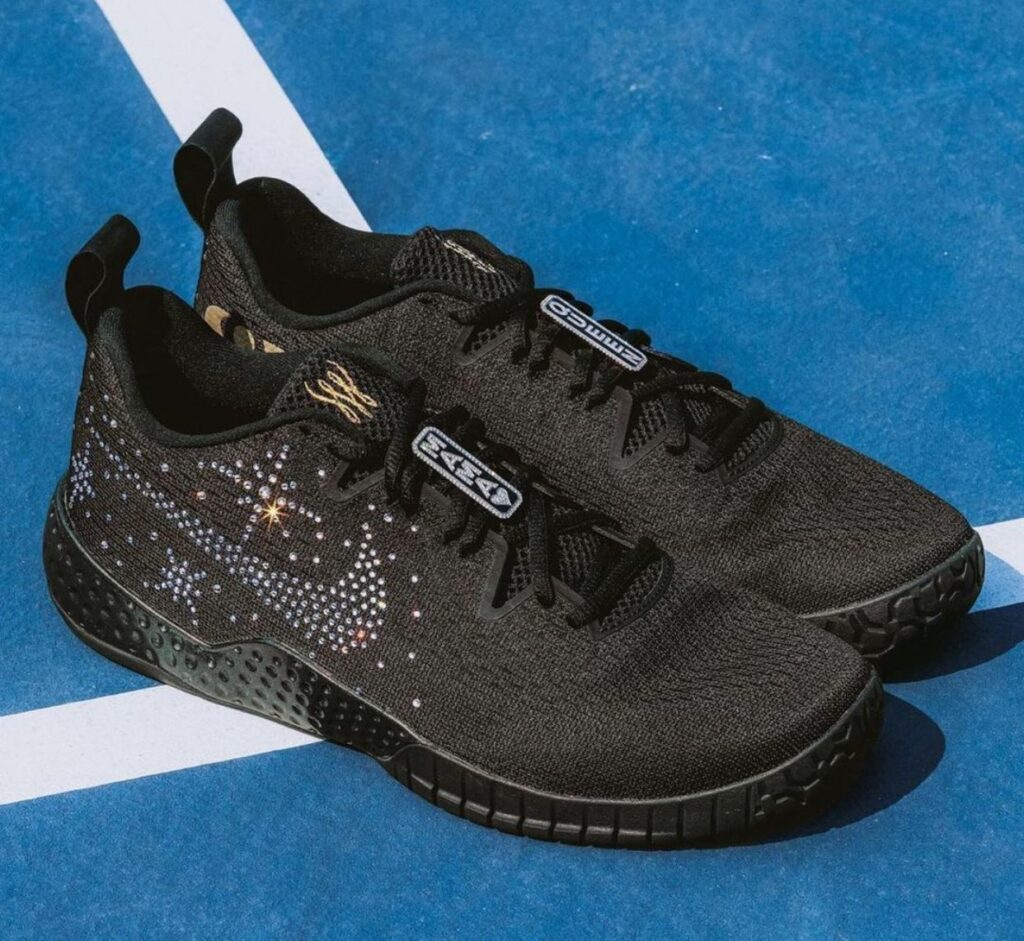 During the 2022 US Open, Serena Williams is playing with an Audemars Piguet Royal Oak Offshore 'Quartz' in stainless steel, set with 32 brilliant-cut diamonds on the bezel. It features a light silver-toned dial with a 'Méga Tapisserie'pattern in the centre. The 37mm stainless steel case has a white rubber-clad diamond-set bezel and crown, on a black rubber strap secured by the AP steel pin buckle. The watch is valued at $21,250.00 (about 14 million naira). Source: Insane Luxury Life via Instagram.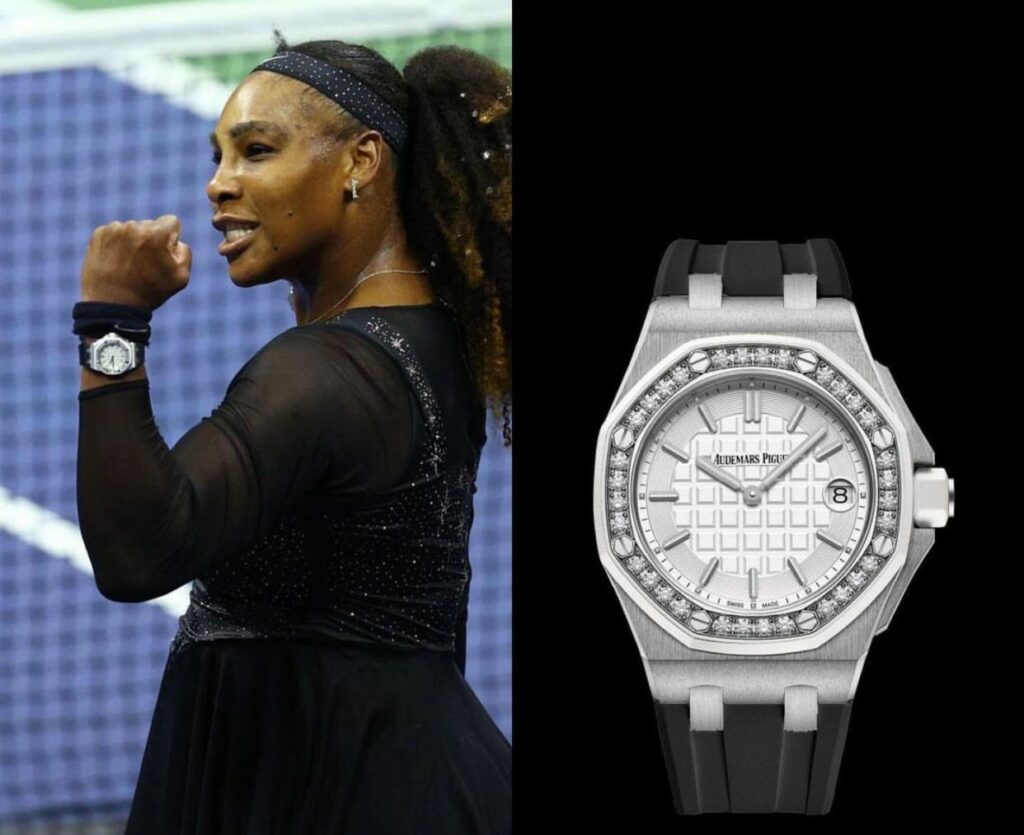 Photo credit: US Open via Twitter, Serena Williams.
This article was in part written by Sola Tales.