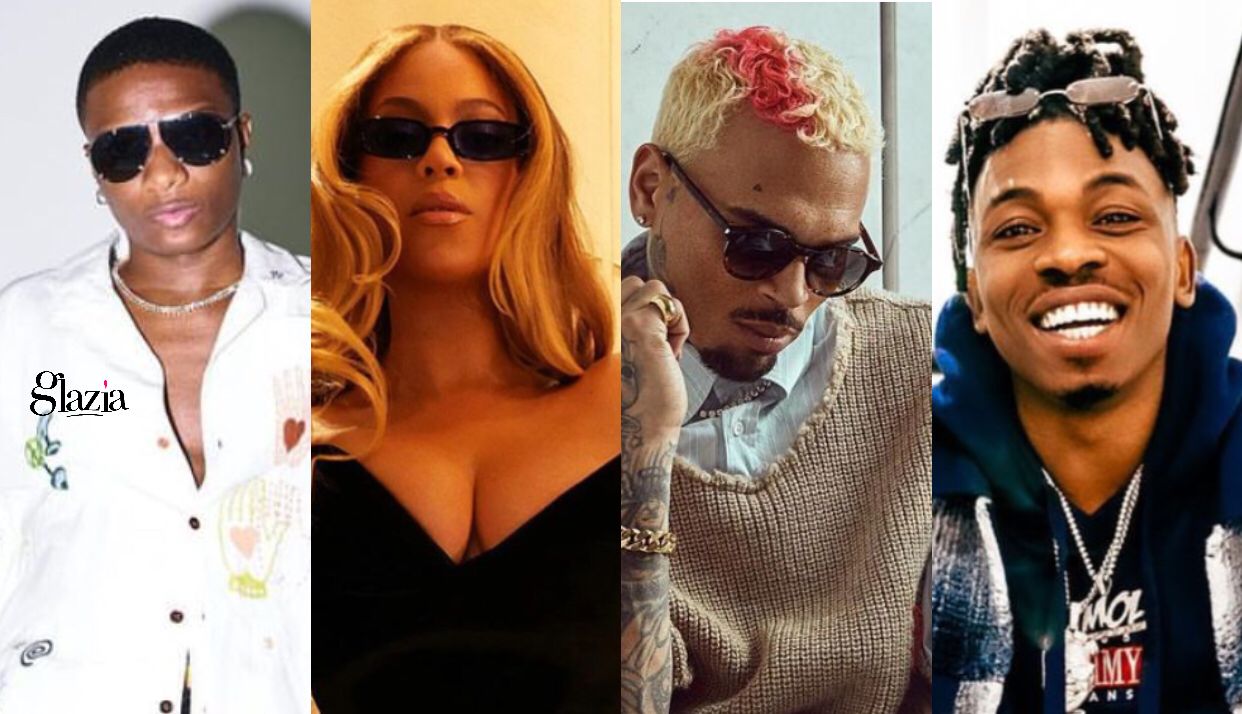 The Nigerian music scene over the last few weeks has been interesting and busy, all thanks to the torrent of great new music. From music artists dropping their first single of the year, international collaborations and major projects, infused with Africa champion sound; Amapiano, to the Nigerian street-pop, and much more, it has been a week of musically expansive moments. Let's get your weekend lit with the latest songs of the week.
Here are some of the new music that has made the past week surreal for music enthusiasts; we crown them the songs of the week.
Chris Brown ft Wizkid – Call Me Everyday
From the last collaboration on African Bad Gyal from Wizkid's "Sounds From The Other Side", the duo has again come together to release the song of the summer. With an early snippet that saw excited fans take over TikTok with the sound, the new single sees both singers confirming claims of their latest affair. The track is part of Chris Brown's forthcoming "Breezy" project which is expected to be officially unveiled today.
The Blaise Beatz and DJ Tunez produced track sees both singers going back and forth over gurgling sensual sounds putting the new track on a journey to become a summer favourite, already racking up massive streaming numbers and airplay.
Ruger – We We
When Ruger released the deluxe version of his "The Second Wave" album, I knew he was up to something dangerous. Known for dropping songs that infuse steamy and explicit lyrics, the KukBeat – produced song "WeWe" added more ammo to the deluxe version.
Belonging to the same category as Snapchat and Bounce, it sounds different and similar as it can be. Comparing his lady to an angel in a demon's body, whilst expressing his intention to satisfy her sexual desires, he once again tells us how wayward he can be when it comes to sexual experiments.
Ruger – Girlfriend
With a massive reception across TikTok and Instagram even before the official release of this track; all thanks to the signature dance introduced by Ruger himself, this is the perfect song to serenade your partner. In this track, the acclaimed new school superstar uses an up-tempo beat drawn from Reggae-influenced music to; deliver a sizzling jam that might join other songs on this list as a summer playlist must-have.
Ckay ft Davido, Focalistic – Watawi
Riding on the success of his two singles released in 2021 which many call his dream year; Ckay further displays his love for piano explorations in his new single, Watawi. The singer taps the hit song,  "La La" co-star, Davido, who once again reunites with a two-time collaborator and South-African artist, Focalistic; to deliver the groovy and lush soundscape created by prominent South African producer Abidoza.
With Ckay's soothing tenor, Abidoza's airy piano string riffs blended with Davido's gentle rasp and Focalistic's animated South African rap; the trio delivered the romantic, emotionally honest lyrics-filled track.
Asake – Peace Be Unto You
In what most people now call a continuation of Palazzo; YBNL'S latest signee and wonder kid, Asake once again delivered a stunning piece with the Amapiano sound on his latest track; "Peace Be Unto You". Two weeks before its official release, the singer previewed the latest single; an action that led to a series of reactions.
With cherubic piano chords, synth riffs, and violin samples; producer Magicsticks laced the track with his array of complex melodic beats. Matching these cherubic beats with well-written lyrics drawn from prayers, self-discovery, and self-assurance, the track was co-written with YBNL boss, Olamide. With his voice on the chorus hitting a soulful crescendo; this vibrant performance has helped the song make its entry into one of the party songs of the season.
Mayorkun – Certified Loner (No Competition)
What better way to announce his arrival than displaying his constant reinvention in his latest single, Certified Loner. In a resemblance to 2021 released "Of Lagos", Mayorkun further reminds us of his motivations, and how he finds peace with himself. Skillfully infusing well-written lyrics filled with assurance, self-motivation, and peace; Mayorkun rides these lyrics on the back of the Amapiano-style beat with smooth keys. With the interesting listening events and reposts, "Certified Loner" looks like it might make its way to the 2022 list of hit songs.
Black Eyed Peas, Shakira, David Guetta – Don't You Worry
In the latest single, "Don't You Worry", six-time Grammy award-winning, genre-bending pioneers, Black Eyed Peas; enlists the help of Shakira and David Guetta to deliver the blockbuster new single. This is Shakira's and Black Eyed Peas' second collaboration after their "GIRL LIKE ME" amassed half a billion streams. The singers bless the song with their unique flavours, making the track a submission for a hot summer anthem and an international banger.
Drake – Text Go Green
Text Go Green is one of the tracks off Drake's recently released surprise album, "Honestly, Nevermind". The new dance album is quite unlike Drake due to its concise nature. That notwithstanding, Text Go Green is one of the best tracks of the album.
Beyoncé -Break My Soul
In a surprising turn of events, Beyoncé releases the first single from her seventh album "Renaissance". Dropping hints after her cover shoot for British Vogue's June 2022 Issue. Break My Soul is Bey's attempt to ease widespread depression and crush the stress of both her listeners and non-listeners.
She narrates a situation that seems easily relatable; with the Nola Bounce icon by Big Freedia sampled for the intro and verse.
Young Jonn -Normally
After massive success on his "Dada" remix with Davido; Chocolate City act, and producer, Young Jonn, has shown us he is on a journey to seamlessly transition from producer to musician. "Normally" can easily pass for a soulful ode to one's ex-lover; with Young Jonn feeding us with imaginations that are relatable to anyone in such a love-struck situation.
Looking to create a playlist from these new tracks, here are our recommendations;
Sex Playlist – Call Me Everyday, Wewe, Girlfriend, Normally, Texts Go Green
Party Playlist – Certified Loner, Peace Be Unto You, Watawi, Don't You Worry
Morning Playlist –  Break My Soul