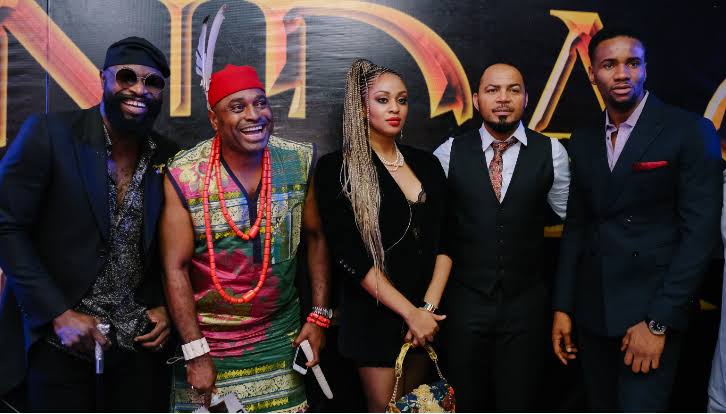 Will it be a new month if you don't see our list of top 10 movies for the month? We're back again to bring you the best of movies to see this month. Whilst some of the movies on this list, like Terminator (good movie but its tanked at the Box Office so far) has been released already, others like Ramsey Nouah directorial debut, Living in Bondage, Breaking Free are yet to be released. With this post, you are able to stay on top of things. Trust us to have done the work selecting the most anticipated lineup for you so all you have to do is choose a movie, get your tickets and enjoy!
Most anticipated movies this November
Terminator: Dark Fate
Release date: November 1
Genres: Action, Adventure, Sci-Fi
Plot Summary: Linda Hamilton (Sarah Connor) and Arnold Schwarzenegger (T-800) return in their iconic roles in Terminator: Dark Fate, directed by Tim Miller (Deadpool) and produced by visionary filmmaker James Cameron and David Ellison. Following the events of Terminator 2: Judgment Day, Terminator: Dark Fate also stars Mackenzie Davis, Natalia Reyes, Gabriel Luna, and Diego Boneta.
Cast: Mackenzie Davis, Arnold Schwarzenegger, Linda Hamilton, Diego Boneta, Natalia Reyes, Gabriel Luna
Director: Tim Miller
Last Christmas
Release date: November 8
Genres: Comedy, Romance
Plot Summary: Kate (Clarke) harrumphs around London, a bundle of bad decisions accompanied by the jangle of bells on her shoes, another irritating consequence from her job as an elf in a year-round Christmas shop. Tom (Golding) seems too good to be true when he walks into her life and starts to see through so many of Kates barriers.
Cast: Emma Thompson, Emilia Clarke, Michelle Yeoh, Henry Golding
Director: Paul Feig
Living in Bondage: Breaking Free
Release date. November 8
Genre: Drama
Plot summary: Living in Bondage the sequel tells the story of Nnamdi, Andy Okeke's mysterious son, and his vaunting quest for the big life, one that he would do whatever it took to realize. Nnamdi's untamed quest for the quick buck, fast car, easy living, inevitably took him on a perilous journey.
Cast: Ramsey Nouah, Kenneth Okonkwo, Kanayo O. Kanayo, Swanky JKA, Munachi Abii, Enyinna Nwigwe.
Midway
Release date: November 8
Genres: Action, Drama, History, War
Plot Summary: MIDWAY centers on the Battle of Midway, a clash between the American fleet and the Imperial Japanese Navy which marked a pivotal turning point in the Pacific Theater during WWII. The film, based on the real-life events of this heroic feat, tells the story of the leaders and soldiers who used their instincts, fortitude and bravery to overcome the odds.
Cast: Woody Harrelson, Luke Evans, Ed Skrein, Aaron Eckhart, Dennis Quaid, Mandy Moore, Patrick Wilson, Tadanobu Asano
Director: Roland Emmerich
Ford v Ferrari
Release date: November 15
Genres: Action, Biography, Drama, Sport
Plot Summary : Academy Award-winners Matt Damon and Christian Bale star in FORD v FERRARI, based on the remarkable true story of the visionary American car designer Carroll Shelby (Damon) and the fearless British-born driver Ken Miles (Bale), who together battled corporate interference, the laws of physics, and their own personal demons to build a revolutionary race car for Ford Motor Company.
Cast: Jon Bernthal, Matt Damon, Christian Bale, Josh Lucas, Caitriona Balfe, Tracy Letts, Noah Jupe, Remo Girone
Director: James Mangold
Radioflash
Release date: November 15
Genres: Drama, Thriller
Plot Summary:
Teenage Reese (Brighton Sharbino) has a love for virtual reality role playing and a knack for beating even the toughest survival games. But when a nuclear strike causes an electromagnetic pulse that cuts off all power, water, and communication to the entire western United States, Reese finds herself plunged into an all-too-real fight to survive.
Cast: Will Patton, Brighton Sharbino, Dominic Monaghan
Director: Ben Mcpherson
Frozen II
Release date: November 22
Genre: Adventure, Animation, Comedy
Plot Summary: Anna, Elsa, Kristoff, Olaf and Sven leave Arendelle to travel to an ancient, autumn-bound forest of an enchanted land. They set out to find the origin of Elsa's powers in order to save their kingdom.
Cast: Josh Gad, Idina Menzel, Jonathan Groff, Evan Rachel Wood, Kristen Bell, Sterling K. Brown
Director: Chris Buck, Jennifer Lee
21 Bridges
Release date: November 22
Genres: Action, Crime, Drama, Thriller
Plot Summary: 21 BRIDGES follows an embattled NYPD detective (Chadwick Boseman), who is thrust into a citywide manhunt for a pair of cop killers after uncovering a massive and unexpected conspiracy. As the night unfolds, lines become blurred on who he is pursuing, and who is in pursuit of him.
Cast: Sienna Miller, J.K Simmons, Chadwick Boseman, Keith David, Taylor Kitsch, Stephan James
Director: Brian Kirk
Dark Waters
Release date: November 22
Genres: Biography, Drama, History
Plot Summary : Inspired by a shocking true story, a tenacious attorney (Ruffalo) uncovers a dark secret that connects a growing number of unexplained deaths due to one of the world's largest corporations. In the process, he risks everything his future, his family, and his own life – to expose the truth.
Cast: Victor Garber, Anne Hathaway, Bill Pullman, Mark Ruffalo, Tim Robbins, Bill Camp, William Jackson Harper, Mare Winningham
Director: Todd Haynes
Knives Out
Release date: November 27
Genres: Comedy, Crime, Drama, Mystery, Thriller
Plot Summary: Acclaimed writer and director Rian Johnson (Brick, Looper, The Last Jedi) pays tribute to mystery mastermind Agatha Christie in KNIVES OUT, a fun, modern-day murder mystery where everyone is a suspect. When renowned crime novelist Harlan Thrombi (Christopher Plummer) is found dead at his estate just after his 85th birthday, the inquisitive and debonair Detective Benoit Blanc (Daniel Craig) is mysteriously enlisted to investigate.
Cast: Toni Collette, Daniel Craig, Michael Shannon, Jamie Lee Curtis, Christopher Plummer, Chris Evans, Ana de Armas, Lakeith Stanfield
Director: Rian Johnson