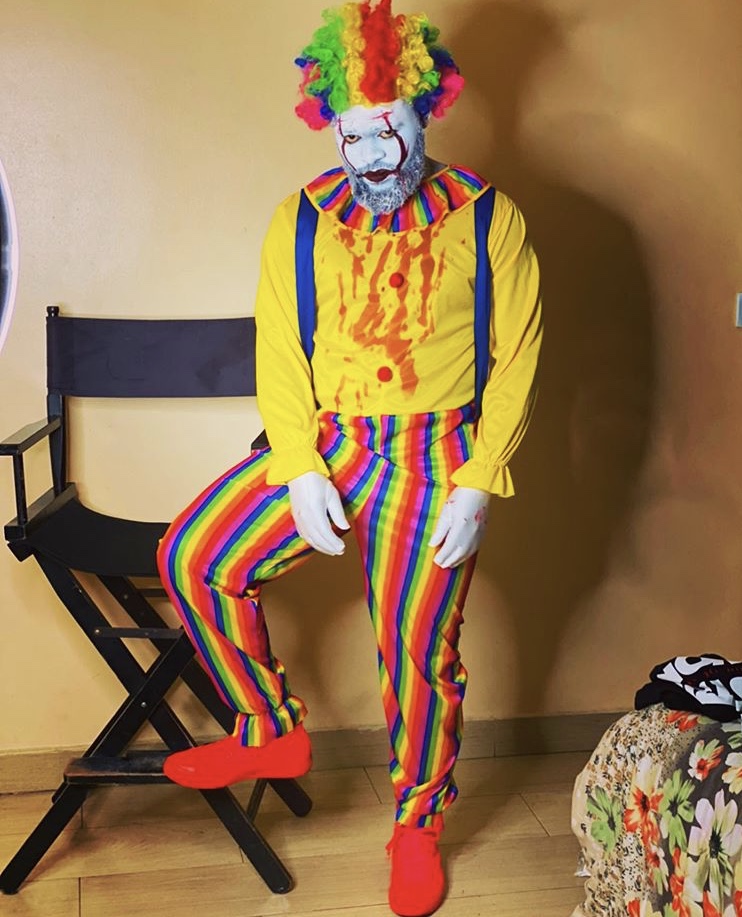 People often ask, "do we celebrate Halloween in Nigeria?"  The answer is no. Halloween isn't a popular celebration or festival here in Nigeria but we have however found ourselves embracing it little by little.
What is the origin of Halloween? According to google, Halloween originated with the ancient Celtic festival of Samhain, when people would light bonfires and wear costumes to ward off ghosts. To out smart these ghostly beings, people would put on masks when they left their homes after dark so that the ghosts would think they were fellow spirits. These days, people dress up as other famous or not so famous people for Halloween and throw parties and go door-to-door asking for candy or you get spooked out, otherwise known as trick or treating. However, we don't do that here (lol). Nigerians enjoy Halloween online. We ogle at different looks created by celebrities, home and abroad,  "like" the post and keep it moving. The average Nigerian culture almost directly negates the whole "Halloween" ideology as we are religiously conscious and find it uncomfortable to partake in activities that promote "evil" and horror. Coupled with the 'African Parent and home training' mentality which has no room for such "nonsense" only that their child must focus more on becoming the next 'Dangote and Otedola' or at least be able to comfortably pay the bills. Failure to adhere to this norms results in deliverance sessions or rehab sessions with a cleric. Let's not get into the issues one would encounter with the policemen on patrol. The few Nigerians who fraternize with the Halloween festival are those who are 'in the abroad' or people have spent a significant  amount of time outside the African continent which include celebrities and IJGBs.
However, FalzTheBahdGuy defied all odds and threw a really spooky Halloween birthday party for himself this year. Yep! He definitely doesn't share your fear of witches and ghosts. Some of your favorite celebrities attended while some others created their looks alone. Let's check out some of our favorite spooktastic looks for 2019
Bollylomo
Actor and hypeman Bolly hit Falz's birthday dressed as Sango- the god of thunder for the Yoruba ethnic group. He had on his signature red cap adorned with metallic ornaments, red pants and a small axe. He wasn't naked o, he wore on red pants on white sandals. For accessories, he had on red neck beads, cowrie and red bracelets. Do you think Sango will be pleased?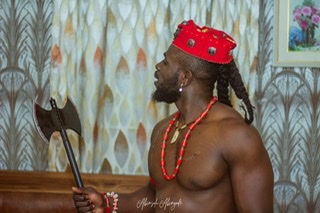 Ifuenada
BBNaija alum and hair entrepreneur Ifuenada was also a guest at Falz's birthday and she went as hell girl, referencing the lead character in the movie "Hell Boy". She wore a black sheer gown that showed off her ample bust and with the use of sfx makeup she created two horns on her forehead (not as large as HellBoy's) but it suits her just fine. She had on a platinum blond wig over red lips and to finish the look, she had her own devils fork.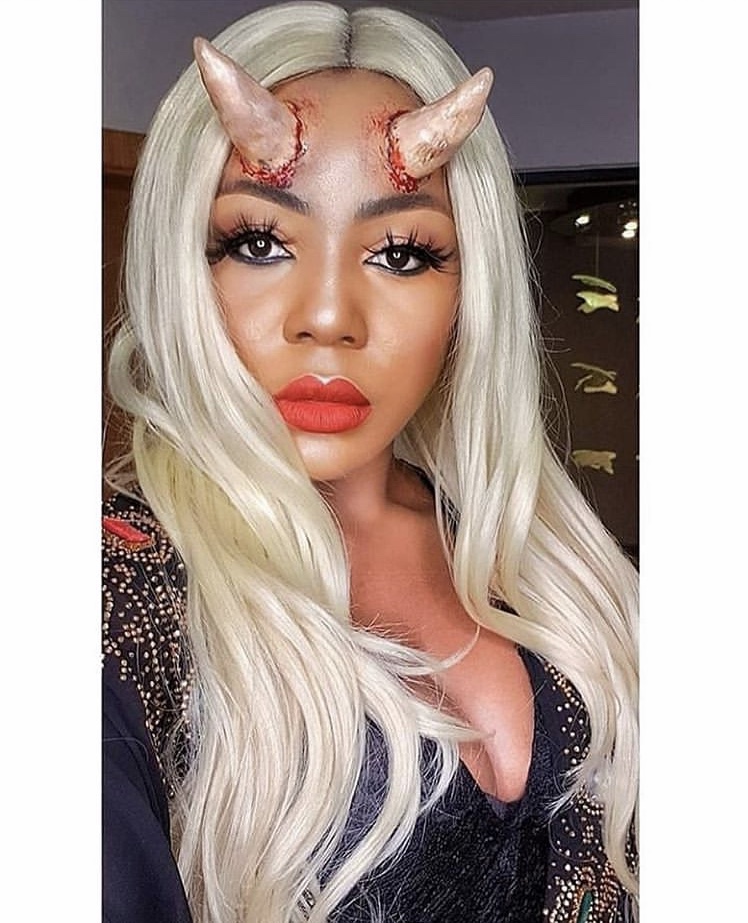 Ebuka Obi-Uchendu
It's sacrilege at this point to doubt Ebuka's sauce cuz if armed robbery costume can look good on him, I doubt there's nothing he won't slay. He dressed as a character from the popular Netflix crime series "Money Heist"- dressed in a red overall and a mask. If he was a character in the movie, what do you think his name will be?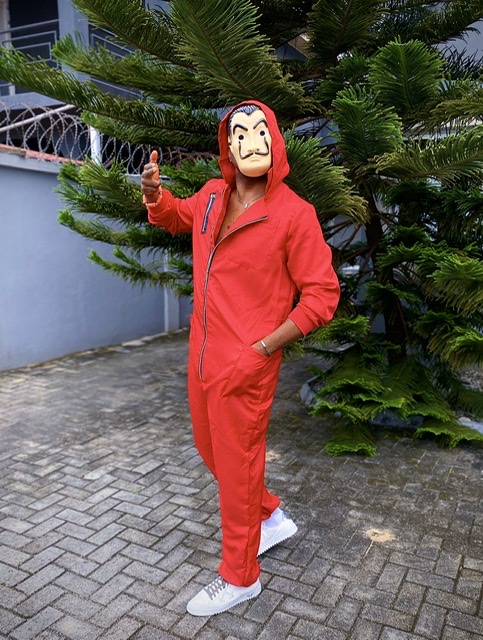 Simi
Award winning vocalist Simi also attended Falz's haunted house party. She went as a little cute Harley Quinn. She didn't die her double pony to blue and red tho but we get it. She kept it quite simple, rocking a ripped white shirt with red stained palm prints on it. She had a cute red lippy run past her lip lines to her dimple area and a dramatic running-tears design courtesy of Feysioge.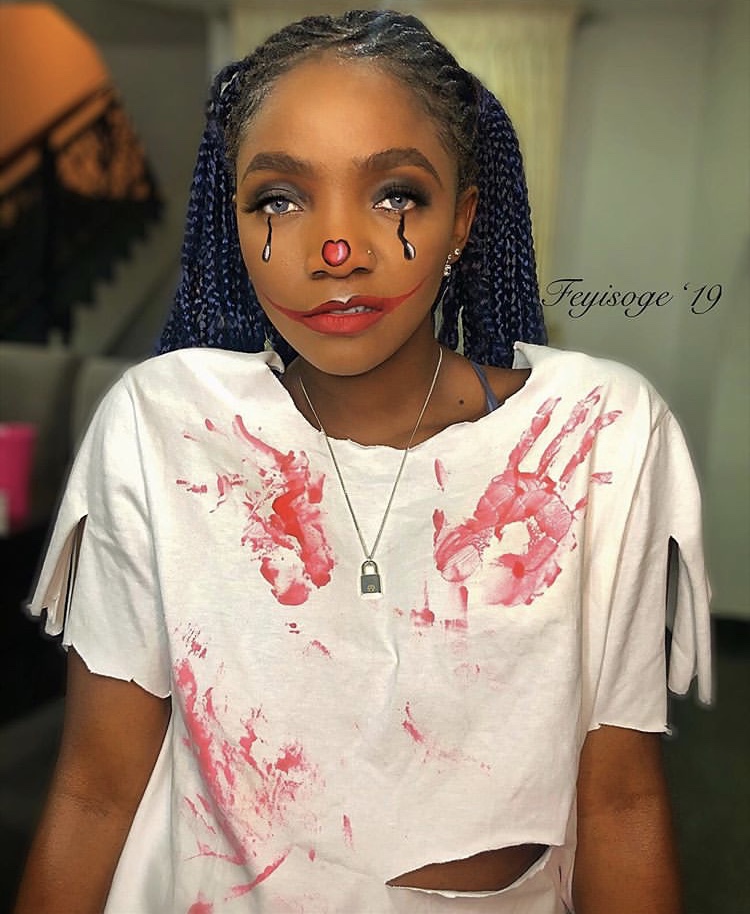 Toke Makinwa
The media entrepreneur is the definition of go big or go home. She is never subtle when it comes to fashion. She dressed up as Maleficient for this years Halloween. Maleficient is a dark fantasy film by Walt Disney Studios and is played by the legendary award winning Angelina Jolie. Toke doned on a beady black dress with a ridiculously high slit, had on a head ware featuring the signature horn of the character in the movie and a black long staff. She also had her makeup team emphasize her contour to over highlight her cheek bones to suit the look. This was definitely a hit!!!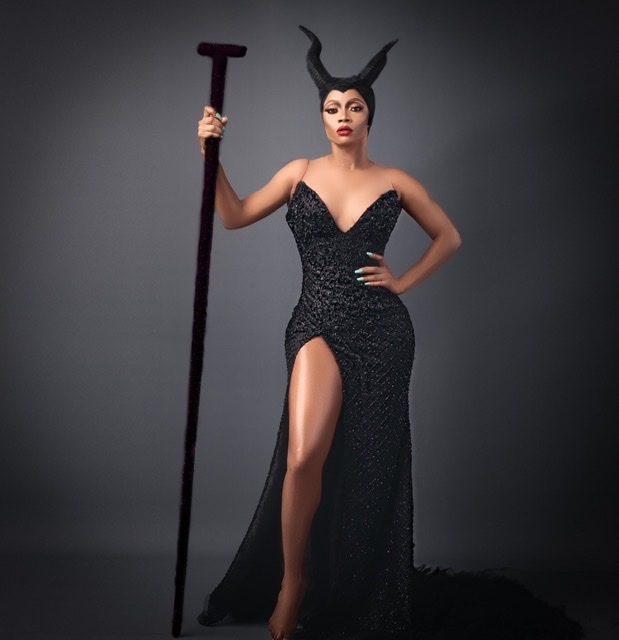 Mawuli Gavor
Actor and TV presenter, Mawuli looked super hot dressed as the lead character form the 2005 film "The Legend of Zorro". Styled by fellow actor Jimmy Odukoya, he had on black pants, black shirt, black coat with a red bandana tied at the arm. Then the legendary Zorro mask and a black hat.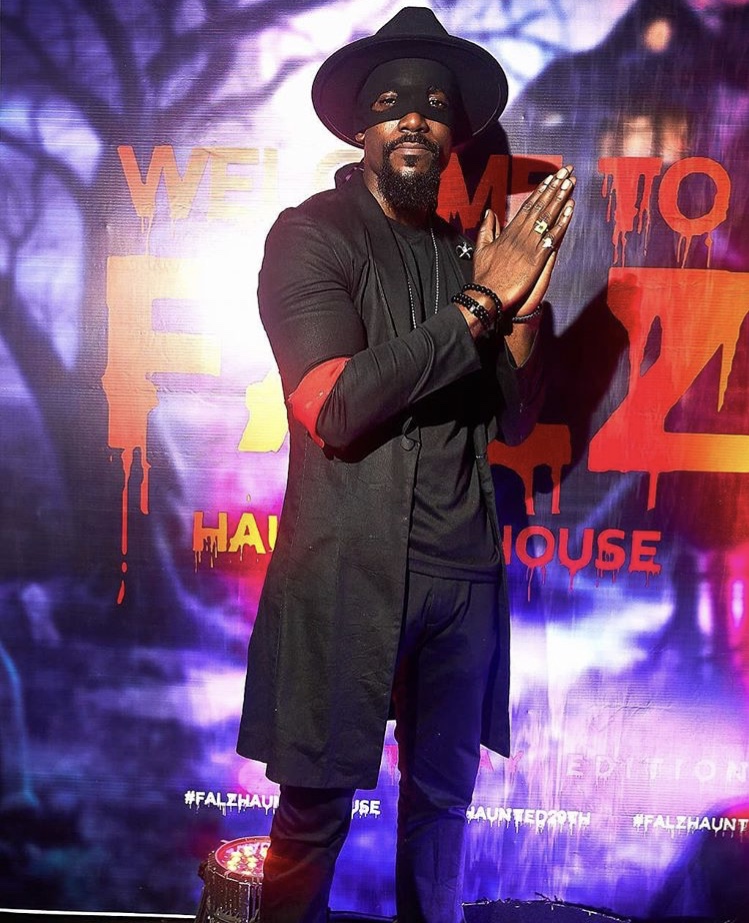 Chief Obi
America based Nigerian comedian Chief Obi dressed as a Kung fu master. He dressed up in traditional Chinese clothing of martial artists complete with the extending moustache mostly seen in Chinese movies. He does look silly but you must admit he nailed the look.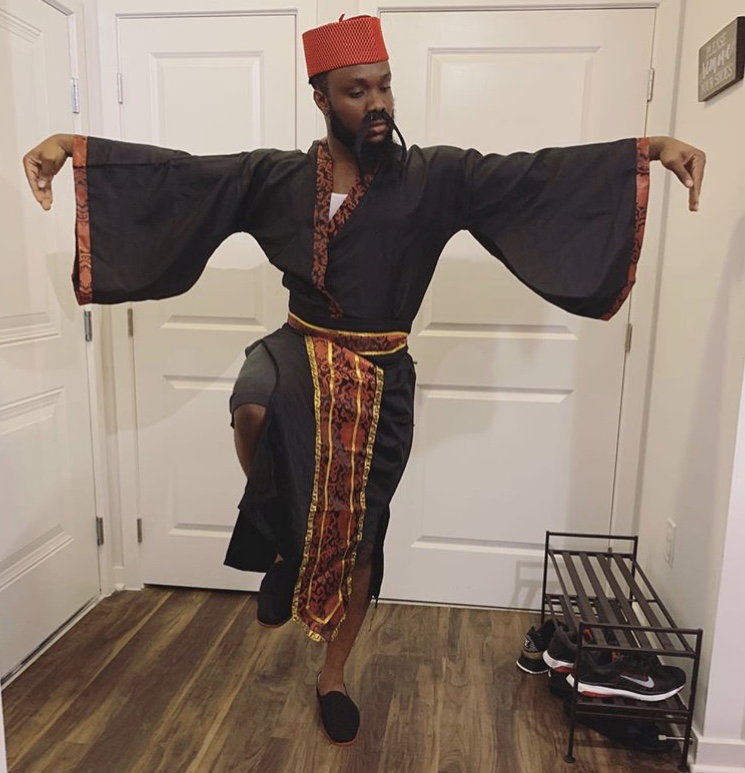 Aduke
Nigerian model Aduke attended Falz's birthday party as Grim The Reaper. Oh yeahh!!! Super spooky!!! She nailed this look and we love it. She wore a sheer black gown with black undergarments. The sheer gown had flowing tendrils of velvet fabric. She sealed off this look by Weiz Dhurm Franklyn with smoky eye make up and running red lips and a scythe of her own.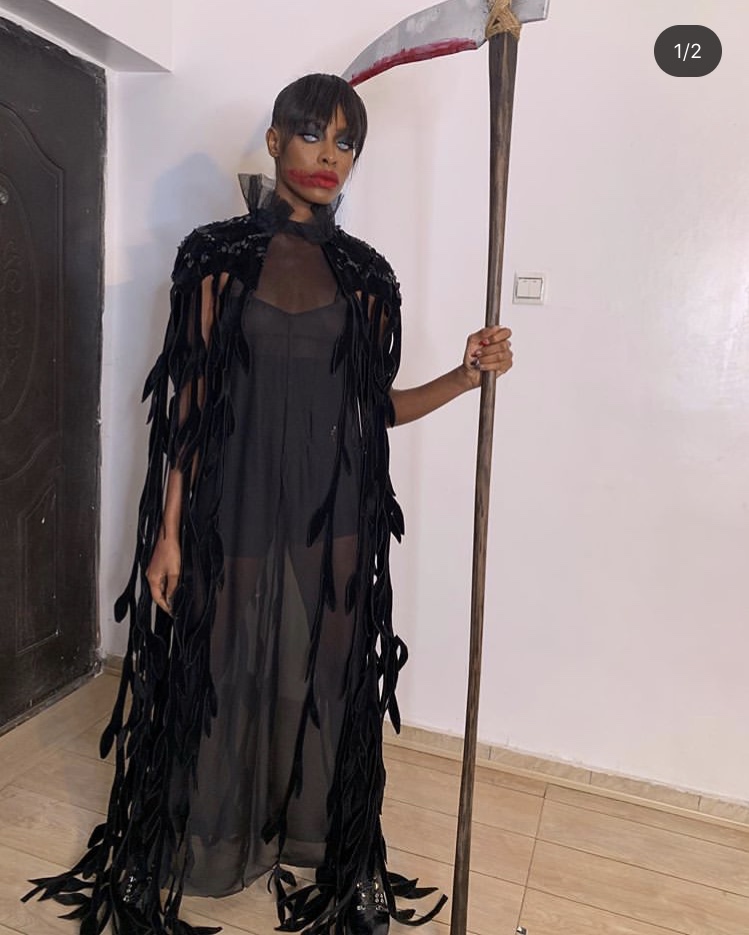 FalzTheBahdGuy
Award winning triple threat star, Folarin Falana a.k.a Falz the Bahd Guy stepped to his haunted house birthday party as the  creepy clown -Pennywise. This is not the clown you hire for children's parties and what not, except you are ready to condemn your children to a lifetime of mental torture. Red shoes, multicolored pants, yellow shirt with blue suspenders, clown makeup and wig as styled by John J. Angel.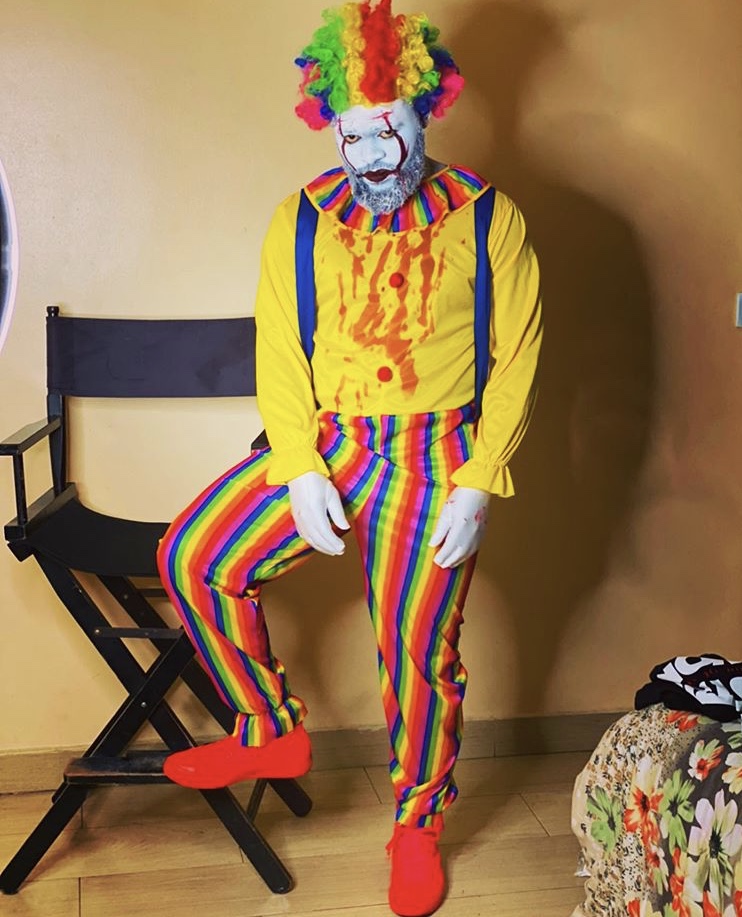 KimOprah
Certainly one of my favourite looks this Halloween, she dressed up as her own version of Chikala from the Marvel Studios movie, Back Panther. The suit from Laolu fit her frame and meouww she looked super hot.