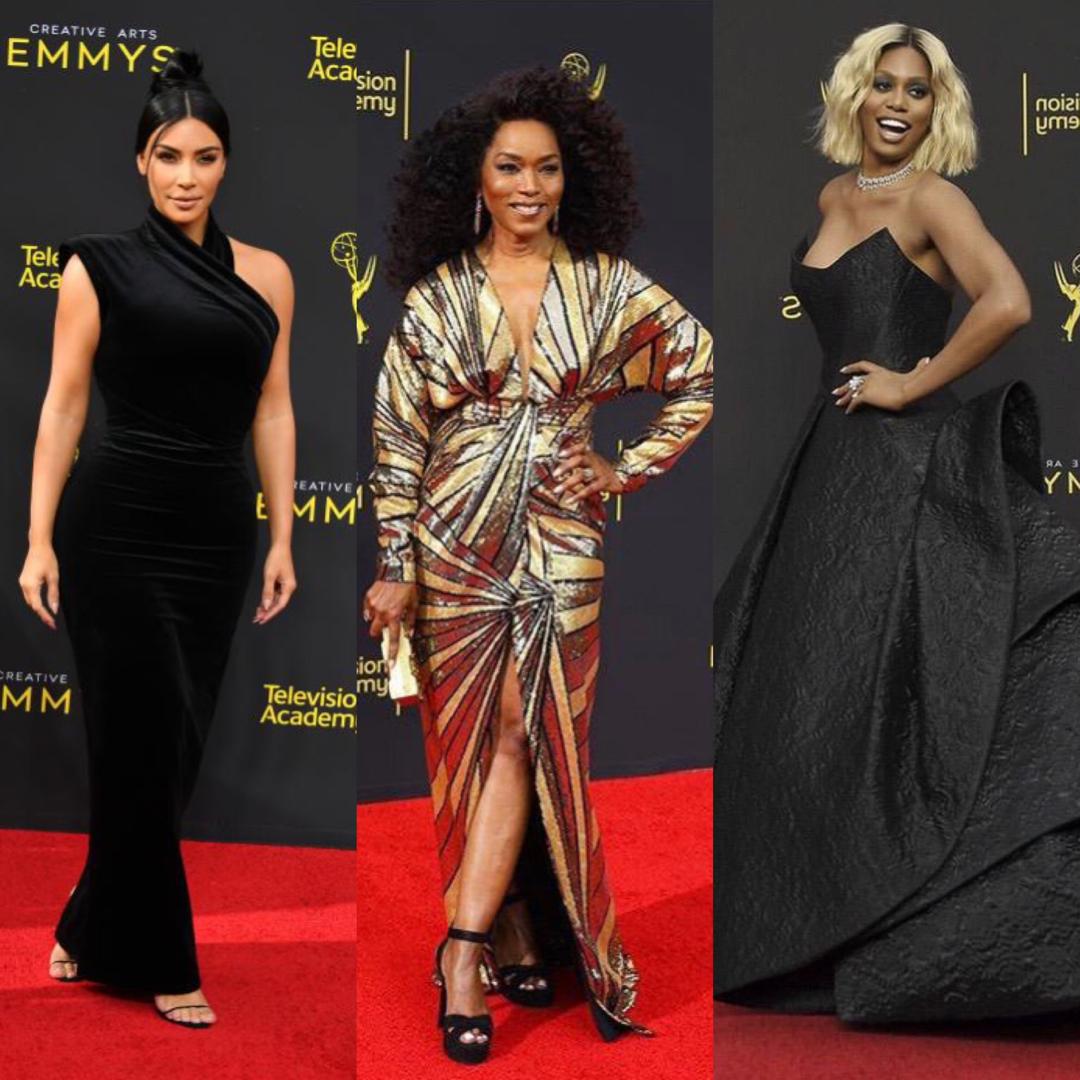 The Creative Arts Emmy Awards was held this weekend at the Microsoft Theatre, Los Angeles. And as is usual for award ceremonies, stars alike step out in their best to enjoy the best of film culture, speeches, wins etc. For this, we're giving you a double treat. From Kim Kardashian to Angela Bassett, Game of Thrones, When They See Us and more, take a look at the top 10 best dressed stars and the full list of winners from the 71st Creative Arts Emmy Awards
Here are the best dressed at this year's Creative Arts Emmys Awards 2019.
Kim Kardashian
Everyone knows Kim Kardashan is a perfectionist especially when it comes to beauty and fashion and she has created a global brand off that. Here she is on the red carpet in a black velvet gown, cinched at the waist to accentuate her curves. She embellished the look with an elegant up do and without accessories.
2. Angela Bassett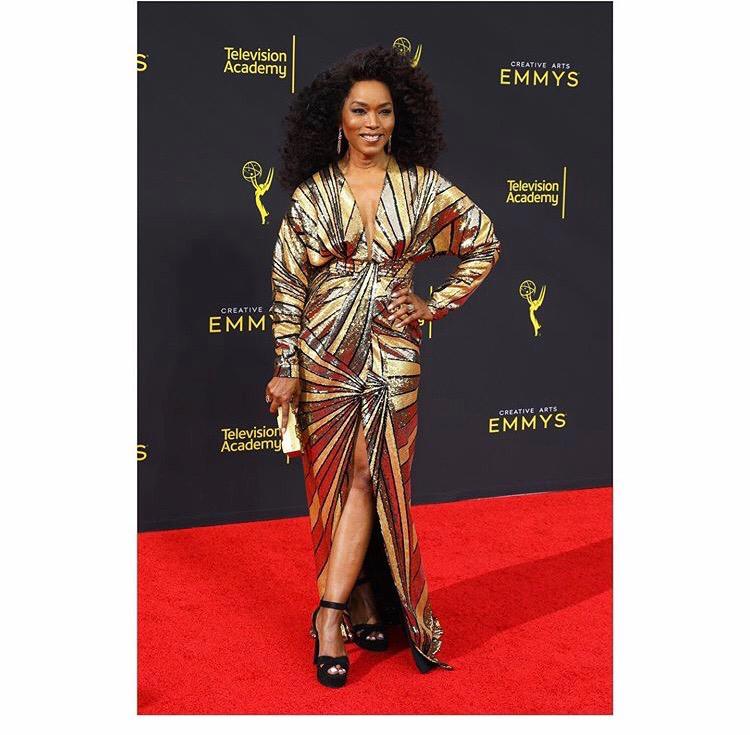 The never aging actress hit the carpet in this super gorgeous sequin gold dress from Ingie Paris. The dress gave a nice view of well toned legs and décolletage. She paired it will black heels and a gold purse.
3. Nicole Scherzinger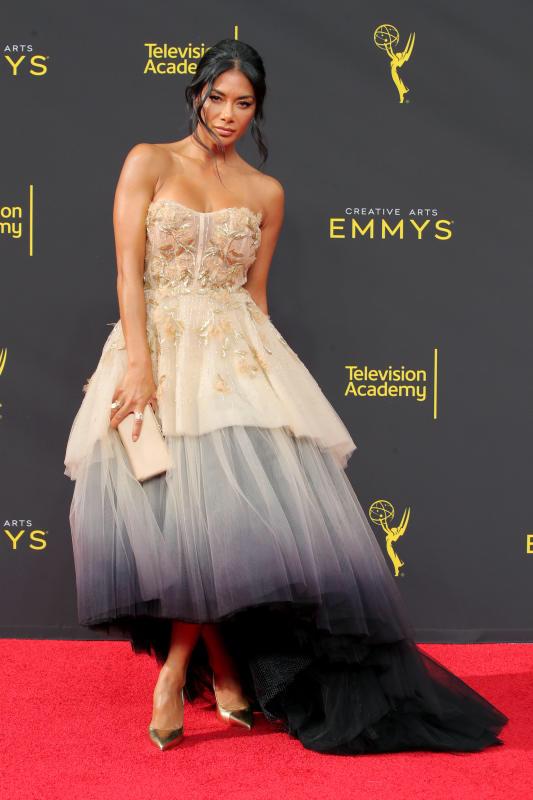 The member of defunct group "Pussycat Dolls" is nothing short of elegant in this beautiful high-low gown by Pamella Roland. The strapless gown showed off her beautiful tan and gorgeous shoulders. She paired it with gold pumps and a nude purse.
Lisa Kudrow
Also in a pink tux from Ingie Paris is American actor, comedian, producer and "Friends" star Lisa. She looked like a combination of flowers and business, serious business. She paired this cool look with a black clutch purse.
Laverne Cox
Openly transgender actor, popularly known from the Netflix series "Orange is the New Black" was elegant in this black number from Zac Posen,, styled by Kelly Johnson. The choice of wife blonde wig was a fashion win with this entire look.
Wanda Sykes
Comedian and actor Wanda was super dapper in navy blue suit and black camisole. Wanda has always been. A huge lover of pants is who Wanda is and age takes it upon herself to rock it better than the guys.
Tan France
Originally, Tanveer Wasim, Tan is a fashion designer, TV personality and author. His outfit to the Creative Arts Emmys Awards is nothing short of breathtaking. In a Varun Bahl Couture floral Sherwani on white pants and white boots, plus a Johnny Bravo inspired hairstyle he definitely didn't go to play but to slay.
Amber Stevens West
This dress is definitely a favorite from the emmys. The American actress went with a silk, strapless, layered, turquoise blue dress styled by Kelly Johnson. She paired it with silver sandal heels and silver purse.
Olivia Munn
Shimmer and shine are the words to describe this form fitting dress. She looks like the bridesmaid of all bridesmaids in this dress from Monique Lhuillier. The dress is so cool that it gives off different colours depending on your angle. How cool is that?
Leah Remini
Leah started the red carpet in a gorgeous floor length icy velvet dress with a plunging neckline, cinched at the waist with a belt. Loved her choice of hairstyle-cascading curls. She paired the look with strap heels and a metallic purse.
Let's take a break from fashion and talk about those who went home with awards at the 2019 Creative Arts Emmy Awards. It's no news that "Game of Thrones" had the most nominations with 32 nominations this year and rightly so, because did you watch that series? It was pure flames! The show didn't win in every category but won in 10 categories. Other winners are listed below:-
FULL LIST OF WINNERS
Sunday's festivities followed Night 1 of the Creative Arts Emmys held on Saturday. (See full list of winners from Night 1 HERE). Game of Thrones dominated the second night, raking in 10 technical awards for its eighth and final season on HBO.
OUTSTANDING SHORT FORM COMEDY OR DRAMA SERIES
State of the Union (Sundance TV)
OUTSTANDING SINGLE-CAMERA PICTURE EDITING FOR A DRAMA SERIES
Game of Thrones (HBO)
OUTSTANDING SINGLE-CAMERA PICTURE EDITING FOR A COMEDY SERIES
Fleabag (Amazon)
OUTSTANDING CINEMATOGRAPHY FOR A SINGLE-CAMERA SERIES (HALF-HOUR)
Russian Doll (Netflix)
OUTSTANDING CINEMATOGRAPHY FOR A LIMITED SERIES OR MOVIE
Chernobyl (HBO)
OUTSTANDING ACTRESS IN A SHORT FORM COMEDY OR DRAMA SERIES
Rosamund Pike, State of the Union (Sundance TV)

OUTSTANDING SOUND EDITING FOR A LIMITED SERIES OR MOVIE
Chernobyl (HBO)
OUTSTANDING SOUND MIXING FOR A COMEDY OR DRAMA SERIES (ONE HOUR)
Game of Thrones (HBO)
OUTSTANDING CASTING FOR A DRAMA SERIES
Game of Thrones (HBO)
OUTSTANDING CASTING FOR A COMEDY SERIES
Fleabag (Amazon)
OUTSTANDING CASTING FOR A LIMITED SERIES, MOVIE OR SPECIAL
When They See Us (Netflix)
OUTSTANDING MUSIC SUPERVISION
The Marvelous Mrs. Maisel (Amazon)
OUTSTANDING MUSIC COMPOSITION FOR A LIMITED SERIES, MOVIE OR SPECIAL (ORIGINAL DRAMATIC SCORE)
Chernobyl (HBO)
OUTSTANDING MUSIC COMPOSITION FOR A SERIES (ORIGINAL DRAMATIC SCORE)
Game of Thrones (HBO)
OUTSTANDING COMMERCIAL
Nike — Dream Crazy
OUTSTANDING ORIGINAL INTERACTIVE PROGRAM
NASA's InSight Mars Landing
OUTSTANDING CREATIVE ACHIEVEMENT IN INTERACTIVE MEDIA WITHIN A SCRIPTED PROGRAM
Black Mirror: Bandersnatch (Netflix)
OUTSTANDING ACTOR IN A SHORT FORM COMEDY OR DRAMA SERIES
Chris O'Dowd, State Of The Union (Sundance TV)
OUTSTANDING ORIGINAL MAIN TITLE THEME MUSIC
Succession (HBO)
OUTSTANDING MAIN TITLE DESIGN
Game of Thrones (HBO)
OUTSTANDING GUEST ACTRESS IN A COMEDY SERIES
Jane Lynch/The Marvelous Mrs. Maisel (Amazon)
OUTSTANDING HAIRSTYLING FOR A LIMITED SERIES OR MOVIE
Fosse/Verdon (FX)
OUTSTANDING HAIRSTYLING FOR A SINGLE-CAMERA SERIES
The Marvelous Mrs. Maisel (Amazon)
OUTSTANDING STUNT COORDINATION FOR A COMEDY SERIES OR VARIETY PROGRAM
GLOW (Netflix)
OUTSTANDING STUNT COORDINATION FOR A DRAMA SERIES, LIMITED SERIES OR MOVIE
Game of Thrones (HBO)
OUTSTANDING CINEMATOGRAPHY FOR A SINGLE-CAMERA SERIES (ONE HOUR)
The Marvelous Mrs. Maisel (Amazon)
OUTSTANDING GUEST ACTOR IN A DRAMA SERIES
Bradley Whitford/The Handmaid's Tale (Hulu)
OUTSTANDING CINEMATOGRAPHY FOR A MULTI-CAMERA SERIES
The Ranch (Netflix)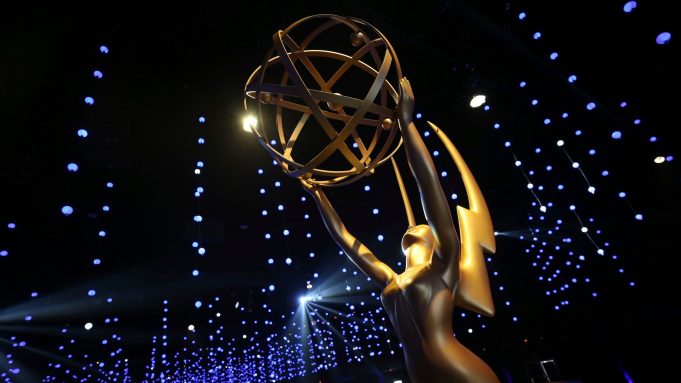 OUTSTANDING MAKEUP FOR A LIMITED SERIES OR MOVIE (NON-PROSTHETIC)
Fosse/Verdon (FX)
OUTSTANDING MAKEUP FOR A SINGLE-CAMERA SERIES (NON-PROSTHETIC)
Game of Thrones (HBO)
OUTSTANDING CONTEMPORARY COSTUMES
Russian Doll (Netflix)
OUTSTANDING PERIOD COSTUMES
The Marvelous Mrs. Maisel (Amazon)
OUTSTANDING SINGLE-CAMERA PICTURE EDITING FOR A LIMITED SERIES OR MOVIE
Chernobyl (HBO)
OUTSTANDING FANTASY/SCI-FI COSTUMES
Game of Thrones (HBO)
OUTSTANDING MULTI-CAMERA PICTURE EDITING FOR A COMEDY SERIES
One Day at a Time (Netflix)
OUTSTANDING CHILDREN'S PROGRAM
When You Wish Upon A Pickle: A Sesame Street Special (HBO)

OUTSTANDING SPECIAL VISUAL EFFECTS
Game of Thrones (HBO)
OUTSTANDING SPECIAL VISUAL EFFECTS IN A SUPPORTING ROLE
Chernobyl (HBO)
OUTSTANDING SOUND EDITING FOR A COMEDY OR DRAMA SERIES (HALF-HOUR) AND ANIMATION
Barry (HBO)
OUTSTANDING SOUND EDITING FOR A COMEDY OR DRAMA SERIES (ONE HOUR)
Game of Thrones (HBO)
OUTSTANDING PRODUCTION DESIGN FOR A NARRATIVE PROGRAM (HALF-HOUR)
Russian Doll (Netflix)
OUTSTANDING PRODUCTION DESIGN FOR A NARRATIVE PERIOD OR FANTASY PROGRAM (ONE HOUR OR MORE)
Chernobyl (HBO)
OUTSTANDING CHOREOGRAPHY FOR SCRIPTED PROGRAMMING
Crazy Ex-Girlfriend (The CW)
OUTSTANDING GUEST ACTOR IN A COMEDY SERIES
Luke Kirby, The Marvelous Mrs. Maisel (Amazon)
OUTSTANDING PRODUCTION DESIGN FOR A NARRATIVE CONTEMPORARY PROGRAM (ONE HOUR OR MORE)
The Handmaid's Tale (Hulu)
OUTSTANDING SOUND MIXING FOR A LIMITED SERIES OR MOVIE
Chernobyl (HBO)
OUTSTANDING SOUND MIXING FOR A COMEDY OR DRAMA SERIES (HALF-HOUR) AND ANIMATION
Barry (HBO)
OUTSTANDING GUEST ACTRESS IN A DRAMA SERIES
Cherry Jones/The Handmaid's Tale (Hulu)

OUTSTANDING PROSTHETIC MAKEUP FOR A SERIES, LIMITED SERIES, MOVIE OR SPECIAL
Star Trek: Discovery (CBS All Access)