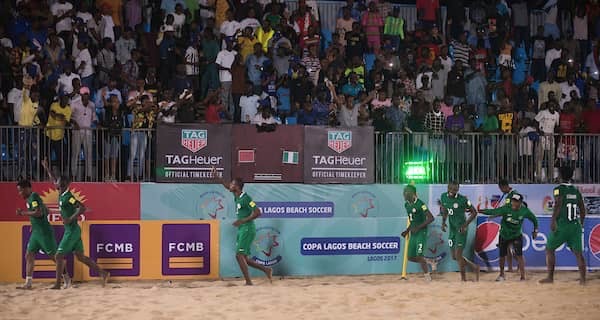 Globally acclaimed Beach Soccer Event – COPA Lagos was among the top 3 best beach soccer event globally,alongside the Euro Beach Soccer League (Nazare, Portugal)who won the award and the Euro beach Soccer League Super Final(Alghero, Italy). The award organizers, Beach Soccer Worldwide, made the announcement in an event in Dubai on the10th of November, 2018.
Managing Director of Kinetic Sports, Samson Adamu was full of gratitude and pride for this commendable accomplishment.He also took time to explain why the 2018 edition of theannual COPA Lagos beach soccer tournament would not hold as anticipated. According to him, given the close proximity between the proposed date for this year's edition and the kick-off of the Confederation of African Football (CAF) BeachSoccer African Cup of Nations taking place in Egypt from8thto 14th December, 2018, they have taken the decision notto host the tournament this year.
The Nigerian National team (the Sand Eagles) is an active participant at the CAF Beach Soccer event and so is the international beach soccer community as this soccer event in Egypt serves as the African qualifiers to the FIFA Beach Soccer World Cup.
Over the last 7 years, COPA Lagos has grown from strength to strength and today, it's a formidable sporting event.Mr. Adamu further went on to explain that their goal remains placing Nigeria on the map for global tourism using beach culture and lifestyle. "We sincerely apologize for any inconvenience this may cause. We promise to use this time to restructure the Tournament into a bigger and much more improved experience for Lagosians and lovers of beach soccer all over the world" he added.
The COPA Lagos team expressed gratitude to sponsors and partners for their tremendous support over the years in making COPA Lagos, the premier Beach Soccer event inAfrica and one of the best in the world. Dates for future events will be announced in due course.