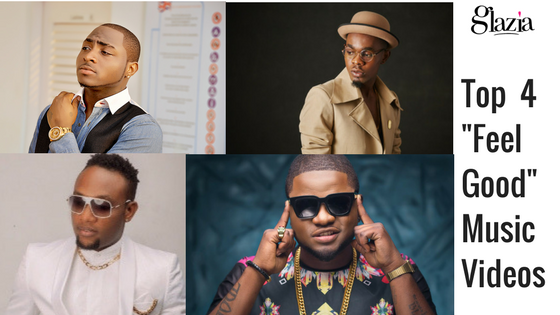 I loooooove music but I find that with work, I can only listen to my playlists or the radio which keeps me updated on the latest jams.  I don't get to watch a lot of TV except CNN (Trump's White House is the greatest Box Office of 2017) and a few of my favorite TV shows which I have mostly set to record. So you can imagine that all the music channels on TV have not received airplay from me in a long time until recently when I put on a music channel whilst I got ready and I got to see some really cool music videos. Video after video, I was smiling and I thought, Wow, there are so many cool Nigerian music videos out there at the moment, and just like that, I was back in game!
So if you are feeling a little de-motivated, overwhelmed with work or just need a break, we've compiled the Top 4 Feel Good Songs on TV at the moment, these songs are also enjoying massive play across the various music TV channels… Read below to see why they made rank!
PERE –  Davido Ft. Rae Sremmurd & Young Thug
I mean, just seeing the lineup will make you feel good without hearing the song or seeing the video. And then it turned out to be a really good song with everyone holding his own and Davido came through with that wicked hook! A bouncy trap song with Davido still maintaining his Nigerian roots and getting Young Thug to mouth Naija phrases, it was love at first watch! It was also good to see that he didn't go for the Hollywood big names but enlisted the brilliant Sesan – Nigerian director, whom Davido has used for many of his videos – to direct the Pere video. And boy did Sesan deliver! The video was simple, clean and all round dope!
HALE HALE – Patoranking
Shot somewhere in the heart of Togo and directed by Aje Films, everything about this video was 100%. From the setting to the beat, the fun lyrics and the choreography, it was obvious that they were having fun. Unless you've got an iceblock where your heart used to be, you can't watch this video without a big smile on your face. The fact that Patoranking used a regular looking girl as his leading lady and not one of those life-sized Barbie doll looking ladies that young African girls can't relate to was another plus for the video. Great beat, fantastic rhythm, Patoranking got it all right…. Here was a regular guy singing about his love to a regular girl in a regular neighborhood. Telling you that regular people fall in love, show love and can be a little extra *wink*
WE GO PARTY – KCEE ft Olamide
Directed by Unlimited LA, this is just one really goofy and fun video. The music and the imagery creeps up on you and before you realize it, you are tapping your feet and singing along… oh and Kcee delivered with his signature dance moves. The video truly embodied a Nigerian party in all its glory. A really good blend with Olamide bringing in the old folklore rhymes to spice things up and just make you laugh. Some people have said that it is not a serious song and that is okay too, not every time "moral lesson" or deep stuffs, music should help escape to fun wonderland.
BOOTY LANGUAGE – Skales ft Sarkodie
Got just one question for you? How do you say booty in your language? BOOM! You may not like to have a sea of booty swinging right to left in your face (I sure don't) but the ingenuity of the song is everything that it is – a summer anthem! Such a fun song and the video is colorful in an adult graffiti Disney Land –ish way. Whether you are watching or just listening to the song, you will feel good anyway. Great choice of feature with Sakordie to give it that final push to dope status. Skales has been putting out some really good music lately and this is one of them, great music! Booty Language was directed by TEEKAY.
 So there you have it, go watch and have a 'feel good' day… plus it's Friday!!! What are some of your favorite fun songs at the moment?
Written by EIC, Omawumi Ogbe