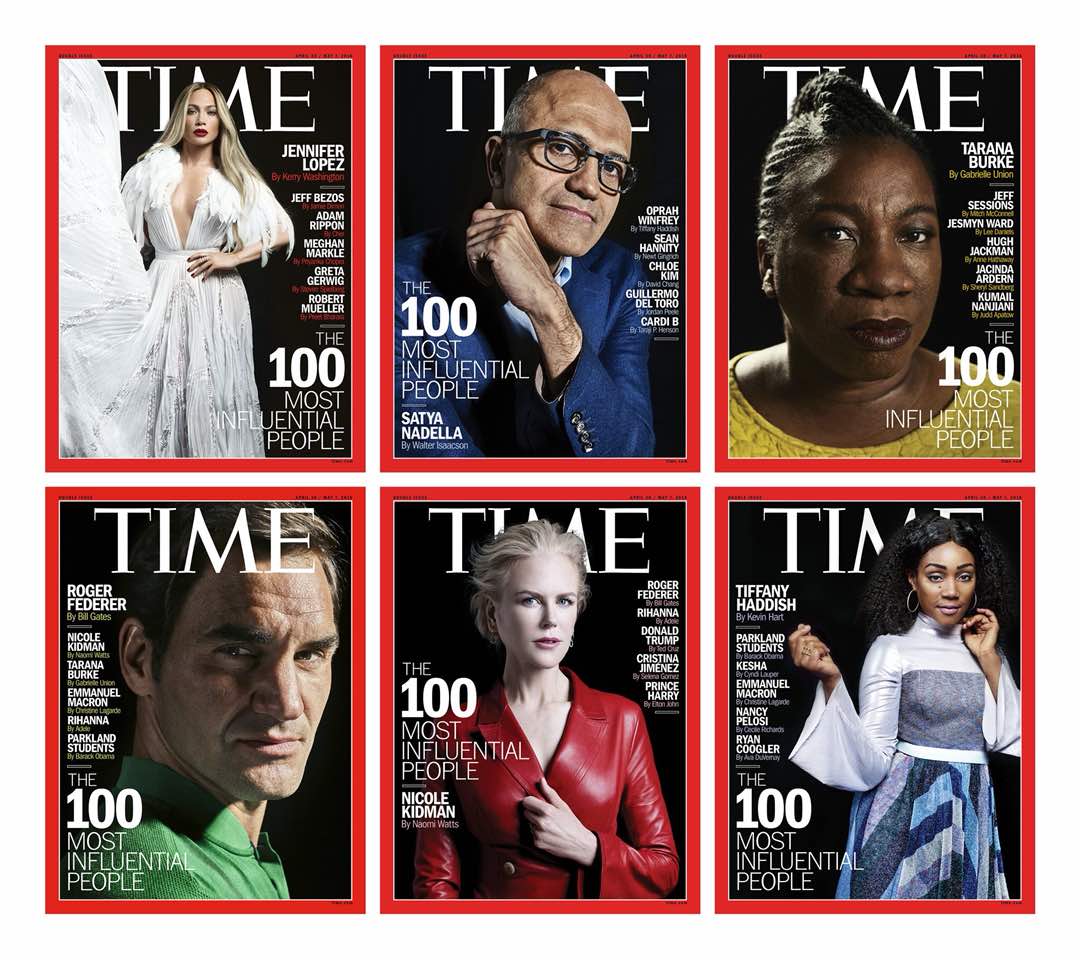 The TIME 100 Most Influential People is an exclusive and highly coveted list that includes artists, activists, leaders and visionaries working to define the course of history. Assembled by the American news magazine Time, the 100 most influential people of 2018 were segmented into Pioneers, Artists, Leaders, Icons and Titans. Names on the list include Kehinde Wiley, the Parkland Students, Prince Harry, Meghan Markle, Rihanna, Roger Federer, Donald Trump, Cardi B, Chadwick Boseman, Deepika Padukone and more. 
Aside from the list of 100, TIME usually creates 5 special covers. For 2018, TIME selected Tarana Burke, Roger Federer, Tiffany Haddish, Nicole Kidman, Jennifer Lopez and Satya Nadella to appear in a series of covers photographed by Peter Hapak.
Actress and entrepreneur, Gabrielle Union wrote powerfully about activist and founder of  Me Too, Tarana Burke, "When you've been sidelined for so long, it's exhilarating to know that such a powerful voice is finally breaking through. Tarana will continue to do this work, but the stage will be bigger and the microphone turned all the way up. She will inspire legislation and new crops of voters. She will sway old voters. She will open eyes. She's not even going to bring more seats to the table—she's going to turn the table over and build a new one.
For Taraji P. Henson's write-up on Cardi B under the segment of Pioneer, the actress wrote "The first time I went on her Instagram page, she was so raw, coming at you, like, whoa!" Henson continued, "She used words like 'shmoney' and 'shmoves,' and she talked openly about being a former stripper."  "Cardi B's here to stay, baby, and I'm happy to be a witness." Henson added
Former US president, Barack Obama wrote about the Parkland students while Elton John wrote on Prince Harry. Read more about the Time 100 at TIME Magazine