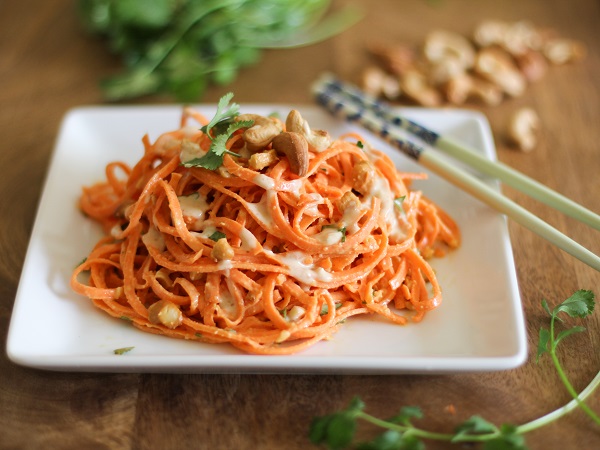 Curated By Glazia Staff
 Ever heard of carrot pasta? Think about this, what if you do not have to go through the hassle of cooking? No hot pans, burnt fingers, nothing! We went on a search and curated some of the best no-cook meals from some of our favorite vegan food sites just for you! There are only benefits in this set-up as your oven or stove gets a breather, you will be eating unprocessed and uncooked food so you get all the nutrients without the dangerous additives. Your entire system must be singing the "Hallelujah" chorus at this very moment.
BREAKFAST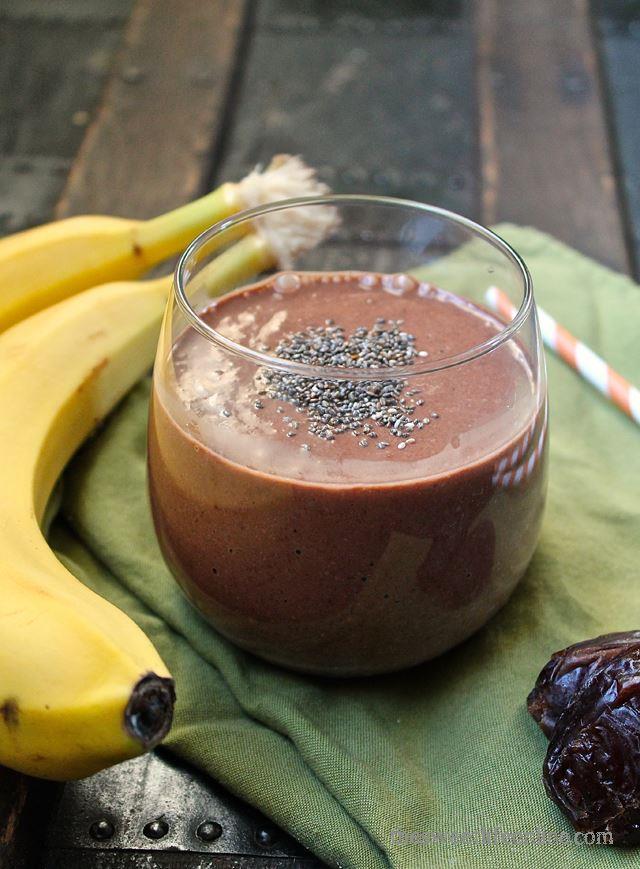 Serving: 1
Prep Time: 5 mins
Total Time: 5 mins
This smoothie is an easy-to-make breakfast that can be ready in a few minutes. This natural breakfast is high in fiber, calcium, and protein, and will fill you up for hours. Plus it is a great excuse to get some chocolate with breakfast.
Ingredients
1 frozen banana, sliced
2 medjool dates, pitted
2 tbsp. raw almond butter
2 tbsp. raw cacao powder
1 tbsp. chia seeds
1 cup raw almond milk
Directions: Toss all ingredients in a blender and mix on high until smooth.
LUNCH
These are super easy to throw together! They are packed full of veggie goodness and some nuts processed in the food processor into an almost ground meat texture. Have you heard of this faux meat phenomenon, specifically common in raw vegan recipes? Essentially raw nuts are ground into a paste in the food processor with other ingredients added in – garlic, ginger, spices, oil, water, etc. The resulting mixture is incredible. The ground up pecans mixed with the garlic and ginger take on a real hearty consistency and this mixture can be added to all sorts of recipes. In these raw vegan collard wraps, the pecan mixture adds a nice firm texture that blends well with the creamy avocado and crunchy peppers.
One trick for the collard leaves is to soak them in a bit of warm water with lemon juice squeezed in. This helps soften up the leaves so that they don't start to wrap as you are wrapping them up. Also make sure to use a knife and trim down that super thick hard stem that is running down the center of the leaf. This will also help these wrap up nicely.
It's amazing just how delicious and filling these collard wraps, with a pecan nut mix, avocados, red peppers and alfalfa, are while being entirely plant based and bread free!
Raw Vegan Recipes – Collard Wraps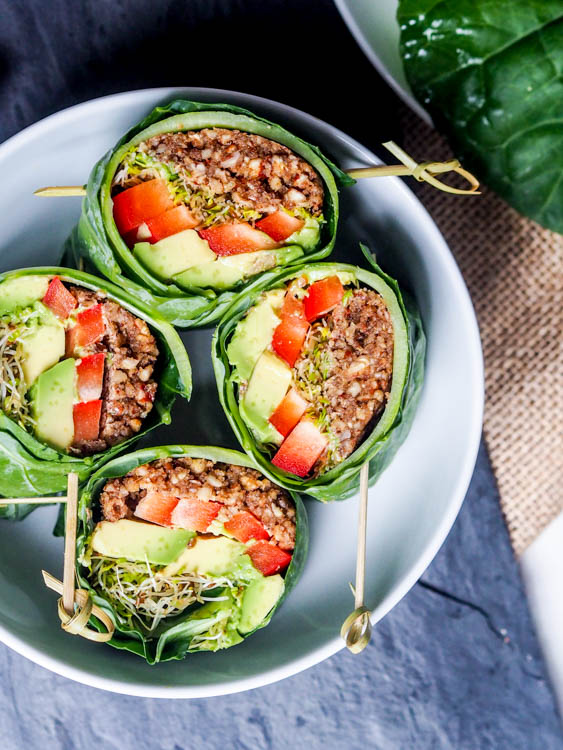 Raw vegan recipes are perfect when you want to eat healthy and detox your body from heavy meals or processed food. These collard wraps are going to be your new favorite healthy lunch.
4 large collard leaves
1 red bell pepper
1 avocado
2-3 ounces alfalfa sprouts
1/2 lime
1 cup raw pecans
1 tablespoon tamari (use coconut aminos for paleo version)
1/2 teaspoon minced garlic
1/2 teaspoon grated ginger
1 teaspoon extra virgin olive oil
DIRECTIONS
To prepare collard leaves wash leaves, cut off white stem at the bottom that has no leaves and place them in a bath of warm water with juice of half a lemon. Let soak for 10 minutes. Dry the leaves off with paper towels and using a knife thinly slice down the central root (to make it easier to bend the leaves for wrapping).
Slice avocado and pepper.
In a food processor combine pecans, tamari, cumin (or garlic ginger mix) and olive oil. Pulse until combined and mixture clumps together.
Place a collard leaf in front of you and layer nut mix, red pepper slices, avocado slices, a drizzle of lime juice and alfalfa sprouts. Fold over the top and bottom and then wrap up the sides. Slice in half and serve.
Nutritional Info per 2 Collard Wraps (1/4 of recipe)
Calories: 293
Total carbs: 13.2g
Dietary fiber: 8.5g
Protein 6g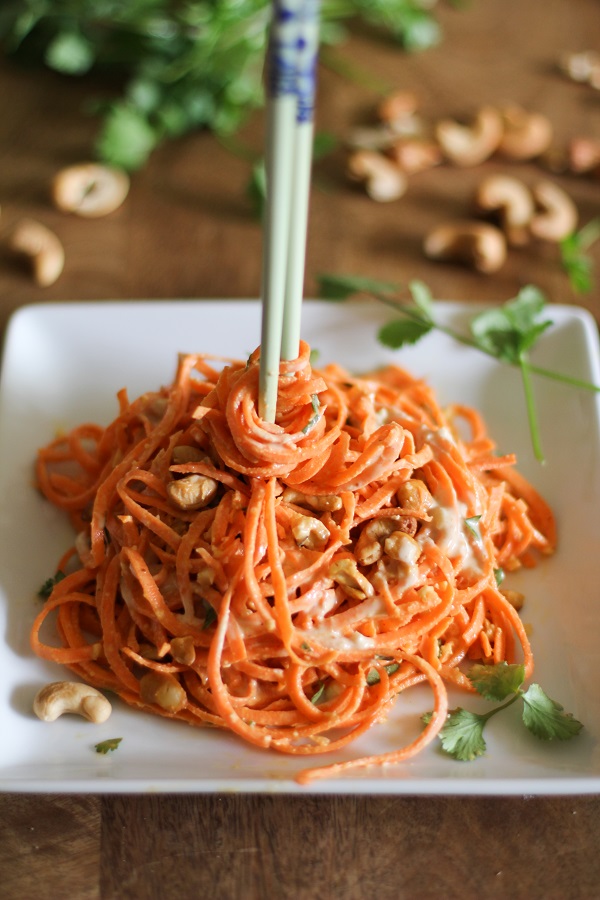 Raw carrot pasta with ginger-lime peanut sauce
Prep Time: 15 minutes
Total Time: 15 minutes
INGREDIENTS
FOR THE CARROT PASTA
5 large carrots
1/3 cup roasted cashews
2 tablespoons fresh cilantro
FOR THE GINGER-LIME PEANUT SAUCE
2 tablespoons unsalted unsweetened creamy peanut butter
4 tablespoons coconut milk
2 tablespoons liquid aminos
Pinch cayenne pepper
2 cloves large garlic
1 tablespoon fresh ginger
1 tablespoon lime juice
Kosher salt to taste
DIRECTIONS
TO PREPARE THE GINGER-LIME PEANUT SAUCE
Combine all ingredients in a small bowl and mix together until smooth and creamy
TO PREPARE THE CARROT PASTA
Wash carrots well, peel them, and pat dry
Using your spiral slicer, make noodles out of all of the carrots. It will be more difficult to make the noodles once there are only a few inches of carrot left, so you can grate what's left of the carrot
Place all carrot noodles into a large serving bowl. Pour the Ginger-lime peanut sauce over the noodles and gently toss together
Serve with roasted cashews (or peanuts) and freshly chopped cilantro
RECIPE NOTES
If you don't have a spiral slicer, you can simply grate the carrots with a box grater
If you're intolerant to peanuts, not to worry! You can use any nut butter of your choosing – almond butter and cashew butter work great!
See more unique food articles and recipes in the latest edition of Glazia, the Nature Issue – Get it now at Glazia Store