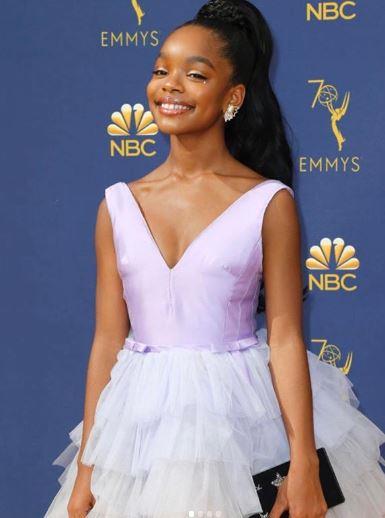 What's not to love about Marsai Martin? This young star has proven to be the complete definition of black girl magic. From her brilliance to her gorgeous looks, her amazing personality and more, this young basket of talent has always wanted to be a legend and we dare say at 14-years old, she's almost there! As with many people around the world, Masai has earned a soft spot in our hearts and here are ten of so many reasons why we adore her.
She is fast becoming a fashion icon who knows how to work the red carpet
She is all shades of cuteness even when rocking a jumbo bonnet

Marsai Martin brings a healthy dose of sass and cuteness in her bonnet

She has Legendary memes

Meme queen

At age 11, she came up with the film concept of the soon-to-be released movie, Little which features award winning actors, Regina Hall and Issa Rae.
She is a great role model for little girls everywhere
She's natural hair goals

Look at all that gorgeous natural hair!

She had her first national commercial appearance in the choice hotel ad "Voice of the People" at the age of 5 in 2013.
She is our adorable, sassy older twin "Diane Johnson" in hit comedy series Black-ish
She has bagged a couple of awards including the young artist awards and the NAACP image awards.

Marsai Martin with her award

When the comedy Little hit theaters this spring, 14-year-old Marsai Martin will hold the title of  youngest executive producer of a major Hollywood motion picture in history.
Here is a sneak peak of the highly anticipated Little, which we can't stop gushing over and can't wait to see! So tell us, what do you like most about Marsai Martin?
Written by Ozumba Somtonna Abodunde