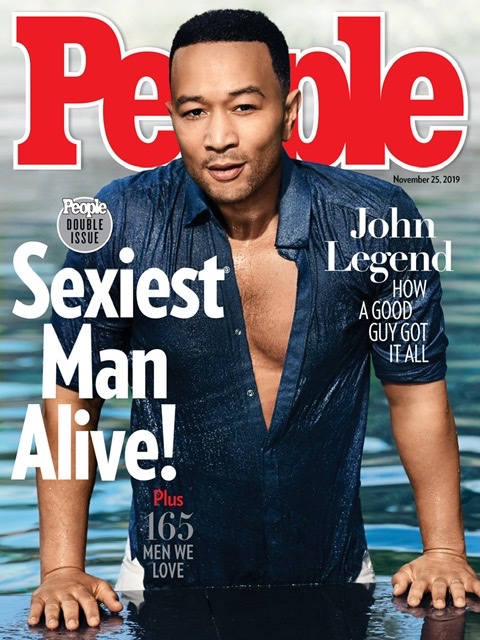 John Legend, one of the 15 Hollywood celebrities to achieve EGOT status, a talented singer,  songwriter, and an amazing dad has just being named 2019 Sexiest Man Alive by People Magazine. The 10 time Grammy winner comes directly after Idris Elba of 2018 and Dwayne 'The Rock' Johnson of 2017.
John Legend's  coronation as the Sexiest Man Alive by People was officiated by former Sexiest Man Alive and co-judge- Blake Shelton with a pair of skimpy bum shorts  on the latest episode of "The Voice".
In an interview with People, the  award winning singer said "I was excited, but I was a little scared at the same time because it's a lot of pressure, everyone's going to be picking me apart to see if I'm sexy enough to hold this title. I'm [also] following Idris Elba, which is not fair and is not nice to me!".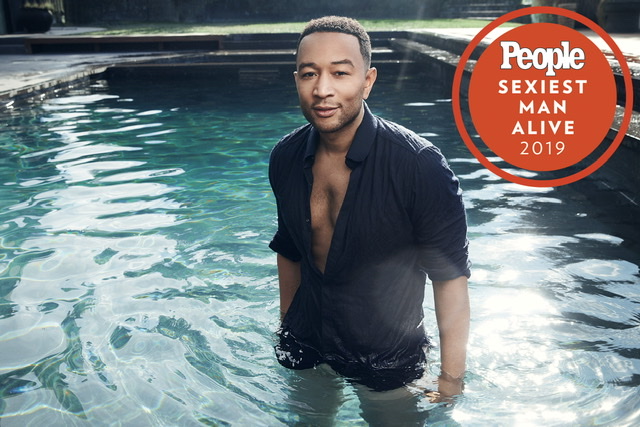 His predecessor Idris Elba took to twitter to congratulate him saying, "My G 🙌🏾🙌🏾Congratulations brother !!! You deserve it. DO NOT TELL @TheRock He still thinks he's got the title, I didn't have the heart to tell him when I took it." And The rock retorted saying "Congratulations brother!! Welcome to the club. You earned this one. Just like I did. And unlike @idriselba who paid @people 50% of his future earnings for his sexy title. The three of us will raise a tequila glass soon. Congrats again you sexy SOB".
Most importantly, since this announcement, John Legend's wife, model and food enthusiast-Chrissy Teigen, doesn't know how to act anymore. She changed her twitter bio to "de-motivational speaker currently sleeping with people's sexiest man alive" and later tweeted "the sexiest man alive just made me a ham sandwich". You can't help but laugh.
Others who have held this title include- Denzel Washington, Idris Elba, Dwayne Johnson, Chris Hemsworth, David Beckham, Johnny Depp, Hugh Jackman, George Clooney, Mathew McConaughey, Pierce Brosnan, Brad Pitt, Ryan Reynolds etc.
Photo Credit: People Magazine