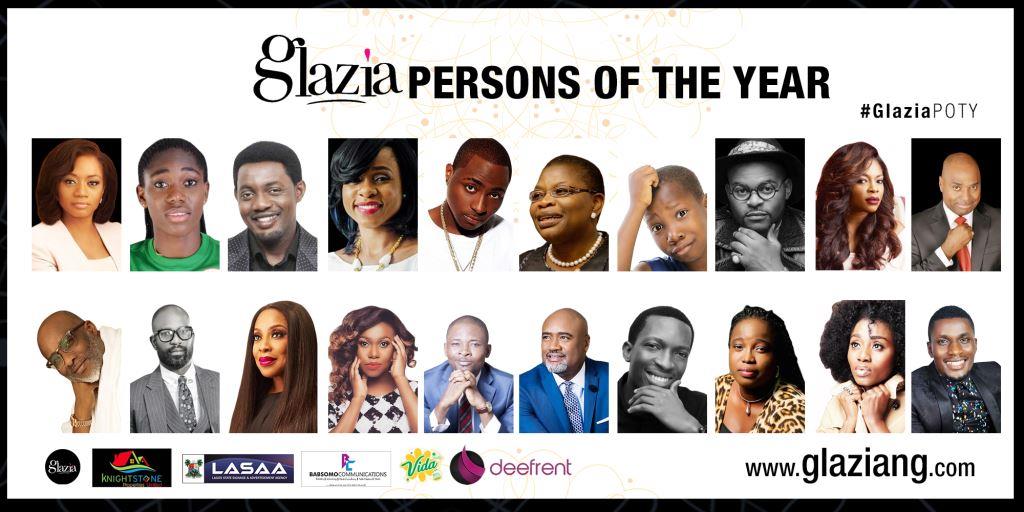 The Glazia Persons of The Year awards was created to recognize individual brands breaking grounds in their fields of endeavor. These are people who over the last 12 months (November 2016 – October 2017) have worked to transform their industries and make impact in their environment, having demonstrated excellence in the areas of Passion, Progress, Profit and Power within the period in view.  Get the latest magazine to read the complete article on winners and more lifestyle content from our special issue. See individual videos detailing winners here
In order to do justice to the Persons of the Year, Glazia reached out to some brilliant minds to write on one or more persons on the short list, showcasing the achievements and impact of the proposed POTY within the period in view. They went to work doing research on the subjects and bringing the Glazia POTY awards to life. Read the complete article on each awardee, spread across the latest edition of the Glazia Magazine.
Written in alphabetical order, enjoy our list of the Glazia Persons of The Year!
ARTS & CULTURE
         BOLANLE AUSTEN-PETERS – By Author & Content Developer, Akinola Odunukan
Aptly described as a game changer, Bolanle Austen-Peters heralds the path of progress especially in the Arts as she keeps pushing the boundaries of possibilities both in the Nigerian space and beyond. This lawyer turned culture promoter continues to raise the bar for stage and film production, even as she also leads the revolution for the establishment of fitting performance spaces in a nation in dire need of such.
2.     CREATIVE USE OF SOCIAL MEDIA
         Emmanuella Samuel – By Digital Media Executive, Minomi Ogbe
Recognized by just her first name, 7 Year old Emmanuella is Africa's youngest YouTube awards winner with her videos raking in over 2million views per publication.  After her break out role into the comedy industry with the My Real Face skit, Emmanuella has carved a niche for herself in the comedy industry and has arguably made the comedy skits on social media more popular.
3. ENTREPRENEURSHIP
Ayo Makun  – By Delphine Okobah, Creator of  The Delphinator TV
Ayo Makun has shown that he is more than just a comedian. The entertainment entrepreneur whose three movies appear on the Nollywood highest grossing list. From his sold out 2017 AY Live Show to his movie 10 Days in Suncity which was premiered in Nigeria, South Africa, and the UK,  The C.E.O of Corporate World Entertainment Nigeria, displays his business prowess in how he promotes his shows and movies.
4. FASHION  
MAI ATAFO – By Fashion Enthusiast, Stephanie Thompson
With unique brands such as the "Mai Atafo Inspired" and "Weddings by Mai," Atafo has gained vast critical acclaim with a savvy clientele of mostly celebrities like Omowunmi Akinnifesi, Banky W, Timi Dakolo, Ebuka Obi-Uchendu, IK Osakioduwa and many others.
As much as he made headlines with his designs, Atafo also made impact throughout the period in view, working as a community mentor, sharing insights on fashion, branding and more at various high profile events and workshops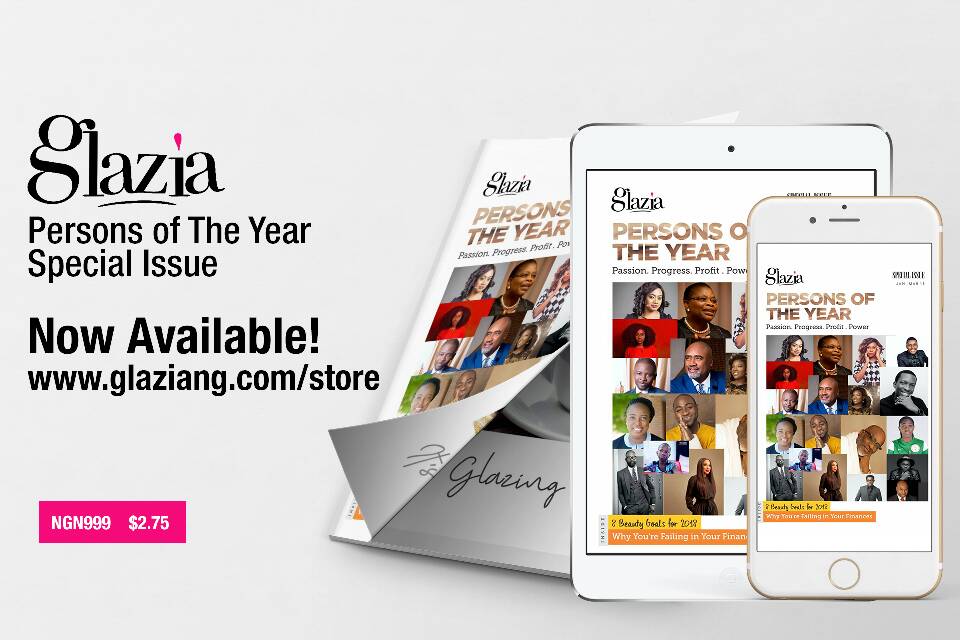 5. FILM
KEMI ADETIBA  – By Delphine Okobah,  Creator  of The Delphinator TV  
Kemi Adetiba has been able to cement her name as a brilliant cinematographer and director. In 2016, Kemi Adetiba made her movie directorial debut with The Wedding Party, which went on to become the highest grossing movie in Nollywood history so far, raking in almost 500 million Naira in earnings. Just when one thought she would take a break, Adetiba released heartfelt series, The King Women to rave reviews.
6. MEDIA
     MO ABUDU  – By Corporate Communications Expert, Tuokpe Idundun
Media Entrepreneur, Mo Abudu has been described as one of Africa's most successful women. With more vision, passion and drive than media experience, Abudu has redefined television in Africa, as the Founder and CEO of EbonyLife TV. She co-produced December 2016 release, "The Wedding Party" which went on to become the most successful Nollywood movie so far.  In July 2017, Mo Abudu and her team at EbonyLife TV premiered Fifty the Series, an offshoot of box office success, Fifty to rave reviews. In September 2017, Abudu led her team to the Toronto International Film Festival where they premiered the movie, "The Royal Hibiscus Hotel," to critical acclaim.
7. NEW MEDIA INFLUENCER
    Japheth Omojuwa – By Corporate Communications Consultant, Tuokpe Idundun
Fondly referred to in some quarters as the "King of the Click", Japheth Omojuwa executes his role as part of the 4th arm of Government with due diligence. With his confident take on topics ranging from politics, socio-economics, media, sports and more, Omojuwa drives a large portion of the conversation on the Nigerian dialogue through the new media and traditional platforms. He is well-known within the twitterverse beyond his over 500K followers as a solid commentator on trending issues and in many occasions, driving the trends himself.
8. MUSIC
    DAVIDO –  By Music Enthusiast & Critic, Winifred Aghanwa
David Adedeji Adeleke popularly known as Davido is a recording artist, producer and record label owner. 2017 is unarguably Davido's biggest musical year so far. With chart topping songs like IF and FALL making him the only African artiste with the most viewed videos of 2017 at 56 Million views and 41 Million views respectively, Davido completely ruled the African music scene within the period in view.
9. PASSION & CREATIVITY
FALZ  – By Brand & Reputation Manager, Tubosun Akeju
Folarin Falana better known by his stage name Falz, is a Nigerian rapper, actor, and songwriter. A trained lawyer who has become a force to reckon with in the entertainment industry at large, there is no doubt that Falz is one of a kind. Comedy has always been a good medium of telling stories and Falz has optimized that with 2017 releases like Weh Done Sir, Baby Boy, Jeje, Something Light and La Fete all of which ruled the Nigerian music charts and still enjoy major air play.
 10. PHILANTHROPY & ADVOCACY
BUKKY SHONIBARE  – By Digital Media Executive, Minomi Ogbe
Bukky Shonibare is many things rolled into one but at the center of it all, one thing is common, the desire to help and provide support. Many people call themselves human rights advocate and talk about all that is wrong but Bukky Shonibare takes it further by working to be the change that she clamors for. She is founder, Girl Child Africa, Coordinator, Adopt-A-Camp and also a Bring Back Our Girls (BBOG) frontline campaigner.
11. EXCELLENCE IN PHOTOGRAPHY
TY BELLO  – By Author & Content Developer, Akinola Odunukan
Vastly proven as a multi-talented creative, Toyin Bello is best known for her prolific photography career and social activism. TY Bello as she is fondly called, has built an amazing portfolio as arguably Nigeria's foremost photographer. Her evocative portraits have made her one of the most applauded and keenly sought after portrait photographers in the country. Indeed, she has the unique distinction of having photographed three sitting Nigerian Presidents.
12. SOCIAL EMPOWERMENT
LANRE OLUSOLA  – By Content Creator & Writer, Tene Samuels
Popularly referred to as The Catalyst, premier Life Coach, Lanre Olusola in a true catalytic fashion, has dedicated himself to facilitating life, mind, emotions and behavioral change across Africa. Within the period in view, Olusola took front role in conversations about Mental and Emotional Health. In June 2017, Olusola and his team, in partnership with the Life Coaches Association of Nigeria, set up a free Emotional Clinic primarily to help those suffering from Depression. Hosting inspiring coaching programs across Nigeria, Ghana, Kenya, Uganda, London etc; Lanre has successfully invoked deep conversations across different spectrums of life.
13. SOCIAL INFLUENCER
PAUL ADEFARASIN – By Abiola "Champ" Salami, Founder, iamaCHAMP Group  
Motivator, Author, Social Engineer and Architect, Paul Adefarasin serves as the Metropolitan Senior Pastor of all House On The Rock Churches.  A social influencer, Adefarasin lends his voice to important issues on the African continent; one of which was the slave trade concern in Libya, in 2017. Adefarasin is the convener of "The Experience Lagos," a program recognized as the largest gospel concert anywhere in the world and the biggest musical event in Africa. Held every 1st Friday of December, The Experience Lagos has become the template for musical events in Nigeria and beyond.  Paul Adefarasin has also redefined the approach to building places of worship with the construction of the Rock Cathedral in Lekki, Lagos.
14. SPORTS
ASISAT OSHOALA – By Sports Enthusiast & Entertainer, Freedom Atsepoyi (Mr Jollof)
Mercurial female Nigerian striker Asisat Oshoala is fast etching her way into history as one of the nation's most prolific strikers of all time. Following in the paths of greats like Mercy Akide and Perpetual Nwokocha, Asisat has been crowned two different times as the African Female Footballer of Year by the Confederation of African Football.
Within the period under review, Asisat has been crowned the Chinese Women's Super League (CWSL) top scorer as her goals helped her club Dalian Quanjian FC win the CWSL title for the 2016/2017 season in September.
15. TECHNOLOGY
SHOLA AKINLADE  – By Opeyemi Olomo – Portfolio Manager, Innovation Lab
Shola Akinlade is CEO and Co-founder of FinTech startup, Paystack. In December 2016, Paystack became the very first Nigerian company to get into Y Combinator – an American seed accelerator providing seed funding for startups – They announced that Paystack had closed a seed Investment of $1.3M from international investors. Shola Akinlade and team continue to innovate to help businesses accept payments online in less than 30 minutes from sign-up.
16. WOMEN EMPOWERMENT 
AISHAH AHMAD – By Chinwe Egwim, Public Finance Expert, Macroeconomist & Fixed Income Analyst
A woman with rare intelligence and grace, you can always count on Ahmad to be at the forefront of creating opportunities for women. In May 2017, Ahmad as the then Executive Chairperson for Women in Business and Management, led the WIMBIZ team to Kano for The Big Sister Program – which was  launched under her leadership at WIMBIZ – to mentor and empower teenage girls in government secondary schools. In 2017 alone, over 700 girls have been trained around cities in Nigeria. Prior to her promotion as Executive Director of Retail at Diamond Bank in 2017, Ahmad was head at the Bank's Consumer and Privilege Banking division.
SPECIAL RECOGNITION AWARDS
 17. PIONEER AWARD
KENNETH OKONKWO – By Filmmaker and Director, Theo Ukpaa
Although films produced in Nigeria date back to the late 19th century, Kenneth Okonkwo at 49-years old, is respected as a pioneer in the Nigerian film industry. Okonkwo got his big break in 1992 at the age of 24 after landing the lead role in popular drama thriller, Living in Bondage. Directed by Chris Obi Rapu, written by Kenneth Nnebue and Okechukwu Ogunjiofor, Living in bondage is Nigeria's first ever direct-to-video film and consequently gave birth to the Nollywood industry after its commercial success nationwide, thus earning Okonkwo the title, First Nollywood Actor.
18. SOCIAL JUSTICE & ACCOUNTABILITY 
DR OBY EZEKWESILI  – By Media Executive, Mfonobong Iyang  
The former VP of the World Bank and two-time minister of Nigeria, Oby Ezekwesili does not shy away from speaking on trending issues and current affairs. Her advocacy reputation grew bigger with the #BringBackOurGirls campaign where she stood at the fore, lending her voice and platform to give the movement more clout. With her demand for justice and accountability from leaders came criticism. Ezekwesili however is relentless about calling out wrong doing, saying to everyone who cares to listen that the highest office of the land is that of the citizen and that one does not need a political office to take interest in governance or hold government to account.
19. BREAKTHROUGH PERSON OF THE YEAR
NINIOLA – By Writer & Corporate Communications Head, Abimbola Murtala
Niniola Apata better known by her stage name Niniola, is a powerhouse singer who rose to fame in 2013 after finishing as third runner up at the 6th season of Project Fame West Africa. In August 2017, the singer and songwriter joined London based independent rights management and publishing company, Kobalt Music which houses talents like Carly Rae Jepsen and Zayn Malik. For soothing the hearts and ears of Nigerians hit after hit, creating a niche for herself in the industry, and for framing tomorrow's Afro pop culture; Niniola is the Glazia Breakthrough Person of the Year 2017.
20. SPOTLIGHT AWARD
ZION OSHIOBUGIE – By Segun MANUEL, convener of the Mega Youth Summit.
 As the name implies, the spotlight award beams the light on individuals who are making a difference in their communities, working from a place of passion whilst helping others to progress. An on air personality, educator, entrepreneur and motivational speaker, Zion's vision is to help raise the next generation of problem solvers not job seekers.  Fondly called the Academic Mentor, Zion founded Clever Minds Nursery and Primary School Warri in September 2017.  According to him, his desire is to help the children living in poor communities access quality education.