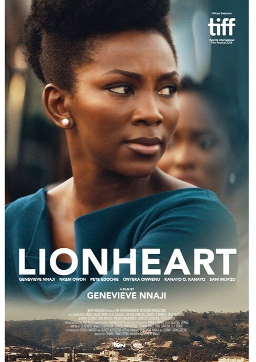 Lionheart, the new movie by Genevieve Nnaji has the potential to be remembered as one of the films that changed the global face of Nollywood. Nnaji's directorial debut, Lionheart also made history as the first Nigerian movie to be acquired by US streaming giants, Netflix. And that, in itself, is a big deal as it's been reported that Netflix bought the movie for $3.8Million (N1,385,100,000), although neither parties have confirmed the fee. If you are still contemplating about seeing the movie, hopefully this review will help you make an informed decision.
A great story packed with values, humor and learning points, Lionheart couldn't have come at a better time than now in Nigeria's history. Where movie directors and producers now prefer to mostly cast the younger actors on trend, Genevieve Nnaji embraced the veterans and it proved to be a great decision. From Pete Edochie to Onyeka Onwenu, Nkem Owoh, Kanayo O. Kanayo and more, Genevieve did an amazing job in assembling the big old names to the movie and they brought their A-game to the fore.
The movie begins with Adaeze (Genevieve) trying to persuade a mob to vacate her father's transport company. As we all know, running a company in Nigeria comes with special challenges, especially for a female in a male-dominated industry. And so, looking to prove her worth, Nnaji's character steps up to the challenge when her father, Chief Ernest Obiagu (Pete Edochie) is forced to take a step back due to health issues.
Contrary to her expectations of succeeding her father, Chief Obiagu appoints his crude brother, Godswill (Nkem Owoh) to run the company with her. The movie follows her journey as she works with her uncle to save the family business which was in dire financial straits, resulting in crazy and often hilarious results.
Lionheart also brought a fresh look from the usual Nollywood movies where the plot is almost always situated in Lagos. Shot in Enugu and Kano States with brilliant cinematography and locations, the film took a departure from the same overused landscape shots we have become accustomed to in the Nigerian movie scene.  A truly indigenous movie, Lionheart embraces the Nigerian culture, showing a realistic view of a typical Enugu setting, conversing predominantly in Igbo. The movie however, doesn't fail to captivate the non-Igbo-speaking audience with its English subtitles. The movie also shows a contemporary Nigerian culture where the female child is celebrated and given an equal chance at success unlike what is the norm in our paternalistic society.
Overall Rating: Lionheart is an inspiring film that promotes the Nigerian culture and demonstrates originality to a great extent. However, the technicality could have been better, some scenes were too dark and sound quality wasn't 100%. The movie speaks boldly of family values, portraying the Igbo and Hausa culture in grand style, far from what we are majorly used to. With all these in mind, we give it a solid 7/10.
Cast: Genevieve Nnaji, Nkem Owoh, Pete Edochie, Onyeka Onwenu, Phyno, Peter Okoye, Kanayo O. Kanayo, Jemima Osunde, Kalu Ikweagu, Ngozi Ezeonu and more.
Written by Agbaje Omoniyi