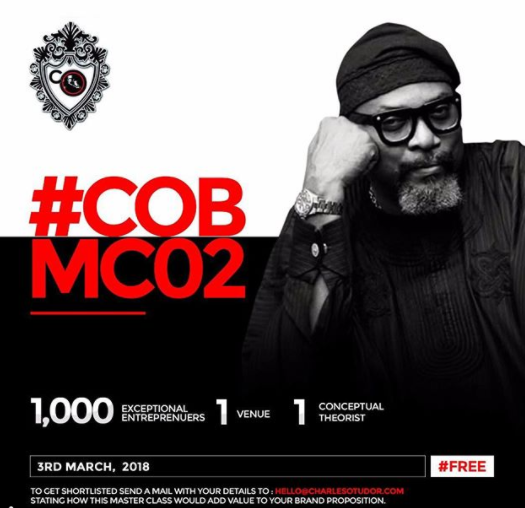 Brand expert and principal consultant at ADSTRAT Branding Management Consortium, 
Charles O'Tudor,
  is back with his critically acclaimed brand masterclass billed for the 3rd of March, 2018 in Lagos. Held for the first time on his birthday last year in June, O'Tudor hosted over 400 entrepreneurs in 2017 and has decided to increase to 1,000 entrepreneurs due to demand.
According to O'Tudor, "In today's world, branding is more important than ever. No branding, no differentiation. No differentiation, no long-term profitability. People don't have relationships with products, they are loyal to brands. But you can't simply build a brand like they did in the old days" he said. "You need a cultural movement strategy to achieve kinetic growth for your brand. With that, the sky is the limit. At the #COBMC02 I would be dissecting this issue and other brand building strategies with 1000 exceptional entrepreneurs" he further explained.
Program Details 
Date – 03 March, 2018
Venue – To be revealed to successful entrepreneurs
How to Register – Send an email to hello@charlesotudor.com with your details, stating how the brand masterclass will add to your brand proposition.
Connect with O'Tudor on Instagram and Twitter @charlesotudor and follow the conversation using the official hashtag, #COBMC02.