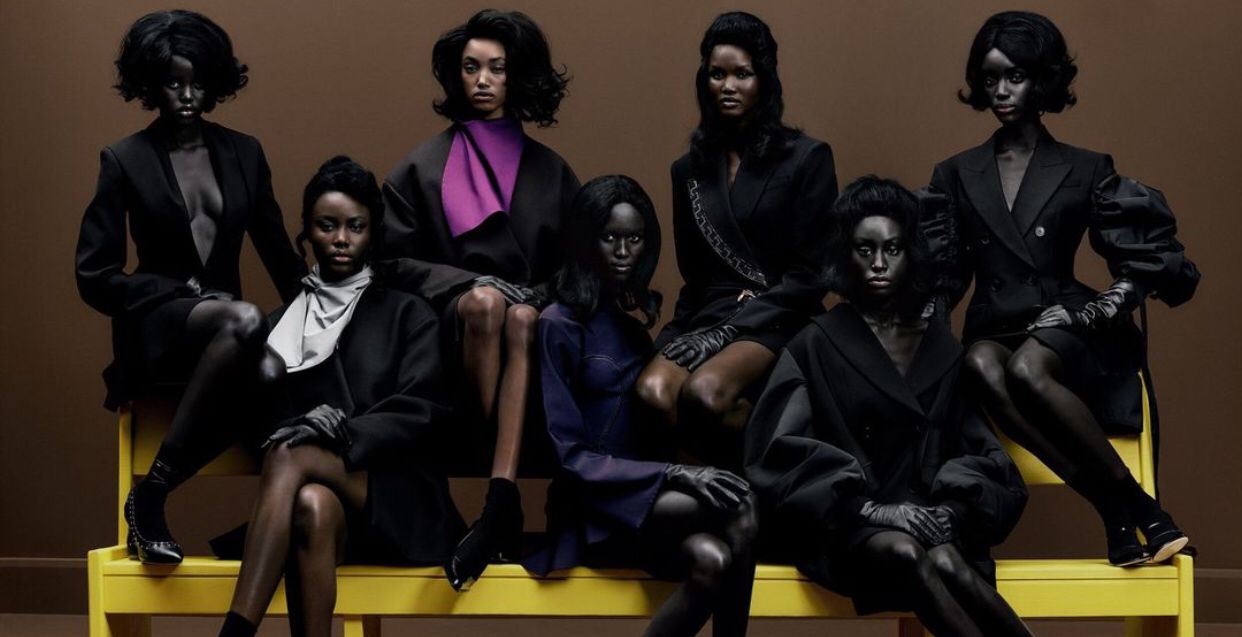 2022 is kicking off real hot and heavily melanated, and we couldn't be more pleased. About some 24 hours ago or more, British Vogue released its February 2022 Issue, and to keep it simple, it is arguably the best thing we've seen in the modeling world in a hot minute. The revolutionary cover is the talk of the moment. Even better, you are about to find out why. 
Funmi Fetto, beauty editor at British Vogue tells the story.
"Adut, Anok, Nyagua, Janet Jumbo, Maty Fall and co are representative of an ongoing seismic shift that became more pronounced on the spring/summer '22 runways. Prada, Louis Vuitton, Balenciaga, Saint Laurent, Miu Miu and many more were awash with dark-skinned models whose African heritage stretched from Senegal to Rwanda to Sudan to Nigeria to Ethiopia. For an industry long criticized for its lack of diversity, as well as for perpetuating beauty standards seen through a Eurocentric lens, this change is momentous."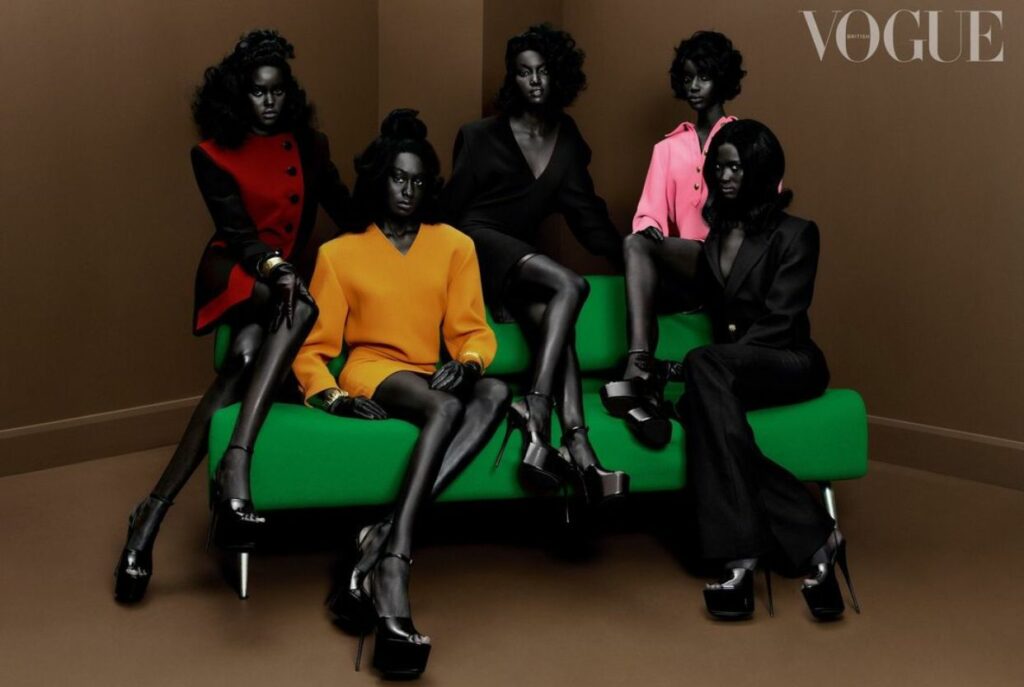 "With a new generation of African models in the spotlight, fashion is at last embracing what it is to be truly global"

British Vogue.
"For all the celebration of this moment, the elephant in the room remains. Why are we only just beginning to truly embrace African models on the international runways? Particularly when, as Omoyemi Akerele, the founder of Lagos Fashion Week, says, the issue cannot be put down to a lack of fresh talent: "Over the last decade, we have worked alongside agencies dedicated to discovering and nurturing new faces from across the continent. Models like Mayowa Nicholas started out walking at Lagos Fashion Week."
The 9 models on the cover of British Vogue, Feb. 2022 Issue are: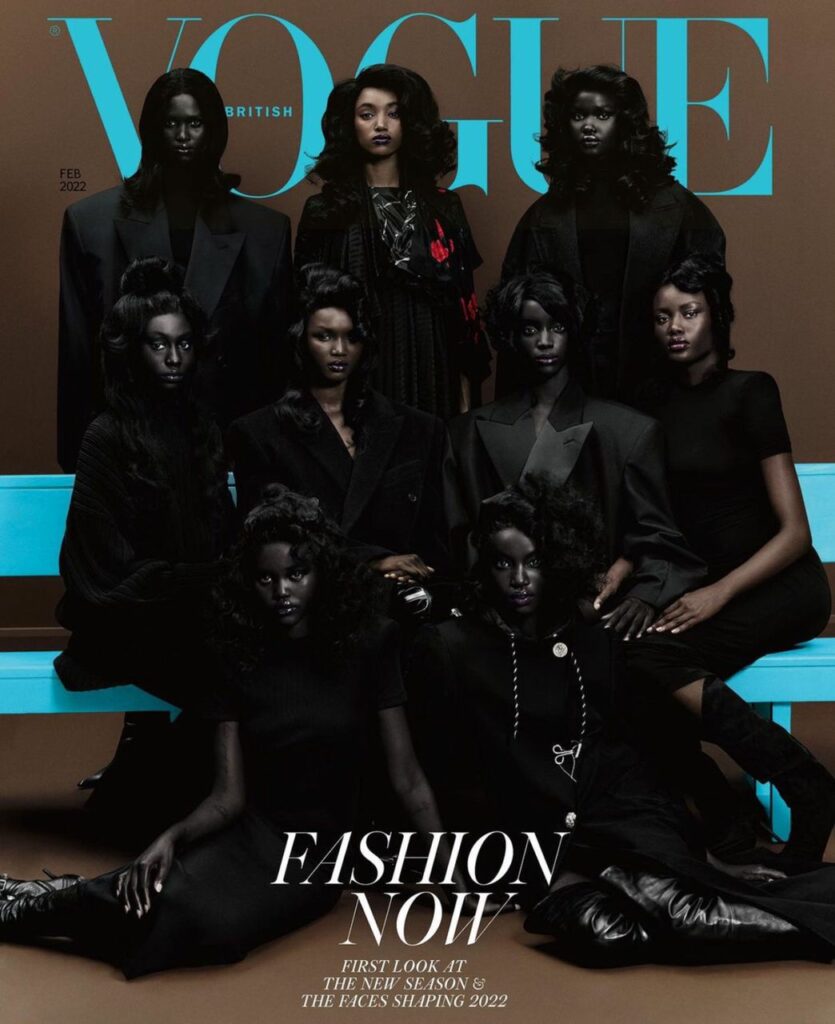 Adut Akech (South-Sudanese/Australian)
Amar Akway (Ethiopian)
Majesty Amare (American)
Akon Changkou (South-Sudanese/Australian)
Maty Fall Diba (Senegalese/Italian)
Janet Jumbo (Nigerian) – 1st Nigerian to walk for Louis Vuitton.
Abeny Nhial (South-Sudanese/Australian)
Nyagua Ruea (Sudanese) &
Anok Yai (South-Sudanese/American)
Adut Akech talks about her modeling career and solo cover for British Vogue.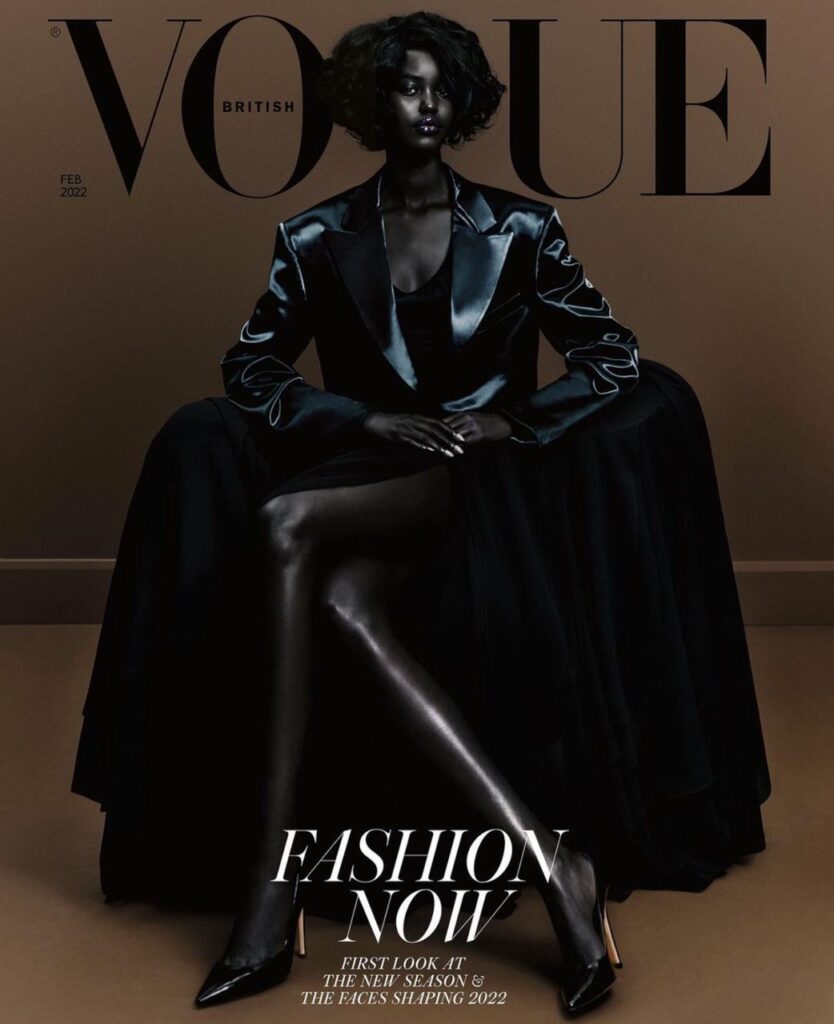 "When I first started modeling internationally, I would literally be the only Black, dark-skinned girl in the show. There were no Sudanese models, no African models. Now, "I go to a show and there are girls from my country, girls from Africa who look like me. So yes, there has been a huge change. It has gone from me being the only one at a show to 15 or 20 of us. I'm just so happy that we are finally at this place. I was tired of always feeling out of place and feeling like an outcast."
Anok Yai – Second Black model ever to open a Prada show (the first was Naomi Campbell, in 1997).
"In the beginning, I felt really isolated." "I got thrown into the modelling industry very quickly and I kind of had to navigate it on my own. I also have social anxiety, and so I struggled a lot with connecting with people. Backstage, there would maybe be one other Black girl, but now my tribe is backstage. I can speak my own language to my friends. They are basically like my family."
"This is a celebration of women, of matriarchy and of the beauty of Black women. "They are the past, the present, and the future."

Photographer Rafael Pavarotti of his first British Vogue cover shoot.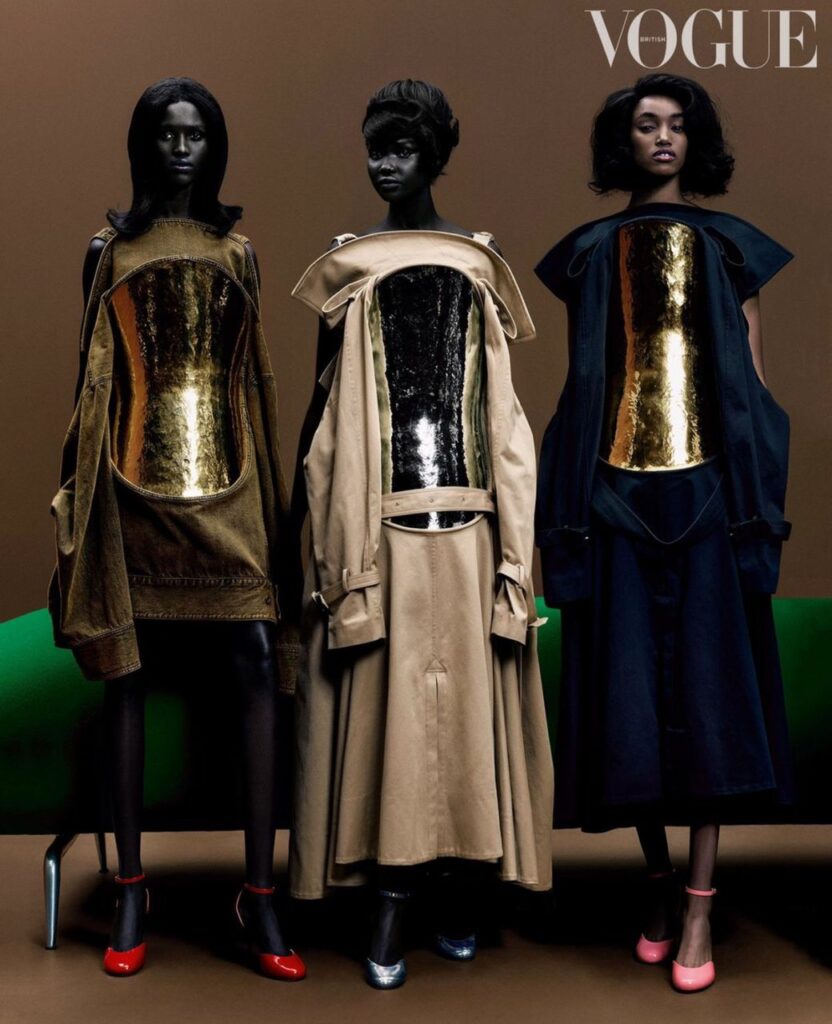 A message from pioneer African model, Iman.
To the models: "If beauty is in the eye of the beholder, then let the beholder be you." 
To the world: "All hail our African models with their jet-black skin, impossibly long limbs and natural hair, full of joy and absolutely no compromise."
Credits:
Story by Funmi Fetto.
Photography by Rafael Pavarotti for British Vogue.
Styling by Edward Enninful.
Original story published by British Vogue.