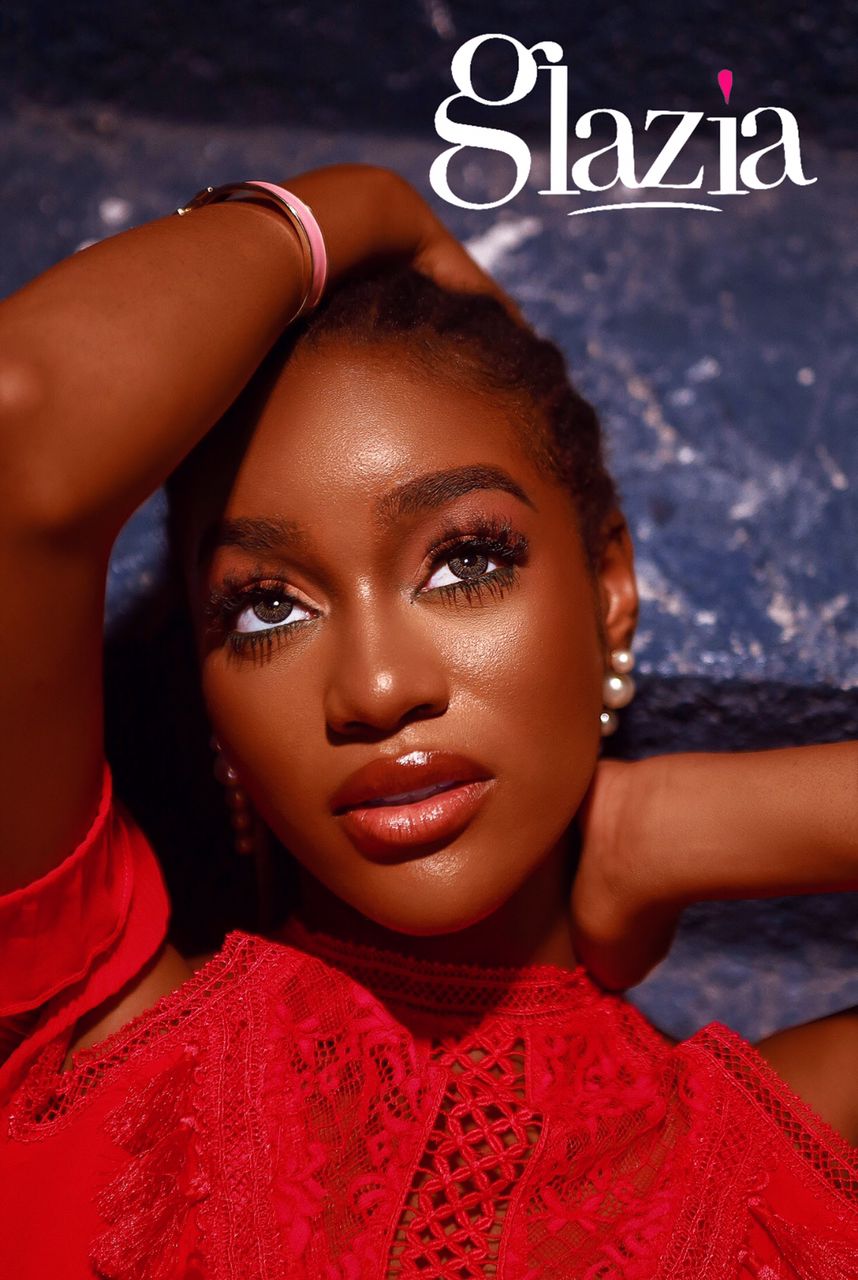 Welcome to the most anticipated cover girl interview of the year! Get ready to be blown away by our captivating cover girl, Beauty Tukura, who graces our 2023 first-quarter issue. This intelligent and stunning woman who studied law is the 43rd Miss Nigeria, brand influencer, entrepreneur and reality TV star, taking the industry by storm with her dynamic personality and irresistible charm.
Connecting from Paris to Lagos, Editor-in-Chief at Glazia Omawumi Ogbe sat down with Beauty to delve into this issue's theme: "Unleashing Your Inner Badass." With her graceful demeanour, Beauty opens up for the first time about her dramatic exit from the BBNaija show, handling it all with grace and moving on to exciting new projects. So kick back with a glass of whatever you like and get ready to be inspired by the brilliance of Beauty as she shares how she is navigating personal and professional life and building a brand that's sure to leave a lasting impression.
Glazia EIC, Omawumi Ogbe, in conversation with cover girl, Beauty Tukura
Omawumi Ogbe: In previous editions, Glazia has featured many women; among them include Nigeria's Deputy Governor of the Central Bank, Aishah Ahmad, Eku Edewor, and South African-Indian actor Tarina Patel, to name a few. Now you're part of the list being the cover girl for our 2023 first quarter issue. How do you feel about this?
Beauty Tukura: I'm excited! It's a very good feeling to know that first, Glazia found me worthy to be on the cover of their magazine. It is a big deal because this is my first magazine cover. It just makes me feel like if I've been recognized to do this, there are more amazing offers to come. It's also good publicity for me as I couldn't stay on the show as long as I should have. Even with Miss Nigeria, I didn't get to do PR because of Covid-19. So, I'm grateful for the opportunity to be the cover girl.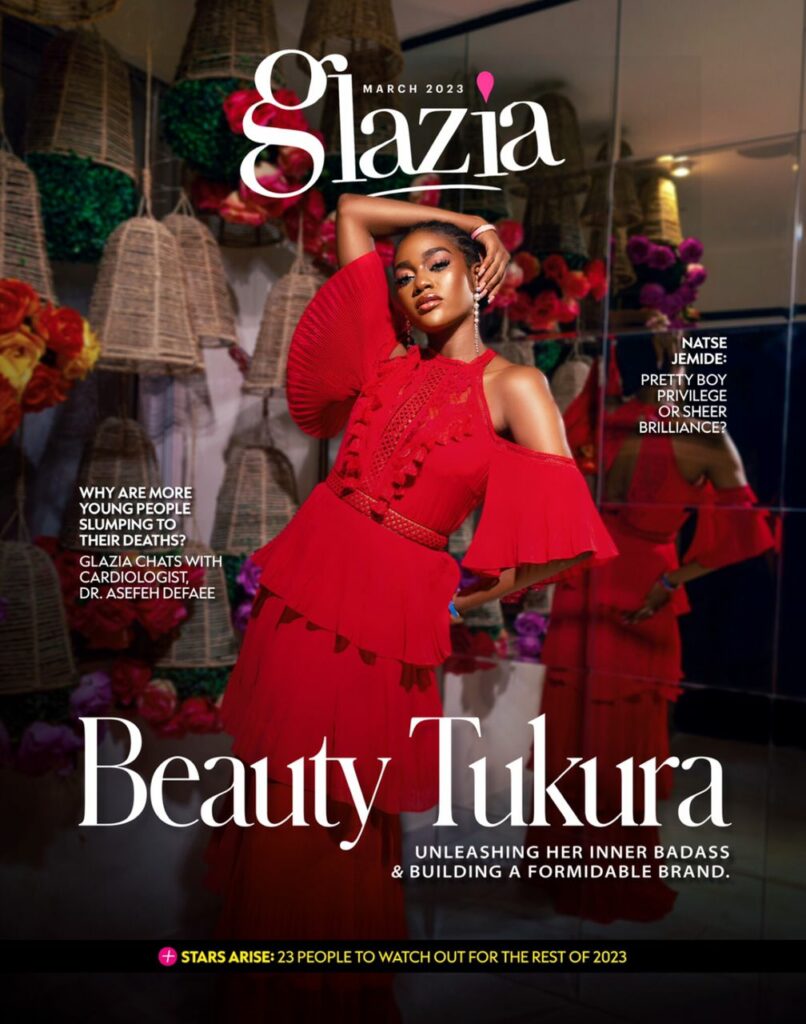 O.O: What was the entire experience like during the shoot for the magazine cover?
B.T: It was a good experience. Everyone worked well together to achieve the theme. From the photographers to myself and the Glazia reps, I think we had something good. I can't wait to see the pictures!
O.O: Our first cover issues are usually very special, and the theme for this year's issue is "Unleashing your Inner Badass", and it's an endearing title. Seeing that we are just a few months into the year, we are big on encouraging people to be the best version of themselves. How do you unleash your inner badass even when you are having a bad day?
B.T: Most of the things that I do comes from a place of responsibility. I'm a Northern girl, and typically, for the most part, we are not allowed to have dreams and goals. However, thank God for modern influences; things are changing for the better. Having parents that allowed me to be myself, go to school, and allowed me to have a good life helped me. I have to be able to take care of them when they are older, and that's the motivation that drives me even on bad days. I remind myself of the fact that I have people dependent on me, so I have to do what I have to do. That sense of responsibility is what keeps me going because I cannot afford to disappoint them.
O.O: That's amazing. Are you the last child of the family?
B.T: Funny, yes I am.
O.O: And you have this sense of responsibility like you are the first child?
B.T: I have three siblings; a sister and two brothers. Even with that, the realisation of the fact that I'm in a delicate position is part of the reason why I push myself so hard. That way, I don't have to depend on anyone and still provide for the people that provided for me. I tell people all the time that when it comes to me, my focus is firstly God, family, and then my friendships.
I feel like, at the end of the day, these are the people that matter. Regardless of your position in life or what you do, it still comes down to this same set of people just being around you. I see them as my life journey partners and I cannot do without them. So all of these factors and my sense of responsibility for my family inform my hard work.
O.O: As the cover girl for this issue and with the theme, what message would you like the readers to take with them?
B.T: My message for them is first, believe in yourself even when it feels hard. We all need to learn to believe in ourselves even when it's difficult. Because people will always have an opinion about everything you do and it's one of the lessons I've learned from the different experiences that I've had. It would have been easier for me to just go into hiding, run away from the world and not show the world what I can do. However, it's not always like that, you need to learn to believe in yourself even on the hard days.
Just know that you are special and authentic, and you know what you want to share with the world. Go ahead and share it. Whatever you are doing, an artist, or a business professional, be consistent in your craft, no matter what happens, don't stop. That's something I had to learn. At first it was very hard for me to come back, but I made the resolve in my heart to just keep doing me. I made a mistake, I've learned from it, and I'm going to do better. I'm going to have fun, I'm going to have love in my heart, and do everything I have to do. I feel like things will fall into place at the end of the day.
O.O: Looking back at the shoot: from the outfit you wore to all the lovely activities, you embodied the theme unleashing your inner badass. Which would you say is your favourite look?
B.T: The pink look is my favourite. I felt very powerful seeing that it was a natural picture and knowing that I can still look badass like that. I'm someone who likes to preach authenticity. I'm also a glam girl but 80% of the time, you need to learn how to embrace the person that you are.
I see a lot of young people who struggle to be like other people even when it's not convenient for them, forgetting that everyone is different. You are beautiful as you are, you are very beautiful in your way, and I'm beautiful in my way. That picture for me was a representation of the ultimate badass.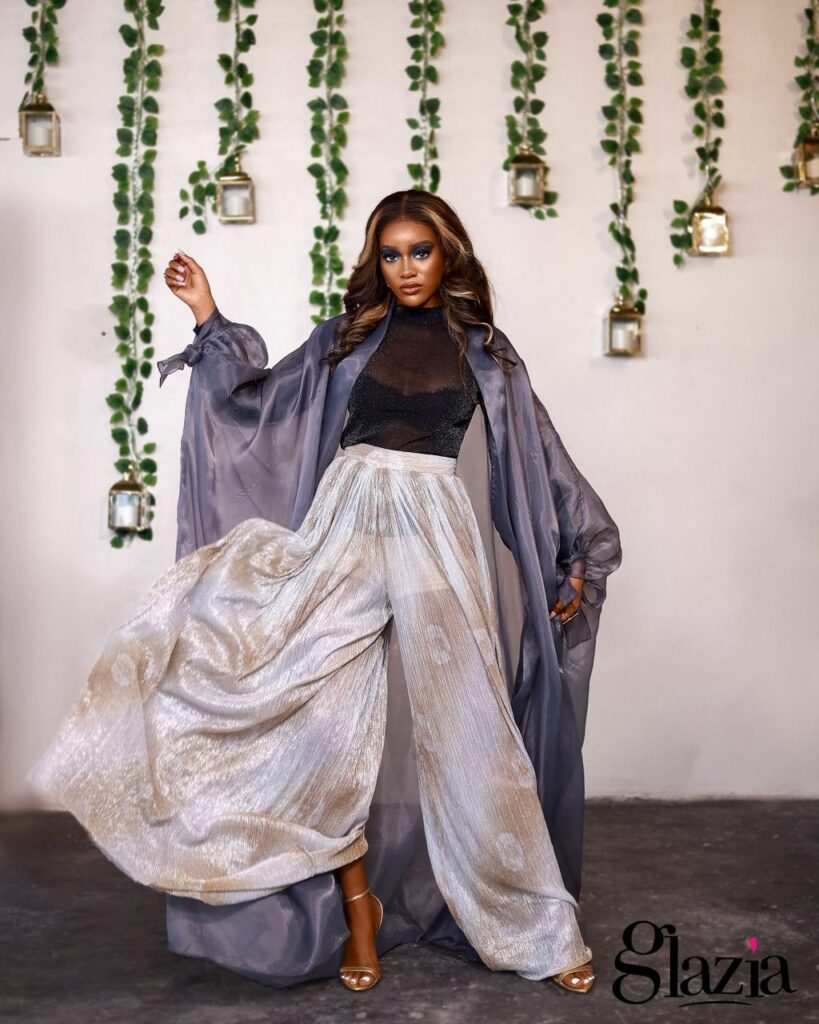 O.O: If you would look at three women in Africa that inspire you to unleash your inner badass, who would they be and what do you like about them?
B.T: This is dicey because I don't do role models and I have my reasons because I feel like it puts people in a box. Nobody is perfect and we all tend to make mistakes, so what happens if that role model makes a mistake? I do have people I admire anyways, either because of their work ethics or everything they represent as a person.
My first pick will be Chimamanda Adichie. I just love that she's expressive and how she has always spoken her truths and her beliefs. She has held on to them and she is never afraid to speak those beliefs and those truths no matter the situation. For me, that's very admirable as it gives me the strength to also do the same, to just always be truthful to myself and speak the truth regardless of whatever the situation is.
There's more…
Another person I love is Viola Davis. I'm utterly impressed by her work ethic. She is just amazing. I don't say this a lot but I want to go into acting at some point. When I watch her, I'm impressed by how good she is and how she carries herself with so much grace and poise. Oftentimes before I watch her movies, I try to look at the documentary to see the process. Watching these processes helps me to appreciate the craft itself and how much work this woman puts in to balancing things.
The third person is Bonang Matheba; young, vibrant, and simply amazing. I admire her so much first because of her personality. She has a personality that embodies confidence so much that it's hard to miss. I like to hear her talk, and I love how she tries to balance her life with work, family, and friendships and still have fun at the same time. It just tells me that African women are badasses. For Bonang, I see myself when I look at her, the similarities and everything she represents.
O.O: Earlier on, you mentioned your win in 2019 as the 43rd Miss Nigeria – Nigeria's oldest and most prestigious pageant. You also had the honour to reign for two years because of the pandemic. During this period, what moment would you classify as a learning curve for you?
B.T: My biggest lesson was the entire experience. When I say the entire experience, I mean becoming the 43rd Miss Nigeria. And just like one month in, COVID came, and the lockdown took effect. However, the whole situation made me realise the value of learning skills as I picked up a skill during the pandemic. I made so much money during the same time that it felt like the world was ending. It made me realise that sometimes education is not enough.
The entire experience of being queen during the pandemic allowed me to pick up a skill that has forever stayed with me and helped me rise financially. And this was before Big Brother. Another thing I would cite as a learning curve was realising the importance of preparing for hard times. We need to always prepare ourselves for the good, the bad, and the ugly. For me, picking up a skill to keep me prepared for hard times is something I was grateful for.
O.O: Aside from BBNaija, what would you say is the greatest misconception people have always had about you?
B. T: About misconception, I…… Read the complete interview and see more exclusive photos in the magazine HERE.
Credits
Editor in Chief – Omawumi Ogbe @omawumio
Editor – Rachel Mordi @mzmordi
Styling – Yolanda Okereke – @yolandaokerekere 
Photography – Roy Ayomide  – @royayomide_
Makeup – Beauty by AD – @beautybyad
Hair – Hair by Ugo – @hairbyugo
Creative Support  
Minomi Ogbe – @ominomi_o
Uchechi Nwakanma – @irregular_nerd
Location – Vetro Lounge – @vetrolounge
Videography – Sunny Blu Films – @sunnyblufilm
Graphics design and coordination – Nathan Obi – @thecreativegenius01