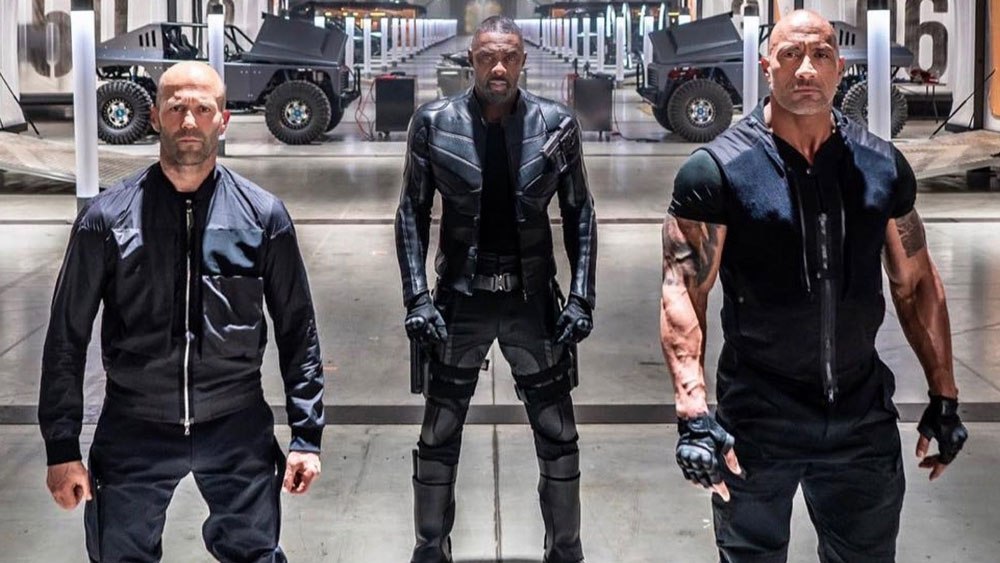 It's the 2nd day of August and we're still basking in the freshness the new month brings. As always, you can count on us to bring you exciting movies to see every month. From Nollywood movies like The Set Up to Hollywood big releases like Hobbs and Shaw; whatever you fancy, these August movies are coming with a big bang! Hope you took time out with family and friends to see some of our last month's movies?
Here are 10 movies with the potential to take over the box office this month.
HOBBS & SHAW
Release date: August 2
Genres: Comedy , Adventure , Action
Ever since hulking lawman Hobbs and Shaw first faced off, the duo have swapped smack talk and body blows as they've tried to take each other down. But when cyber-genetically enhanced anarchist Brixton gains control of an insidious bio-threat that could alter humanity forever and bests a brilliant and fearless rogue MI6 agent.
Cast: Dwayne Johnson, Jason Statham, Idris Elba, Vanessa Kirby, Dame Helen Mirren, Eiza González, Eddie Marsan, Viktorija Faith
Director: David Leitch
P.S: There is a grand premiere at Sky Cinemas in Lagos today Friday night, and Glazia will be there live!
THE TEN VIRGINS
Release date: August 2
Genre: Drama
Amidst trials and temptations, ten virgin maidens betrothed to a great prince must remain faithful and untainted until his return.
Cast: Chinonso Young, Leelee Byoma, Aanu Adeleke, Blessing Effiong, Bukky Okorodus, Chidera Makatah
Director: Blessing Egbe
DORA AND THE LOST CITY OF GOLD
Release date: August 9
Genres: Children , Mystery , Adventure , Comedy
Having spent most of her life exploring the jungle, nothing could prepare Dora for her most dangerous adventure yet – high school. Accompanied by a ragtag group of teens and Boots the monkey, Dora embarks on a quest to save her parents while trying to solve the seemingly impossible mystery behind a lost Incan civilization.
Cast: Isabela Moner, Eugenio Derbez, Michael Peña, Eva Longoria, Adriana Barraza, Temuera Morrison, Jeffrey Wahlberg, Nicholas Coombe
Director: James Bobin
LOCKED
Release date: August 9
Genre: Drama
A young lady takes her fiancée to visit her parents only to discover that her mother killed her father in a psychotic fit after she finds out he's about to leave her for a younger woman. Upon this discovery, her mother holds her and her and her fiancée captive.
Cast: Belinda Effah, Hilda Dokubo, Sunny Neji, Abayomi Alvin, Charles Granville
Director: Simon Peacemaker
THE SET UP
Release date: August 9
A young woman gets more than she bargains for and is drawn into a web of deceit when she is hired by a socialite to assist with his scheme to marry a wealthy heiress.
Genre: Drama
Cast: Adesua Etomi, Ayoola Ayoola, Dakore Egbuson, Jim Iyke, Joke Silva, Kehinde Bankole, Tina Mba
Director: Niyi Akinmolayan
GOOD BOYS
Release date: August 15
Genre: Comedy
Invited to his first kissing party, 12-year-old Max asks his best friends Lucas and Thor for some much-needed help on how to pucker up. When they hit a dead end, Max decides to use his father's drone to spy on the teenage girls next door. When the boys lose the drone, they skip school and hatch a plan to retrieve it before Max's dad can figure out what happened.
Cast: Jacob Tremblay, Keith L. Williams, Brady Noon, Molly Gordon, Midori Francis, Lil Rel Howery, Will Forte, Izaac Wang
Director: Gene Stupnitsky
ANGRY BIRD 2
Release date: August 16
Genres: Animated , Comedy , Adventure , Children
Red, Chuck, Bomb and the rest of their feathered friends are surprised when a green pig suggests that they put aside their differences and unite to fight a common threat. Aggressive birds from an island covered in ice are planning to use an elaborate weapon to destroy the fowl and swine way of life.
Cast: Jason Sudeikis, Josh Gad, Leslie Jones, Bill Hader, Rachel Bloom, Awkwafina , Sterling K. Brown, Eugenio Derbez
Director: Thurop Van Orman
THE REUNION
Release date: August 16
Genre: Drama
Four friends from the high school reunite to plan the 50th anniversary of their alma mater. As the battle of superiority stirs up and issues from the past are revisited, secrets are revealed that threaten to tear up their seemingly perfect lives.
Cast:  Steve Onu, Femi Jacobs, Mercy Johnson Okojie, Tana Adelana, Mercy Aigbe, Jide Kosoko (Prince), Frederick Leonard
Director: Thomas Odia
THE INFORMER
Release date: August 16
Genres: Crime drama , Thriller
Recruited by the FBI, ex-con and former special operations soldier Pete Koslow uses his covert skills to try and take down the General — the most powerful crime boss in New York. When a sting results in the death of an undercover cop, Pete suddenly finds himself caught in the crossfire between the mob and the FBI.
Cast: Joel Kinnaman, Rosamund Pike, Clive Owen, Common , Ana de Armas, Martin McCann, Eugene Lipinski, Valeria Vereau
Director: Andrea Di Stefano
MY SPY
Release date: August 23
Genres: Action , Comedy
Nine-year-old Sophie catches JJ, a hardened CIA operative, spying on her family during a routine surveillance operation. In exchange for not blowing his cover, JJ begrudgingly agrees to show the precocious girl how to be a spy. What at first seems like an easy task soon turns into a battle of wits as Sophie proves you don't need much experience to outsmart a seasoned agent.
Cast: Dave Bautista, Kristen Schaal, Parisa Fitz-Henley, Chloe Coleman, Ken Jeong
Director: Peter Segal
Which of these August movies are you most excited to see?
Written by Niyi Agbaje