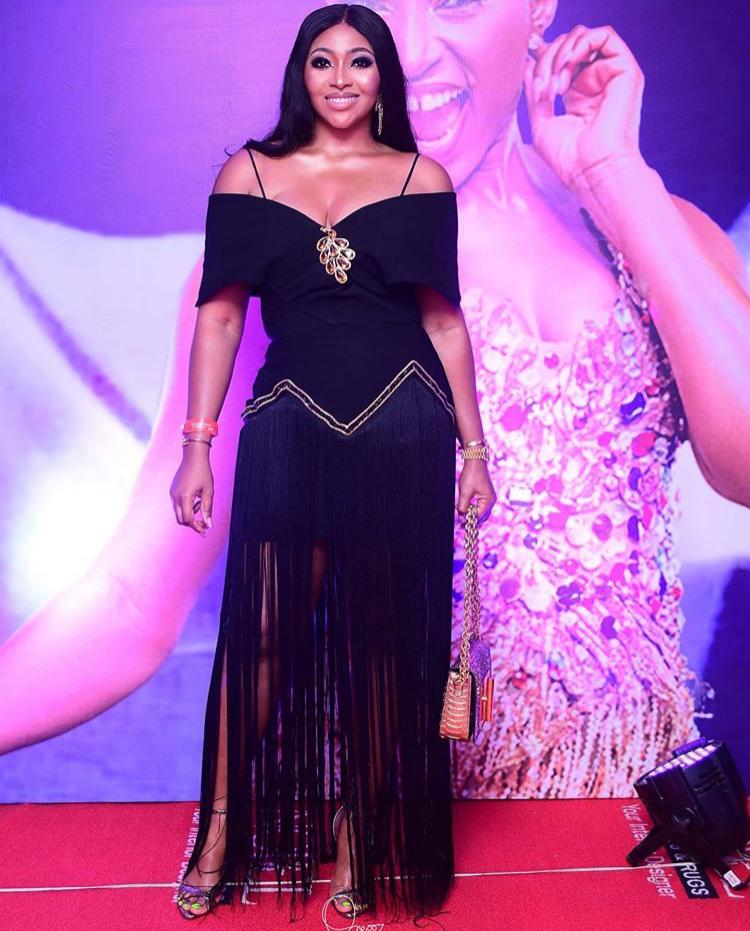 Welcome to the second day of the eighth month of 2019. This is the last regular month before the last quarter of the year or like my people say "ember" months. So ladies and gentlemen, you know what time it is…. It's time to check out our best dressed celebrities for this week. We're still in summer time and some of our celebrities aren't back from enjoying the heat in foreign countries-  makes me wonder if it's not the same sun or maybe theirs is flavored, while others are here, going about securing bags.
Before I dive into the list I did notice that our male celebrities aren't as consistently fashionable as the women with the exception of a certain circle of people like Alexx Ekubo, Ebuka Obi-Uchendu, Uti Nwachukwu, Noble Igwe, etc to mention but a few. Save for an occasional suit or agbada from Mai Atafo. Ugo Monye, Yomi Casual, Swanky Jerry etc our men never take out time to don anything more than the regular T-shirt and jeans, when there are a plethora of young designers who would love to style them if given the opportunity like RMD does.
Now, let's see the best dressed stars of the week
DJ Cuppy
The original otedola cupcake attended a wedding last weekend in this simple style but can we take out time to admire the fabric? She posted this picture on Instagram and I couldn't get over how simple yet elegant she looked. DJ Cuppy didn't drop style credit so I'm guessing she used a regular tailor?  She paired the mono strap gown with a similar coloured gele and transparent pumps. DJ Cuppy definitely deserves a cup of gelato!
Beverly Naya
Nollywood princess, Beverly Naya is dripping gold in this FBD suit from frequent collaborator, Fablane by Derin. This is not your regular suit, this consists of a single sleeved crop top with a pair of pants, and dramatic coat for effect. The fabric and colour look spectacular over her rich melanin plus her choice of make up is on point. However, I'm sure we can all agree that a little more work needs to be done on the pants. But it was a bomb look overall.
3. Nancy Isime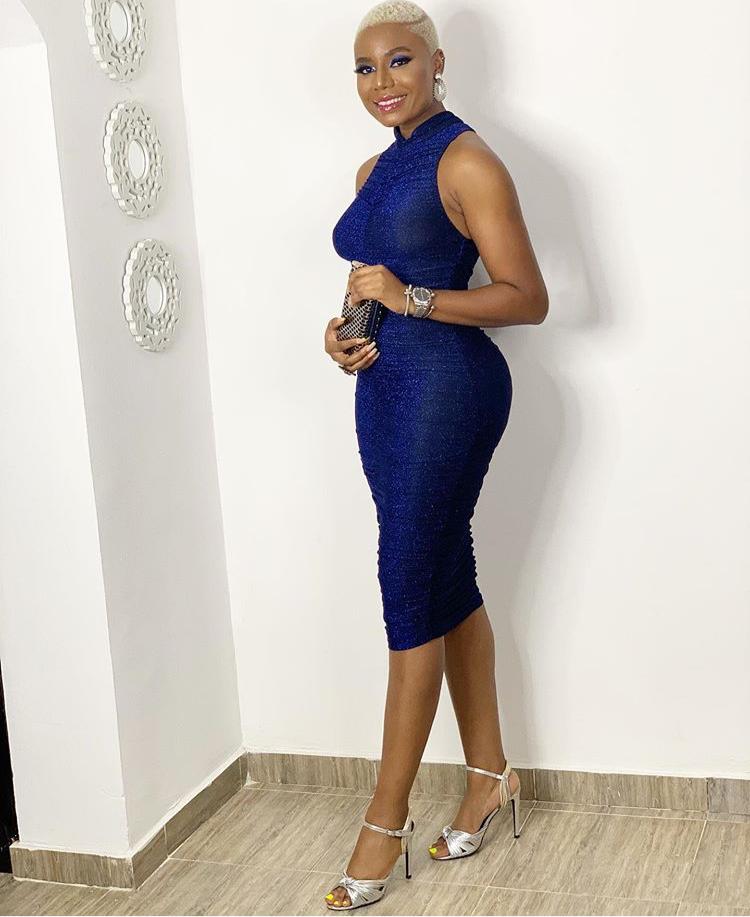 Popular TV host of HipTV, Nancy Isime also attended Ufoma's show in this shimmery royal blue bodycon dress. The choice of colour suits her skin tone perfectly and I also loved that she chose a pair of silver heels and metallic purse to match all that shimmer.
4. Efe Irele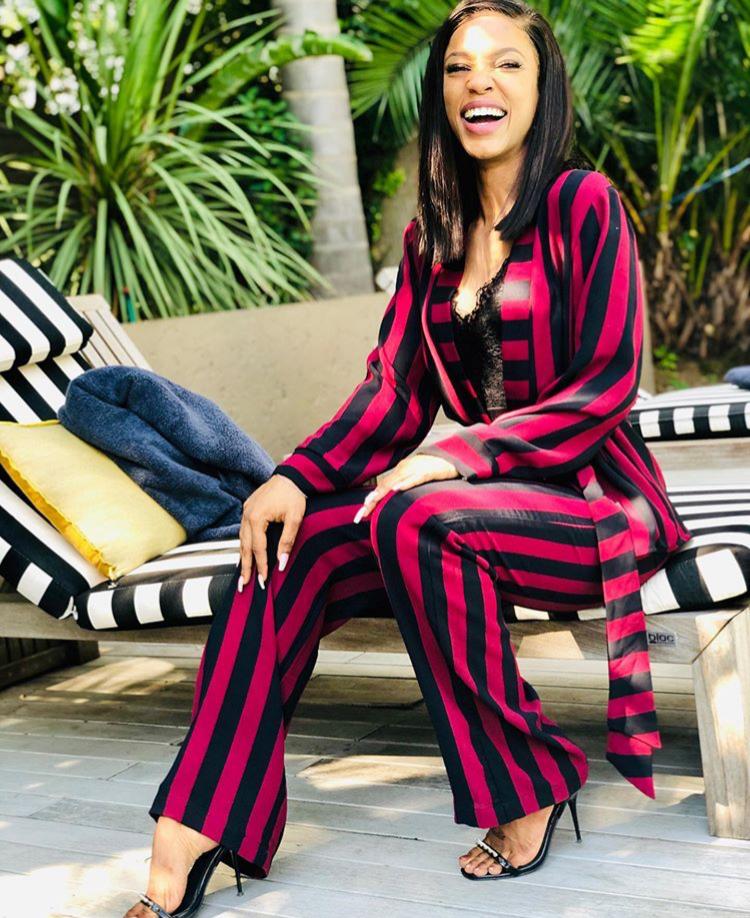 Efe is new to our list and she looks absolutely fresh in this pink and black strip suit. Everything about this picture just speaks to me- the sun bouncing off her skin, her beautiful laughter, the outfit. Loved that she didn't over do it with the makeup because the colours from the outfit already speak volume.
5. Lilian Esoro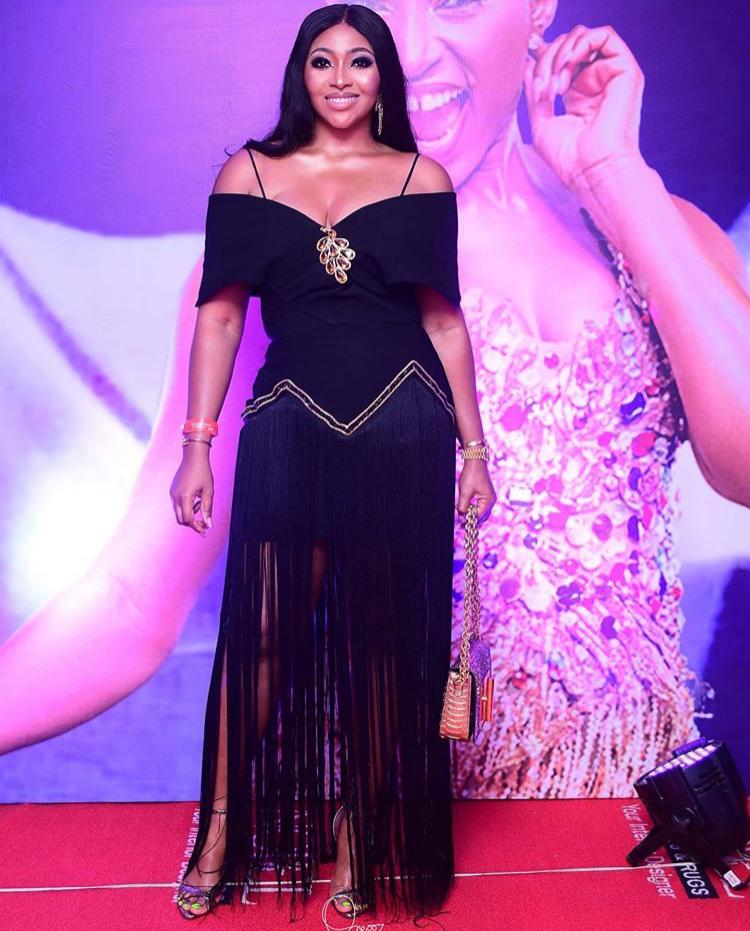 Lilian attended the Ufoma McDermott's USM Show held in Lagos over the weekend in this black fringe dress from St. Margaret Couture. The dress would have been totally off the shoulder save for two straps hanging on to the dress like their lives depended on it. She paired the outfit with a gold purse and a pair of strap heels.
Adesua Etomi
Award winning star actor Adesua Etomi, looks super fierce in this all black outfit from The Alchemy collection by Blingshiki. She looks like the pretty CIA agent dedicated to taking down drug kingpins and women traffickers. This picture doesn't do justice to this look. The leather skirt, the black pants, the semi sheer top and bling blazer and shoes. Madddddd!!
Ngozi Nwosu
Veteran actor and brand ambassador Ngozi Nwosu who celebrated her birthday on Thursday posted these beautiful pictures of her. This black dress is nothing but gorgeous on her. The fitting is on point, so are her hair, makeup and accessories.
8. Simi Drey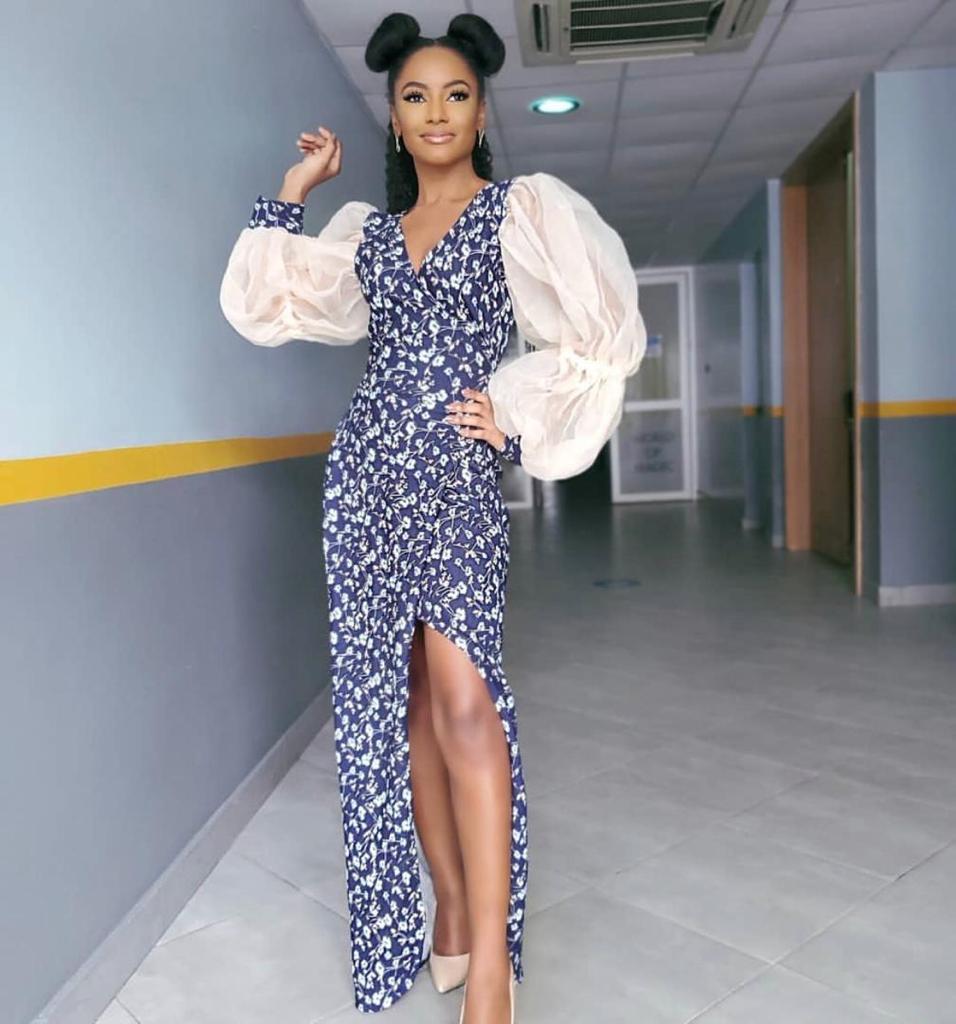 The self titled Duchess of Ibadan looks so pretty and adorable in this piece. She was styled by Belsheráde in this gown from Belangelique Store. The outfit is a blue flowery print dress with nude sheer puffy sleeves and a slit. She chose nude shoes to match the sleeves which just blended out all the whole outfit perfectly. This is definitely a favorite from this week.
Ebuka Obi-Uchendu
Ebuka hosted the last Big Brother Naija eviction show in this Tiv culture inspired outfit by Ugo Monye. Black and white stripe is their official colour the way Aso oke is attributed to the Yoruba. At first I didn't think he needed the velvet embellishments but a closer look and I understand that he was going for a more regal or royal theme and he nailed it. His shoes are from Zubair wears, a Nigerian brand. It's such a solid look and not everyone can pull it off except you're Ebuka.
10. Tolubally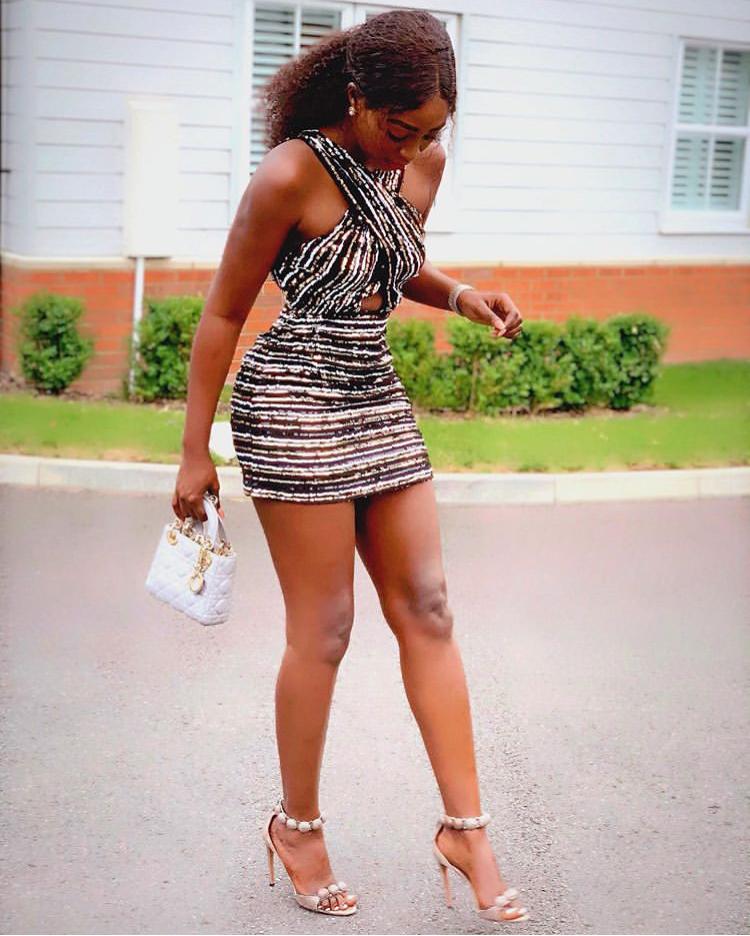 Popular fashion designer is not new to our best dressed list and she's here again. She is serving it hot in this metallic looking mini-dress. She paired it with a white purse and beige ankle straps. Look at those legs yo!!!
Written by Ethel Neboh