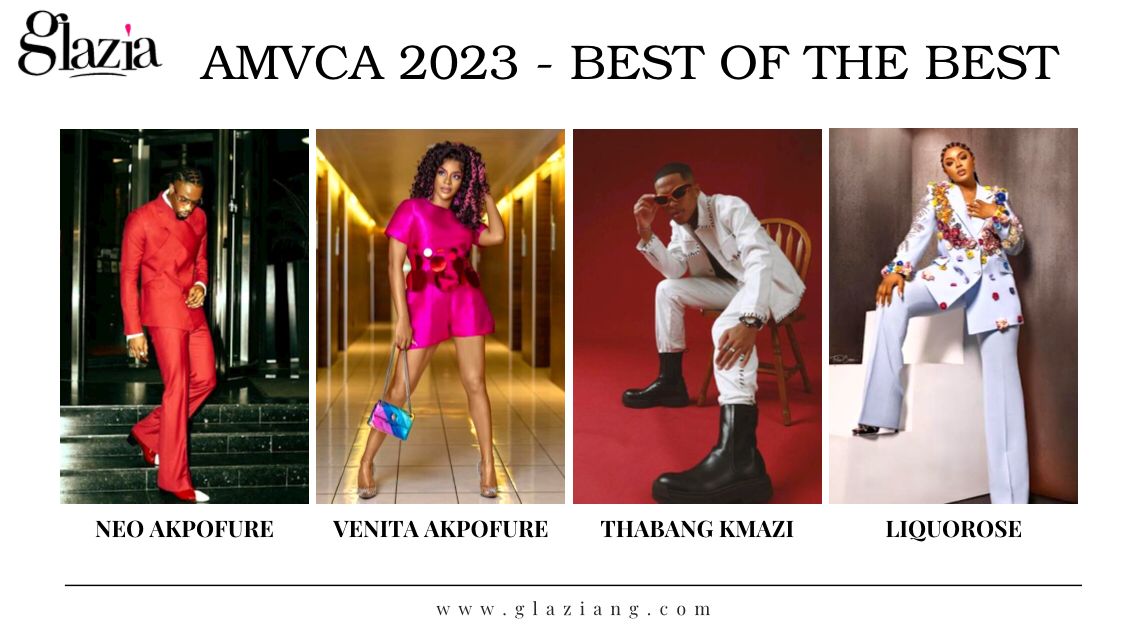 The past weekend was all about the AMVCA 2023 and it has been back-to-back fashion looks, everyone trying to out-slay the other person on the red carpet. One thing is sure, we love the fashion spirit.
The ninth edition of the Africa Magic Viewers' Choice Awards (AMVCA) kicked off on Thursday, May 18, 2023, with an 'Opening Night and Cultural Day' event.
AMVCA 2023 Programme of Events
Day 1 – Cultural Night/Opening Day.
The AMVCA Cultural Day was themed; "A Showcase of African Heritage".
 The event was a showcase of African art, music, and dance. There were performances by traditional drummers, singers, and dancers, as well as a poetry reading by a spoken word artist. Simply put, the AMVCA cultural day was a truly memorable event and a celebration of African culture and heritage.
Day 2 – Nominees Gala
The fashion of day 2 also banged as expected and we couldn't be more proud of our style stars. From A-list nominees like Funke Akindele, Ini Edo, and Chidi Mokeme to Big Brother Naija Alums like Dorathy Bachor, Liquorose, Adekunle Olopade, Neo and Venita Akpofure, and more, the fashion buzzed.
Day 3 – AMVCA Awards Night
The crowning event was a whole festival of fashion. While we cannot overemphasize the magnitude of the fashion showdown, we would do you one better by showing you the whole damn AMVCA 2023 fashion party.
See also: AMVCA 2023 – Best of Women's Fashion
See also: AMVCA 2023 – Best of Men's Fashion
Not everyone attended all three days of the AMVCA weekend, and not all who did killed all their looks, but we have a select 10 that did just that. Slay to perfection from Day 1 to Day 3. See them all below.
3Over3 – 10 Celebrities Who Killed All Their Looks.
Neo Akpofure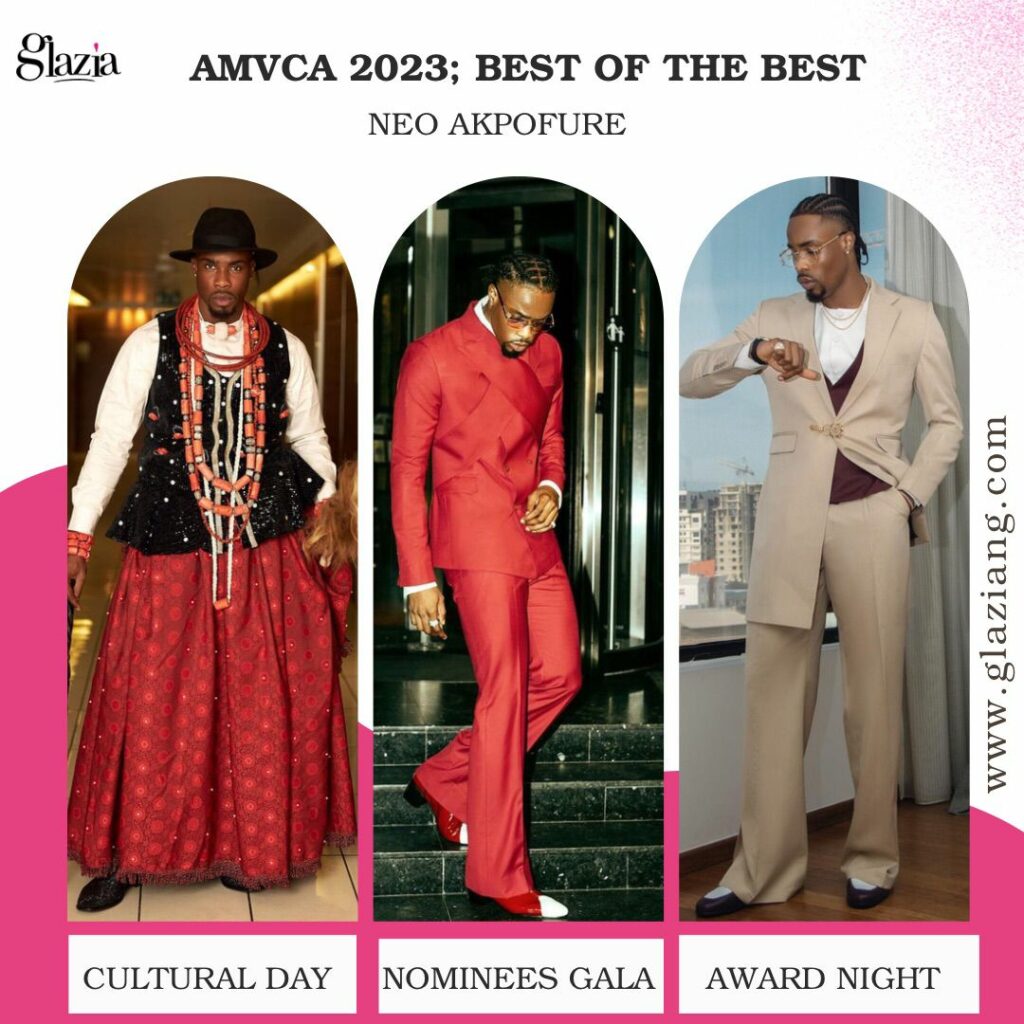 Day 1 outfit: Neo in a traditional Itsekiri outfit by NIAHS, styling by NIAHS
Day 2 outfit: Neo in custom ROGUE, styled by Swazzi
Day 3 outfit: Neo in T.I. Nathan, styled by Swazzi
Venita Akpofure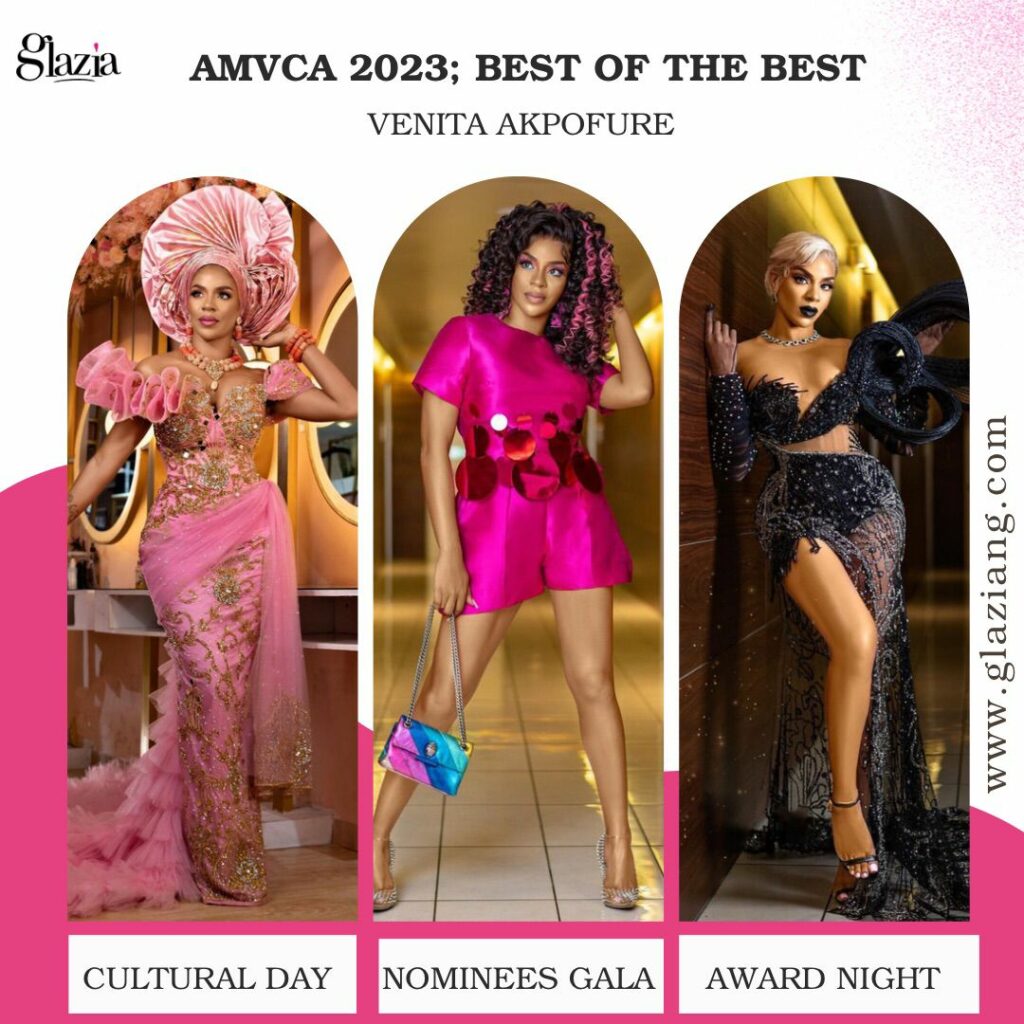 Day 1 outfit: Venita in traditional Urhobo culture-inspired Amy Aghomi creation.
Day 2 outfit: Venita in Imad Eduso
Day 3 outfit: Venita in 2207 by Tbally/ Tbally Couture dress and styling.
Liquorose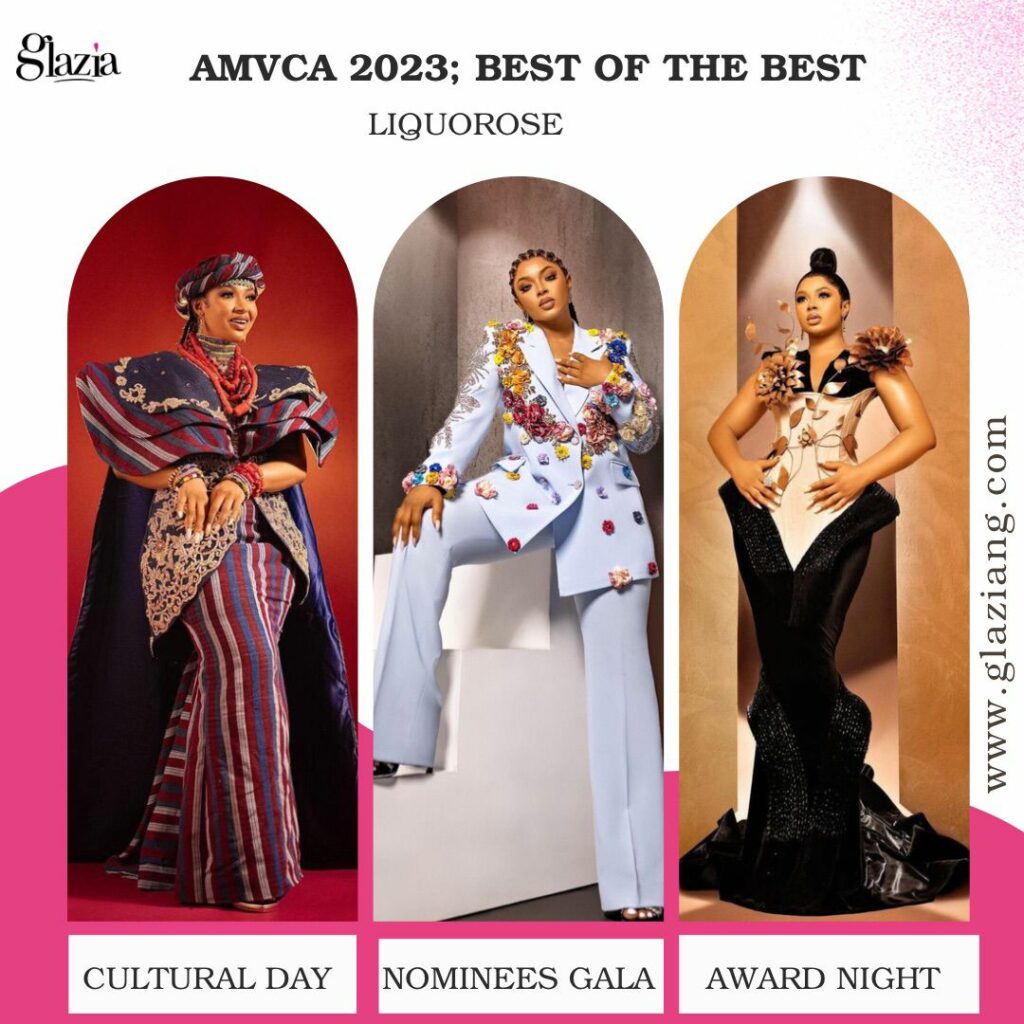 Day 1 outfit: Liquorose in Fulani-themed aso-oke outfit by "Jenrewa by Benchy Jacobs", styling by MedlinBoss
Day 2 outfit: Liquorose in Medlin Couture Collection, styling by MedlinBoss
Day 3 outfit: Liquorose in SOMO, styled by MedlinBoss
Thabang Kmazi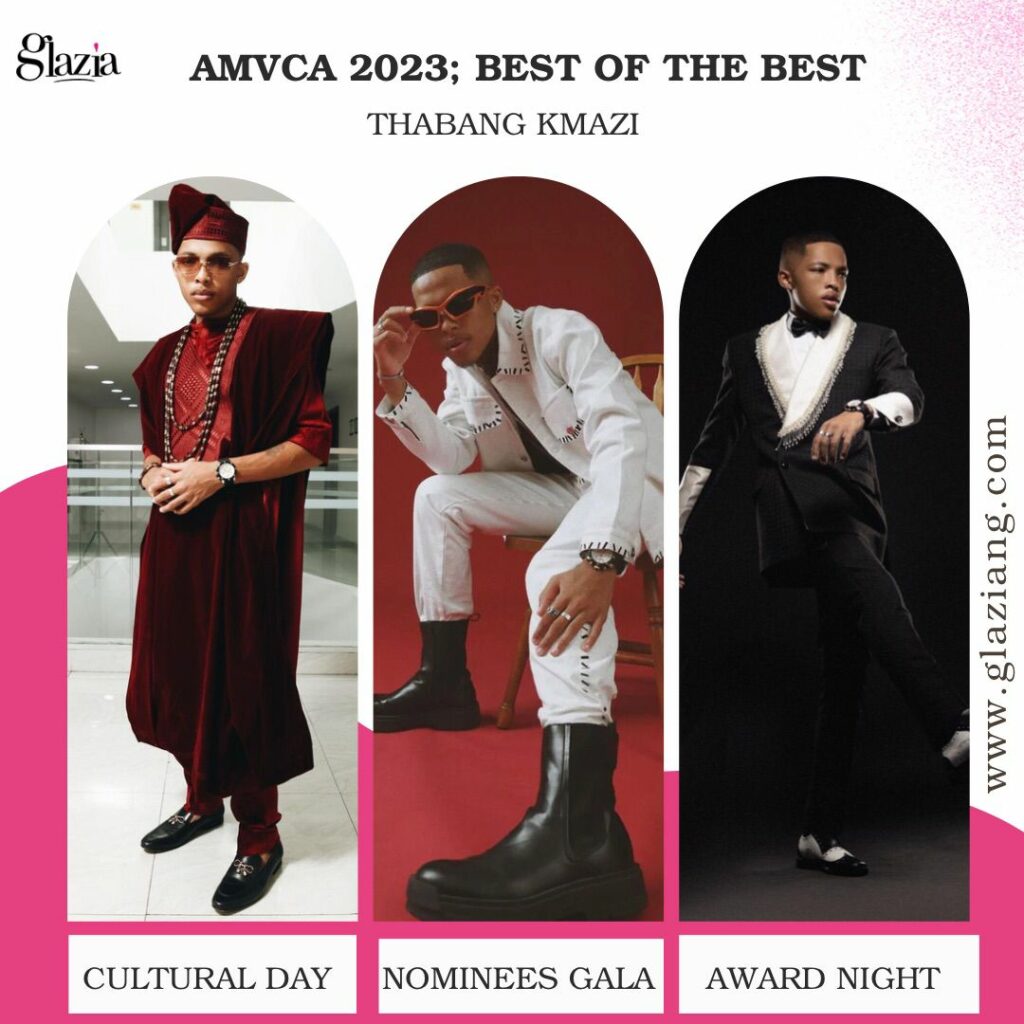 Day 1 outfit: Thabang in Just Shakara, styled by Zack Styling Luxury
Day 2 outfit: Thabang in Daltimore, styled by Zack Styling Luxury
Day 3 outfit: Thabang in JReason, styled by Zack Styling Luxury
Olivia Okoro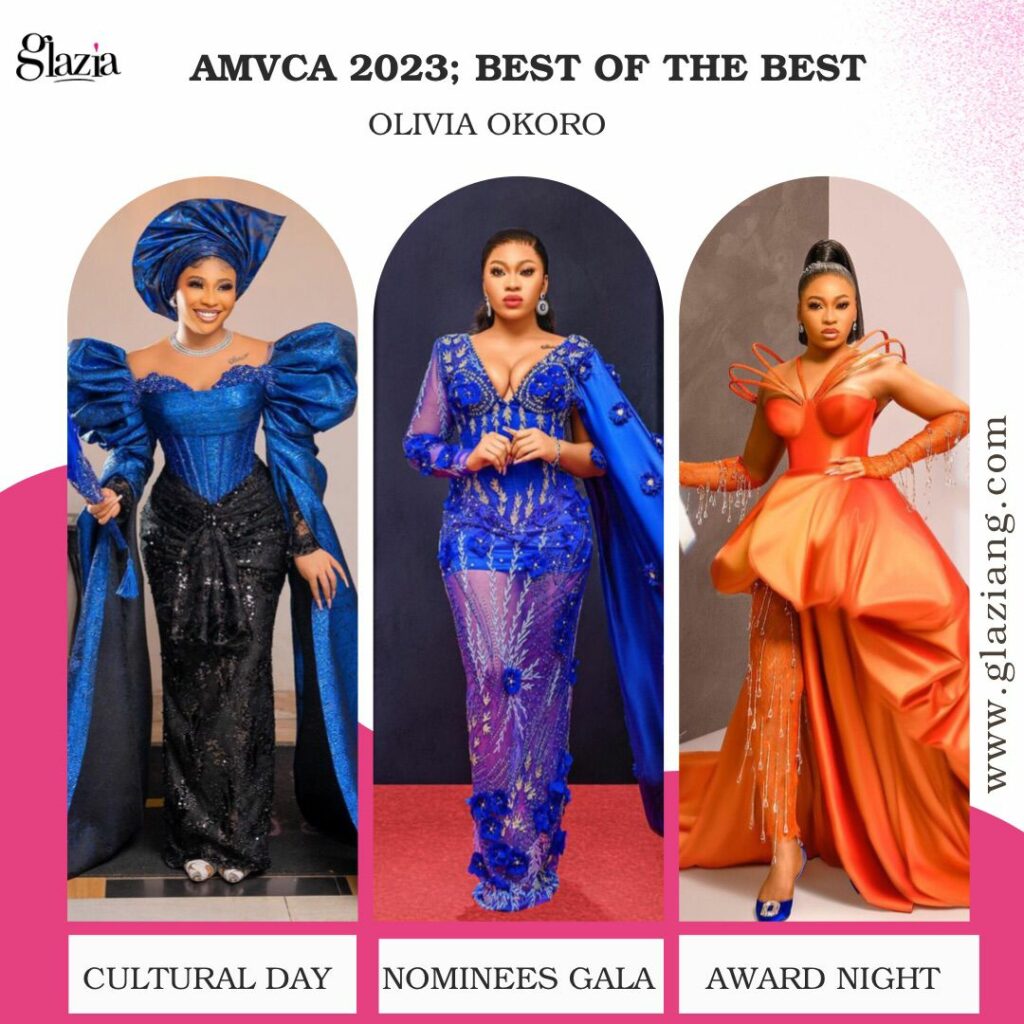 Day 1 outfit: Olivia in Afrik Couture, styled by Flostyling
Day 2 outfit: Olivia in Medlin Couture Collection, styling by MedlinBoss
Day 3 outfit: Olivia in SOMO, styled by MedlinBoss
Chomzy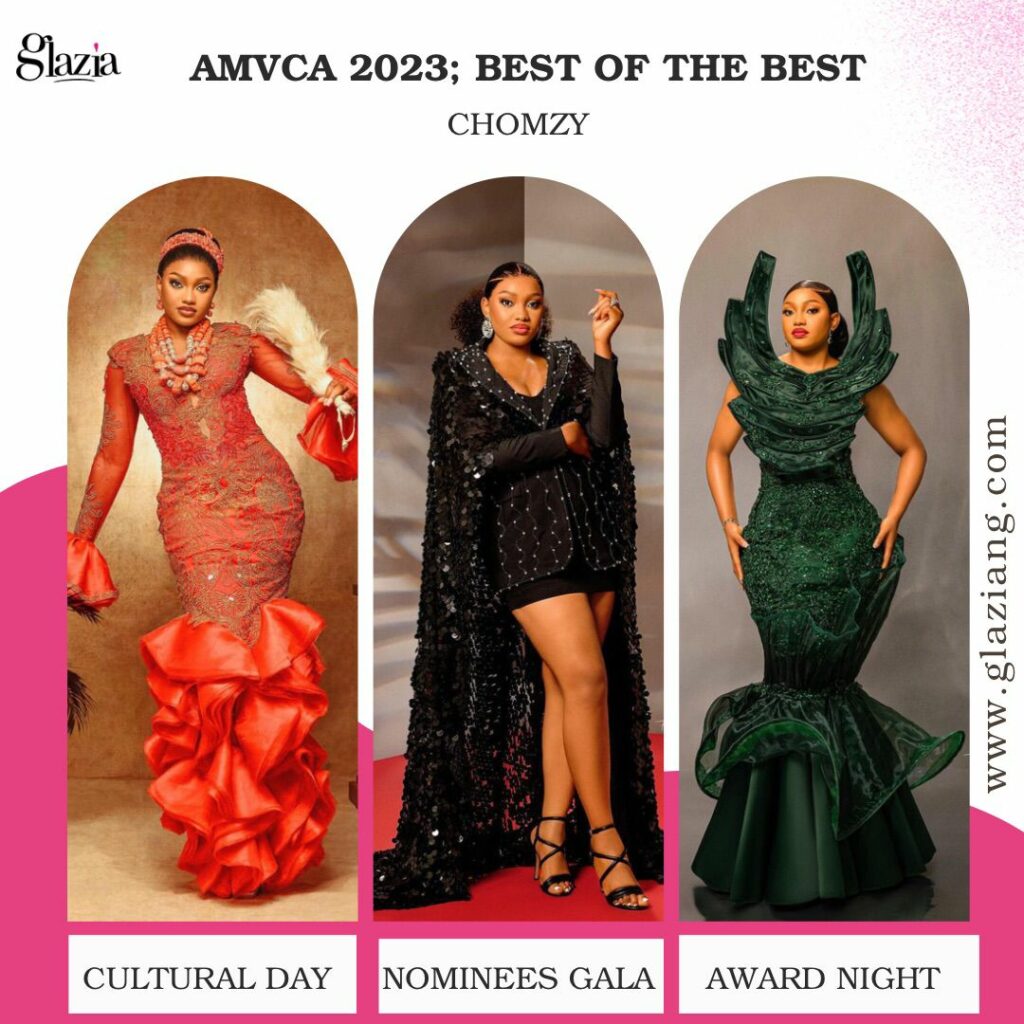 Day 1 outfit: Chomzy in Amy Aghomi, styled by MedlinBoss
Day 2 outfit: Chomzy in Medlin Couture Collection, styling by MedlinBoss
Day 3 outfit: Chomzy in Jenrewa by Benchy Jacobs, styling by MedlinBoss
Yemi Cregx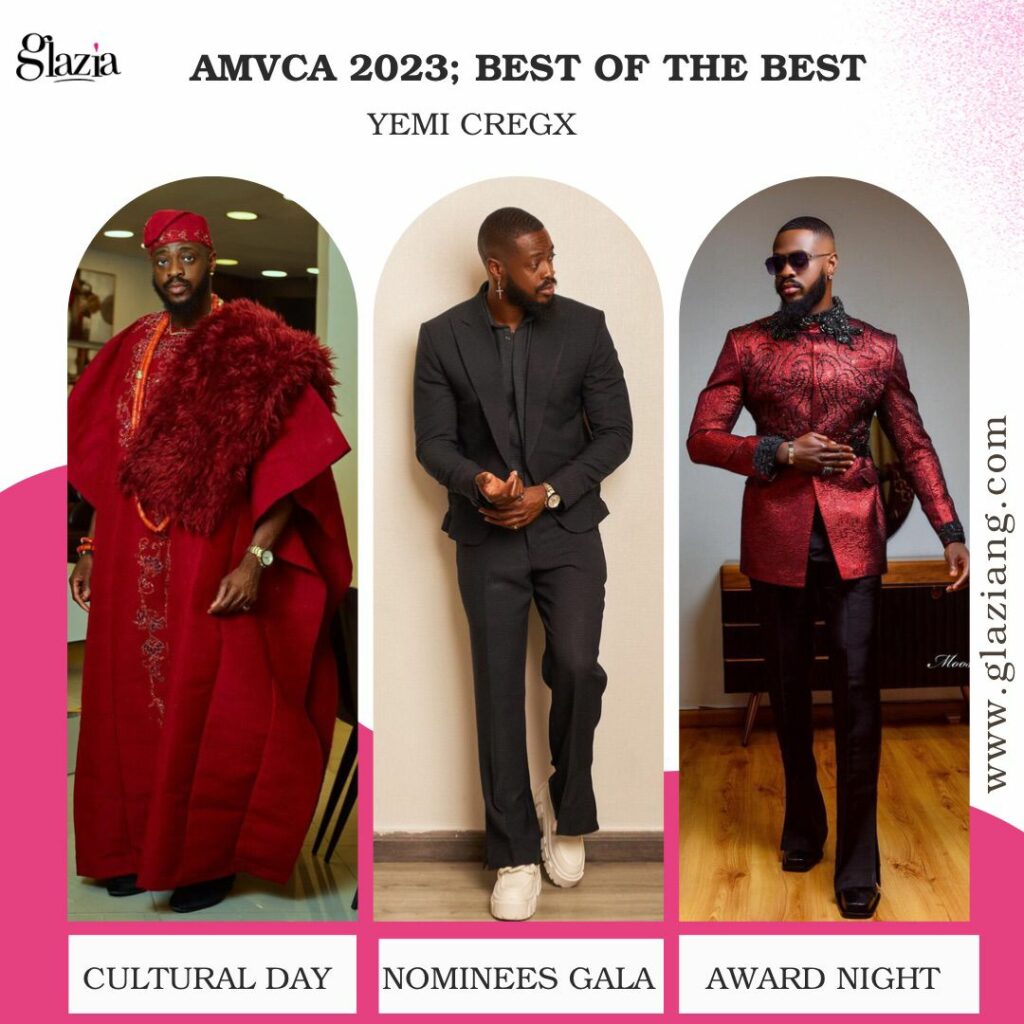 Day 1 outfit: Yemi in Jenrewa by Benchy Jacobs, styled by House of Twitch Style
Day 2 outfit: Yemi in Jeff Urban
Day 3 outfit: Yemi in Jeff Urban
Tsatyii Wendy Madiba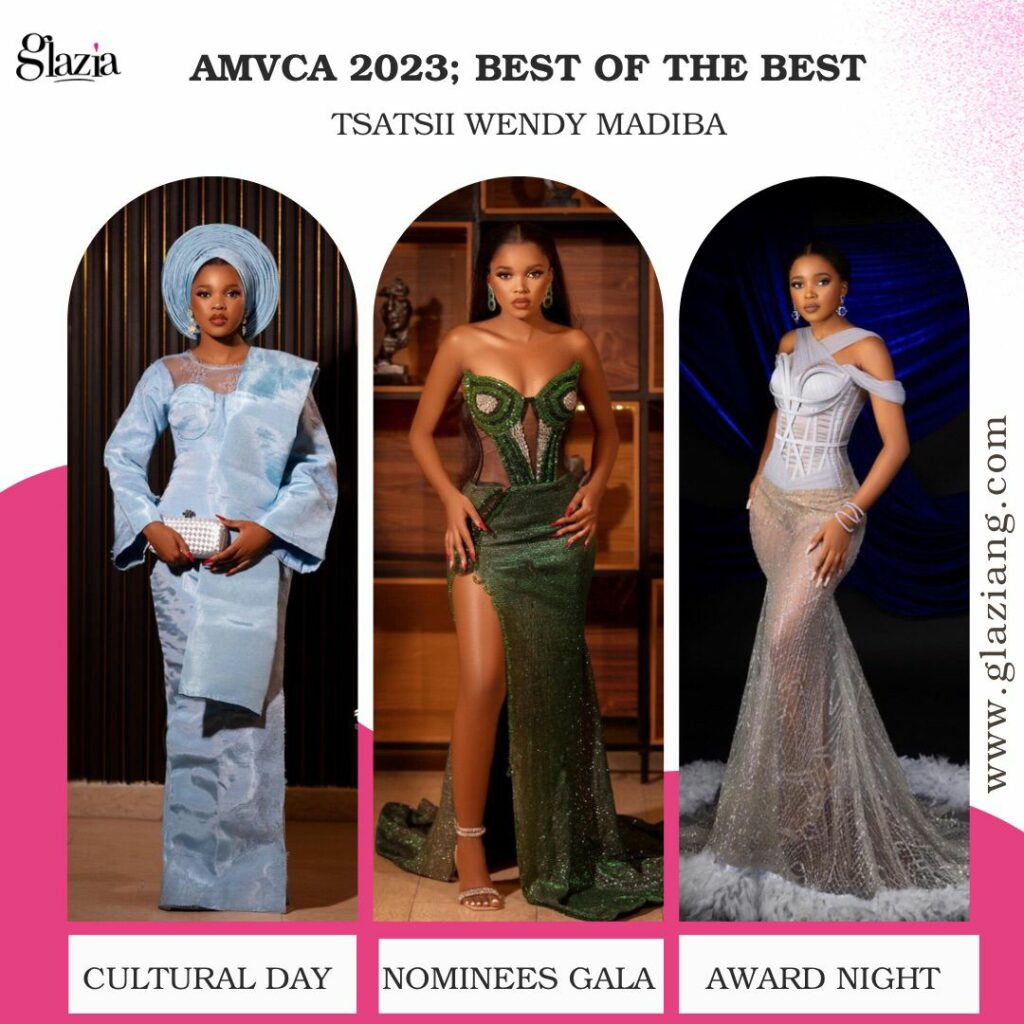 Day 1 outfit: Wendy in Tiwwi Aso Oke
Day 2 outfit: Wendy in Estaz
Day 3 outfit: Wendy in Estaz, styled by Zack Styling Luxury
Jackie Appiah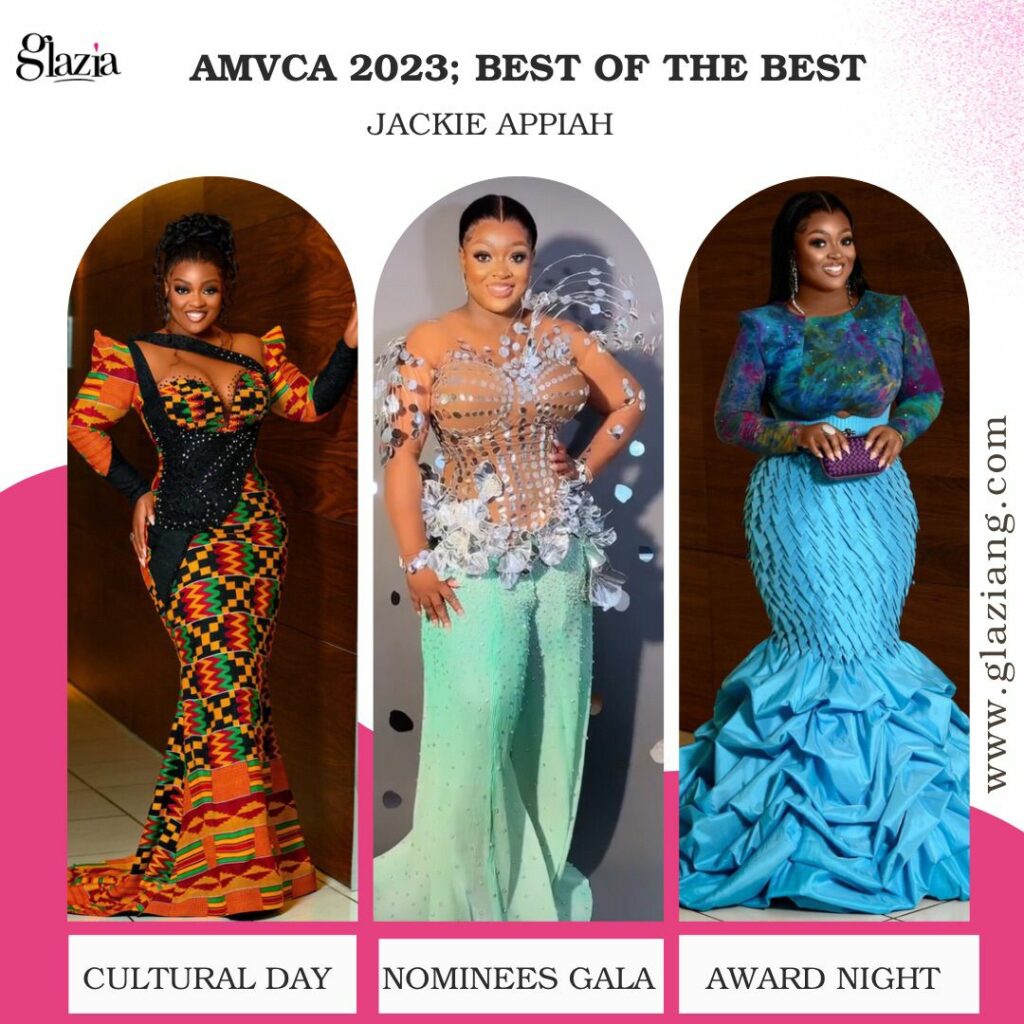 Day 1 outfit: Jackie in Yoli Koomson, styled by Bvey Styling
Day 2 outfit: Jackie in Weiz Dhurm Franklyn, styled by Bvey Styling
Day 3 outfit: Jackie in Duaba Serwa, styled by Bvey Styling
Adekunle Olopade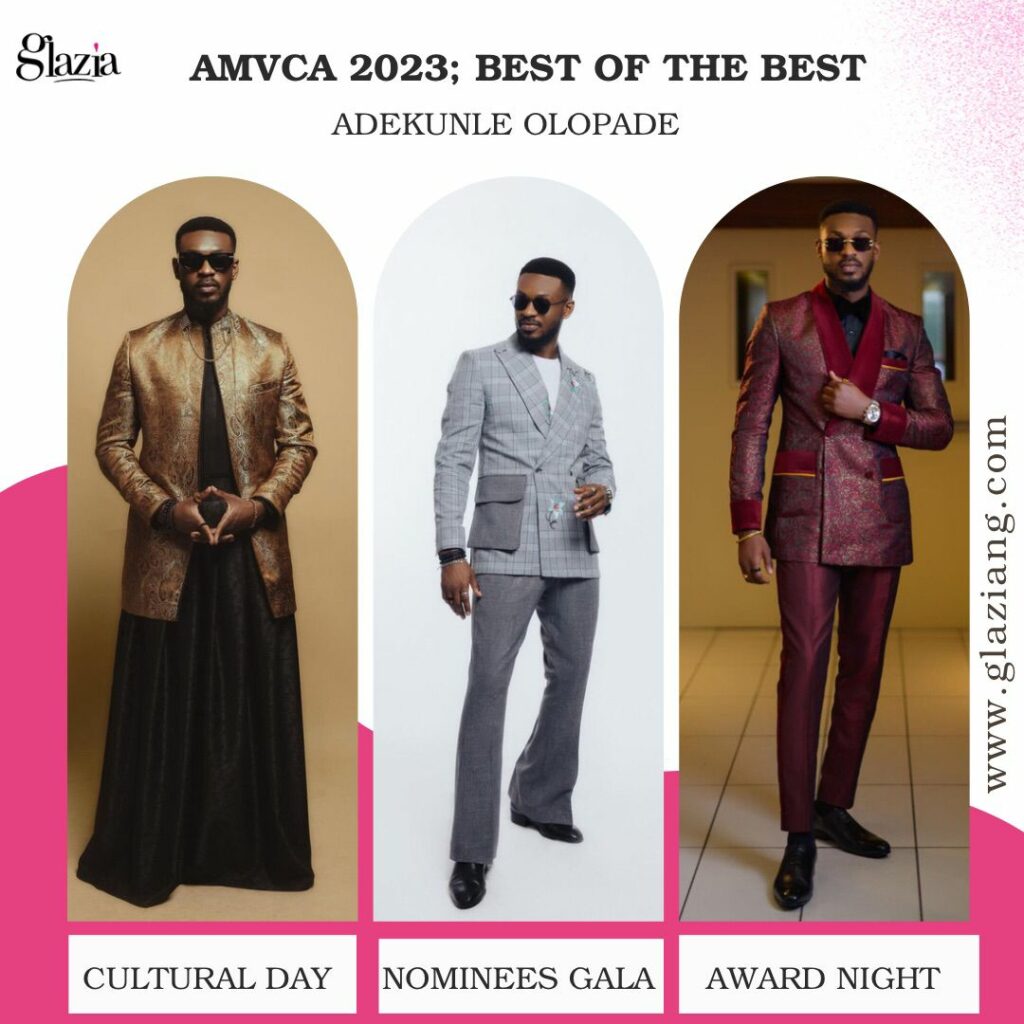 Day 1 outfit: Outfit and styling by Looks Like A Good Man (LLGM)
Day 2 outfit: Outfit and styling by Looks Like A Good Man (LLGM)
Day 3 outfit: Outfit and styling by Looks Like A Good Man (LLGM)