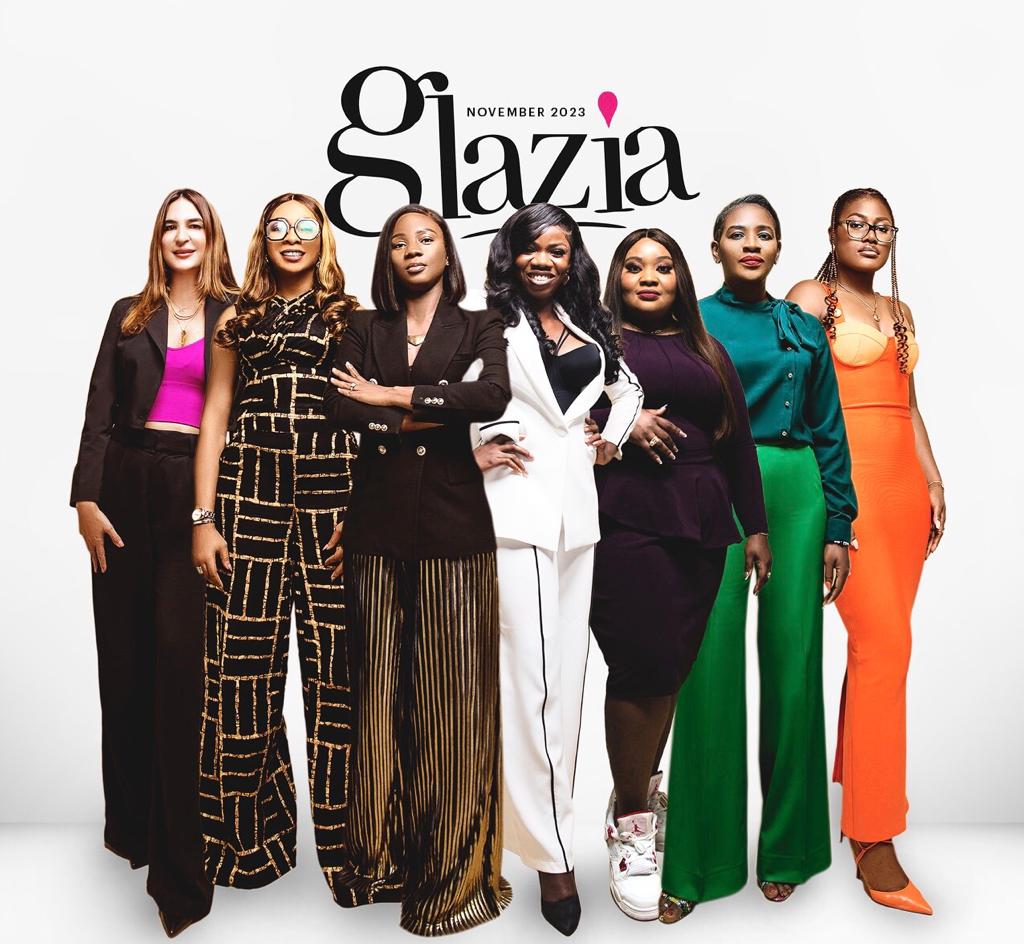 GLAZIA is pleased to announce the release of our latest cover tagged "The Money Issue." This special edition delves deep into the world of finance, featuring thought-provoking conversations with influential voices who have redefined financial excellence.
The Money Issue
"The Money Issue" spotlights the stories of prominent speakers from Nigeria's largest women-only finance fair, including keynote speaker Nkiru Olumide-Ojo, Tomie Balogun, Alex Unusual, Dima Hamze Grhaizi, Tewa Onasanya, and Tolulope Tunde-Ajiboye, and event convener, Financial Jennifer who also contributes an article. From candid conversations to saving strategies and innovative investments, the journeys and experiences of these phenomenal women offer a unique insight into the art of financial empowerment,
"In The Money Issue, we've gathered the wisdom and success stories of inspiring women who have challenged norms and achieved remarkable financial growth," says Omawumi Ogbe, Editor-in-Chief of Glazia Magazine. "These stories go beyond wealth creation; they reflect the spirit of financial independence and provide our readers with invaluable insights needed to navigate today's constantly changing economic landscape" she added.
Beyond our cover stars
This time, we have not one but seven cover stories that showcase how our cover stars have harnessed their financial prowess to navigate the world of finance successfully. Beyond our cover stars, the magazine moves across the pond and throws the spotlight on Europe and South America with a riveting and in-depth conversation featuring Ligia Paraiso, founder of WeDeserve Freedom.
"Embracing financial success is within reach for everyone, and our latest issue reflects this commitment," says Omawumi Ogbe. "This is our way of bringing financial education and empowerment to a broader audience, and we're delighted to share it with our readers."
"The Money Issue" is a testament to Glazia's dedication to providing readers with comprehensive knowledge and inspiration for their financial journeys. Stay tuned as more content from this exciting issue is unveiled in the coming days on the Glazia website and social media pages.
As a commitment to financial freedom and empowerment, Glazia is thrilled to offer "The Money Issue" entirely free. Readers (women and men) can now access this wealth of financial wisdom with a simple click at no cost. For more information, please visit www.glaziang.com