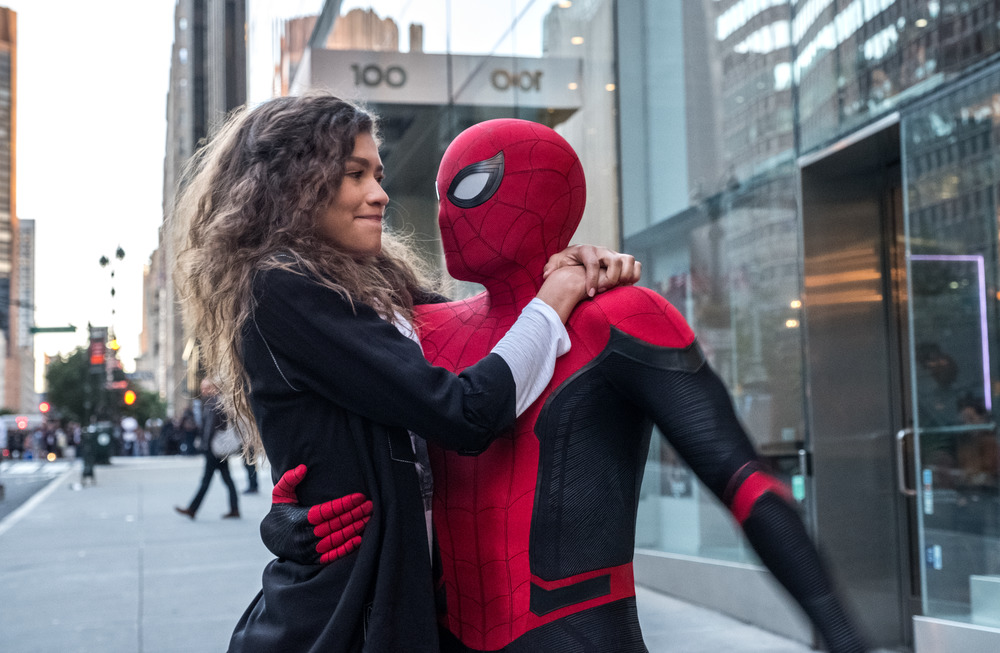 It's already been a big year for movies released in 2019, but the movies coming out in July 2019 might just blow your mind. As you know, we'll always bring you the best of movies to see for the month, so you do not have to stress. From Spider Man Far From Home to The Lion King, Rant Queens, Once Upon a Time in Hollywood and more, here are the top 10 movies you should see this July!
Spider-Man: Far from Home
Release date: July 3
Genre: Superhero
Peter Parker's relaxing European vacation takes an unexpected turn when Nick Fury shows up in his hotel room to recruit him for a mission. The world is in danger as four massive elemental creatures — each representing Earth, air, water and fire — emerge from a hole torn in the universe.
Cast:  Zendaya Coleman, Angourie Rice, Tom Holland, Jon Favreau, Jake Gyllenhaal, Samuel L. Jackson.
Director : Jon Watts
Writers : Steve Ditko, Stan Lee, Chris McKenna, Erik Sommers.
Midsommar
Release date: July 3
Genre: Horror
Dani and Christian are a young American couple with a relationship on the brink of falling apart. But after a family tragedy keeps them together, a grieving Dani invites herself to join Christian and his friends on a trip to a once-in-a-lifetime midsummer festival in a remote Swedish village.
Cast: Florence Pugh, Jack Reynor, William Jackson Harper, Will Poulter, Vilhelm Blomgren, Isabelle Grill, Gunnel Fred, Archie Madekwe
Director: Ari Aster
Storm
Release date: July 5
Genre: Romance/Drama
An undying quest for justice by an intelligent Agent begot a bloody backlash. High level of political genomics, Law maneuvering and Family intrigues Claude the air when the circumstances surrounding the death of a loyal chief of staff to an incumbent government is held in secrecy, investigative journalism becomes a necessity.
Cast: Aina Gold, Bimbo Akintola, Charles Billion
Stuber
Release date: July 12
Genre: Action, Comedy
A quick-tempered cop who's recovering from eye surgery recruits a mild-mannered Uber driver to help him catch the heroin dealer who murdered his partner. The mismatched pair soon find themselves in for a wild day of stakeouts and shootouts as they pursue violent criminals through the seedy streets of Los Angeles.
Cast: Kumail Nanjiani, Dave Bautista, Iko Uwais, Natalie Morales, Betty Gilpin, Jimmy Tatro, Mira Sorvino, Karen Gillan
Director: Michael Dowse
5. Rant Queens
Release date: July 12
Genre: Drama
A Social Media War, Rant Queens tells a story of a "meddling" mother who clashes with her "controversial" daughter in a series of rants, and the public goes agog asking for more…
Cast: Daniel K. Daniel, Jide Kosoko (Prince), Kunle Coker, Kunle Remi, Moyin Olutayo, Susan Peters, Tana Adelana
Director: Lancelot Oduwa Imasuen
6. Lion King
Release date: July 17
Genre: Fantasy
Simba idolizes his father, King Mufasa, and takes to heart his own royal destiny on the plains of Africa. But not everyone in the kingdom celebrates the new cub's arrival. Scar, Mufasa's brother — and former heir to the throne — has plans of his own. The battle for Pride Rock is soon ravaged with betrayal, tragedy and drama, ultimately resulting in Simba's exile.
Cast: Donald "Childish Gambino" Glover, Seth Rogen, Chiwetel Ejiofor, Billy Eichner, John Oliver, Keegan-Michael Key, Beyoncé , James Earl Jones.
Director: Jon Favreau
Writer: Jeff Nathanson, Brenda Chapman,  Irene Mecchi, Jonathan Roberts,  Linda Woolverton.
7. 21 Bridges
https://m.youtube.com/watch?v=hpbMqgtThlw
Release date: July 17
Genre: Thriller
A disgraced NYPD detective after being thrust into a citywide manhunt for a cop killer, is given a shot at redemption.
Cast: Chadwick Boseman, Stephan James, Sienna Miller, Taylor Kitsch, J.K. Simmons, Jamie Neumann, Morocco Omari, Gary Carr, Shayna Ryan, Keith David, Dale Pavinski, Louis Cancelmi, Katie McClellan, Victoria Cartagena
Director: Brian Kirk
8. Into the Ashes
Release date: July 19
Genre: Drama
Nick is an ex-con who's adjusting to a new job, a new wife and some semblance of normalcy in rural Alabama. When vengeful former associates track him down, he's soon forced back into the desperate and violent life that he thought he left behind.
Cast: Luke Grimes, Robert Taylor, James Badge Dale, Frank Grillo, David Cade, Marguerite Moreau, Brady Smith, David Maldonado
Director: Aaron Harvey
9. Once Upon a Time in Hollywood
Release date: July 25
Genre: Crime
Actor Rick Dalton gained fame and fortune by starring in a 1950s television Western, but is now struggling to find meaningful work in a Hollywood that he doesn't recognize anymore. He spends most of his time drinking and palling around with Cliff Booth, his easygoing best friend and longtime stunt double.
Cast: Leonardo DiCaprio, Brad Pitt, Margot Robbie, Kurt Russell, Dakota Fanning, Damon Herriman, Austin Butler, Emile Hirsch
Director: Quentin Tarantino
Written by Niyi Agbaye