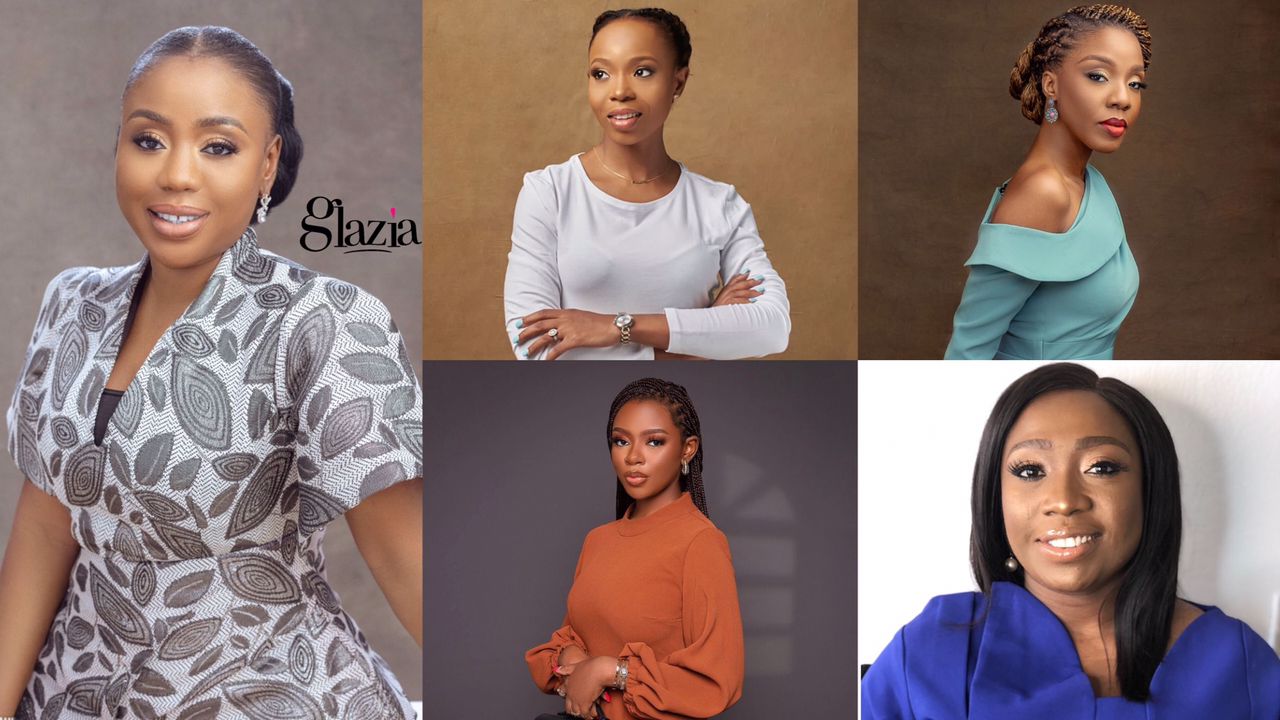 360 Woman Africa, a leading personal, leadership, and enterprise non-profit organisation, will, at its 2023 Africa Enterprise Summit and Grant Awards ceremony, present up to N5 million raised in grants to winning women entrepreneurs to boost their businesses. Scheduled for Thursday, 16th March 2023, the summit will take place at Four Points by Sheraton Hotel, VI, Lagos.
About the 360 Woman Africa Enterprise Summit.
The enterprise summit, during which the grant winners will be announced, is one of 360 Woman Africa's flagship events that converge hundreds of women entrepreneurs and professionals for youth entrepreneurship, job creation, access to finance, socio-economic empowerment, and women engagement through educational opportunities for capacity building, mentoring, and networking. Interested participants can register to attend the event at bit.ly/360summit2023.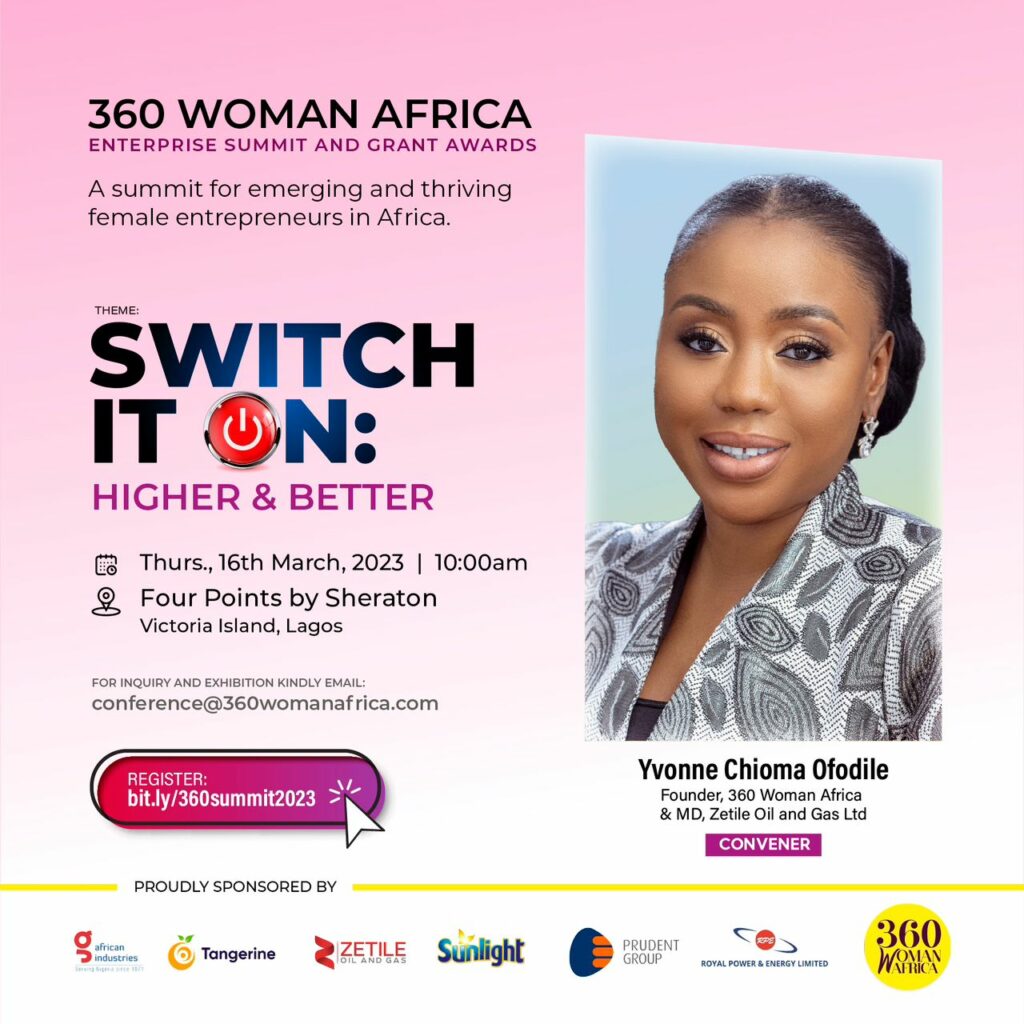 With a keynote address and fireside chats featuring inspiring business leaders, the 2023 summit will explore the theme Switch It On: Higher and Better to better equip women with personal, leadership, and business skills for global relevance.
Event speakers
Speakers billed for the event include CNN Senior Editor for Africa, Stephanie Busari; Ms. Olayanju Lawal, Manager, Legal, Prudent Energy & Services Limited; renowned personal finance expert, founder of The Richer Woman Inc, Omi Oshikoya; filmmaker, entrepreneur, and TV star Diane Russet; Founder/CEO of Redrick Public Relations, Ijeoma Balogun, Personal Finance Expert & Founder of FinTribe, Financial Jennifer, among other thought leaders.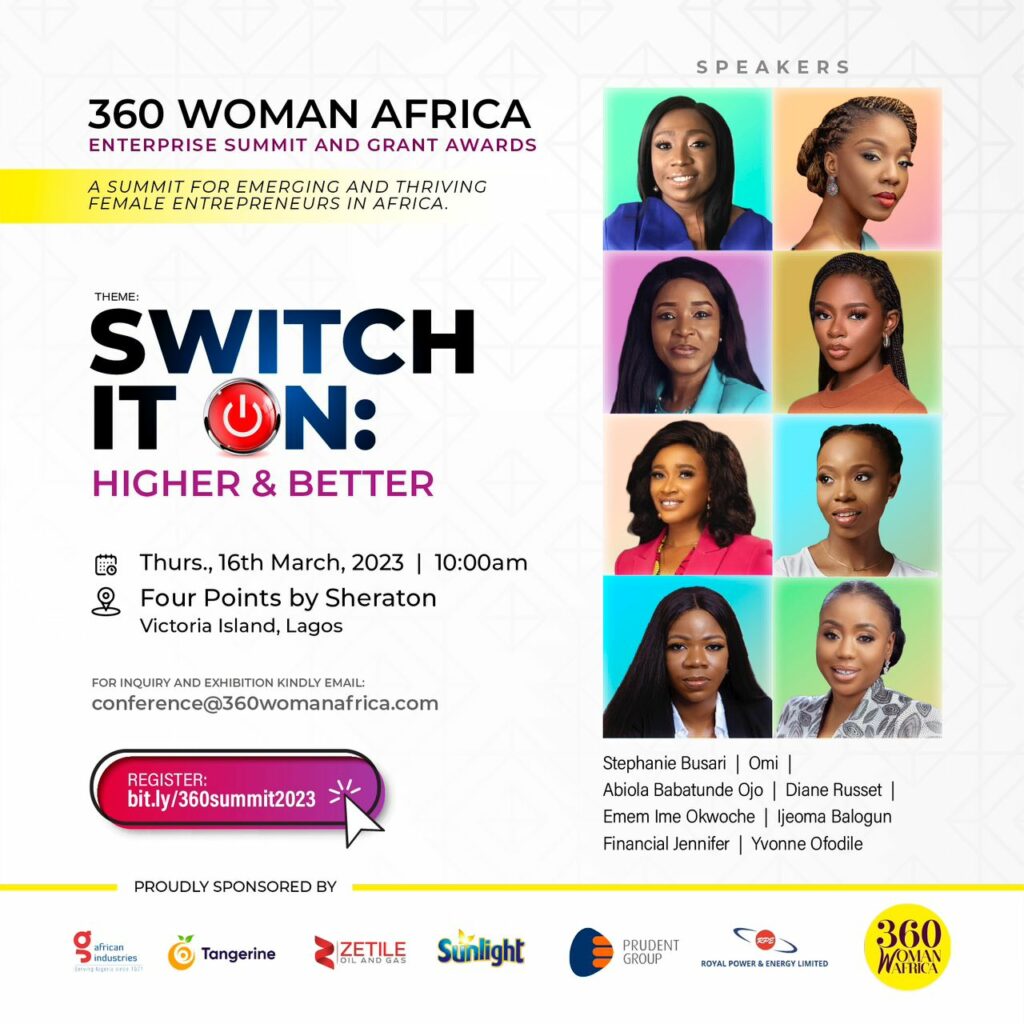 "360 Woman Africa was born out of my earnest desire to see more women in my community and society at large thrive, and that's exactly the business we have been about since we started many years ago," said Dr. Yvonne Chioma Ofodile, Founder of 360 Woman Africa.
"I am delighted that we can continue in our trajectory this year, and I can't wait to see how our beneficiaries will leverage this grant to boost their business success,"
The 360 Woman Africa Women in Business Fund
The 360 Woman Africa Women in Business Fund, sponsored by Nigeria's largest steel manufacturing company African Industries Group (AIG), seeks to shrink the financial gaps in Africa, especially for women in business. Winners selected from a pool of over 1500 applicants will be awarded equity-free grants as follows: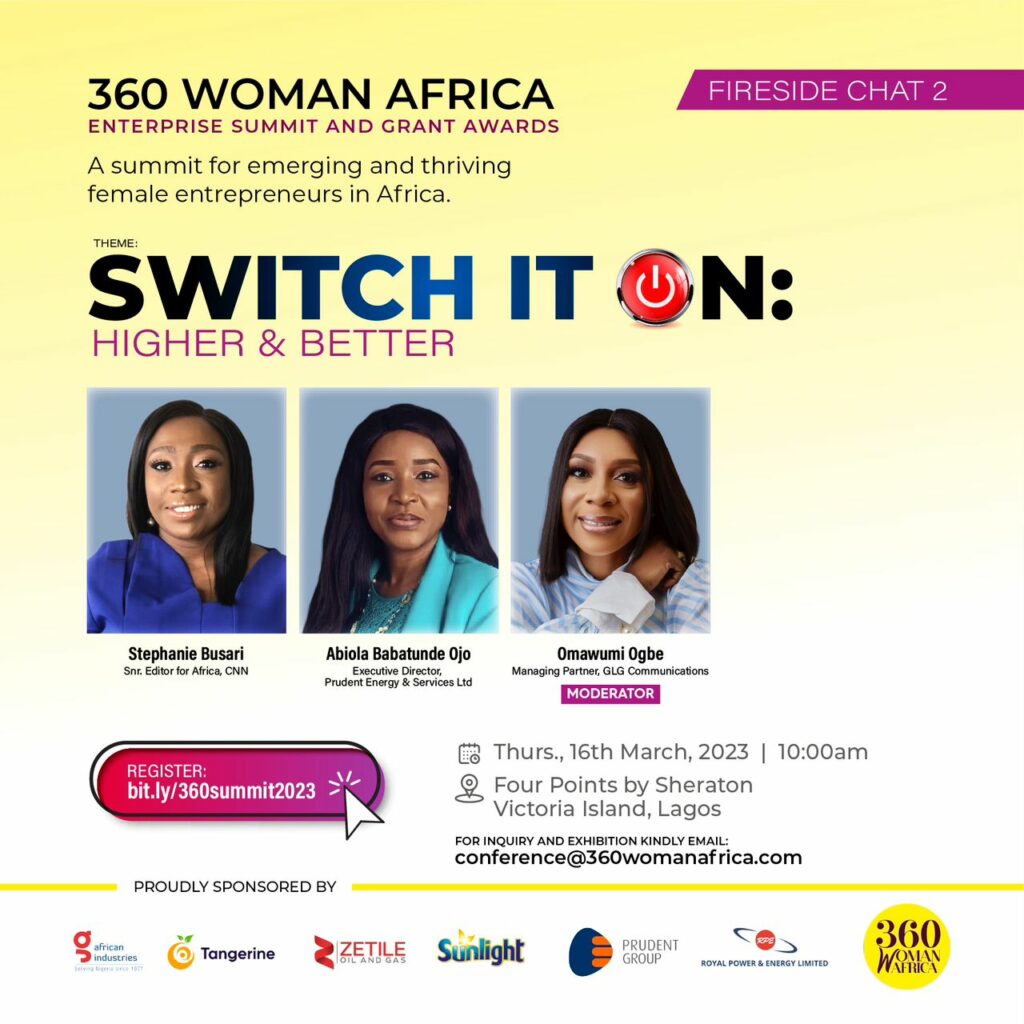 1st Prize: N2,000,000.00 with 6 Months of Business Mentorship and Office Space
2nd Prize: N1,500,000.00 with 6 Months of Business Mentorship and Office Space
3rd Prize: N1,000,000.00 with 6 Months of Business Mentorship and Office Space
4th Prize: N500,000.00 with 1-year Mentorship.
According to a comment by the African Industries Group, "African Industries Group (AIG) wishes all the remarkable women a very Happy Women's History Month. The Group acknowledges and appreciates the significant contributions of women in all aspects of life. AIG's partnership with 360 Woman Africa for the grants and summit is a demonstration of its commitment towards creating a world that is more diverse, equitable, and inclusive and also building a society where everyone can thrive."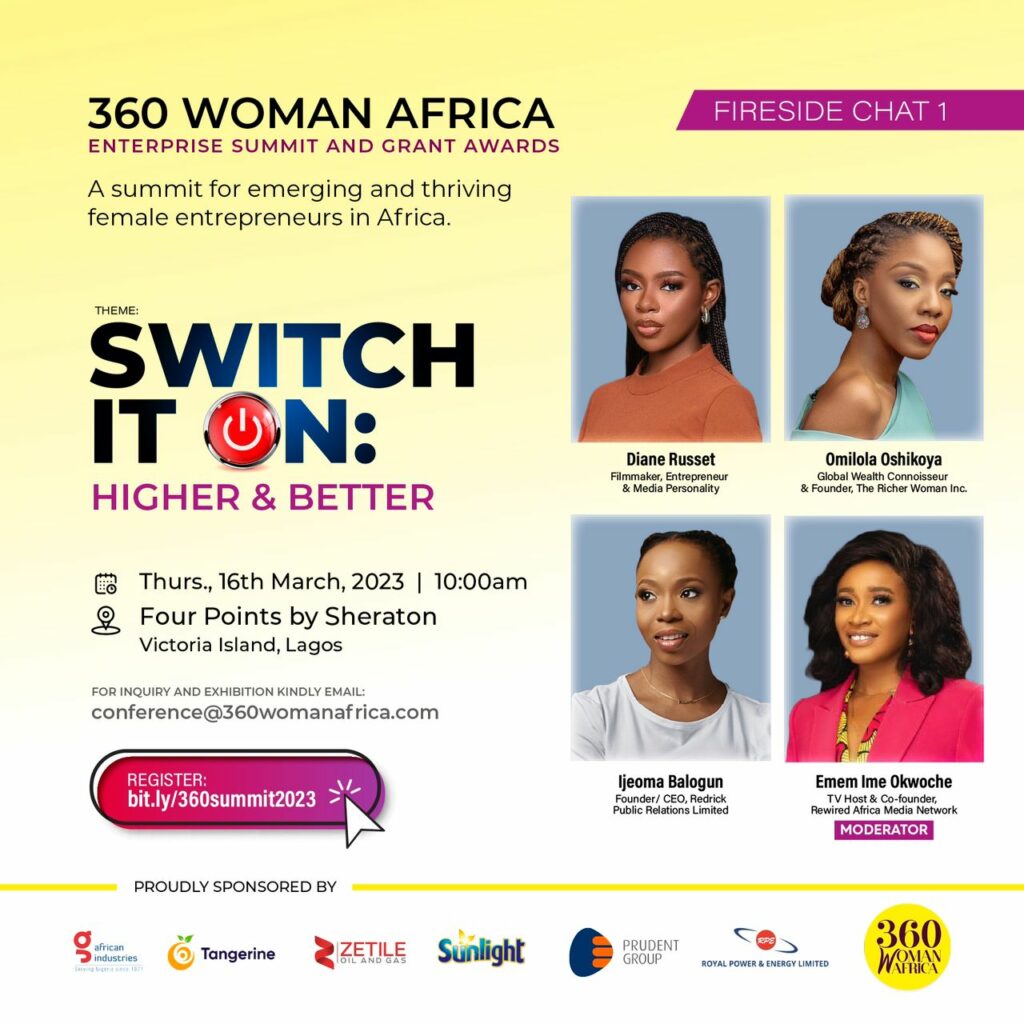 360 Woman Africa provides innovative programs that inspire, educate, and empower women in business, politics, and personal growth through partnerships with individuals, indigenous organizations, global brands, and governmental bodies. It aims to unlock and unleash the full potential of women without bias, ensuring that capital and support are distributed evenly across all spheres.
For more information, visit www.360womanafrica.com and follow @360womanafrica on Instagram for updates.