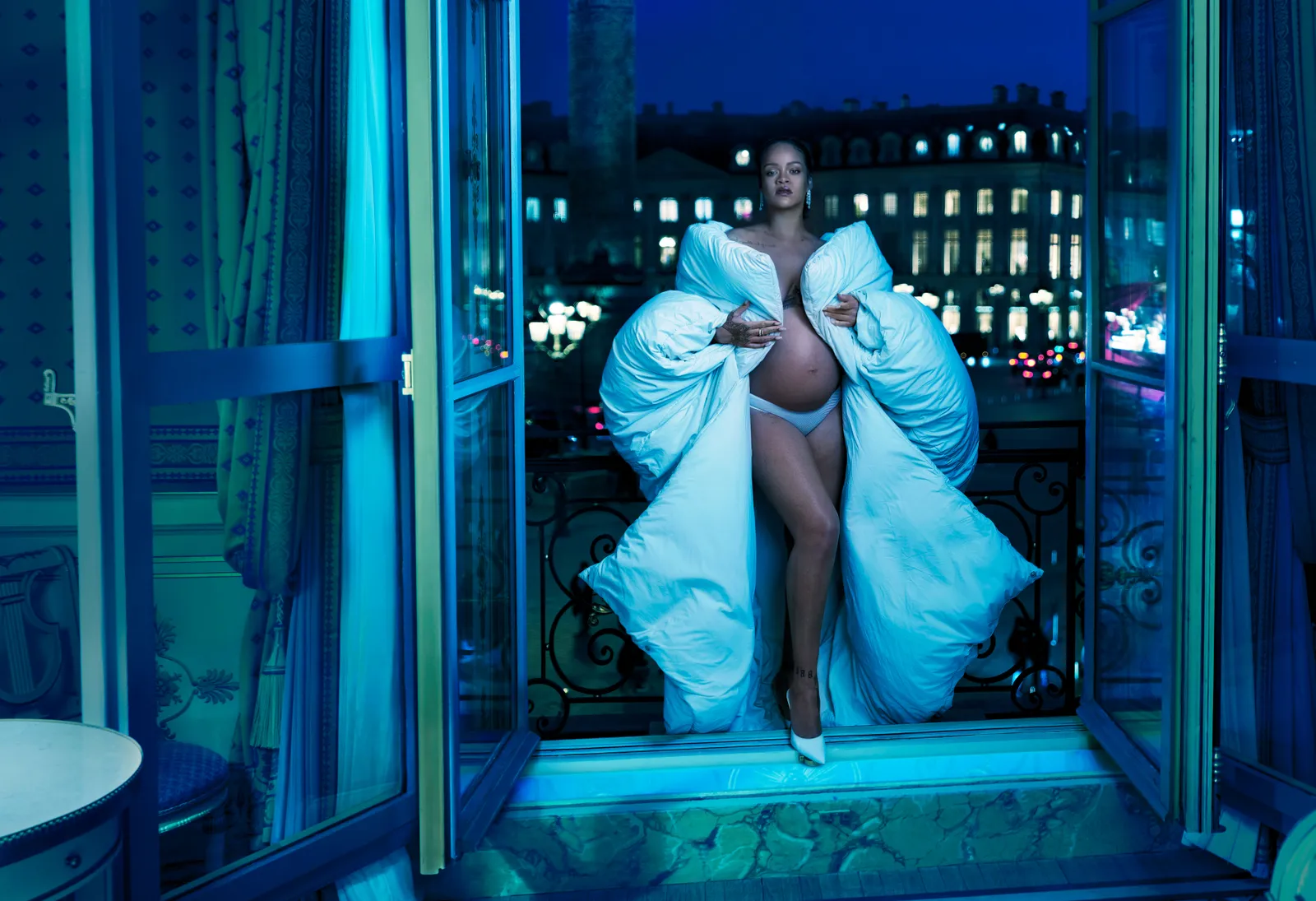 Pop culture has been in a massive frenzy since Rihanna made her pregnancy known to the world. Now more than ever, the pop star turned billionaire business magnate has practically redefined maternity fashion, and you won't hear us complain about it. The extremely gorgeous soon-to-be-mom has been revealed as the May cover of Vogue Magazine and we're here for the witty conversation Rihanna had with Vogue's Chioma Nnadi, her inspiring quotes, and ultimately the insane, revolutionary fashion. 
Since Rihanna and her partner A$AP Rocky, announced they were expecting in late January, the superstar has embraced her time as a mom-to-be with an irrepressible joie de vivre. 
Rihanna is 'revolutionizing maternity fashion'.
In recent times, Rihanna has changed something profound in fashion, single-handedly rewriting the rules of pregnancy and dressing with one jaw-dropping style maneuver after another.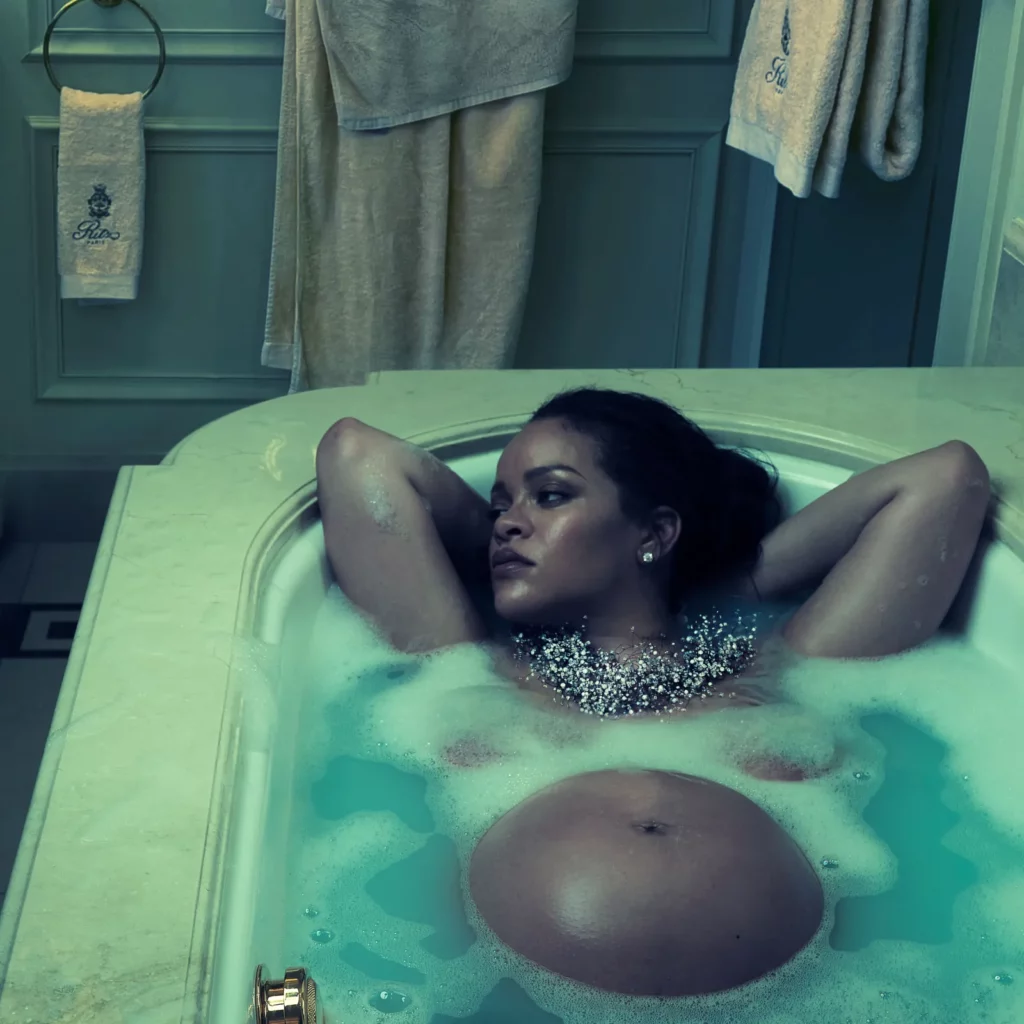 Arguably the peak of her rule-​breaking maternity style thus far, though, has been the little black dress she wore to Dior. Sometime before the show, Rihanna and her stylist Jahleel Weaver made the decision to remove the lining of the lace Dior cocktail frock, leaving it completely transparent.
Here was a beautiful woman at her most abundant, sexy, and strong, delighting in the creative play of getting dressed—with or without a baby bump. For Black expectant mothers in particular, it stood as an awe-inspiring act of defiance. At a time when the joy of bringing a child into the world has too often been overshadowed by one geopolitical crisis after another, her unbridled feminine power was nothing short of life-affirming.
Rihanna talks about her pregnancy.
"I think I even say yes to more now because I know it will be different on the other side of this. At first I expected some magical change, but really I remain who I am." In other words, "none of the dials are turned down."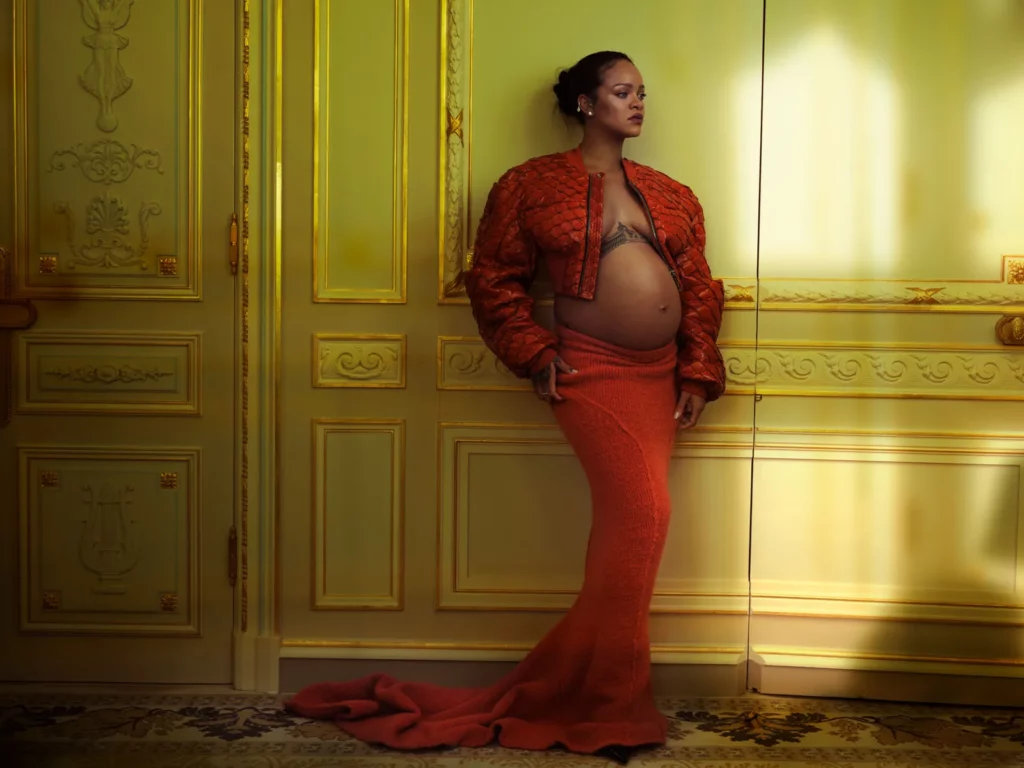 "When I found out I was pregnant, I thought to myself, There's no way I'm going to go shopping in no maternity aisle. I'm sorry, it's too much fun to get dressed up, I'm not going to let that part disappear because my body is changing." When I bring up the subject of maternity jeans, she rolls her eyes: If it's not something she would have worn before she was pregnant, then it's not something she's going to wear now.
"I'm hoping that we were able to redefine what's considered 'decent' for pregnant women. "My body is doing incredible things right now, and I'm not going to be ashamed of that. This time should feel celebratory. Because why should you be hiding your pregnancy?"
Was Rihanna planning on having a baby?
"Planning? I wouldn't say planning. But certainly not planning against it. I don't know when I ovulate or any of that type of shit. We just had fun," she says. "And then it was just there on the test. I didn't waste any time. I called him inside and showed him. Then I was in the doctor's office the next morning and our journey began."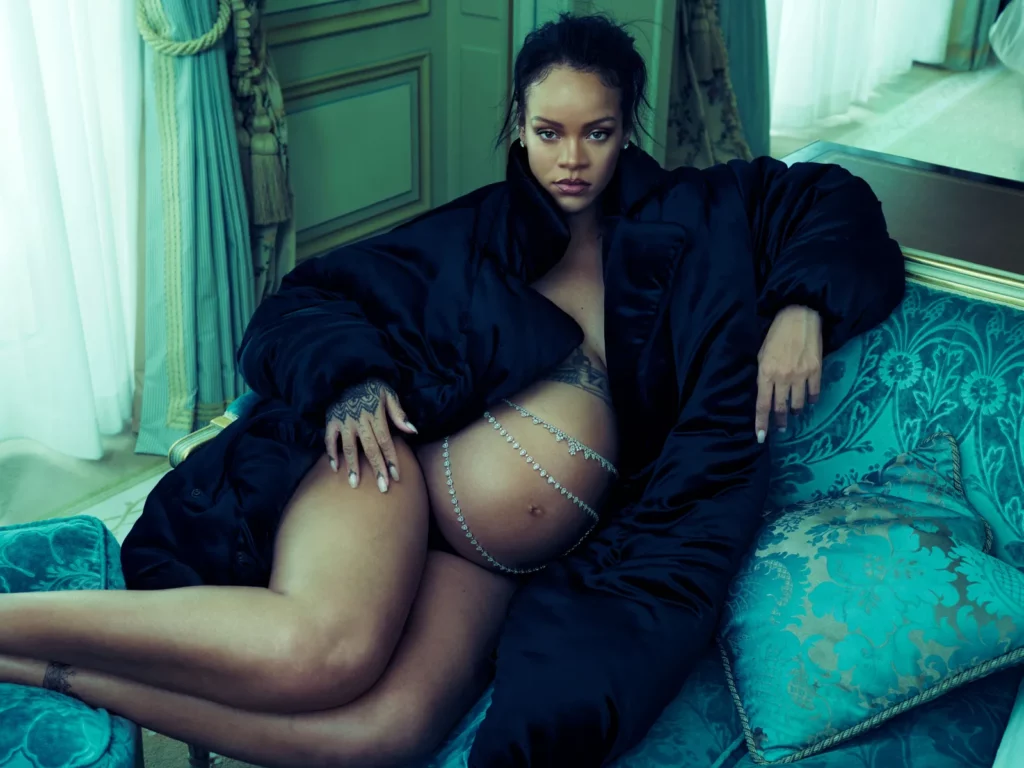 "I was bracing myself for something insane because I knew I wouldn't have my usual coping mechanism: I can't just go and smoke a joint right now. But I was pleasantly surprised that I've been able to manage." Still, there will be times when an innocuous Instagram post will trigger a flood of tears.
What frightens Rihanna the most about having a baby?
"Postpartum depression. Will I feel out of control emotionally? Those are the stories I hear from other women that scare me."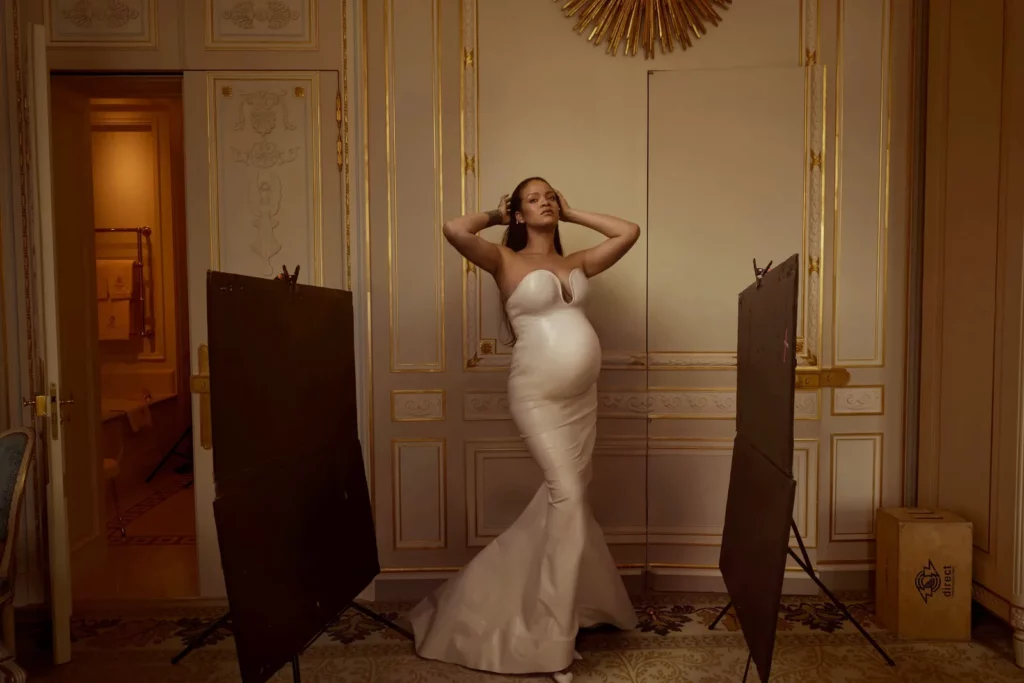 "Balance is one of my biggest challenges and always has been," she says. "And now there's another human being coming into play, it changes what that means again. Still, I have businesses that aren't going to run themselves. My mom handled the three of us with not even close to the amount of resources that I have, so I can absolutely do it. What it looks like? I'm not sure."
What's next for her music?
"My best album to this day." (Released in 2016 and famously snubbed by the Grammys, the genre-busting album was ahead of its time—and a hard act to follow. Right now though, she's not trying to be in competition with herself, or anyone else for that matter.) "I'm looking at my next project completely differently from the way I had wanted to put it out before. I think this way suits me better, a lot better," she says. "It's authentic, it'll be fun for me, and it takes a lot of the pressure off."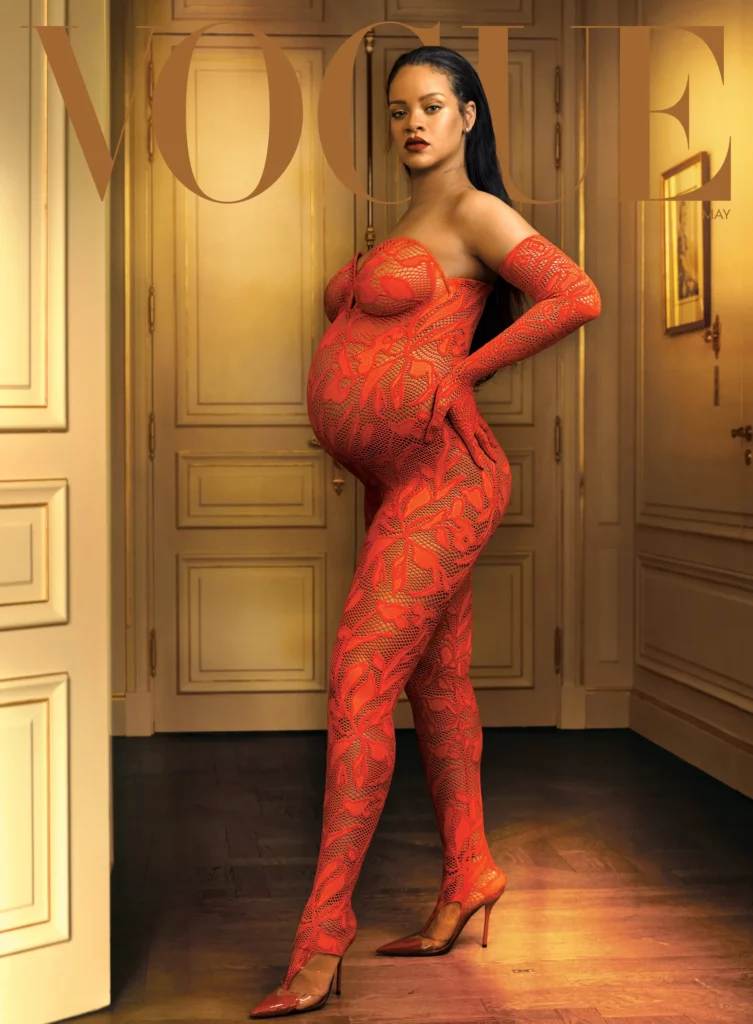 Dos and Don'ts
Along with maternity jeans, Rihanna has a list of other pregnancy do's and don'ts, starting with the baby shower. "No brunch, no blush tones. And no animal-shaped nothing," she says, shaking her head. "I mean it's lit for a lot of people—I've even planned a couple of baby showers like that myself—it's just not right for me. Personally, I want a party. I want everyone to be plastered and crawling out. And it's got to be co-ed! Don't put me on no wicker chair somewhere with gifts at my feet where everyone is staring at me." A gender-reveal party is off the table too. "I asked my doctor: Is something wrong with me for not wanting this? Because people keep asking me. Am I a bad mom? When we're ready to tell the world, we'll just tell them."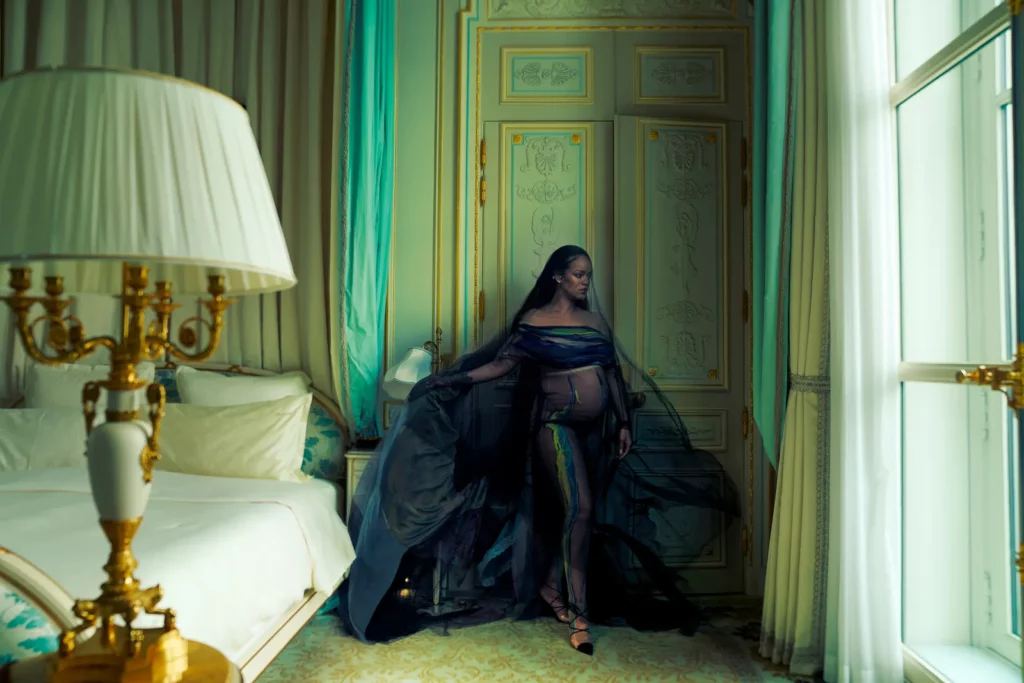 Credits.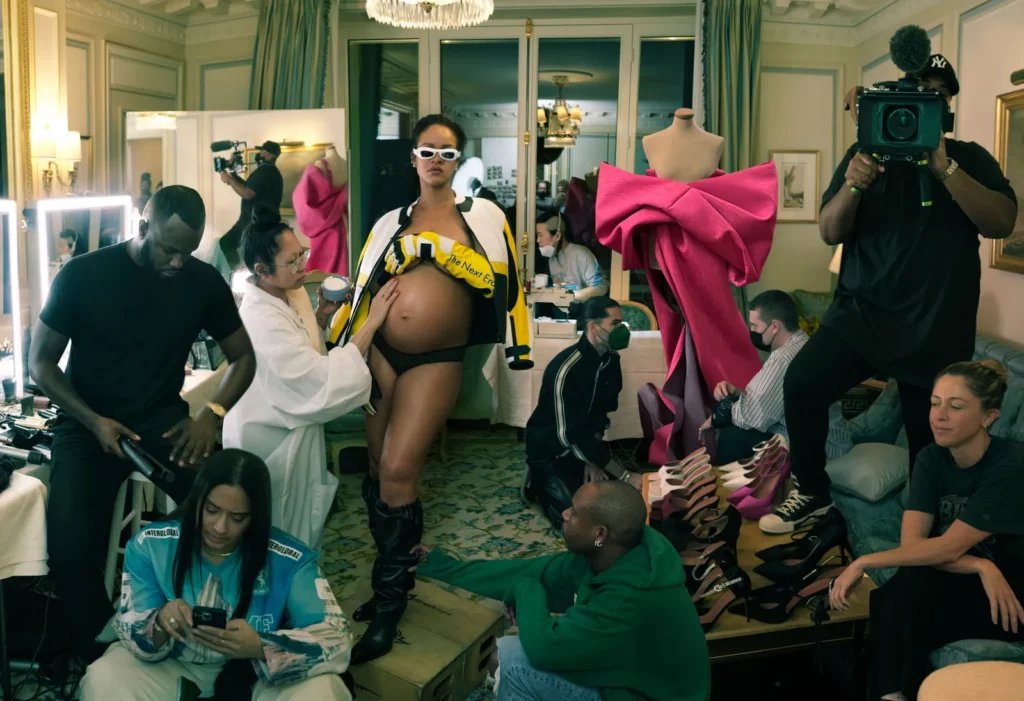 Excerpts from Vogue's cover interview with Rihanna.
Interview by Vogue editor, Chioma Nnadi.
Photography by Annie Leibovitz
Styled by Alex Harrington and Jahleel Weaver