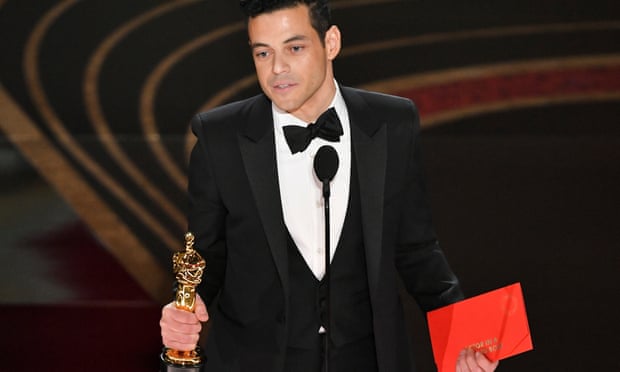 Rami Malek may not have been born in Africa but that doesn't change the fact that he is Egyptian by blood (Yes, we are claiming him) and making Africans proud. The actor who is reaping the rewards of the huge success of his latest film, Bohemian Rhapsody is an American born of Egyptian immigrant parents and on Sunday, became the first Egyptian to win a Best Actor Oscar award!
Bohemian Rhapsody is a biopic of British rock band Queen, focusing on its lead singer, Freddie Mercury, who died in 1991 from Aids-related illness. On Sunday at the 91st Oscars, Rami Malek won the best actor Oscar award for his electric portrayal of rock star, Freddie Mercury (A British singer born to Indian parents in Zanzibar). Having previously won awards for the role including best actor from the BAFTAs, Screen Actors Guild and best actor (drama) at the Golden Globes; Malek defeated contenders including Christian Bale in Vice and Bradley Cooper in A Star Is Born to win the coveted Oscar award.
He said during his acceptance speech at the Oscars, "I am the son of immigrants from Egypt, a first-generation American, And part of my story is being written right now. And I could not be more grateful to each and every one of you, and everyone who believed in me for this moment. It's something I will treasure for the rest of my life."
Prior to Bohemian Rhapsody, Malek was best known for his role in the award-winning TV series Mr Robot,  for which he won the Emmy Awards for Outstanding Lead Actor in a Drama Series (2016) for his role as Elliot Alderson.
Rami Malek's Oscar victory marks the 12th time in 17 years that the lead actor Oscar award has gone to the star of a biopic. Recent winners have included Gary Oldman ("Darkest Hour"), Leonardo DiCaprio ("The Revenant"), Eddie Redmayne ("The Theory of Everything") and Matthew McConaughey ("Dallas Buyers Club").
Africans around the world, especially the Arab nations are celebrating Rami Malek's Oscar win. You may call it famzing (Nigerian slang for familiarizing with someone doing well) but can you blame them?
Photo Credit: Rob Latour/REX/Shutterstock