The Academy Awards comes with so many interesting activities like inspiring speeches, memorable/historic winners, lit performances from star artistes and red carpet glamour. Attendees; comprising of guests, nominees, actors, directors, investors, musicians, etc showed up with amazing ensembles on the red carpet in front of fans and the paparazzi.
Here are the top 10 Oscars best dressed from the 92nd Academy Awards.
Cynthia Erivo
"Harriet" star actress is first on the Oscars best dressed list. She shone brightly on the red carpet in a bespoke white Versace gown featuring a graphic cut, asymmetric bustier entirely pleated by hand with the voluminous skirt. This was hand-embroidered with Swarovski crystals. She accessorized this look with a lot of rings and paired the gown with white heels.
Sandra Oh
The "Grey's Anatomy" star actor, hit the Oscars best dressed list when she showed up at the red carpet. She looked glorious in a glittery sequin dress from Elie Saab. The dress featured puffed sleeves, which were adorned with massive tulle fabric. This made them look like a bouquet of roses. The actor definitely stood out in this outfit.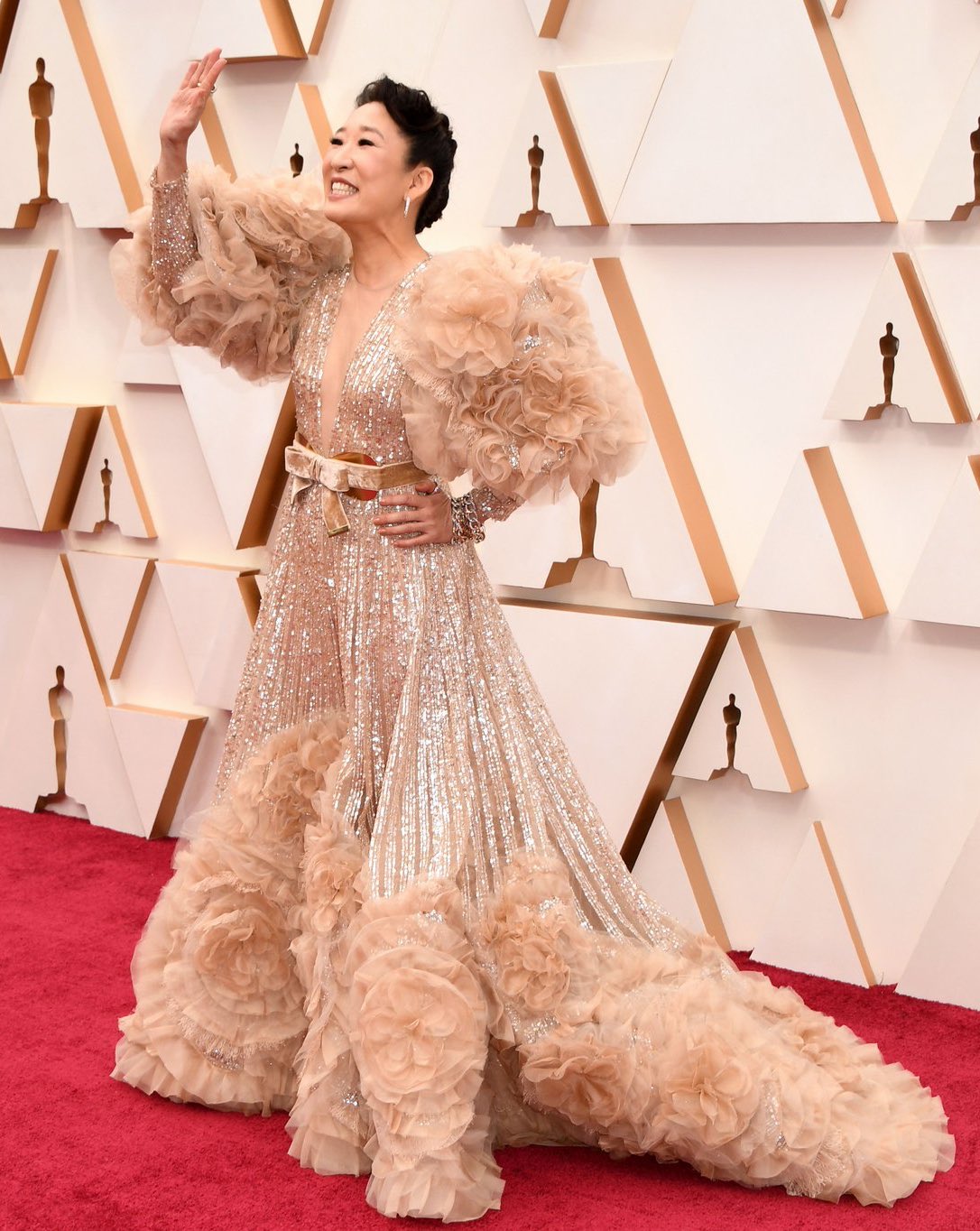 Janelle Monáe
This outfit brings to mind, the opening line to Rihanna's 2012 hit "Diamond." The award-winning singer, songwriter, and actor shone brightly in a gorgeous Ralph Lauren dress made with168,000 Swarovski crystals. The shimmering, fully embellished silhouette required more than 600 hours of expert hand-embroidery to adorn the crystals over lacquered silk lamé tulle. She looked amazing as she accessorized this look with a diamond necklace.
Mindy Kaling
American comedian and actor Mindy, glowed graciously in a  yellow shoulder dress by Dolce & Gabbana. She paired this elegant look with Chopard diamonds, including a necklace featuring 78.46-carats of marquise-cut diamonds and 46.33-carats of round-shaped diamonds. With her her hair styled to the back and subtle make up on her face, she's a total package!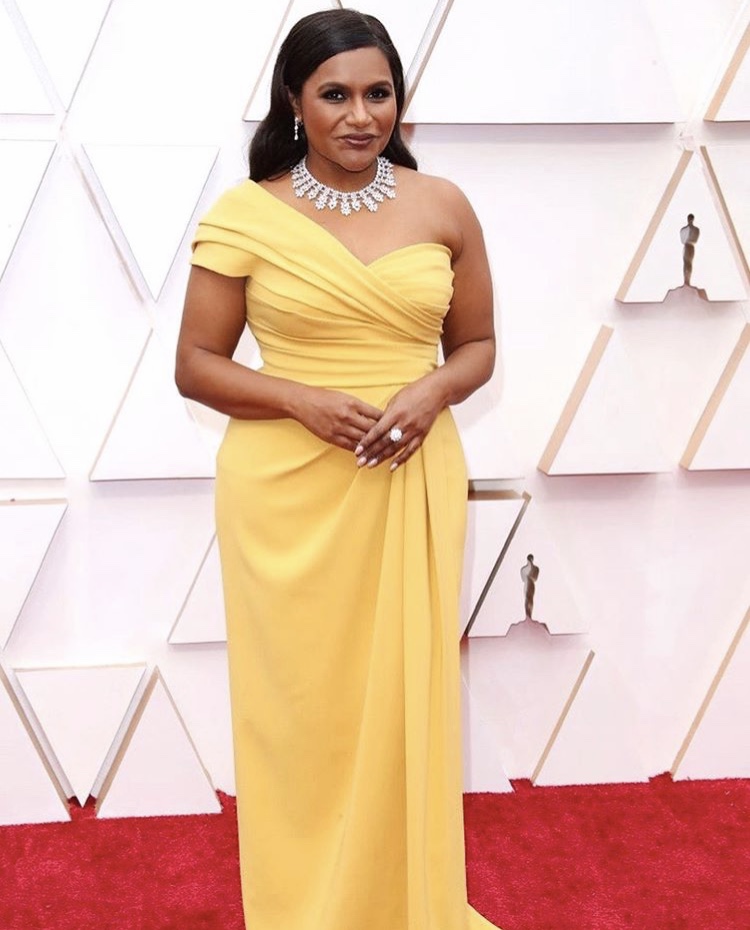 Salma Hayek
The Latino star actress Salma Hayek, stunned in a Greek goddess inspired look by Gucci. The dress was a one strap and one long-sleeved featuring a thigh-high slit that showed off not just toned thighs but silver heels. The magnificent headpiece made her look so angelic. We love it!
     6.  Scarlett Johnson
The Oscar nominee for Best Actress and Best Supporting Actress ditched the black leather suit for a sizzling champagne dress by Oscar De La Rent. The strapless gown had a corseted bodice designed with a thread of studs. She looked so ravishing!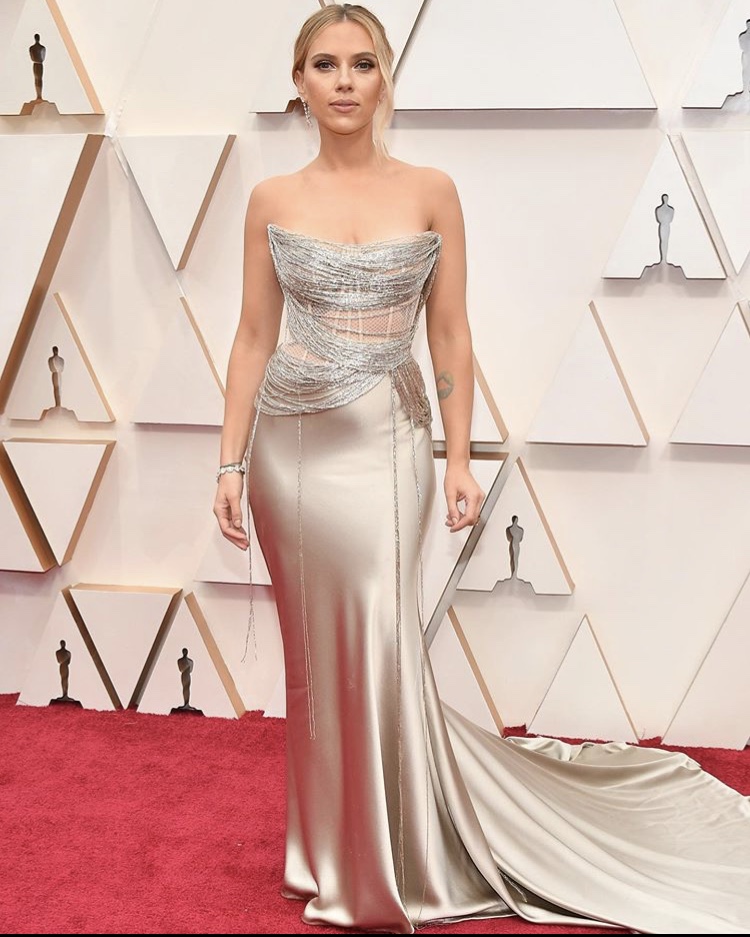 Natalie Portman
Not only did the "Black Swan" actor slayed the red carpet at the Oscars. She wore a gorgeous black and gold Christain Dior dress. On top of that, she had on an extraordinary black cape to match it. The cape made headlines for bearing embroidered names of female movie directors who were snubbed at the Academy Awards. Talk about feminism plus fashion!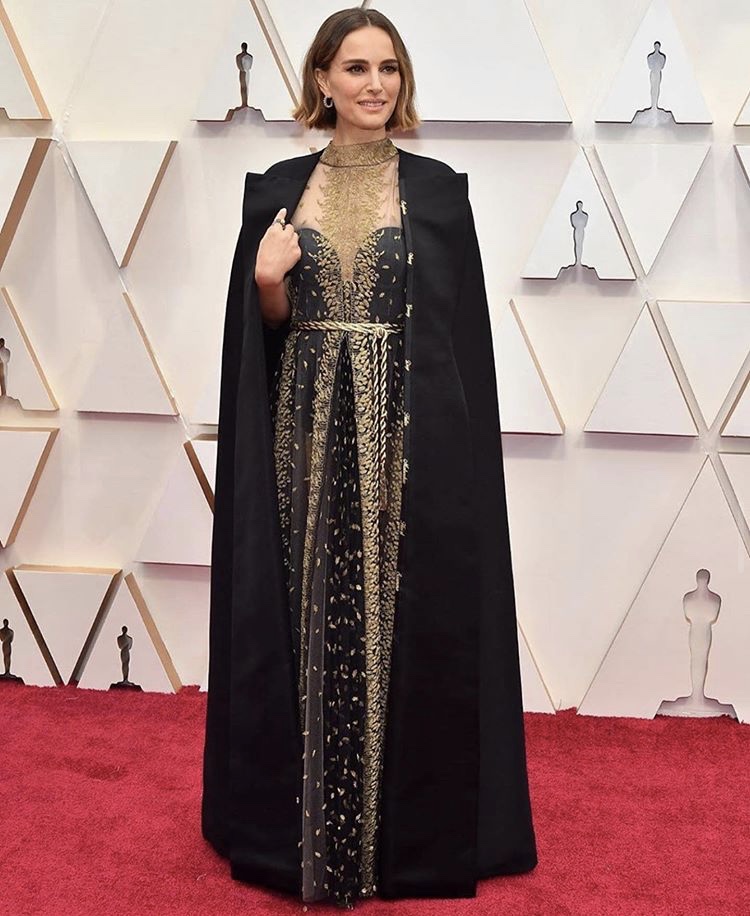 Gal Gadot
The "Wonder Woman" actor looked wonderful in a blend of edgy and cute. She had on, a lace dress by Givenchy. Black turtleneck lace, over a pink lacy skirt that extended to a train. The superhero held it down with a statement diamond neckpiece and slicked-back hair.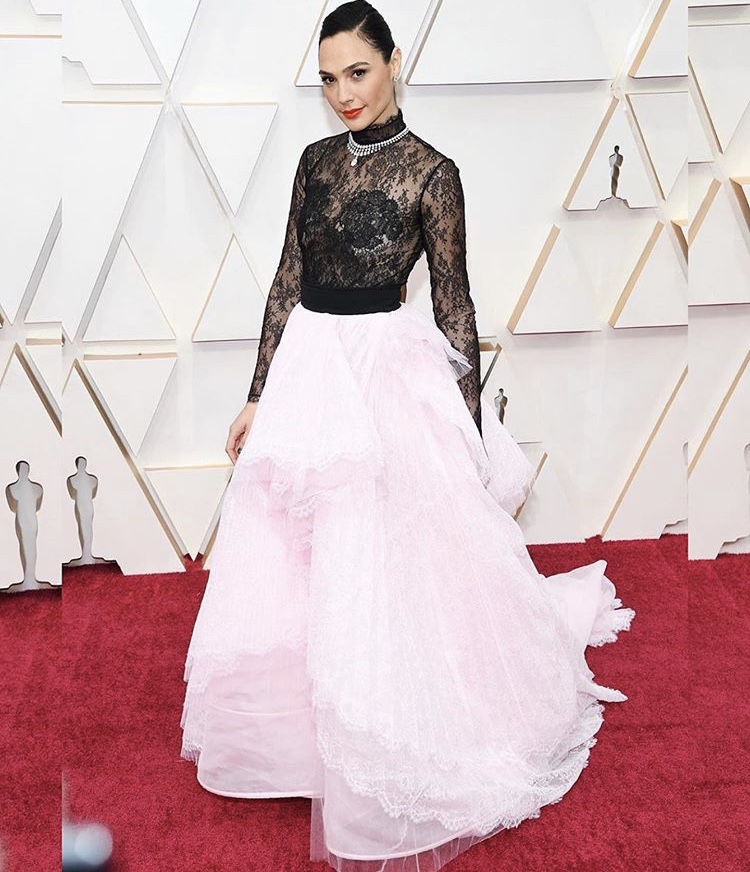 Regina King
Multiple awards winning actor Regina King, strutted on to the Oscars red carpet looking glamorous and expensive. She had on a custom made Atelier Versace peach silk dress with Swarovski Crystal embroidered bodice. She accessorized this expensive look with jewelry worth half a million dollars. Talk about statement fashion!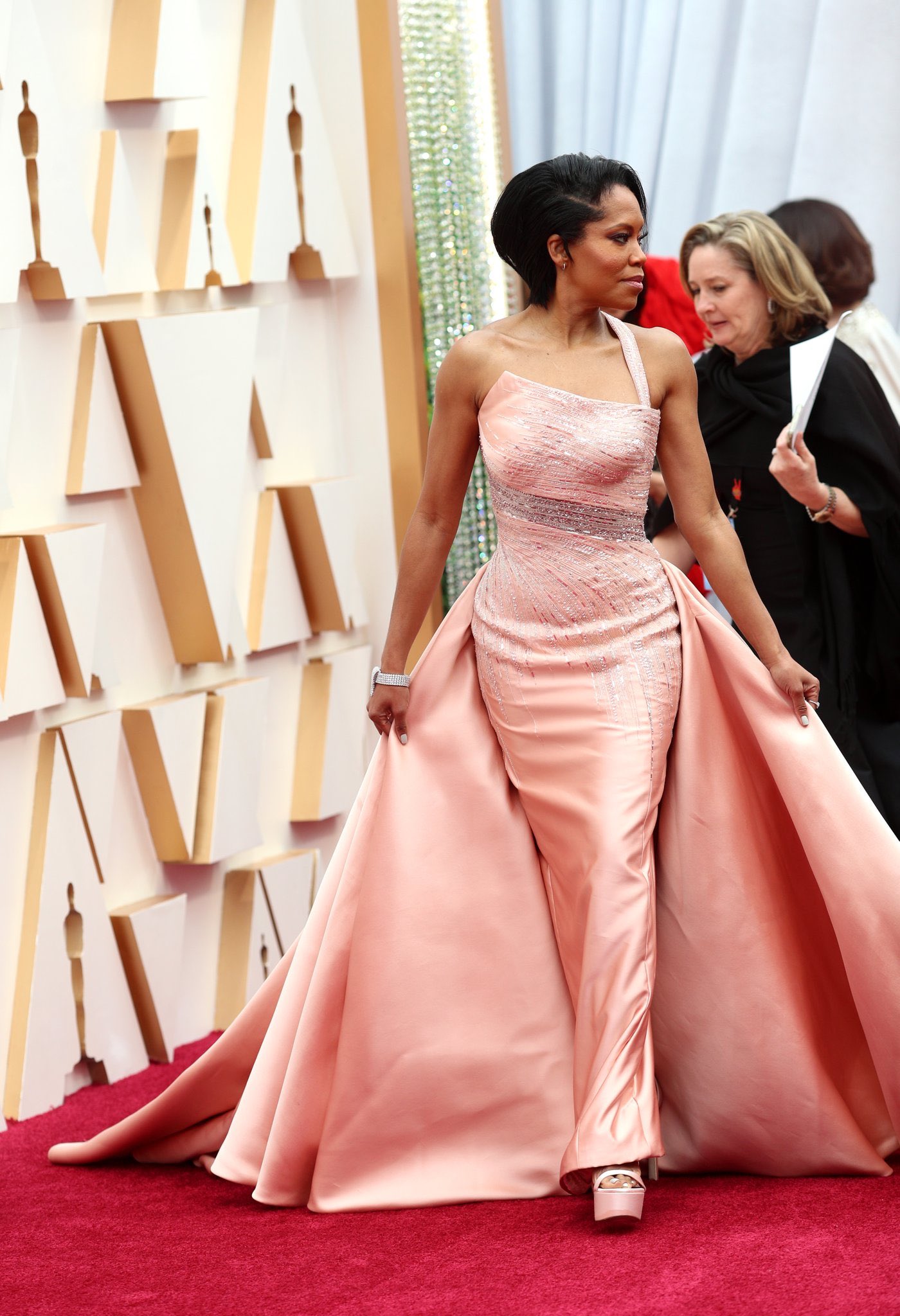 Brie Larson
The "Captain Marvel" star ditched her superhero suit and boots for a sparkling dress and cape by Celine. The V- necked gown featured more than 120,000 sequins and 110,000 glass beads. The beautiful dress featured a thigh – high slit which hugged her body and highlighted her curves without being clingy. This is such an effortless slay and we love it!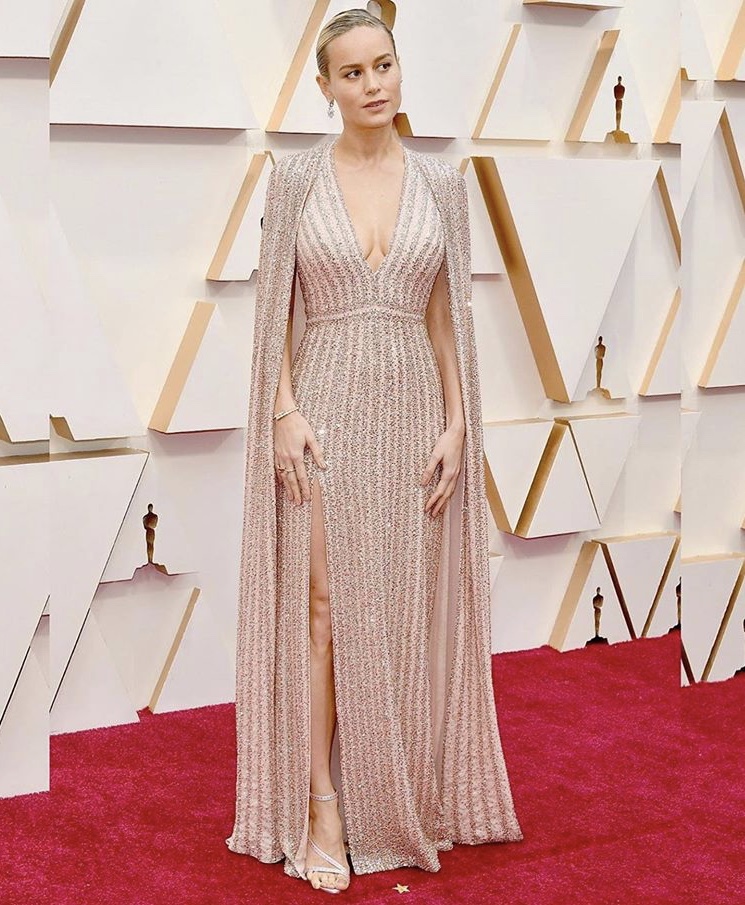 Did your favorite celebrity make the cut on the Oscars best dressed? Let us know in the comments.