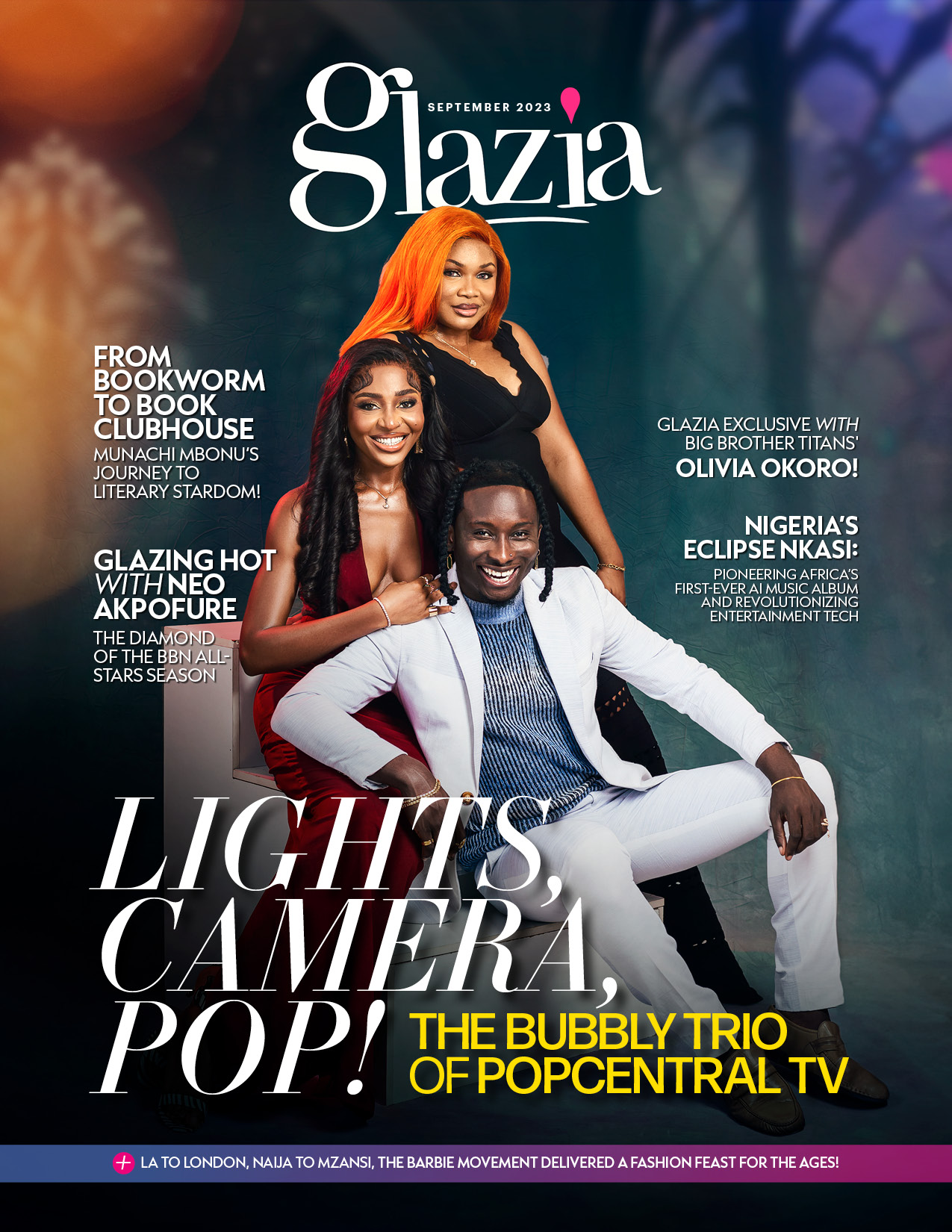 After our explosive previous issues, we knew we had to deliver something even more thrilling for our readers and pop culture enthusiasts. Thus, this edition of Glazia showcases not one, but three remarkable personalities!
Prepare to be enchanted as we plunge into the vibrant realm of entertainment with three outstanding TV presenters from PopCentral TV. With their contagious enthusiasm, magnetic charm, and an insatiable love for all things pop culture, they form an unstoppable trio that keeps viewers nationwide glued to their screens, eagerly anticipating each thrilling segment.
From breaking news to red carpet moments, from the trendiest pop culture events to the latest fashion trends, this trio maintains a firm grasp on the entertainment industry's pulse. Each presenter brings a distinctive style and expertise to the table, forging a dynamic synergy that electrifies the screen, leaving audiences craving more.
However, their journey to becoming household names wasn't an overnight phenomenon. Through unwavering dedication, relentless hard work, and a genuine passion for their craft, they've ascended the ladder of success, surmounting obstacles and seizing every opportunity that crossed their path. Starting from modest beginnings and evolving into the faces of PopCentral, they've secured a special place in the hearts of viewers, both nationally and globally, in our interconnected digital world.
In this exclusive interview, we peel back the curtain to unveil the secrets behind their success. We'll delve into the passion driving their ambition, the challenges they've conquered, and the pivotal moments that have moulded them into the remarkable presenters they are today.
"Lights, Camera, Pop" isn't just a catchphrase; it's a testament to their passion, dedication, and unwavering commitment to delivering top-notch entertainment to your screens. Get ready to meet the faces that make your TV experience unforgettable!
Download our latest issue HERE!
Credits:
Editor-in-chief: Omawumi Ogbe
Editor: Rachael Mordi
Graphic design and coordination: Nathan Obi
Photography: Afolabi Faruk
Stylist 1: David Yomo
Stylist 2: Ebun Dosumu
Outfits 2: Shakara Trybe
Make-up: Augustina Nmehola
Hair: Best Omoijade
Videography: PopCentral TV.