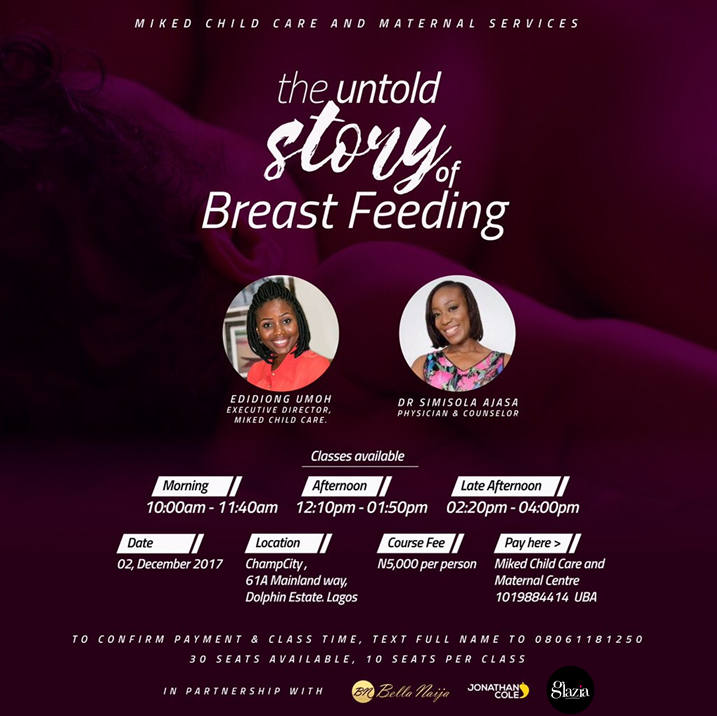 Miked Maternal Services is hosting a breastfeeding masterclass on the 2nd of December in Lagos. Wondering why a masterclass for breastfeeding? Research shows that whilst many mothers are believed to have an inherent knowledge of breastfeeding, this is not the case. It is understood that breast feeding skills are not sufficiently acquired during ante natal visits especially for first time mums and that there are many sides and skills to breastfeeding that could enhance a mum's breastfeeding experience.
The Breastfeeding Masterclass is to :
Teach, notching rightly,
When and how to breastfeed
When to stop breastfeeding for babies
What mums should eat as it filters into breast milk and could affect the health of the baby, and most importantly, the psychological aspect of breastfeeding
Speaking on the class, co-founder of Miked Maternal Services, Edidiong Umoh mentioned "We will be having a Counselor and a Physician who will teach breastfeeding skills and counsel mums on how to manage the psychological changes during breastfeeding. We're also giving a 10% discount to the first 10 registered mums, and free breastfeeding wears and breast pumps to some participants who will sign up for our social support services" she added.
There will be counseling sessions for people who need them and gift items like breastfeeding gear and breast bumps are available for first 10 registered mums.
More Details 
Date – 02-12-2017
Course Fee – N5,000 per participant
How to Register – Pay to Miked Child Care and Maternal Centre, 1019884414  UBA
Confirm your registration and class time by sending a text with full name to 08061181250
Follow Miked Maternal Services on Instagram for updates