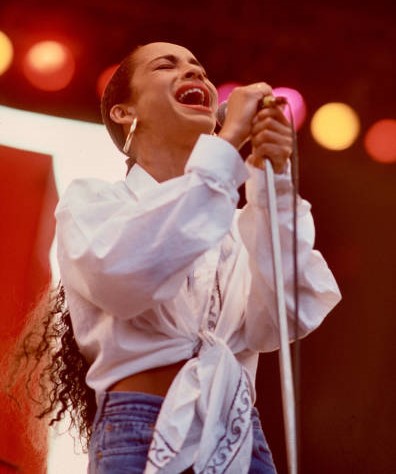 British Jazz and Soul singer Sade Adu, of the group Sade, performs during the Artists Against Apartheid Freedom Festival, Clapham Common, London, June 28th, 1986. (c) Steve Rapport/Getty Images.
Music is a universal language, and regardless of what genre or era best suits you, what matters most is how it speaks to you and how you respond to it. As the human taste palette differs from one individual to the other, the same can be said for their taste in music. Some people like it upbeat, while others prefer the slow jams. Some like it loud and thomping, others would rather go for soothing, some people like the new school, while others prefer the oldies. Whatever your preference, it does not invalidate your style.
Glazia weekend playlist today is a little different from the previous editions. Today, we take you back in time to the "good ol days" of the classics in soul and RnB. As well as create a lovely, cozy and romantic atmosphere for you and your significant other (if you have one) to enjoy this weekend. Or you could also enjoy it by yourself and just unwind. 
Here are 7 classics for your listening pleasure.
I Wanna Dance with Somebody (Who Loves Me) – Whitney Houston
Is there a classics playlist without a Whitney Houston track, we think not. The legendary Whitney Houston, was a force in music and one of the greatest vocalists of all time, and her hit track I Wanna Dance with Somebody is a good vibe for the weekend.
The song is off her Whitney album released in 1987, which won awards like the Grammy Award for Best Female Pop Vocal Performance in 1988 and American Music Award for Favorite Pop/Rock Single also in 1988.
Say You, Say Me – Lionel Richie.
Say You, Say Me, is out of Lionel Richie's 1986 album "Dancing on the Ceiling". The song won awards the Golden Globe Award for Best Original Song, as well as an Academy Award for Best Music (Original Song) both in 1986.
When a Man Loves a Woman – Michael Bolton
When a Man Loves a Woman is a hit track off Michael Bolton's 1991 album, Time, Love and Tenderness, although the track was first recorded in 1966 by Percy Sledge. Michael Bolton's version of the song peaked at number one on both the Billboard Hot 100 chart and the Billboard Adult Contemporary Singles chart.
(You Make Me Feel Like) A Natural Woman – Aretha Franklin
The Queen of Soul as she was fondly called. Aretha Franklin has twice been placed 9th in Rolling Stone's 100 Greatest Artists of All Time. Her hit track A Natural Woman is from the album titled Lady Soul released in 1968.
The song won a Grammy Award for Best Female Pop Vocal Performance in 1968 as well as the Awit Award for Best Vocal Arrangement in 2012. The song has been covered by several musicians some of which include Carole King, Celine Dion and Ariana Grande.
"Against All Odds (Take a Look at Me Now)" – Phil Collins.
A hit track from multiple Grammy award winning singer and lyricist Phil Collins, Against All Odds is also a Grammy award winning track. Although nominated for song of the year in 1985, it won the category of Best Pop Vocal Performance, Male also in 1985. The track also won Best Song Musically And Lyrically at the 1985 Ivor Novello Awards.
Sweetest Taboo – Sade Adu.
Sweetest Taboo is an all time hit from Nigerian born British songstress Sade Adu. The song is off her 1985 album titled Promise. Feel free to sway your hips and dance to this lovely tune.
My Girl – Smokey Robinson and The Temptations
This is the track where you get "your girl" and serenade her. Hit track My Girl from Smokey Robinson and The Temptations is one of those timeless hits. The song is from their 1965 album, The Temptations Sing Smokey.
My Girl became The Temptations' first U.S. number 1 single, and was selected for preservation in the National Recording Registry by the Library of Congress as being "culturally, historically, or artistically significant" Beat that! The track has been covered by other great music acts, including The Rolling Stones (2016)