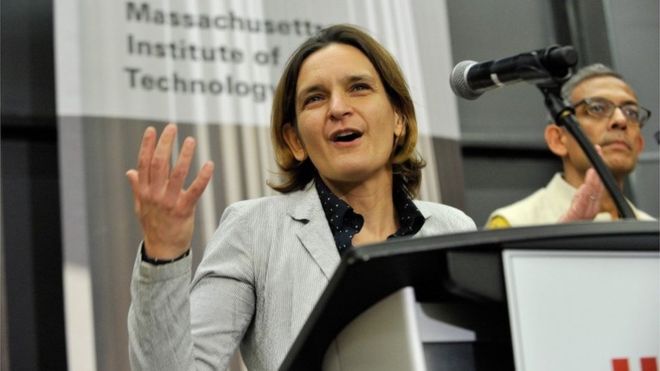 We love record breakers. From the first man to walk on the moon, Neil Armstrong; to the first African to win the Women's Prize for Fiction, Chimamanda Ngozi Adichie and more; these outstanding humans who break ceilings never cease to amaze us. Now we have the youngest Nobel Prize winner (male or female) in Economic Sciences, Prof. Esther Duflo.
The 46-year-old French professor of Poverty Alleviation and Development Economics at the Massachusetts Institute of Technology upon winning The Sveriges Riksbank Prize (Nobel Prize) in Economic Sciences becomes the second woman to do so right after two-time Nobel Prize winner – Marie Curie since it was first awarded in 1969.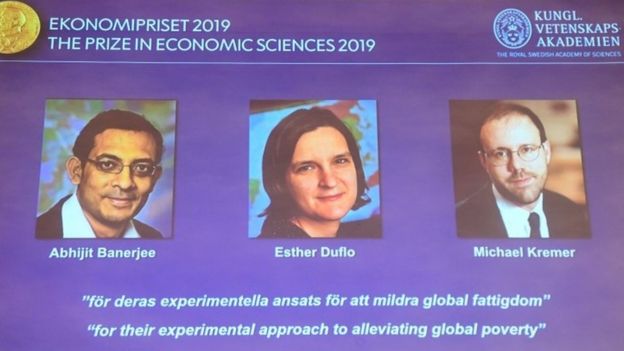 Even more, Duflo won the Nobel Prize alongside her husband, Prof. Abhijit Vinayak Banerjee; Indian-American Ford Foundation International Professor of Economics also at Massachusetts Institute of Technology. This makes them the sixth couple to simultaneously win a Nobel Prize. The couple also share the prize with Harvard University Gates Professor of Developing Societies, Michael Robert Kremer "for their experimental approach to alleviating global poverty".
With her husband Banerjee, Duflo co-founded the Abdul Latif Jammeel Poverty Action Lab in 2003 to combat and eradicate poverty with scientific evidence. This also contributed to them winning the Nobel Prize. For Duflo, winning the award was incredibly humbling, and completely unexpected because "usually a Noble prize goes to a male economist over the age of 60".
Prof. Esther Duflo Hopes for More Women In Economics
"There just are not enough of us," she said of women in economics. One reason for this is the culture – "a little bit macho and aggressive," she said. Another reason is that "young women are not necessarily inspired by economics as something that could make a difference in the world. They think that if they want to be useful they should become doctors or maybe scientists – but not economists."
She hopes the award will show women that economics "is not just about wearing ties and suits, and thinking about the macro economy and finance. It can be about changing the world – making the world a better place".