Everyone wants to unwind and relax but they want to do that within financial capabilities. There are several misconceptions surrounding having a "getaway" or a vacation.
Some of such misconceptions include:
Before you can have fun, you have to travel out of the country or your resident city.
You have to be super rich or be a beneficiary of an all – expense paid trip.
What if I told you that all these are not entirely true? What is true is that vacations cost money. However, there are other ways to have some fun and relax, without having to travel out of your city or have an unlimited credit card. There are other ways to unwind, refuel and be happy on your budget, however small it may seem.
Now that you know you don't necessarily have to go to the Bahamas to have fun, let's examine how you can relax in or around your vicinity.
Staycation
A staycation (a portmanteau of "stay" and "vacation"), or holistay (a portmanteau of "holiday" and "stay"), is a period in which an individual or family stays home and participates in leisure activities within driving distance of their home and does not require overnight accommodations.
Alternatively, it is a holiday spent in one's home country rather than abroad. Common activities of a staycation include use of the backyard pool, visits to local parks and museums, and attendance at local festivals and amusement parks.
One key thing to note about a staycation is that, you are not going out of your city or country. This already slashed your expenses by eliminating the cost of your flight or bus tickets. For instance, a Lagos – Accra return flight is roughly 94,000 Naira, however, if you did not have to make this flight, this same amount of money will have you in a very good hotel some where on Lagos Island or mainland for two to three nights and you will still get that premium relaxation you need. Get a hotel with a pool, a bar, or even a club,  because what you need is what you don't readily have in your own house, and even if you do, you need a change of scenery. A home away from home, and a good hotel will give you this.
Partner-Up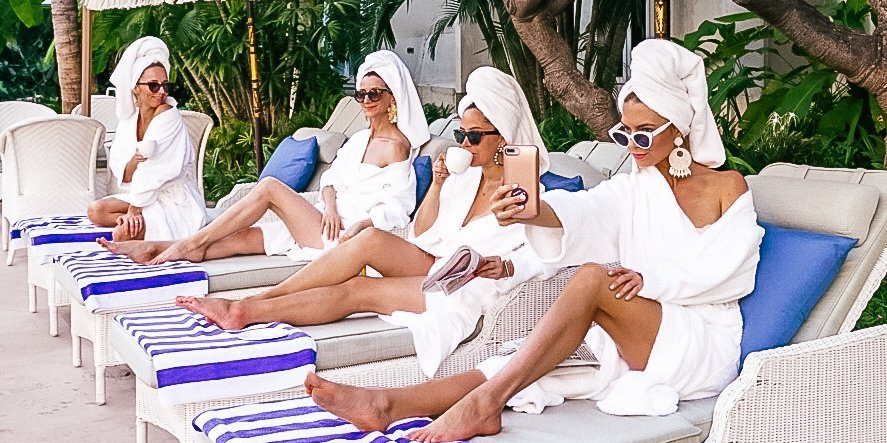 What this means is that, you can find another person you're comfortable with, who is interesting in unwinding, with you. You partner up and split the cost. An instance is this, if a three day hotel accommodation will cost 90,000 naira, sharing the room with your "staycation  companion" will have you paying half the amount, while he/she pays the other half. That's less expenses for you.
Also, the cost of transportation is cut in half. If a taxi ride costs 3,000 naira, you pay 1,500 while your companion pays the other half. This can work well for even couples who need some time together to bond more, especially in this season of Valentine.
Get considerably cheaper meals.
Some high end hotels have restaurants, but their meals and drinks are very pricey. What to do in this situation is to search for bars and eateries close by. Leave your hotel room, go the restaurant to eat or drink. It will be a lot cheaper than eating from the hotel restaurant or drinking at the bar of the hotel. That way you spend less cash.
Check for promos and discounts
A lot of these relaxation hubs do promos from time to time. It will be an added advantage for you, if you booked your stay during these times. This will save you a considerable amount of money.
Whatever you decide, don't forget to do an extensive research on where you want to go, price lists, terms and conditions etc, so you don't have rude surprises being sprung up on you. Your research will also help you find side attractions around there, like Museums, Parks, Beaches etc.
Bliss doesn't need to cost too much!