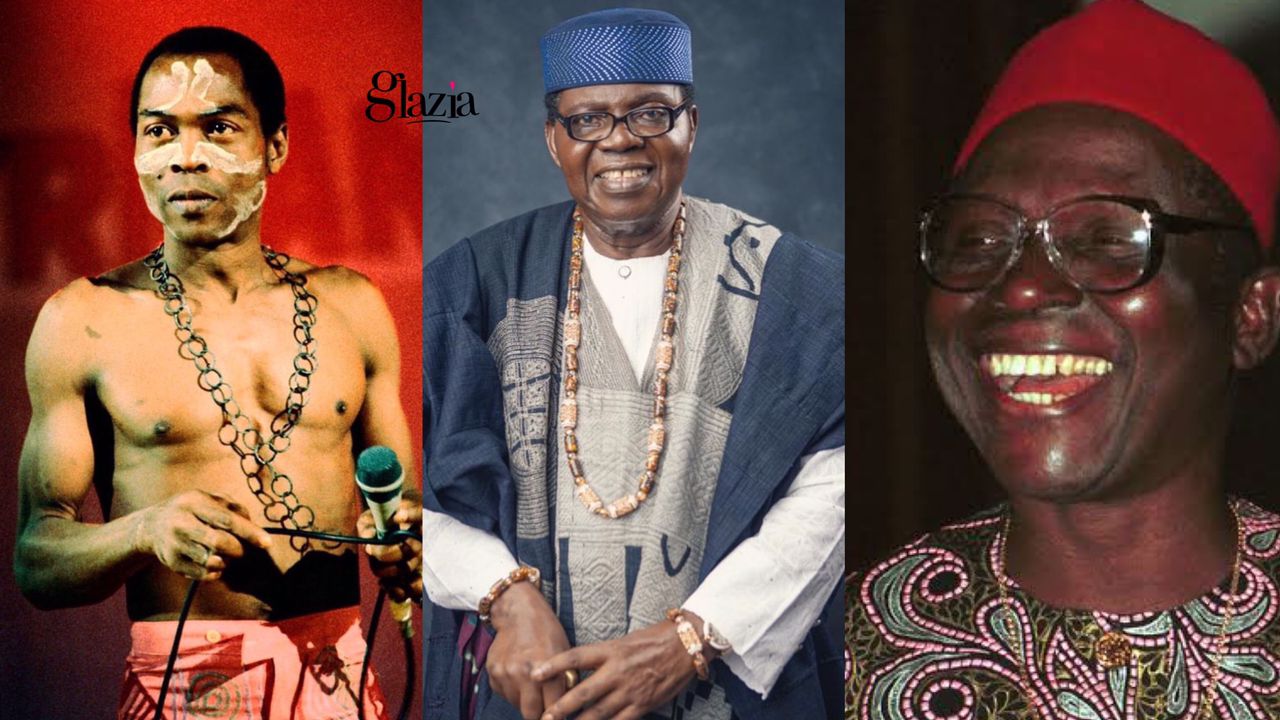 L-R: Fela Kuti, Chief Ebenezar Obey and Chief Osita Osadebe
Do you remember the good old days when you could listen to your favourite songs on the radio and they would never get old? It seems like those days are gone now, as more and more people are turning to streaming services like Spotify and Apple Music. But what does this mean for the songs that we used to love? Are oldies music losing their value? 
So, how are oldies faring in this new landscape? Do they still hold a special place in your hearts? Asa's classics like Bibanke and Maybe, Mohits' Pere and Ten Ten, Sunny Ade's Ma Jaiye Oni and Appreciation, and Onyeka Onwenu's Dancing in the Sun released several years ago but they still have an evergreen tune attached to them.
Recently, PSquare sold out their #100citiesworldtour where they sang their old songs, creating a nostalgic moment for fans. Perhaps other artistes would do the same.
In the meantime, here are some Oldies Music you should replay sometime soon.
Ebenezer Obey's songs
Most people believe that oldies are losing value, but there are still many old songs that are popular today. "Ebenezer Obey's songs are some of these oldies. The singer was popular in the 1970s and 1980s, and his music is still enjoyed by many people today.
Ebenezer Obey's songs are known for their catchy melodies and danceable rhythms. Many of his songs are about love, relationships, and life in general. His lyrics are often playful and light-hearted, which makes them enjoyable to listen to. Even though his music is over 40 years old, it still sounds fresh and relevant today.

If you're looking for some good oldies to listen to, Ebenezer Obey's songs are a great place to start. You can find his music on streaming platforms like Spotify or YouTube. Give some of his classics a listen, and you'll see why he's still loved. 
Fela Kuti's songs
Fela Kuti is considered to have created the Afrobeat genre. His songs are known for their political and social commentary. Many of his songs are still relevant today, despite being written decades ago. Some of Fela Kuti's most popular songs are; Zombie, Sorrow, Tears, and Blood, Coffin for Head of State, and Army Arrangement.
Styl Plus' songs
Styl Plus was best known for their hit song Runaway from the album Unlimited. The group disbanded in 2016, but their songs still remain quite popular. Some of their other popular songs include Call My Name, Olufunmi, and Imagine That.
Dbanj's songs
D'banj's songs are some of the most timeless in the African sphere. They have a way of making you feel young again, no matter how old you are. Even if you're not a fan of his music, there's no denying that his songs are classics. Here are a few of our favourites:

Oliver Twist – This was D'banj's breakout hit and it's easy to see why. The song is catchy, and upbeat, and will get stuck in your head for days.

Why Me – This is a slower, more reflective song that shows off D'banj's vocal skills. It's a beautiful ballad with a powerful message. 
There are others like, Fall in Love, Kiss Your Hands and Scapegoat.
Chief Stephen Osita Osadebe's songs
Legendary highlife singer Osita Osadebe was a master of creating catchy, upbeat songs that told stories of love, life, and happiness. His songs were an integral part of the highlife sound that dominated the music industry in the 1970s and 1980s. Though he passed away in 2007, his music continues to be enjoyed by fans all over the world. Here are some of our favourite Osita Osadebe songs:

Chukwu Na Enye Gi Di Mma: This classic song is about a man who is thanking God for everything in his life. The catchy chorus and uptempo beat make it impossible to not sing along.
Sweet Mother: This touching ballad is a tribute to mothers everywhere. It's a beautiful reminder of the sacrifices they make for their children.

Ikoko Bu Ndu: This fun song is about a young man who is in love with a girl from a different tribe. Despite the objections of his parents, he is determined to marry her.

Ogbu Afo Ni Iso La Gi: This well-known song is about a man who has lost everything but remains hopeful for the future. The uplifting message and optimistic tone are sure to lift your spirits.https://youtu.be/8ShES0nKeUI