Alex stars on the latest cover of GLAZIA
Interview by Editor-in-Chief, Omawumi Ogbe
Styled by Afolabi Dare "FloStyling" ; Photo by Praise The Photographer 
Alex saunters into ATAFO's Lekki store looking every inch the model that she is, wearing a white two-piece sweatsuit and elongating her 6-foot frame with a pair of black strappy heels. Running late for our 4 o'clock appointment with Mai Atafo – creative director, Atafo Official -, Alex had called me a few minutes before, saying "Omawumi I am here, struggling to park in this spot…" she trails off, indicating the need to concentrate. [After our meeting, I saw the spot where she parked and it definitely took some guts to park there! ]
We're meeting Mai to fit a suit we were looking to use for the cover. We ended up getting a beautiful tulle dress from ATAFO as well, and noted the adjustments needed for the looks, thanks to the gracious Mai and his team. After a great fitting and lots of ribbing between Mai and Alex, we drive off to the restaurant at the Yacht Hotel Lekki for our cover interview. I wanted to stay inside where the air conditioner was working to perfection but Alex used her child-like charm to convince me to sit out by the water, away from the AC's chills. Sat by the water, with the rays from the beautiful sunset hitting us, Alex and I had an insightful conversation over a snack platter consisting of small servings of chicken, shrimps, steak, burgers, lamb cutlets and puff puff. It was here I learned to my disappointment that Alex doesn't like seafood… How can you not like shrimps? The die hard seafood loving Iteskiri woman in me asked in shock.
Listening to Alex answer my questions brilliantly with the assurance of a 25-year old who has come into her own, I was struck by her confidence, self awareness and emotional intelligence. In my interactions with her this year (first in January for strategy meeting and now for the magazine cover), I see that Alex is not interested in the fluff, she really is about substance in a way that is refreshing for someone with over 3 million social media followers, living in a world where the superficial reigns supreme.
Powerful, Intriguing & Sweet!
Alex Amuchechukwu Asogwa is a budding filmmaker and lifestyle influencer. Popularly known as Alex Unusual, the writer, content creator and model made her debut on the big screens as a 6-month old child model in a Nestle baby food advert. The first of three children, Alex who has always enjoyed the limelight in her own corner of the world, grew to continental fame after participating in the 2018 Big Brother Naija reality TV show where she emerged third runner-up and was recognized as one of the most fun housemates.
From acting in Nollywood to hosting some of the major events in Nigeria and representing some of the country's biggest brands, Alex Unusual has come a long way from the housemate you saw on BBNaija and she is not holding back. We chat about her life, new movie, career, navigating the entertainment industry, and her favourite word, impact.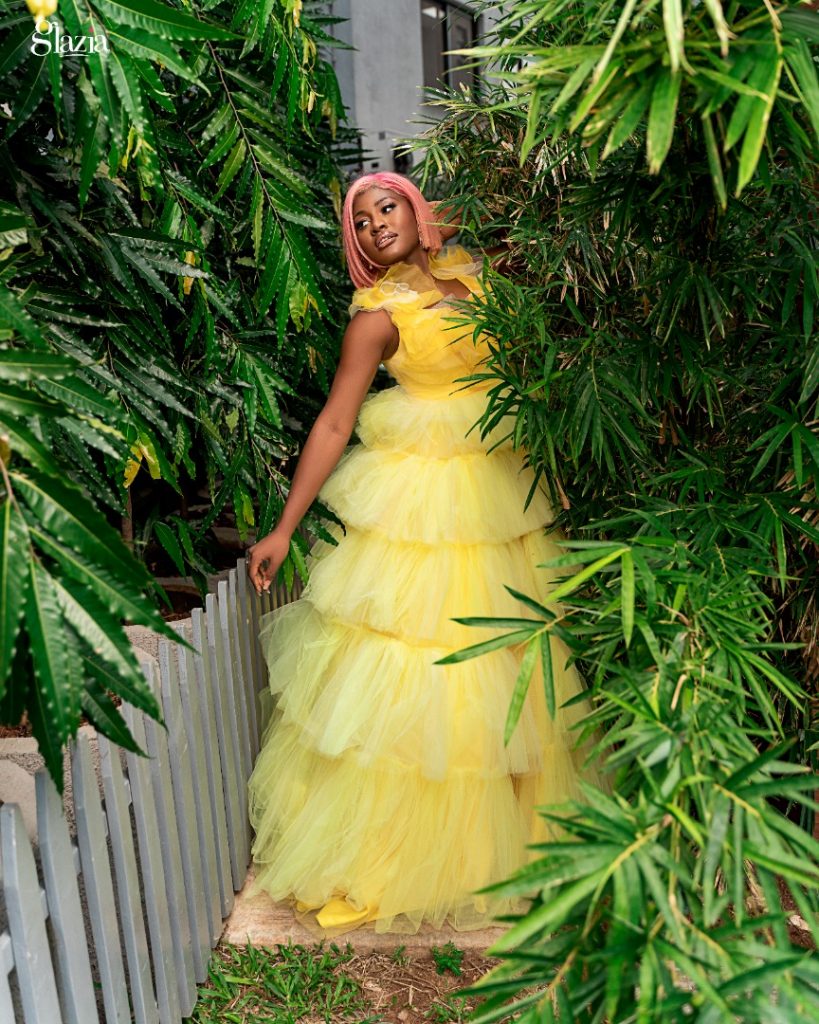 Omawumi Ogbe: What does being a woman in today's world mean to you?
ALEX UNUSUAL: Being a woman in today's world means power to me because I feel like women are beginning to take charge of what they are supposed to have taken charge of while growing up. I feel more powerful being a woman in this age and time.
O.O: How did you get here, what's your life's journey like?
Alex Unusual: My journey has been a roller coaster. In the whole world, it has been a roller coaster. I have had tough days, amazing days, good and bad days. It has been a struggle especially being a woman, being a woman that has decided to stay responsible and follow the responsible path. It hasn't been that easy but I have been doing really well, slow and steady and I feel like I am getting somewhere. I know I have done a lot already but I still feel like I have a lot more to do.
O.O: You recently released your short film Nucleus which is also your very first foray into directing. Why did you create this film and how have the responses been? What are people saying about it?
Alex Unusual: The reason for the short film is to basically pass a message to people. I feel like we love but we don't love enough. I really wanted people to understand that they should appreciate the people that they have in their lives now before it is too late. I've lost a few people that I felt that I did not love enough especially a little cousin of mine. So, this is me trying to help people not to be in the same shoes that I am in because I found it really hard to forgive myself till now. Nucleus for me, I feel like love is the midpoint of every single thing that we do… The nucleus of our existence is love.
It has been really appreciated and accepted by a lot of people. Surprisingly, in just a few days I have gotten over 35,000 views on my YouTube page that I wasn't using. It's a different thing if my YouTube page was active before now, but it wasn't and I just posted something there and I'm getting 35,000 views in just a few days. It has been really amazing, I have received a lot of reviews and I have not had a bad review even from professionals in the industry and my teachers abroad. Every single person has said something nice and it has pushed many people to make one call or the other. I had two friends who haven't spoken to each other in a while and after watching the film, both of them called me crying and I was like why don't you reach out to this person? and they said they did that even before calling me to cry. So, it is very impactful. I love the reception, it is very encouraging because I didn't really think people would appreciate a love movie such as this one. People love to see a boy and a girl in love and all, not the love without romantic feelings attached. I needed to show love in a different light and I actually did that, and I'm so proud of myself.
| "… As long as I am still here, I will continue to impact more lives and I will make sure that I pass this on to others, to also impact more lives."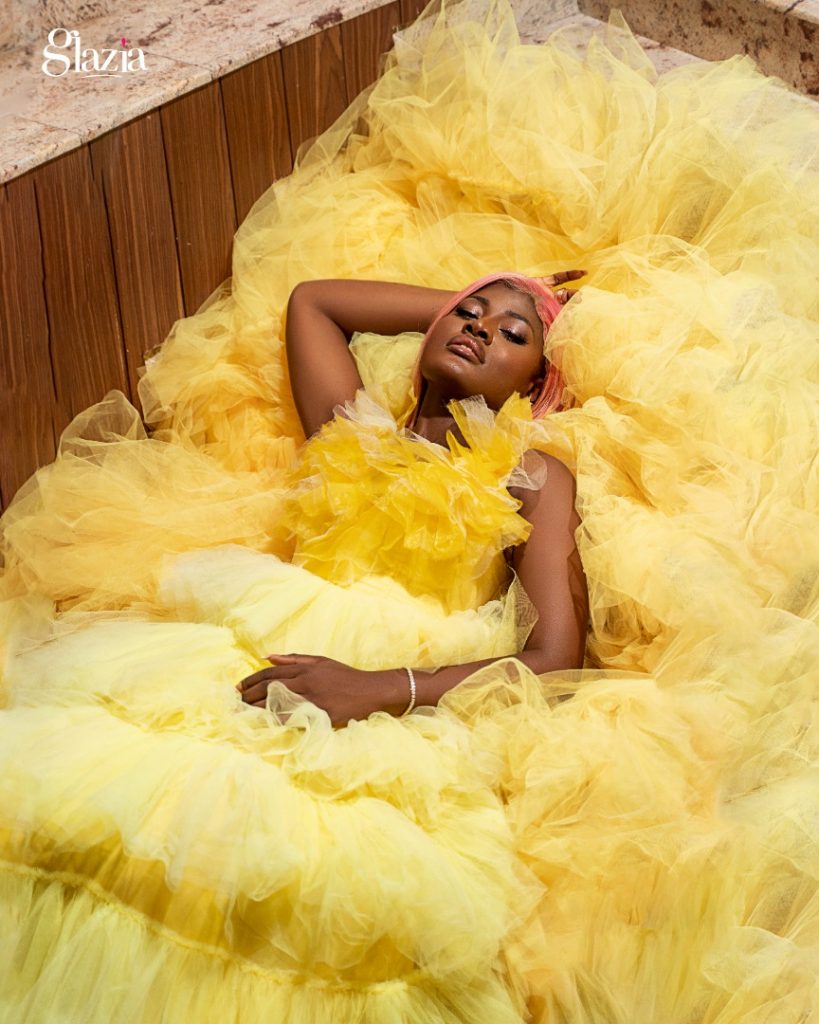 O.O: Amazing! speaking of your teachers abroad, you went to the New York Film Academy, what informed that decision to go study film?
Alex Unusual: When I was younger in secondary school, I was in science class and at some point I needed to change school because my parents were worried that I wasn't very serious at school and still came tops in class so they changed my school and I had to drop one class because of that change. I was supposed to go to SS2 but I was put back in Ss1 and that really affected me psychologically. I am not sure if my parents understand how much of an effect that had on me. I stopped loving anything that had to be with the sciences and I just loved to be free. That was when I realized how much freedom meant to me because if I was just going to make my own decisions, I won't be changing school. So, I started to love the arts. All my friends were in art class and I started going for their classes. When I left secondary school and went to university, because I had done science in secondary school I couldn't pursue my love for art in the university, it was a lot, it was stressing me and I had to write WAEC and Jamb four times. I think I wrote the fourth WAEC shortly before the reality show. In school I actually helped people from the art class with their assignments. Then in university, people studying theatre arts and mass communications would come to meet me to help them with their assignments.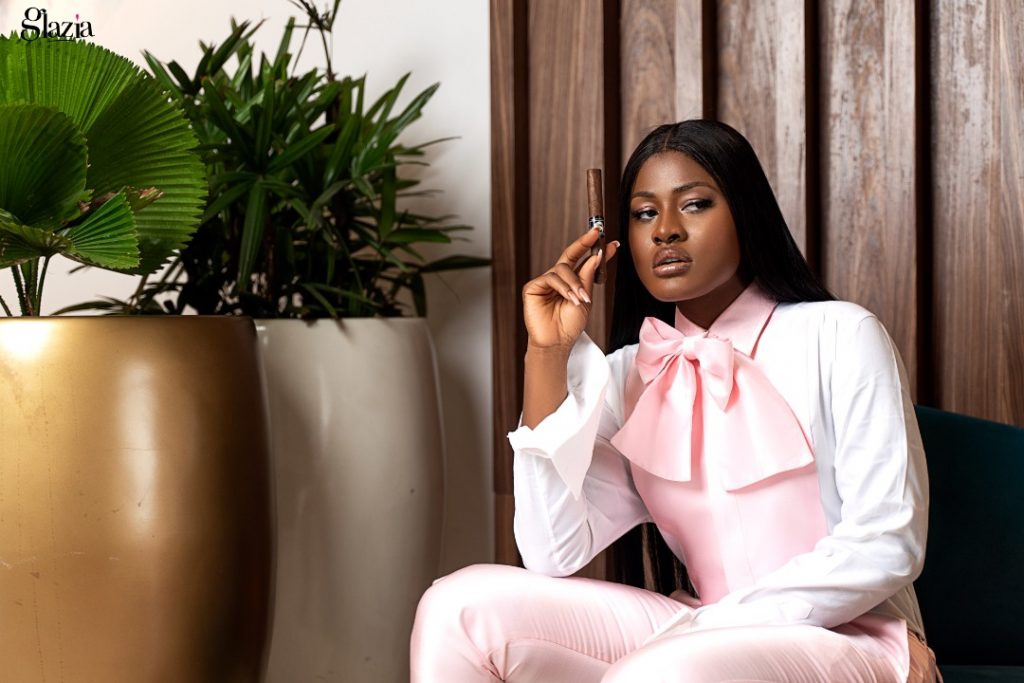 These were people in 400 level while I was in 100 level studying Agriculture. I was basically studying something I had no interest in, and helping people do their own assignments. So, when I wrote my fourth WAEC exam, I was hoping to pass and move. I didn't mind starting from the beginning because I was already in 300 level in Agriculture, I had just two more years to graduate but I didn't mind starting afresh for theatre arts as that was what I wanted. I wanted to write stories and see those stories come to life. I was also working with a friend of mine, I was the dance coordinator in my theatre group and I was helping the drama coordinator to create stories and all that, I just felt like it was my calling. When I went for the reality show (Big Brother Naija) and I came back, I was like what is the need waiting? Why not pursue what I need because I'm not going back to study agriculture that I was planning to change from before I left. So, that's why I had to go study filmmaking.
O.O: And then you went to New York, and you came back. Most people want to go abroad and stay there, seeking greener pastures. Why did you come back?
Alex Unusual: Be the change that you want to see. I want to see change in Nigeria. I'm not going to have the power to change things and then I will go to another country and just put it there. Since I have the power to tell unique stories, why not use those stories to uplift my own country? Not that there won't be time when I travel to work with people outside the country but since I have some influence, I can use it to empower my own before empowering others. I can help to build my own industry before building the industry of others, they say, charity begins at home, so I had to first of all make sure that inside is cool before I go outside.
O.O: So your intention is to create stories that empower people in Nigeria?
Alex Unusual: Yes in the country and everywhere actually. I am going to be that Nigerian who from Nigeria was able to touch everybody around all parts of the world.
O.O: Speaking of change and impact, you were at the #EndSARS protests in Lekki. I went for some of the protests myself and I saw you arranging things, coordinating people etc… Why?
Alex Unusual: Before the whole protest as of February 2020, I could care less about what was happening in politics but then I met this friend who made me see and understand the reasons why I have to be involved, like if you have the voice, use it. When the protests started, I wasn't really going to get involved, I still wanted to say oh, it is not my business. Then I went out for the first time because all my friends were going out and for the first time I could see people, I could feel their emotions. I saw people that this issue actually meant a whole lot to, people who take it personally. They told me their stories and because of that, I also took it personal. The issues that I had with police in the past haven't been that serious, they would always let me go because I'm Alex, they'll be like this one get wahala o. I was never one to calm down when they get rude. Whenever they got rude, I got rude as well and I started to think, what if one of those days that I had actually been stubborn and returned the energy they gave me, and someone released fire at me? That could have been the end of me. And if this is what they do on a normal basis, then it is something I had to speak up for.
So, I decided to go to the protest grounds for the second time because of the stories I heard. I also kept going because I saw that some people were getting tired while protesting. People needed food, people needed to be in order. The second time I went there, all I was going to do was to drop my cartoon of capri sonne, glucose etc., and leave but when I got there. I noticed that people were standing face to face with the police. The policemen had their guns out and the crowd was getting restless so I felt I had to do something. I raised my hands and walked towards the police with their guns, and I went to meet them. I was like please, do you understand the fact that we're actually fighting for all of us including you? One of the men told me he doesn't care, what he knows is that he was given an order to use his teargas and shoot if it comes to that. I assured them that I would control the crowd and we will not get violent in any way. I went back to the crowd and put barricades up, and people actually listened to me.
There is this guy that also fainted while we were there, I had to rush him to the ambulance. I just felt that we were all fighting for our country and I could care for others. During the protests, I would also join the people picking up the trash, and when I saw people littering, I asked them to pick them up. It was fulfilling for me. I was coming out of my house to do something impactful every day. I live for impact, I live to touch lives, I have to do something positive in any situation and this was why I was at the protest grounds.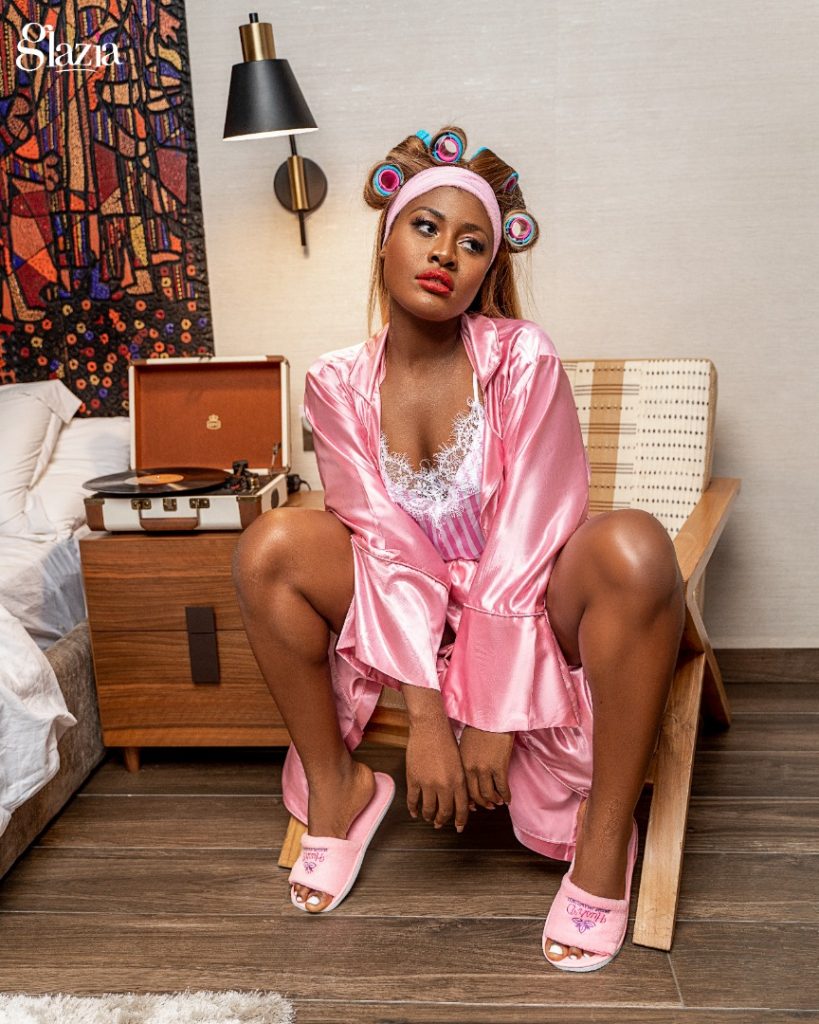 "Build yourself to that point where you don't have to look for the table but the table looks for you."
O.O: Has it been difficult navigating the entertainment industry?
Alex Unusual: Navigating the entertainment industry has not been easy because you don't know who to trust, you don't know who is with you right now….
Click HERE to read the full cover story where Alex talks more on navigating the entertainment industry, networking, how the covid-19 pandemic affected her life & career, upcoming plans and so much more.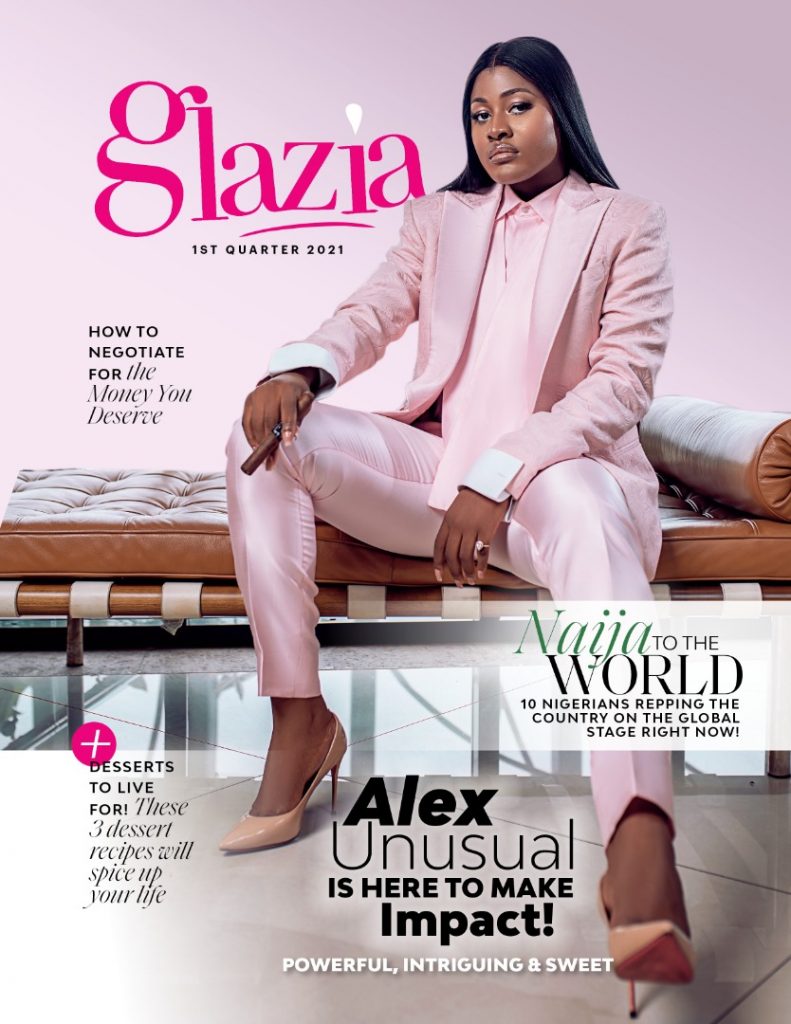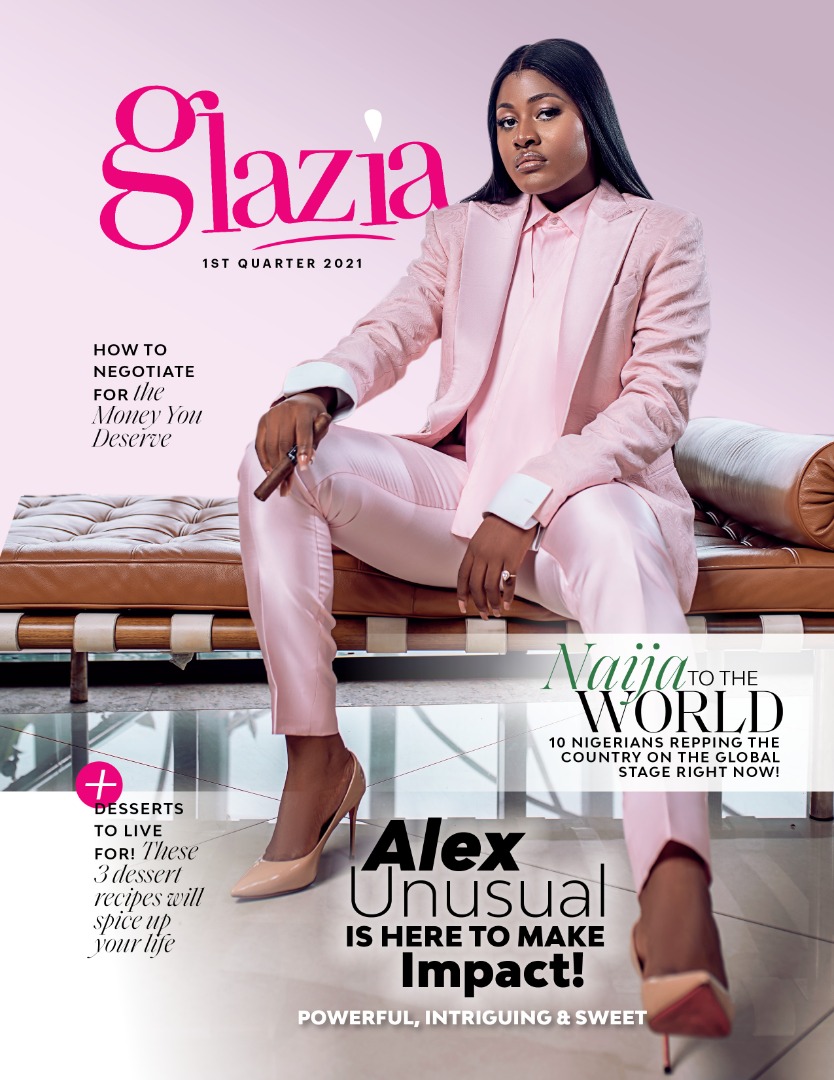 COVER DETAILS
Creative direction – Omawumi Ogbe
Photography – Praise The Photographer
Cover Outfit – ATAFO
Styling – FloStyling
Makeup – Bimpe Onakoya for Maybelline New York | Nigeria
Hair – Leevenchy Hair
Cigar – Aierrys
Location – White Orchid Hotel
EbonyLife Place Victoria Island, Lagos.