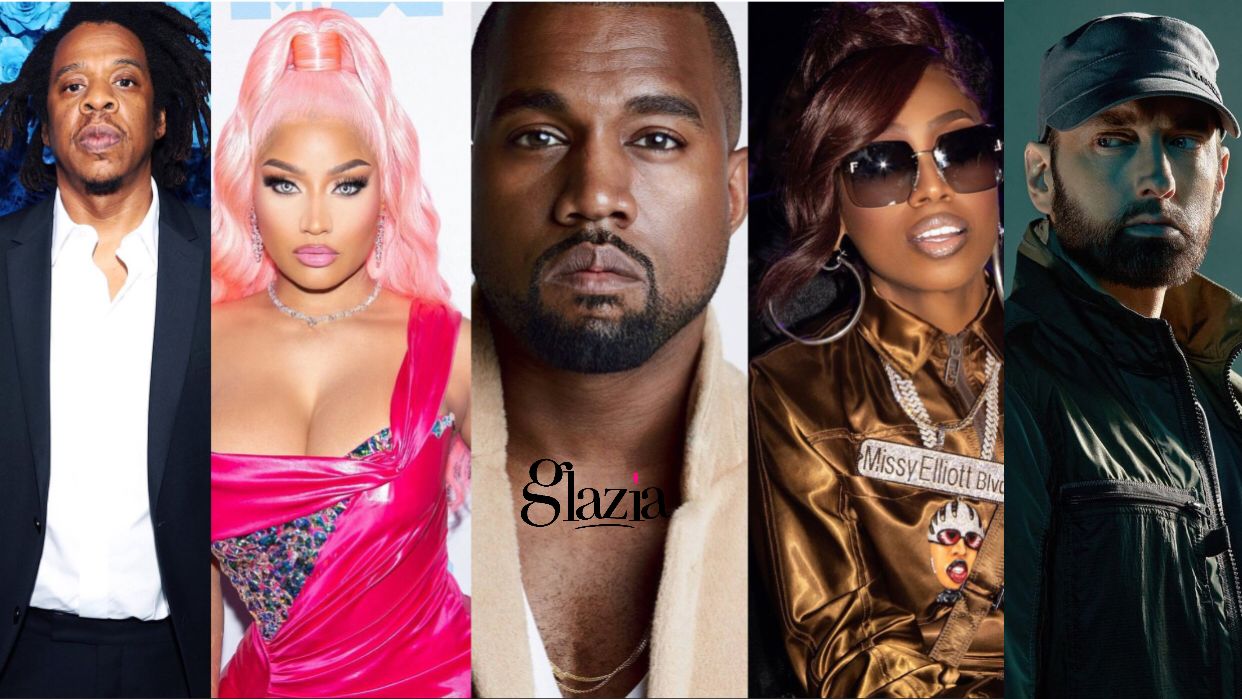 Billboard in collaboration with Vibe Magazine have released a list tagged 50 Greatest Rappers of All Time, in honour of hip-hop's 50th anniversary.
The Greatest of All Time, aka the GOAT is a distinguished and also contentious honour when it comes to ranking who or what is the ultimate best, whether you're talking films, TV shows, restaurants or any other subject.
In early 2023, Billboard and Vibe is ranking the Top 50 Greatest Rappers of All Time as part of their salute to this year's golden anniversary of hip-hop. (The genre dates back to 1973, when DJ Kool Herc first set up his two turntables to rock a Bronx party.) The rollout began with the January 11th reveal of the rappers ranked 50-41. Over the next couple of weeks, they have revealed 10 more rappers each week with the final top 10 revealed on February 9th 2023.
In determining these rankings, the Billboard and Vibe editorial teams opted first to limit the rap arena to North America, just to keep our pool of nominees a little more focused. This list does not contain rappers from outside North America.
Criteria for selection of the 50 Greatest Rappers of All Time!
The selection teams took into account the following criteria, but not in any particular order: 
Body of work/achievements (charted singles/albums, gold/platinum certifications)
Cultural impact/influence (how the artist's work fostered the genre's evolution),
Longevity (years at the mic), 
Lyrics (storytelling skills) and 
As is well known, GOAT and similar best-of lists always draw their share of criticism and praise from industry pundits and the public alike. So it took a lot of deliberation and deep discussion to reason our way to what we believe is a well-thought-out, authentic list that reflects hip-hop's foundational pioneers, evolutionary trailblazers and contemporary mainstays. In addition, that mix also encompasses 50 years of cultural milestones for a genre initially dismissed as a passing fad — and now recognized as the industry's market-share leader. – Billboard
The Top 50 Greatest Rappers of All Time
50. Rick Ross
49. Rev. Run (Run-DMC)
48. Melle Mel
47. MC Lyte  
46. Jadakiss
45. Ice-T
44. Queen Latifah
43. Bun B
42. Redman
41. E-40
40. Dr. Dre
39. Ludacris
38. Gucci Mane
37. Common
36. Yasin Bey (formerly Mos Def)
35. Future
34. Chuck D (Public Enemy)
33. Busta Rhymes
32. T.I.
31. Lil Kim
30. Lauryn Hill
29. Pusha T
28. Black Thought
27. Q-Tip
26. Big Pun
25. Method Man
24. KRS-One
23. Kurtis Blow
22. Ghostface Killah
21. DMX
20. Big Daddy Kane
19. Missy Elliott
One of hip-hop's most creative visionaries, Missy "Misdemeanor" Elliott began honing her skills as a rapper, singer, songwriter and producer as a member of the R&B/hip-hop collective Swing Mob in the early '90s with childhood friend/producer Timbaland. After collaborating on projects by Aaliyah and others, the pair focused their attention on Elliott's solo career, beginning with her arresting 1997 debut, Supa Dupa Fly. While turning heads with hit singles ("The Rain," "Hot Boyz," "Get Ur Freak On," "Work It") and acclaimed albums (Da Real World, Miss E …
So Addictive, Under Construction, This Is Not a Test), she crafted a uniquely futuristic, funky and totally unique style of hip-hop that found her rhyming, singing, scatting or doing whatever else the beat might spontaneously spark. Lyrically, she pushed hip-hop beyond its boundaries regarding female empowerment, with a fearlessness that also imbued her innovative and still-influential music videos. In 2020, Elliott ranked No. 5 on Billboard's 100 Greatest Music Video Artists of All Time. 
18. Ice Cube
17. 50 Cent
16. Scarface
15. J. Cole
14. LL Cool J
13. Rakim
12. André 3000
11. Kanye West (Ye)
Starting in the early '00s with production on hits for Jay-Z, Beanie Sigel and Talib Kweli, Kanye West moved in front of the mic in 2003 with his solo debut, "Through the Wire," then scored his first Hot 100 No. 1 alongside Twista and Jamie Foxx on "Slow Jamz." Then came a torrent of beloved albums (Graduation, 808s & Heartbreak and My Beautiful Dark Twisted Fantasy). While his ascension from producer to artist has been remarkable, West's quest as a fashion and business mogul, especially with his Yeezy empire, makes him one of the genre's most impactful pioneers.
In the late 2010s, West (legally known as "Ye") became one of the most divisive artists in the world due to his political views and goading (occasionally outright antagonistic) social comments. From his "Slavery is a choice" remarks in 2018 to his more recent reliance on antisemitic tropes (which began during a troubling global rise in hate crimes against Jewish people), Ye's fall from grace, amid ongoing reported mental health issues, has sadly been as monumental as his artistic output.
10. Nicki Minaj
Nicki Minaj earned her crown as the modern-day Queen of Rap with her fierce, braggadocious spirit. Her 2009 mixtape Beam Me Up Scotty established her as a lyrical powerhouse, shortly before she emerged as the First Lady of Young Money, solidifying the label's ineffable trinity of chart-conquering rap beasts with Lil Wayne and Drake.
Over a slew of genre-bending albums (Pink Friday, Pink Friday: Roman Reloaded, The Pinkprint) and killer guest verses (most famously on Kanye West's "Monster"), Nicki has defended her title for over a decade, with incredibly animated flows and alter egos – from the soft-spoken, pink-haired Harajuku Barbie to the volatile Roman Zolanski with the British cockney accent. She's undeniably blazed the trail for the next generation of female MCs, while at the same time, building a legacy whose impact is hardly limited to the hip-hop world: Nicki is one of only a dozen artists to have more than 100 Billboard Hot 100 entries and earned the MTV Video Vanguard Award in 2022 for her provocative music videos. Nicki is also the only female in the first 10 greatest rappers of all time.
9. Snoop Dogg
8. Drake
Drizzy Drake Rogers forecasted his superstar climb when he was Wheelchair Jimmy on the popular '00s teenage show Degrassi: The Next Generation. Since his 2009 breakthrough mixtape classic, So Far Gone, Drake's ability to swerve in and out of genres and mix of sugary crooning with spiky bars made him an untouchable force: Anything he's graced with his Midas touch has been zapped into platinum and gold.
With his impenetrable streak of commercial success – he's currently the Hot 100's all-time hits leader, with nearly 300 entries to his credit – he refuses to give his opposition a breather, consistently releasing projects every calendar year, including generation-defining sets like 2011's Take Care and 2013's Nothing Was The Same. Whether he's crooning his aches and pains on timeless gems ("Marvin's Room" and "Jaded") or slashing down hapless MCs ("5 AM in Toronto and "Omerta"), Drake's virtuosic skillset has made him one of the most gifted (and most accomplished artists to ever touch down in music.
7. Lil Wayne
6. The Notorious B.I.G.
5. Eminem
After coming up in freestyle rap battles, Eminem has continually wielded the mic as his weapon of choice and obliterated anyone who comes in his path – as seen in the countless feuds he's engaged in over the years. With unapologetically controversial and macabre (yet frequently hilarious) bars and unparalleled rhyme schemes and syncopation, he's relished playing the role of rap's supervillain. Em also certifiably spits a mile a minute, breaking Guinness World Records like fastest rap in a hit single with "Godzilla," where he rapped 225 words in a 30-second segment.
With 15 Grammy awards, 10 No. 1 Billboard 200 albums and three RIAA-certified Diamond singles ("Lose Yourself," "Love the Way You Lie" and "Not Afraid"), his unprecedented commercial success makes for one of the most noteworthy rags-to-riches tales in popular music. His award-winning 2002 biographical film 8 Mile even depicted the Detroit-bred MC's real-life struggle to be accepted as a white rapper in hip-hop, a genre created and dominated by Black people. But with his peerless technical skills, larger-than-life personality and turn-of-the-century run of classic albums, Slim Shady has rightfully earned his spot in the upper echelon of GOAT rappers lists.
4. Tupac
3. Nas
2. Kendrick Lamar
Lamar's first solo No. 1 single, "HUMBLE," the album won the 2018 Pulitzer Prize for Music, the first non-jazz or classical work to do so. That year also marked his major foray into film with the Black Panther Album. Last year brought Lamar's final TDE album and the latest addition to his conscious rap repertoire, Mr Morale & the Big Steppers. Now the 17-time Grammy winner (Mr. Morale was just newly crowned as best rap album) and Emmy winner for last year's Super Bowl halftime show is focusing his entrepreneurial sights on pgLang, his film, TV and music collective that has already scored success with next-gen rapper Baby Keem. Meanwhile, his enduring combination of lyrical prowess, classic albums and envelope-pushing evolution continue to support the widely held consensus that he's the best rapper of his generation.
1. Jay-Z
It is no surprise to G that Shawn "Jay-Z" Carter is no.1 on the list of the greatest rappers of all time. History is also on his side: Hov has 14 Billboard 200 No. 1 albums (the most amongst solo acts), and over 140 million records sold. He co-founded Roc-A-Fella Records, collected 24 Grammys, ran hip-hop's legendary Def Jam Records as president, guided Rihanna and Ye to billionaire status, founded a behemoth entertainment/sports agency in Roc Nation and best-selling spirits brands D'usse and Armand de Brignac… and even today still makes time to drop four-minute long rap verses that break the internet (as he did on DJ Khaled's "God Did" in 2022). Beyonce Knowles-Carter's husband has succeeded in every era, spitting regal-scented rhymes that speak to the struggle, and to the opulence that follows intensely self-made greatness. 
The first rapper inducted into the Songwriters Hall of Fame, Jay-Z believes everyone has genius-level talent. Lucky for us, Jay found his early in life and has since become your favourite rapper's favourite rapper. Maybe there are other rappers who could claim to match Jay at his peak. But there are simply none who can match his entire career — his longevity, the breadth of his accomplishments, and what he's meant to hip-hop from a musical, cultural and financial standpoint for the last three decades.
This article was first published on BillBoard HipHop. Read it here.