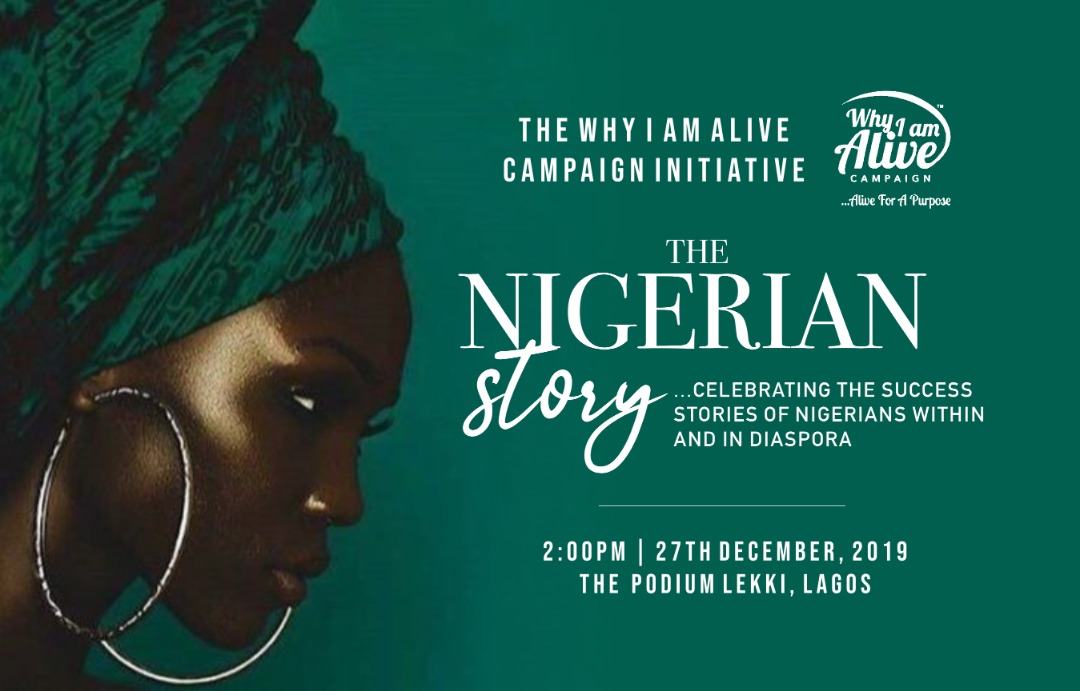 It promises to be an inspirational and mind-provoking gathering as iconic Nigerians will seek to inspire the emerging generation of Nigerian youth at the Why I Am Alive campaign end of year celebration billed to hold on the 27th of December at The Podium, Lekki, Lagos. This year's edition will undoubtedly be one of the most attended and impactful gathering of professionals and stakeholders in Nigeria as over 300 attendees are expected at the venue while millions of others will have the opportunity to partake via online broadcast. Although the event is by invitation only, you can RSVP for an invitation here.
Themed The Nigerian Story, the inaugural celebratory event is designed to empower young Nigerians to be the best at their chosen fields of endeavor and live a purposeful life that is built on diligence and excellence.
The event will help to get clarity on goals and visions for the future by tapping into key lessons from the success stories of these eminent personalities that have contributed to the social, economic and political growth of Nigeria.
Some of the distinguished personalities expected to speak at the event include Former President Olusegun Obasanjo; Richest man in Africa, Aliko Dangote; CEO of Ebonylife TV, Mo Abudu and Dr Olurotimi Badero who is the world's only heart and kidney surgeon.
The Why I Am Alive campaign is targeted at engaging over 300 million Nigerians and in the diaspora. Caroline Moore, the convener of the campaign disclosed that the aim of the initiative is to change "the mindset of young Nigerians to believe in their potential, live purposeful lives and succeed as well as to use this event to change the perception of Nigeria globally"
Chairman of the Board of Advisors of the Why I Am Alive initiative, Pastor Ituah Ighodalo hopes that the conversations at the event will serve as a shining example for the attendees. According to him, "We are looking towards a great event that will impact lives and inspire people to greatness. Nigeria is in dire need of change and every one should dig in and discover why they are really alive, we want to thank our sponsors and speakers and of course those who will be attending. Nigeria will be great again"
Since inception, the Why I Am Alive campaign has empowered school students in rural areas with scholarships to continue their education. Market women have also benefited by getting help to support their families.
In a bid to empower the youth, the Why I Am Alive Campaign initiative facilitated a Masterclass hosted by Caroline Moore with business coach, American entrepreneur and CEO of Sports 1 Marketing, David Meltzer as guest speaker. This helped in repositioning the minds of attendees to be more productive and inspired to maximize their potential.
For invitations to attend this party, RSVP here.