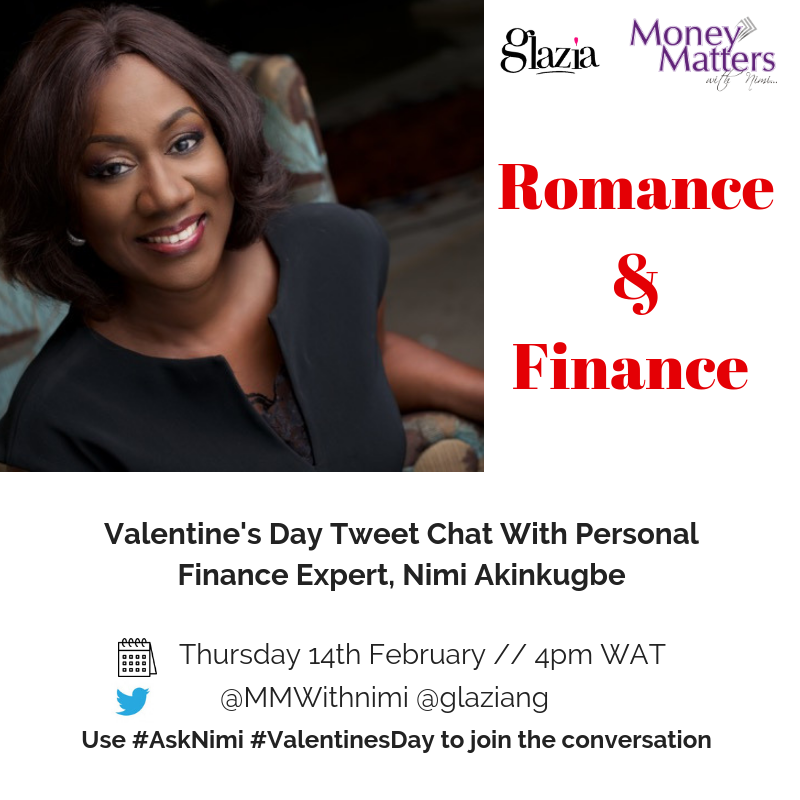 Romance on its own is complicated and when you add finance to it, it becomes even more complicated but can you have one without the other? It's the love season and so many plans are being made for Valentine's Day. Studies have shown that one of the biggest factors of strife in relationships is finance. How can you create a balance between Romance and Finance? In honor of Valentine's Day, Glazia Conversations will chat with Nimi Akinkugbe on the hot topic: Romance & Finance.
Nimi Akinkugbe is many things rolled into one… The founder and Chief Executive Officer of Bestman Games Ltd – the African distributor of customized editions of Monopoly for 48 African countries – , Personal Finance Expert through her outfit, Money Matters With Nimi, Author, Radio Show Host, Pianist and avid Gardener. Nimi Akinkugbe sits on the boards of several organizations and is regarded as the queen of personal finance. This Valentine's Day, she will be chatting with us and sharing insights on all things romance and money! Make it a date

Details
Date: Thursday, 14th February (Valentine's Day)
Time: 4pm WAT
Venue: Twitter – @MMWithNimi and @glaziang
Please send your burning questions to info@glaziang.com and we will ask Nimi during the chat. Use the hashtag #ASkNimi and #ValentinesDay to join the conversation on Twitter.