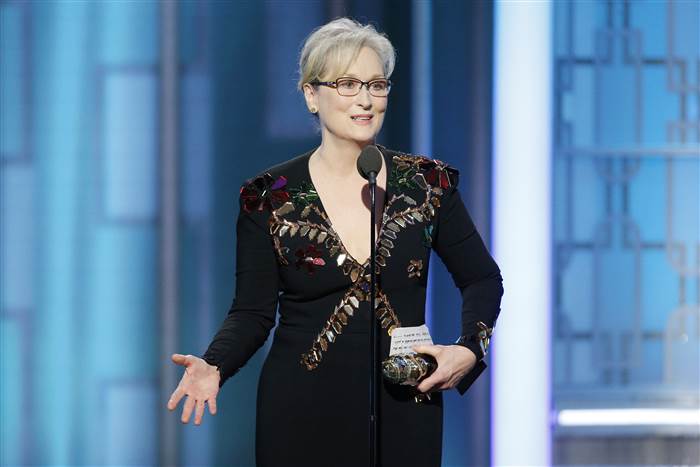 At Sunday's Golden Globe Awards, Meryl Streep was honored with the Cecil B. DeMille lifetime achievement award. After a lovely, moving introduction by her friend Viola Davis, and a montage of her various, unforgettable film roles, Streep—who ironically lost her voice at this crucial moment—took to the stage to accept her award. Yet she barely mentioned anything about her long, impressive career in Hollywood, instead Streep used the occasion to deliver a scathing and somber speech against incoming President-elect Donald Trump.
She began by highlighting the diverse backgrounds of many of the actors and actresses nominated tonight. "But who are we, and what is Hollywood anyway? It's just a bunch of people from other places," she said, before sharing her New Jersey background, Davis's birth in a sharecropper's cabin in South Carolina, Amy Adams birth in Vicenza, Italy and Natalie Portman's in Jerusalem, among others. "Where are their birth certificates?" The message was clearly directed at the incoming administration's strong anti-immigrant platform. "Hollywood is crawling with outsiders and foreigners, and if we kick them all out, you'll have nothing to watch but football and mixed martial arts–which are not the arts."
She then explained there was only one performance that stunned her this year. "There was nothing good about it, but it did its job. It made its intended audience laugh and show their teeth," she said, and went on to recount the moment that President-elect Trump made fun of a disabled New York Times reporter during his campaign—though never once mentioning the president-elect by name. "It was that moment when the person asking to sit in the most respected seat in our country, imitated a disabled reporter, someone he outranked in privilege, power, and the capacity to fight back. It kind of broke my heart when I saw it, and I still can't get it out of my head, because it wasn't in a movie. It was real life. This instinct to humiliate, when it's modeled by someone in the public platform, by someone powerful, it filters down into everybody's life, because it kind of gives permission for other people to do the same thing. Disrespect incites disrespect, violence invites violence. When the powerful use their position to bully others, we all lose."
The audience sat either silent, or teary-eyed. Streep continued her speech, which will certainly go down in Golden Globe history, by asking the press to hold Trump accountable in the future, and to support the free press as much as possible. "We're going to need them going forward, and they'll need us to safeguard the truth." Just in case you weren't already impressed by her elegant and graceful down of Trump, Streep chose to end her speech with a heart wrenching quote she was once told by her good friend, the late Carrie Fisher. "Take your broken heart, make it into art."
Click below to watch the powerful speech that has now become a major Golden Globes topic.
https://www.youtube.com/watch?v=NxyGmyEby40
This article was first published on Vogue