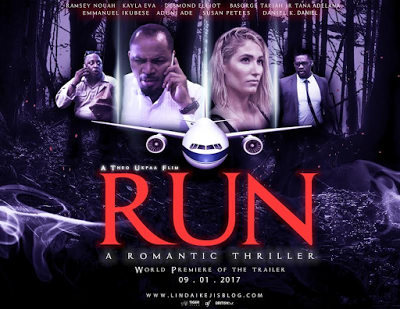 RUN, a romantic thriller by film director and founder of Tiger Republic Films, Theo Ukpaa. Shot in Lagos, Paris and Los Angeles, RUN stars Ramsey Nouah, Kayla Eva, Desmond Elliot, Adunni Ade, Tana Adelana, Frank Osodi, Melissa Papel, Basorge Tariah Jr, William Trimnell and Emmanuel Ikubese. Few days back, the New York Film Academy alumnus began teasing the public with a countdown to the release of the trailer and Monday (finally), the highly anticipated trailer was released to the public.
SYNOPSIS
RUN dramatically tells the story of two people from opposite backgrounds whose lives become entangled by a twist of fate. Jacquelin, an uptight middle class French lady (Kayla Eva), joins a dating site in search of the perfect novel-like romance and adventure she's always imagined and she connects  with Bayo (Ramsey Nouah), a self-made young, rich lawyer in far away West Africa who has a seemingly boring life. In a few weeks, she finds herself in Nigeria to meet the man behind the computer screen.
The story takes a twist when Jacquelin and Emeka's driver become victims of mistaken identity.  RUN is a story of survival, adventure, deceit, betrayal and finding true love.
According to the filmmaker, RUN will Premiere in Paris and will screen in cinemas all over the world in the early parts of 2017. From the little we've seen so far, the premiere can't come soon enough!
Join the conversation on social media using the hashtag  #runthemovie