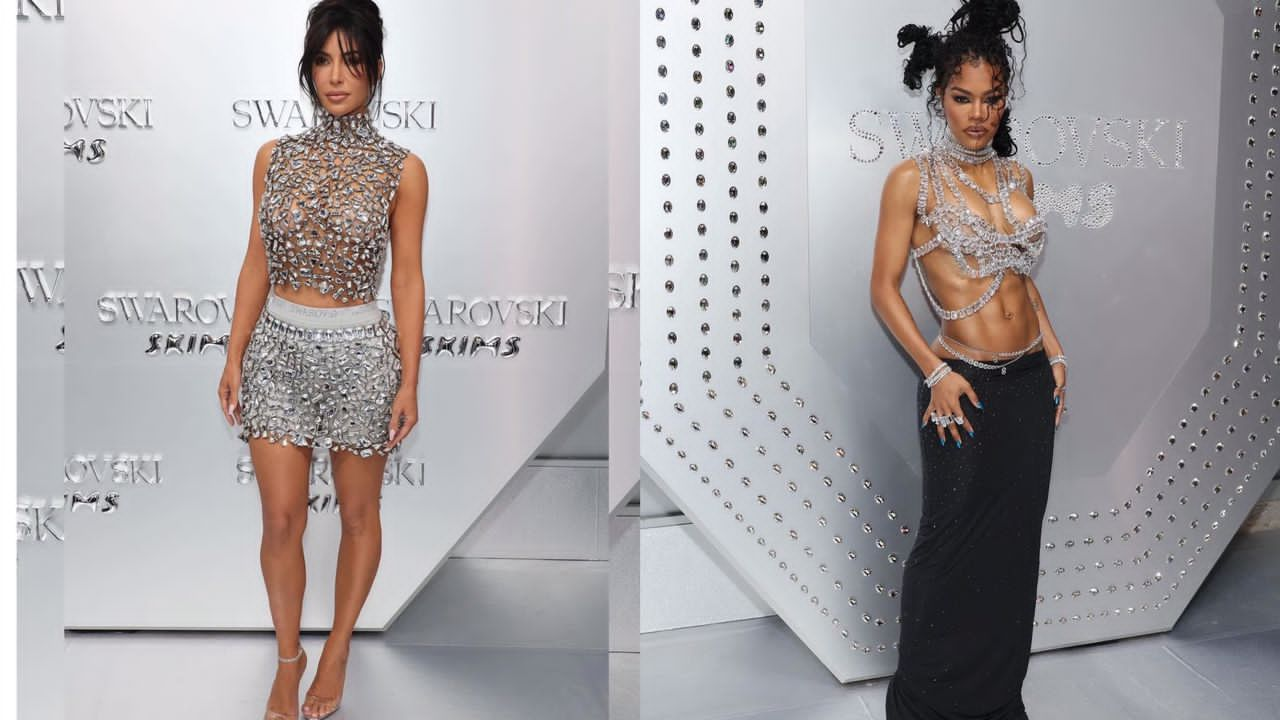 The Swarovski x SKIMS flagship store launch event was a shimmering spectacle of fashion and opulence. The celebrities present shone like stars in their crystal-encrusted ensembles. While many attendees showcased their unique style, we were particularly taken by Kim Kardashian and Teyana Taylor. These two stole the spotlight with their stunning crystal-adorned looks.
The Battle of Crystals at the Swarovski x SKIMS launch event
Kim Kardashian: The Queen of Crystals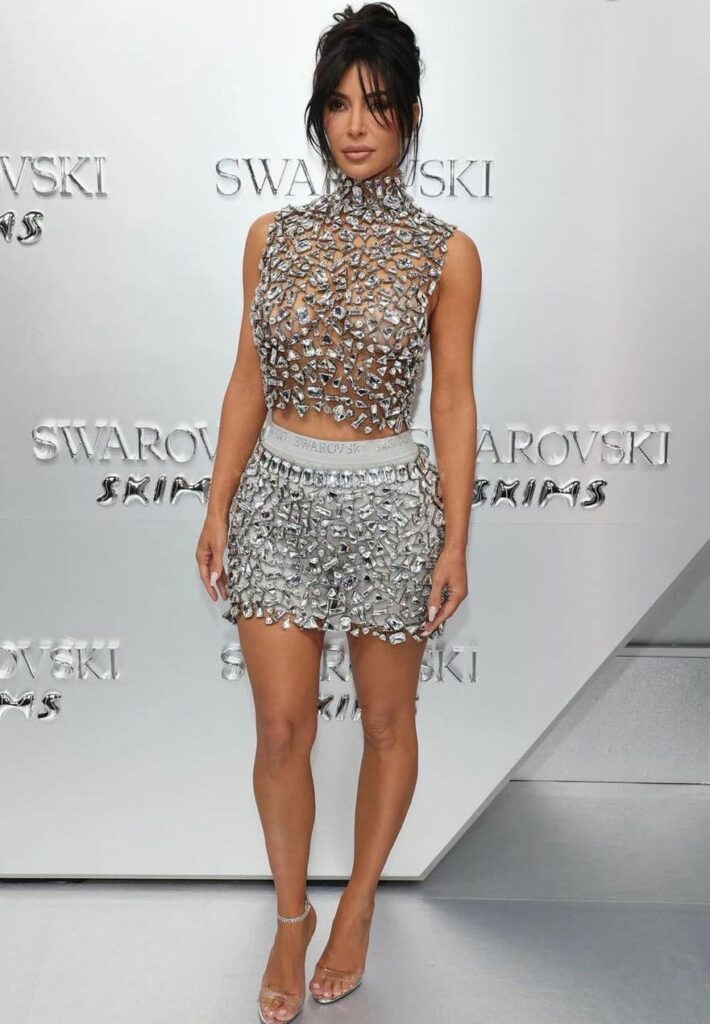 Kim Kardashian is no stranger to making a fashion statement! She dazzled in an on-brand outfit that perfectly embodied the theme of the evening. Kim K graced the event in a custom-made Swarovski x SKIMS crystal-encrusted two-piece that seemed to glisten from every angle. The form-fitting piece accentuated her famous curves and was a masterclass in how to wear crystals with elegance and panache.
Teyana Taylor: A Crystal-Covered Vision
Teyana Taylor, known for her unique and daring style, took the theme to a whole new level with her outfit. She wore a Swarovski-encrusted corset-style bodysuit that sparkled with every step. The intricate detailing of crystals on her outfit created an almost hypnotic effect. Simply put, the ensemble leaving onlookers (us included) in awe of her fashion prowess.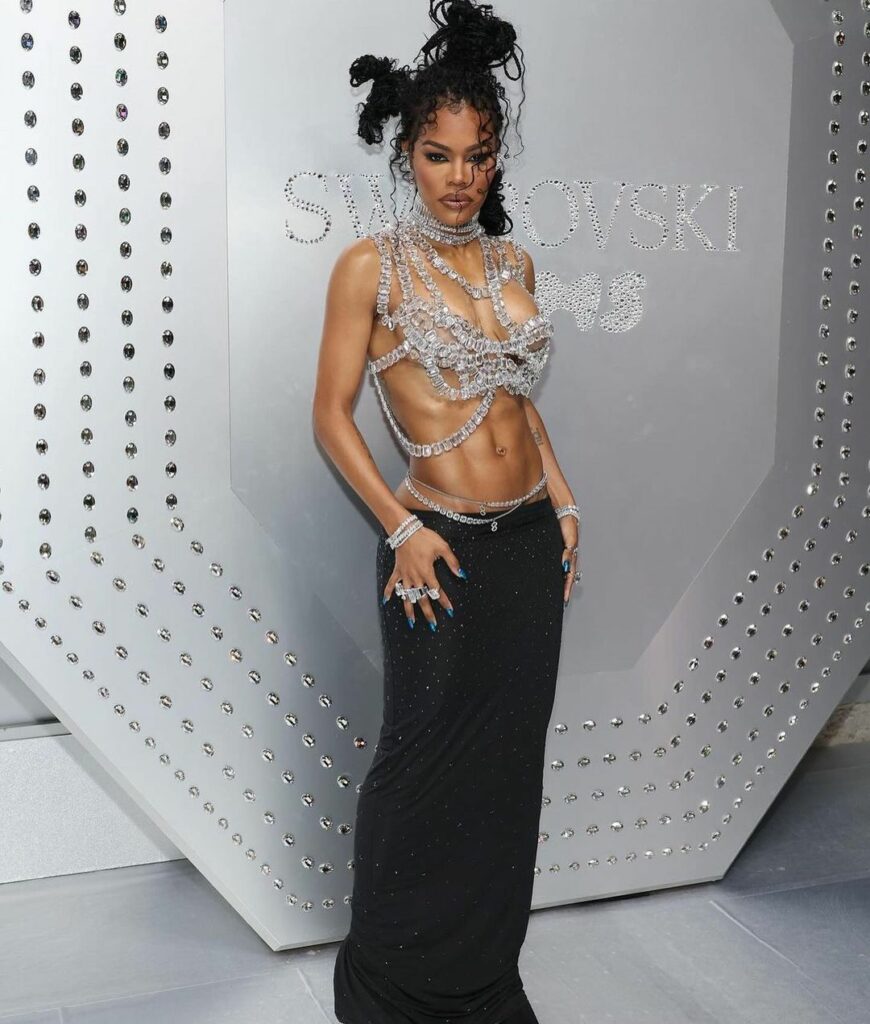 Teyana paired her dazzling bra-like top with a black, crystal-encrusted maxi skirt by SKIMS that showcased her to-die-for abs. The entire look created a seamless and attention-grabbing look.
A Glimpse of Other Celebrities
While Kim Kardashian and Teyana Taylor truly embraced the crystal and bling theme, it's worth mentioning that Frieda Pinto, Gwyneth Palthrow, Cynthia Erivo, and supermodel Jasmine Tookes also looked stunning at the event.
The SKIMS x Swarovski launch event was undoubtedly a dazzling display of fashion and creativity. The celebrities in attendance showcased their unique takes on the crystal theme. With Kim Kardashian and Teyana Taylor leading the way in their stunning and memorable outfits the event will be remembered in the annals of fashion history.