IK Osakoduwa recently hit the big 40 and the popular TV host and radio veteran had a lavish costume party Sunday night in Lagos to celebrate with friends and family. The theme of the party was *drum roll* want to guess?? Yes! GAME OF THRONES!!!
If you're not a fan of Game of Thrones or you've never seen the show; please understand that it doesn't make you cool. Duh! The award winning TV show is arguably the most watched show in history and it was not only known for it's spell binding storyline, unexpected plot twists, deaths… more deaths, impeccable acting but also for amazing costume design and styling. Seeing that the show officially ended last week, and IK Osakioduwa being a huge fan of the show, it's only fitting to have a Game of Thrones themed birthday party.
Now, a lot of our favourite celebrities turned up for IK looking like their favourite characters from the show. Some of them nailed it, some …*smh* … no words. We're pitting these Nigerian celebs against the characters they were dressed as, and giving the verdict. Let's check them all out and see who comes on top!
IK Osakioduwa at 40 – His Watch Begins
1 . IK Osakioduwa and Olo Osakioduwa- The Night King & The Khaleesi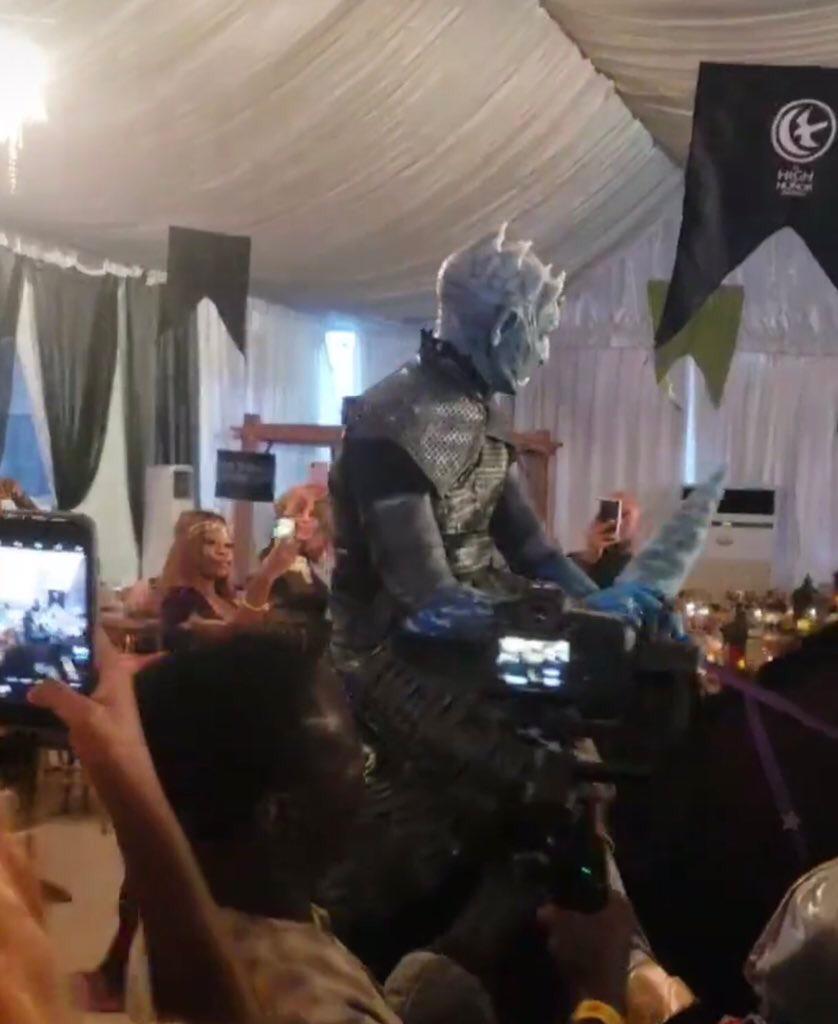 IK made a grand entrance into his birthday, complete with a horse and fellow white walkers all dressed to the teeth. If you are attending a costume party, you gotta dig up the extra in you just as IK did. Amongst those dressed as the night king, IK stood out, not because he's the celebrant but because he was dedicated to the theme and spared no detail. Now that is how you strut into your 40s- like a King!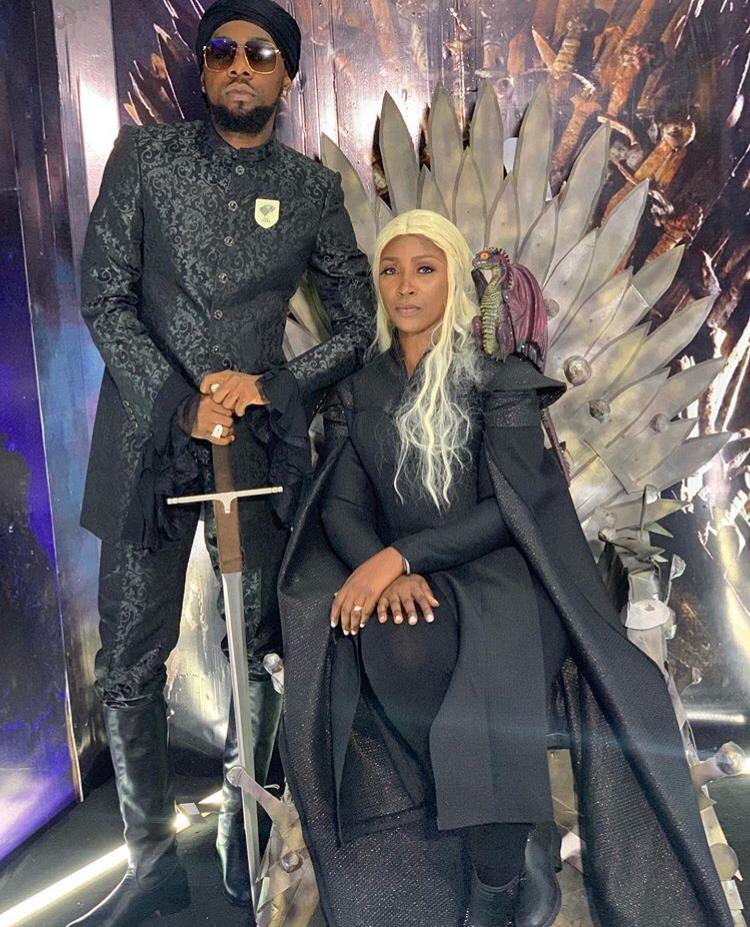 Same can be said for his wife, Olo who went as the Khaleesi. She was on theme, with a little dragon on her shoulders for effect, plus she had dragon eggs! Talk about commitment. Olo and her hubby, IK got contact lenses to boot. They were spot on.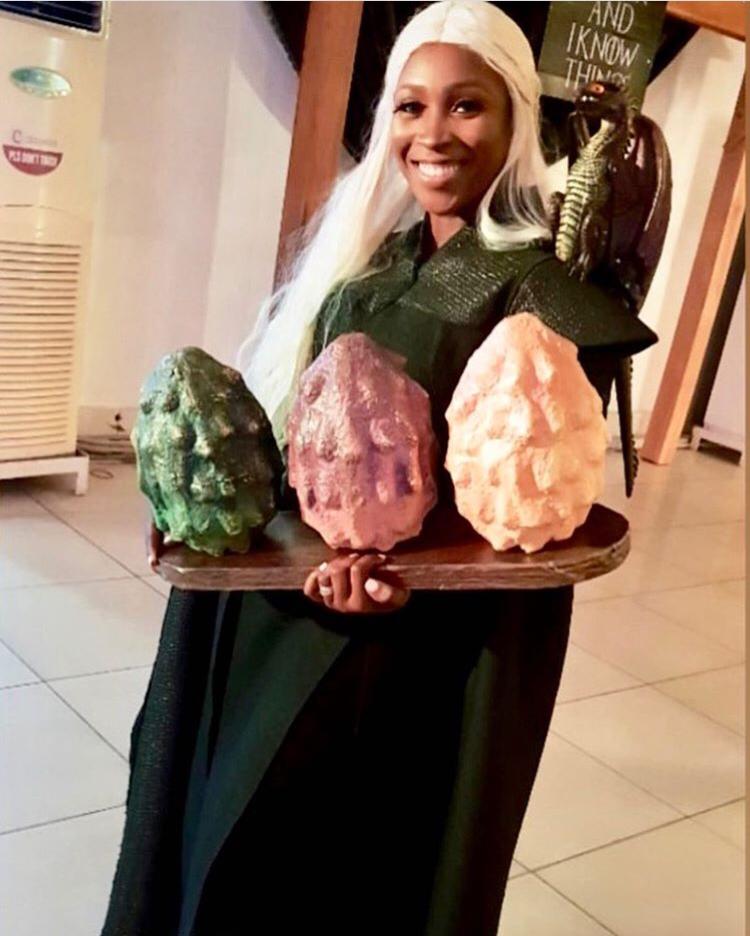 2. Waje- Melisandre (The Red Witch)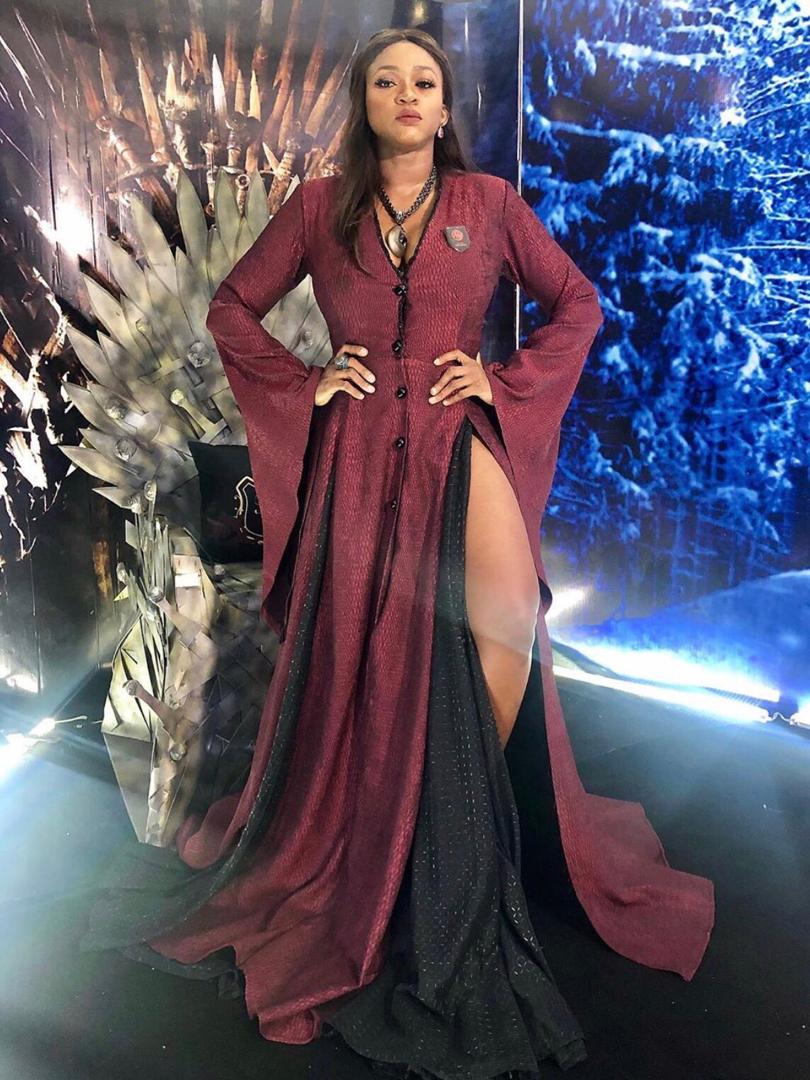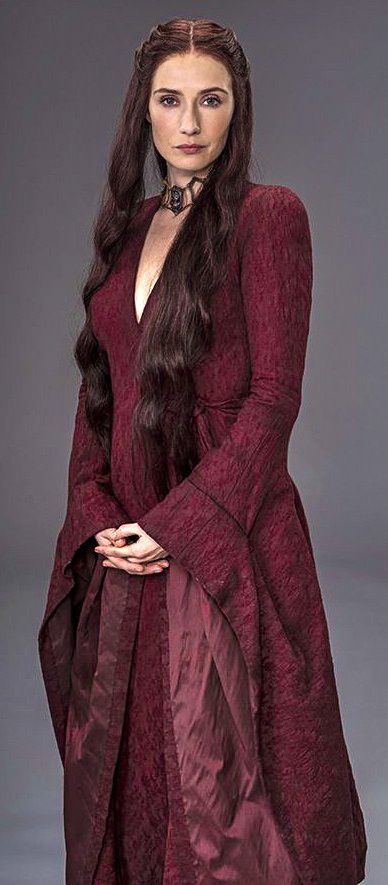 First of all, a round of applause for Waje. The songstress nailed this look so well. She not only got the style and design with a thigh high slit of her own, she got the exact shade of red. However I  wish she could have gotten a longer ox blood wig with a bigger necklace but we definitely loved it. I am sure the Lord of Light is as pleased as we are.
3. Dr Sid- Oberyn Martell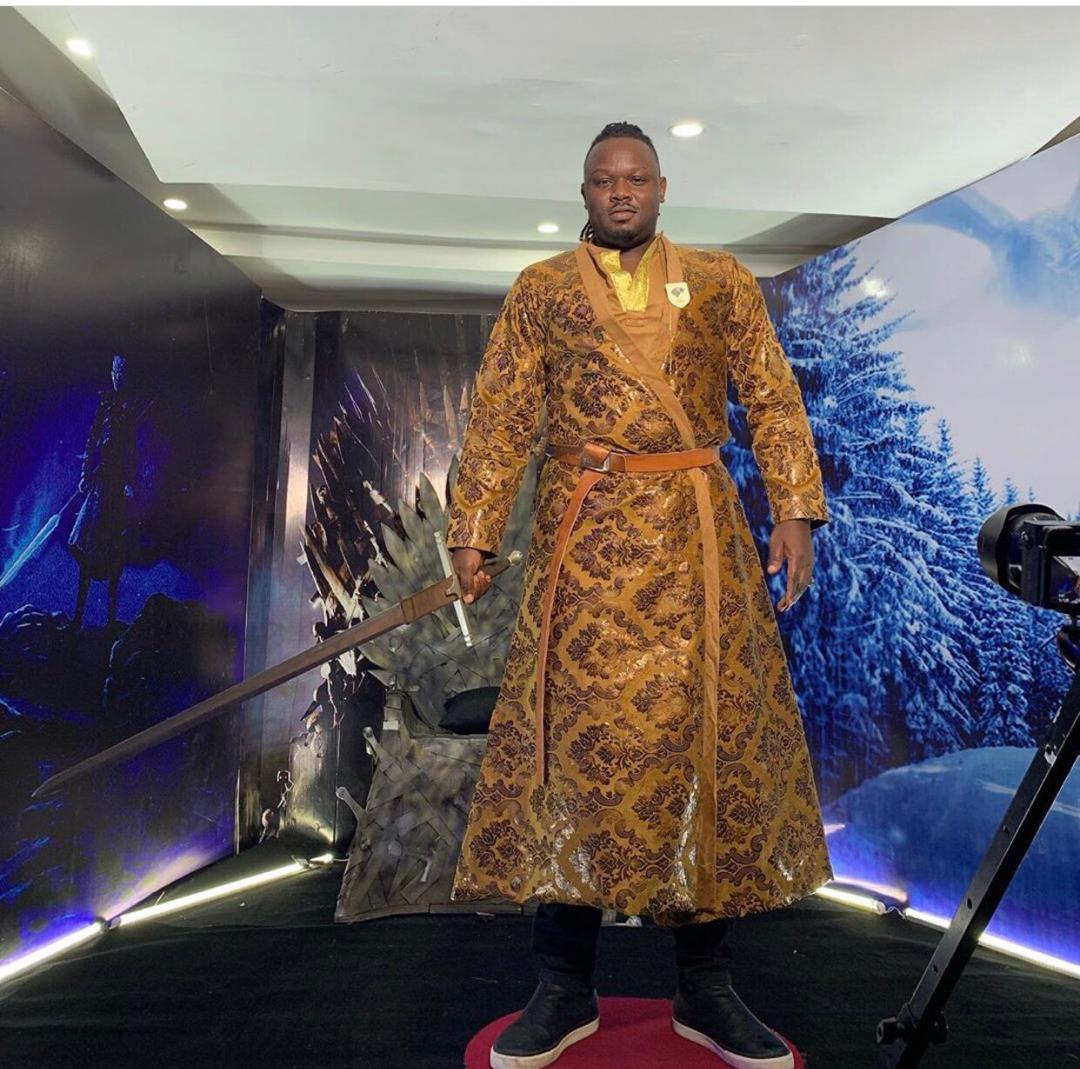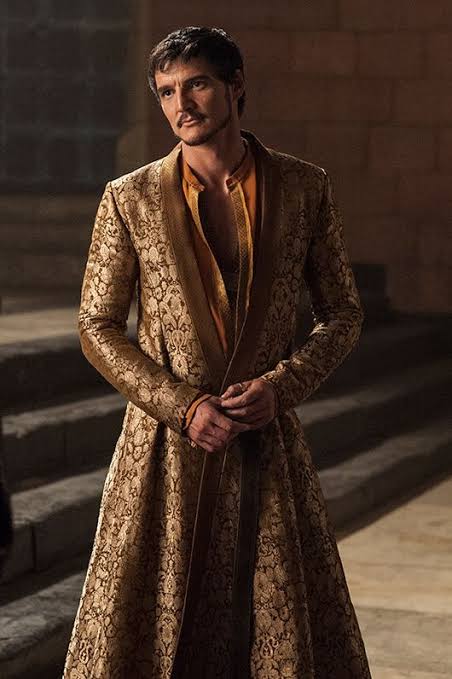 Big ups to Dr Sid, he definitely nailed this look. Oberyn always wore long bathrobe like outfits with different fabric designs. However, there seems to be a conflict with the outcome tho as there is another character who dressed similarly and has a similar body structure to Sidney-the self acclaimed King of Qarth- Xaro Xhoan Daxos. But Dr Sid as Oberyn was a hit!
4. Adesua Etomi- Daenerys Targaryen (Khaleesi)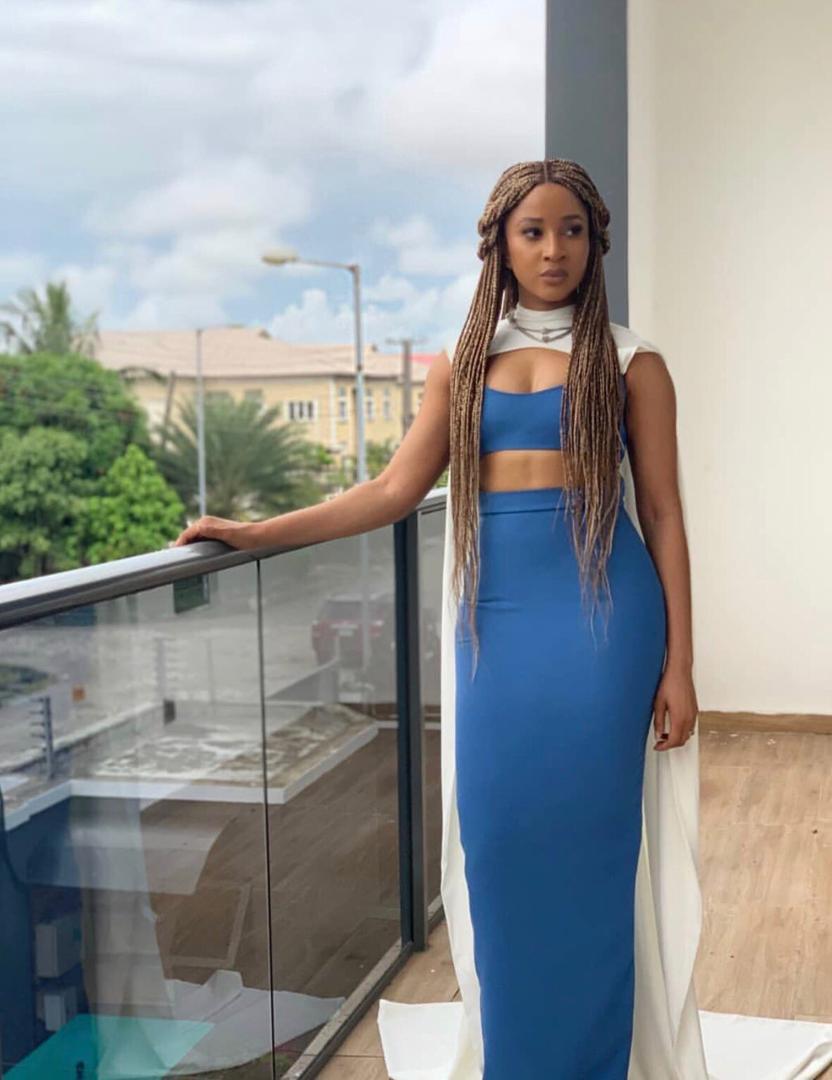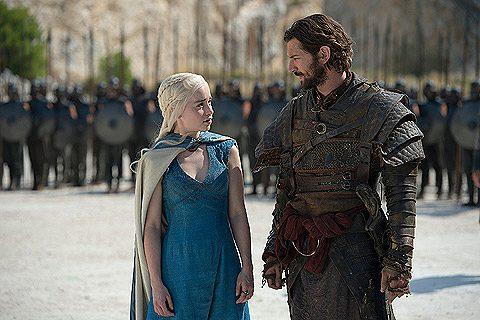 Susu tapped into the "breaker of chains" part of Daenerys' journey in season 4. It's not exactly the same style because Dany's was a knee length dress with a centre slit all the way to the waistline and she wore trousers underneath. Adesua used the same colours but designed it differently. She looked amazing!
5. Banky W- Ser Jorah Mormont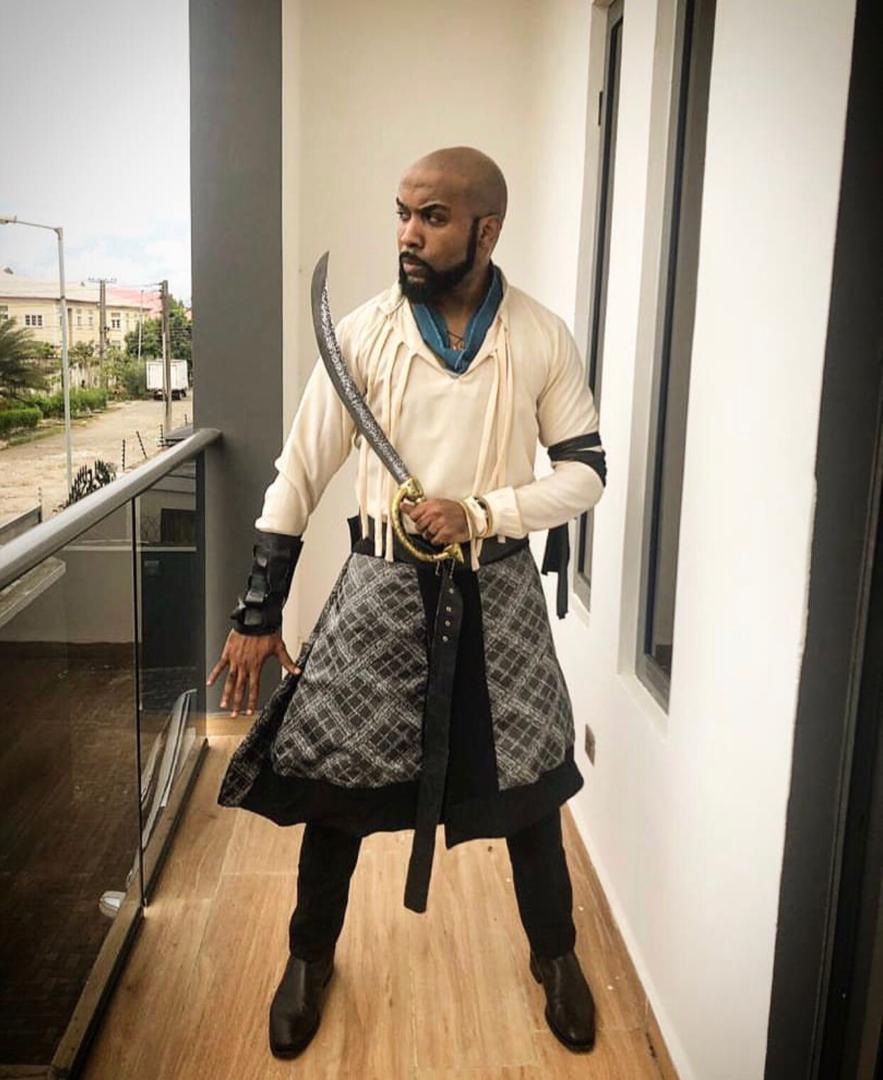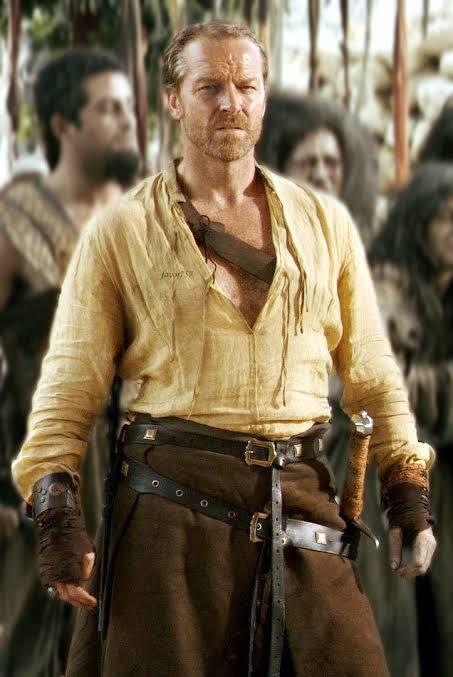 Woah!! When I saw Banky's outfit, I thought to myself- Yes!!! Somebody paid attention. Banky went all out for this look, he even got his own Dothraki sword. How cool is that! Now that's how you do it. The shirt, the skirt, the boot everything was on point. This look was from season 5 when Jorah was trying his best to get back in khaleesi's good grace. Nice one Banky!!
6. Ebuka Obi-Uchendu- Jon Snow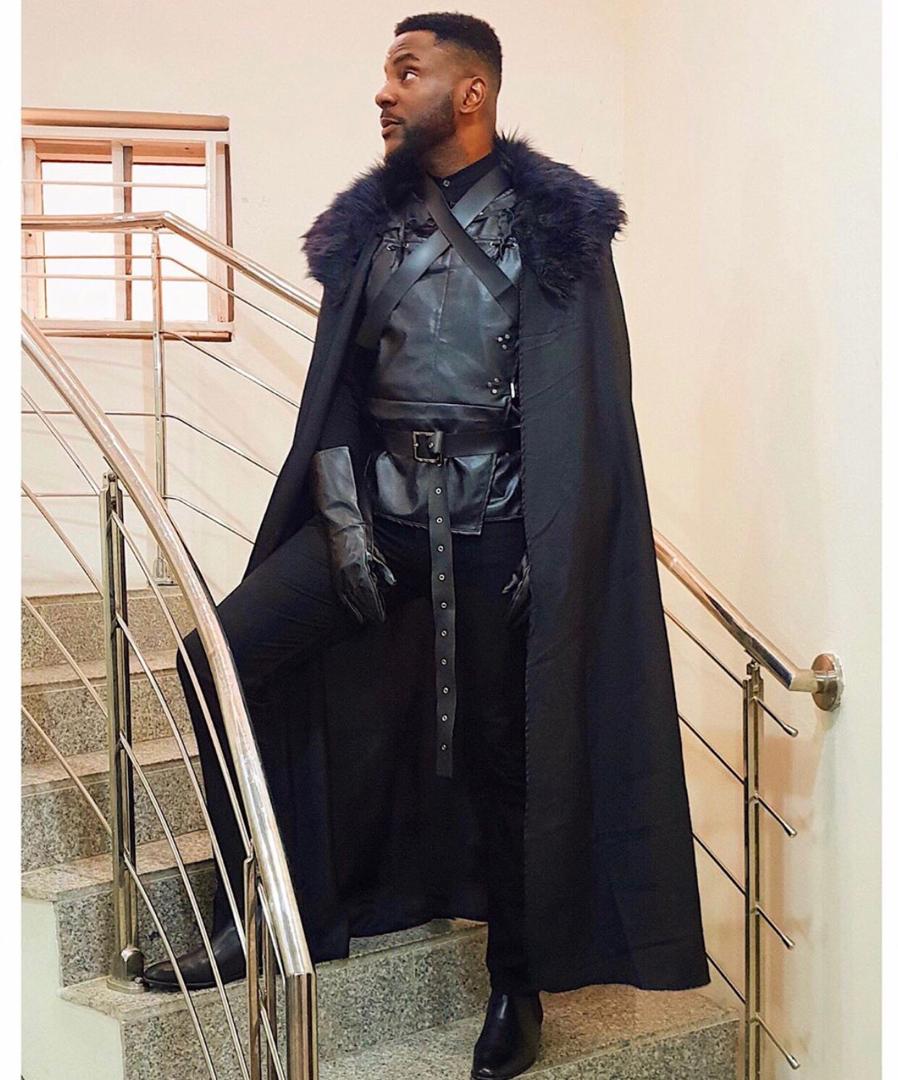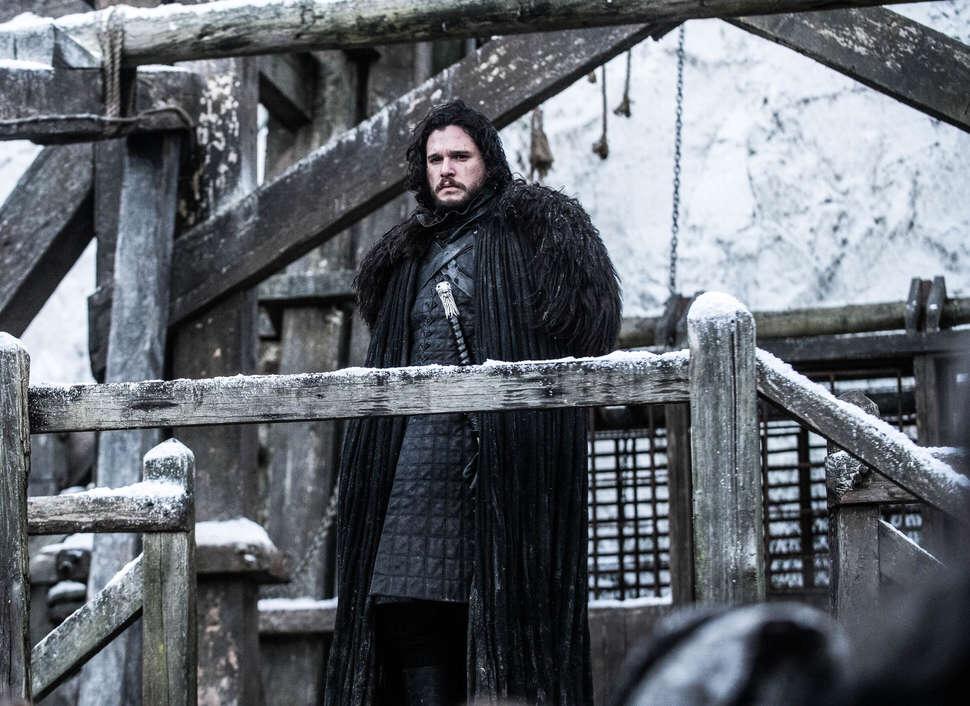 We all know Ebuka is arguably the best dressed male celebrity in Nigeria. He always shows up and shows out; huge example is his legendary agbada that broke the internet back in 2017. It really doesn't come as a shock that he'd nail this look. He always lives up to expectation. The all black leather outfit, complete with the black  fur coat, leather belt and black boots that Jon wore while at the nights watch was his style inspiration and we are here for it. We will always Stan!
7. Bovi- Night King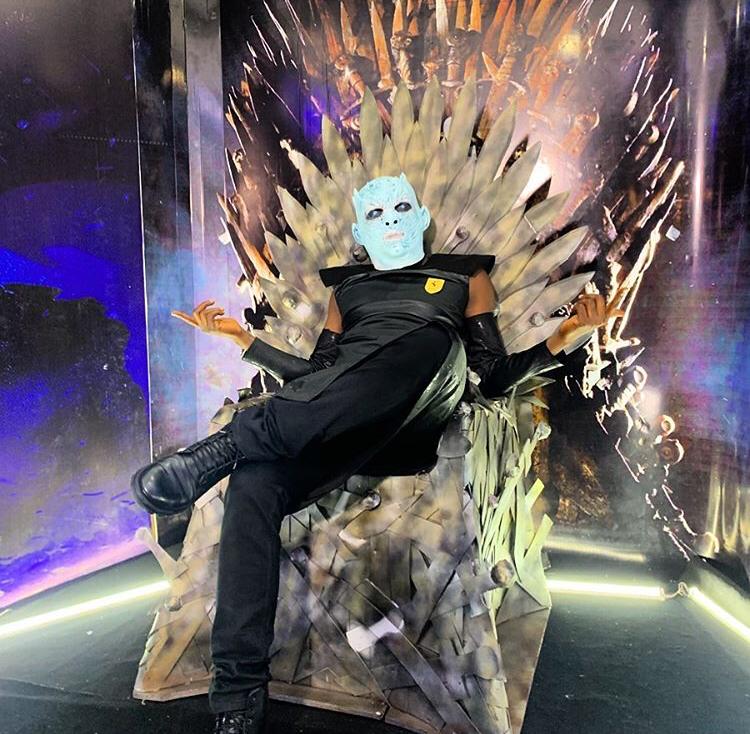 Bovi as the night king didn't quite hit the bar. Yes, he had the mask on plus the costume and a horse but he didn't quite sell the look. If you are going to dress like one of the most lethal villains in GOT, you better come fully correct, a la IK Osakioduwa.
8. Timi Dakolo- ….??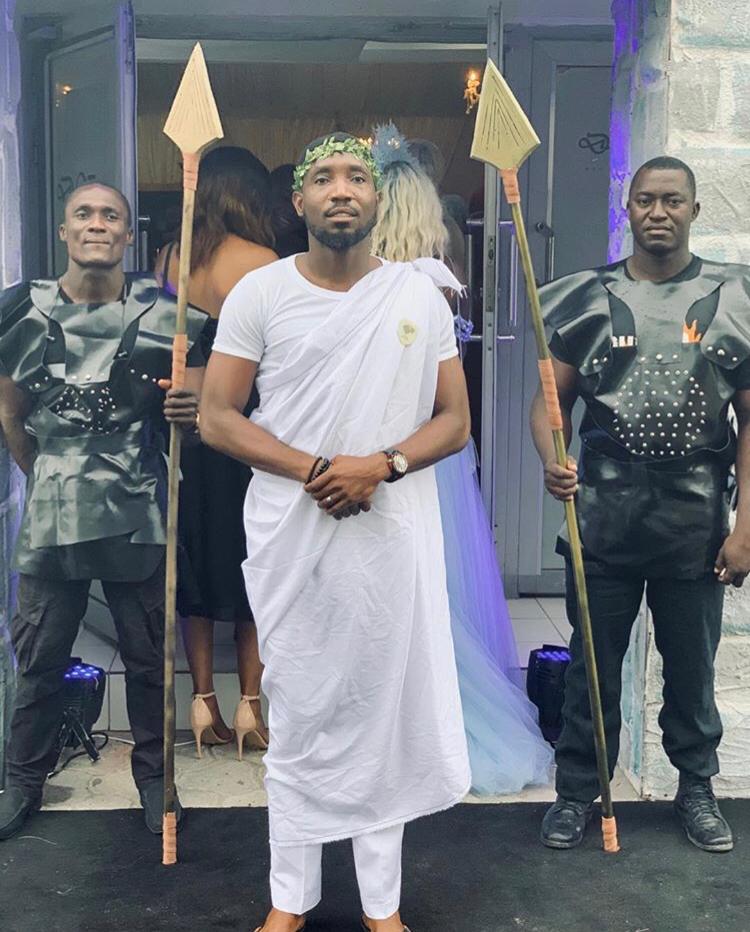 *smh* Timi has a lot of explaining to do. I can't begin to explain the disappointment I feel. The theme was  not Roman Empire neither was it Greek Mythology nor others. Why did you come through looking like Pontius Pilate from the Passion of Christ? With his height and build, Timi could have nailed characters looks such as Tywin Lannister, Oberyn Martell, Joffrey Baratheon, Lord Baelish, Khal Drogo ( ok maybe not Drogo) but you get my point. Timi, this was an epic flop! *rings bell* Shame!!
Uzi Kwendu- Khal Drogo

Uzi Kwendu as Khal Drogo

Khal Drogo
I looove this look. Drogo played by Jason Momoa was a huge a fan fave(especially for the females) not just for his valour and strength but also because he's incredibly hot. Like piping HOT!!! Uzi pulled off this look effortlessly. The right costume plus the body to match. A total hit!!
Toke Makinwa- Sansa Stark

Toke Makinwa as Sansa Stark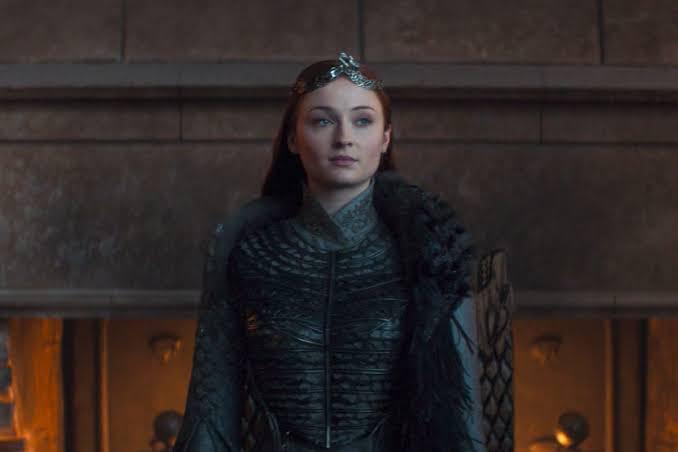 If you know Toke, you'd know she's a fashion icon in Nigeria. The multi media personality arrived at #IKsGOT40 as the Queen of the North– Sansa Stark. The black gown with a little jewel detail, black fur coat, hairstyle, gloves and not forgetting the grace and poise attributed to the character. This is definitely one of my favourite looks.
Falz – Lord Baelish (Little Finger)

Falz as Lord Baelish
Falz attended the party as Lord Baelish. Little finger- as he was fondly called, was one of the most stylish men of Westeros. He always adorned himself with rich velvets and is always well dressed. And Falz brought that same class to the party with a wristwatch and his usual circle lens glasses to the party. Big ups Falz!
Awesome Arthur- Caesar from Spartacus? 

This couple definitely did not watch Game of Thrones. Probably thought IK Osakioduwa meant Roman.
Another epic miss. *rme* I don't know if it's the desire to stand out or the innate Nigerian stubbornness, but this is a huge flop. The theme clearly says- Game of Thrones but Arthur and his wife went as characters from Spartacus…*smh* if he wanted to be a warrior so bad, he had the options of Grey Worm, Jaime Lannister, Ser Bronn of the Blackwater, Ser Jorah Mormont, Sandor Clegane (The Hound) and a host of others.
These are our favourites hit or miss looks, we would be delighted to know who was your best or worst dressed and the Lord of Light shall be your guide as the night is dark and full of terrors.
Written by Ethel Neboh