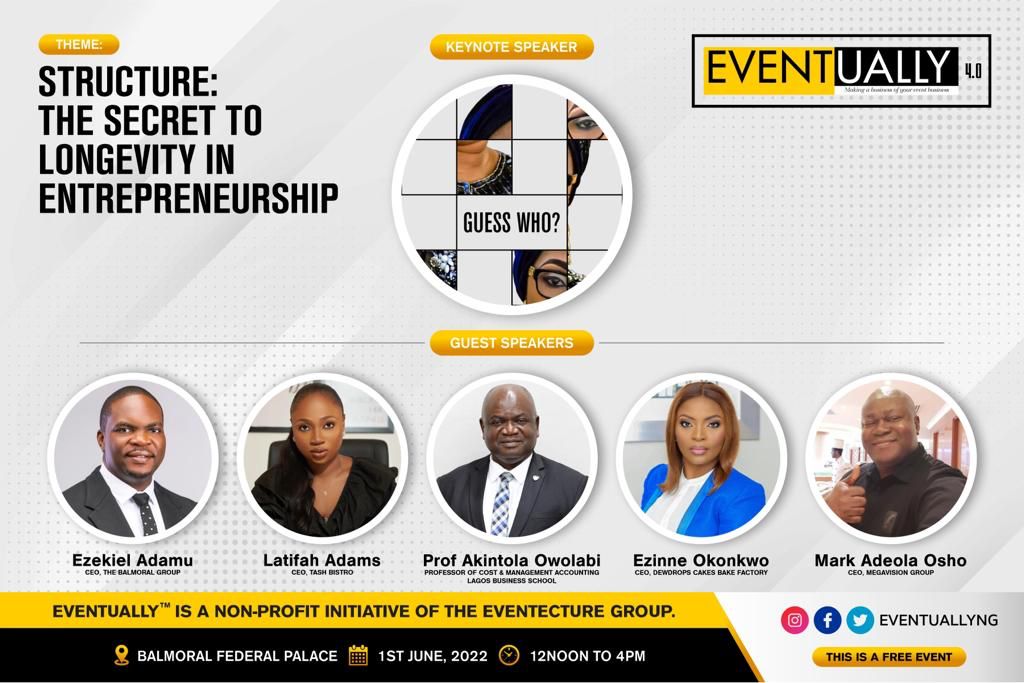 Eventually is the non-profit conference initiated by EVENTECTURE, the Event Design Company. Eventually seeks to have EVENT Professionals and Entrepreneurs collectively access and garner knowledge to positively impact their businesses.
About EVENTUALLY by Eventecture
You're too diligent to remain a mom & pop shop. The real flex is to build a business that thrives with or without your physical input on a daily. The only way to do this is by putting structure in place.
At this edition the guest speakers will be speaking from their wealth of experience and how having structure in place has helped them scale their business. I will personally be sharing on how building a structure circa 2019 prepared Eventecture take the global leap in 2021.
More info on the conference.
The annual conferences started in October 2018 and continue to be a resounding success. Join Us for the 4th Edition
Theme – Structure: The Secret to Longevity in Entrepreneurship.
Date – 01-06-2022
Venue – Balmoral, Federal Palace and Casino, 6-8 Ahmadu Bello Way, Victoria Island, Lagos,
Time: 12noon- 4pm
Attendance is FREE, however REGISTRATION is mandatory! Click HERE to register!