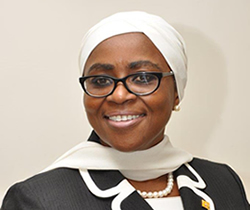 Mosun Belo-Olusoga, the Chairperson of Access Bank Plc, is to be awarded the biggest individual accolade of the year 2016 by the CHAMP Xceptional Women Network. She is nominated as the Xceptional Woman Of The Year 2016. This award is coming as a recognition and appreciation of her consistent contribution to the Nigerian Financial Services sector for over 3 decades.'
"Mrs Mosun Belo-Olusoga is one woman with admirable credentials, competence, character and a heart to help younger women live everyday like champions. Our search for The Xceptional Woman Of The Year began in May 2016 and from all our respondents, we received credible testimonials about the role she has played in the sector and in their careers." – Abiola Salami, Visioneer,  Xceptional Women Network

He further added that "Our goal in the Xceptional Women Network is to recognize a woman that is purpose-driven not because she is rich or famous; we are recognizing Mrs Belo-Olusoga because of her consistent contribution to Financial Services in Nigeria and by extension, to Africa. This we believe will serve as an inspiration to the over 1.5 million women we are currently serving across 30 countries.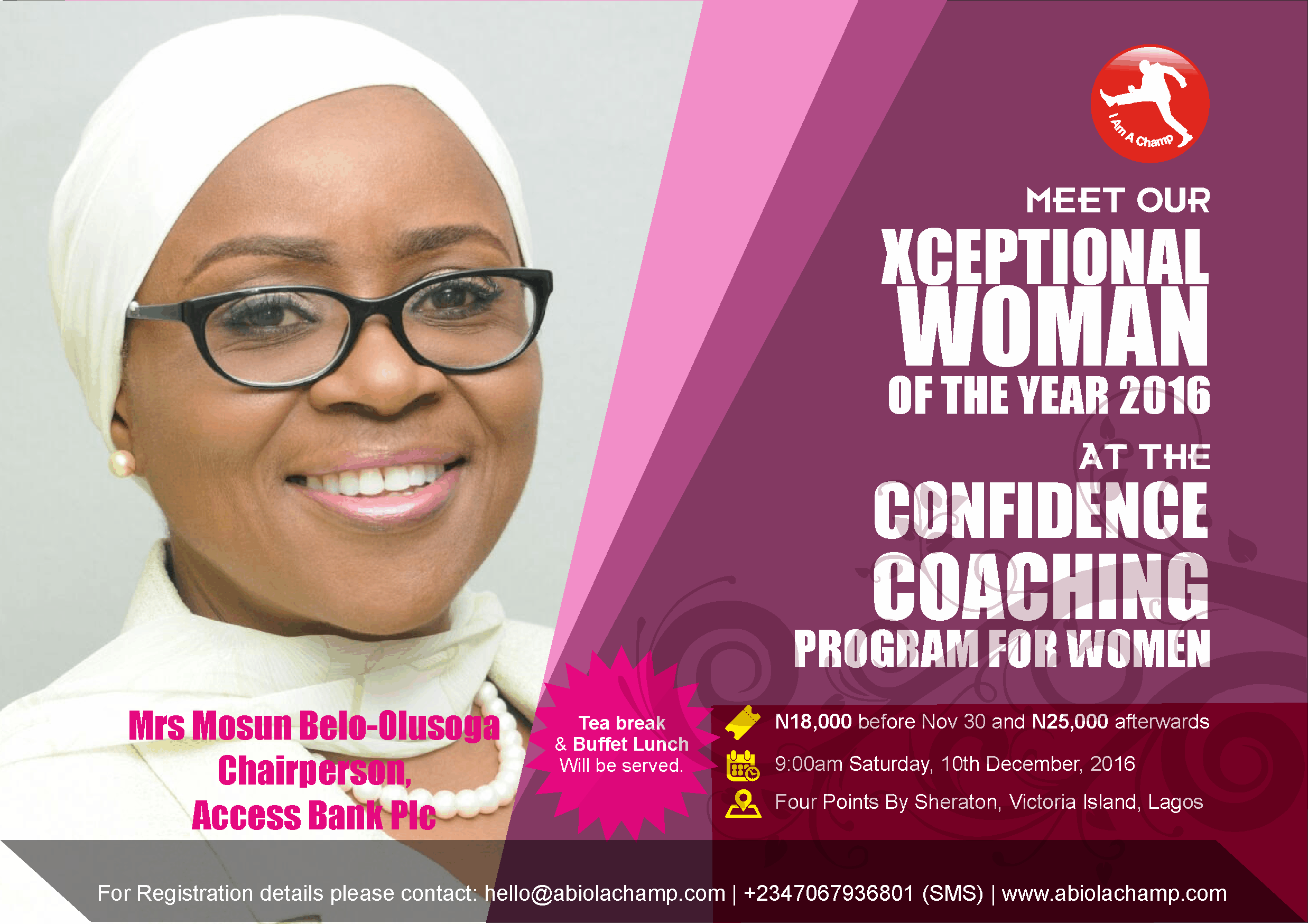 Aunty Mo as she is fondly called, will be leading other women to a time of fun, inspiration and connection at the Confidence Coaching Program holding this Saturday 10th December, 2016 at Four Points by Sheraton, Victoria Island, Lagos by 9AM. The program will also feature ​Abiola Salami, Africa's fast rising Life, Business & Executive Coach; Dolapo Badmos, Lagos State Police PRO; Neka Udezue, Director, United Securities Limited; Funmi Ajose-Adeogun; Patricia Obozuwa;Eniola Sheri Dada and other amazing women of the Xceptional Women Network while Ebele The Flutist will be dazzling the ladies  with melodious tunes.
About The Confidence Coaching Program
The Confidence Coaching program is to help women overcome Self Doubt, improve on Low Self Esteem and change Self Limiting Beliefs as they emerge and show their innate abilities'. can register here www.abiolachamp.com/ConfidenceCoaching
Women who register for this program stand a chance to win the following: Free hair styling, Free Facial Makeover, Free Luxury Massage Treatment, Free Photoshoot for 5 women and Free Dinner for two.
The Confidence Coaching Program will focus on 5 Areas of Competence for Women. They are How To Identify Low Confidence Triggers; How To Love Yourself As A Woman; How To Live & Thrive Beyond Negative Comments; How To Validate Yourself & Appreciate Genuine Validation and How To Be The #1 Lifter Of Other Women.
The high point of the program is the celebration of Mrs Mosun Belo-Olusoga as the Xceptional Woman Of The Year 2016.
Breakfast and Buffet Lunch will be served.