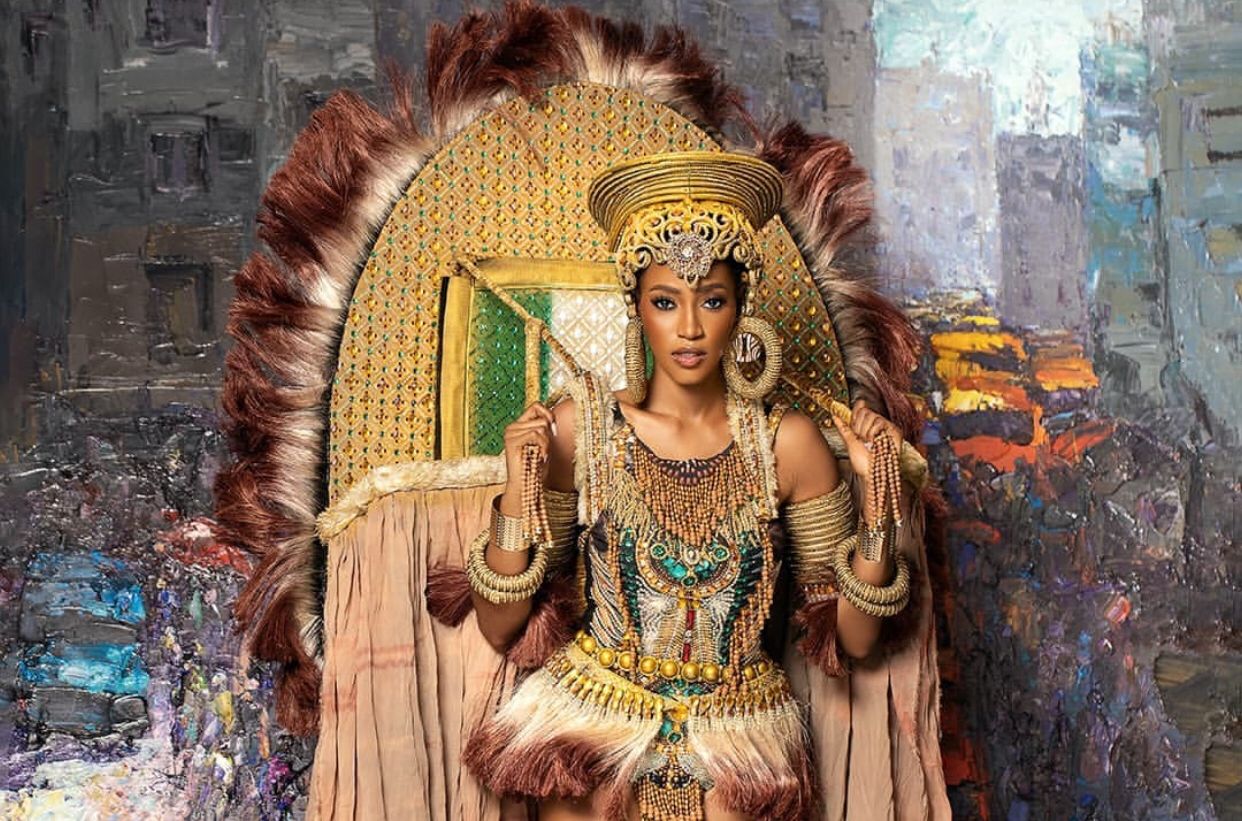 Beauty Queen, Maristella Okpala represented Nigeria in the just concluded Miss Universe beauty pageant that took place in Southern Israel. Although Miss Okpala didn't win the most coveted crown of the night, she made Nigeria proud by winning the "Best National Costume."
The controversial pageant came to an end with Harnaaz Sandhu of India crowned Miss Universe 2021 on Sunday. Nadia Ferreira of Paraguay and Lalela Mswane of South Africa were the first and second runners-up, respectively.
The 2021 Miss Universe competition was hosted by comedian Steve Harvey. Although Miss Universe Nigeria 2021, Maristella Okpala didn't emerge winner, the world will never forget her memorable stage costume, "Mmanwa."
Maristella Okpala talks on "The true African heritage".
"I must say the National Costume show is always my best part of any competition… It has a way of reminding us that we are all connected and we share similar rich cultures/religions. Irrespective of where we come from, it's only one HUMAN RACE."
"This beautiful creation is inspired by a famous traditional masquerade of the southeastern tribe of Nigeria called "Mmanwa". It is made of African beads, stones, and crafts. Watch her performance HERE.
Mmanwa
"Mmanwa is a female masquerade costume that's designed for ceremonial and festive purposes to celebrate the rich Nigerian cultural heritage. While paying closer attention to the strength women possess."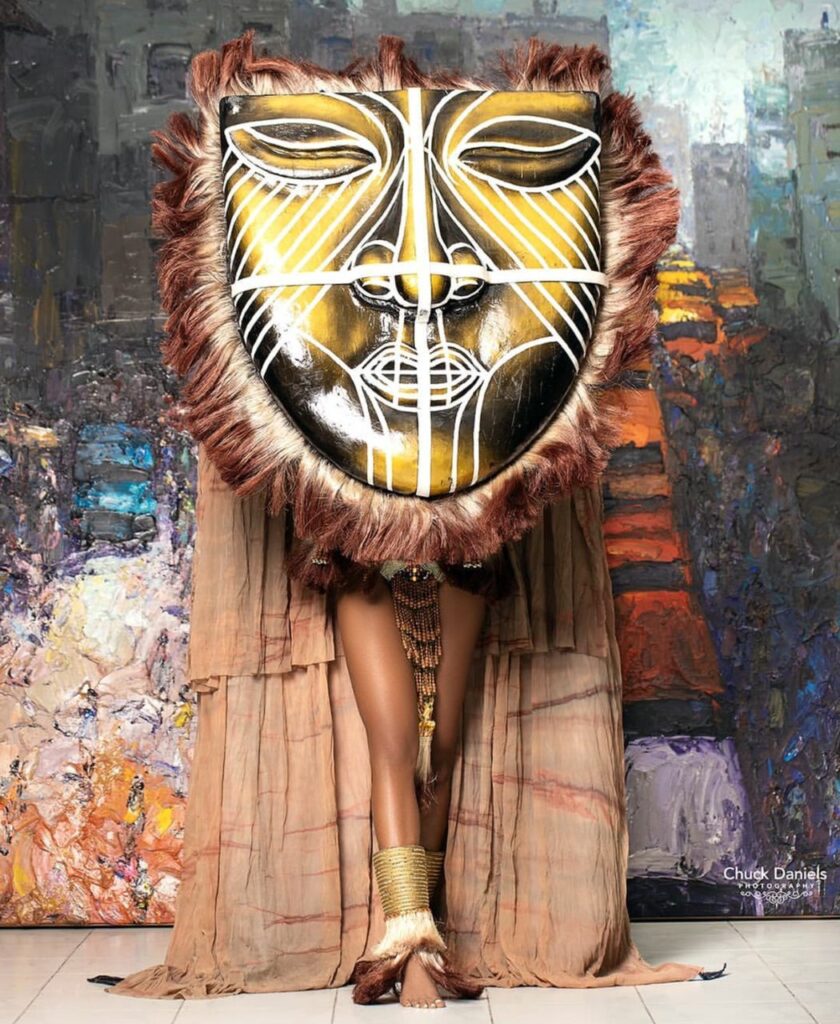 "It represents the beautiful Mmanwa who fought tirelessly to stop girl child mutilation and child slavery. The colorful patterns and embellishments portray the African dashiki, which offers a visual appeal forms meant to invoke the ancestral spirits."
"I picked this particular costume because I see a self reflection of my cause in this Mmanwa. Mmanwa who protects children and women against any form of abuse."
"Finally this costume pays attention to the strong will of women in attaining whatever height they want to attain. No matter the challenges faced while reaching their desired goals."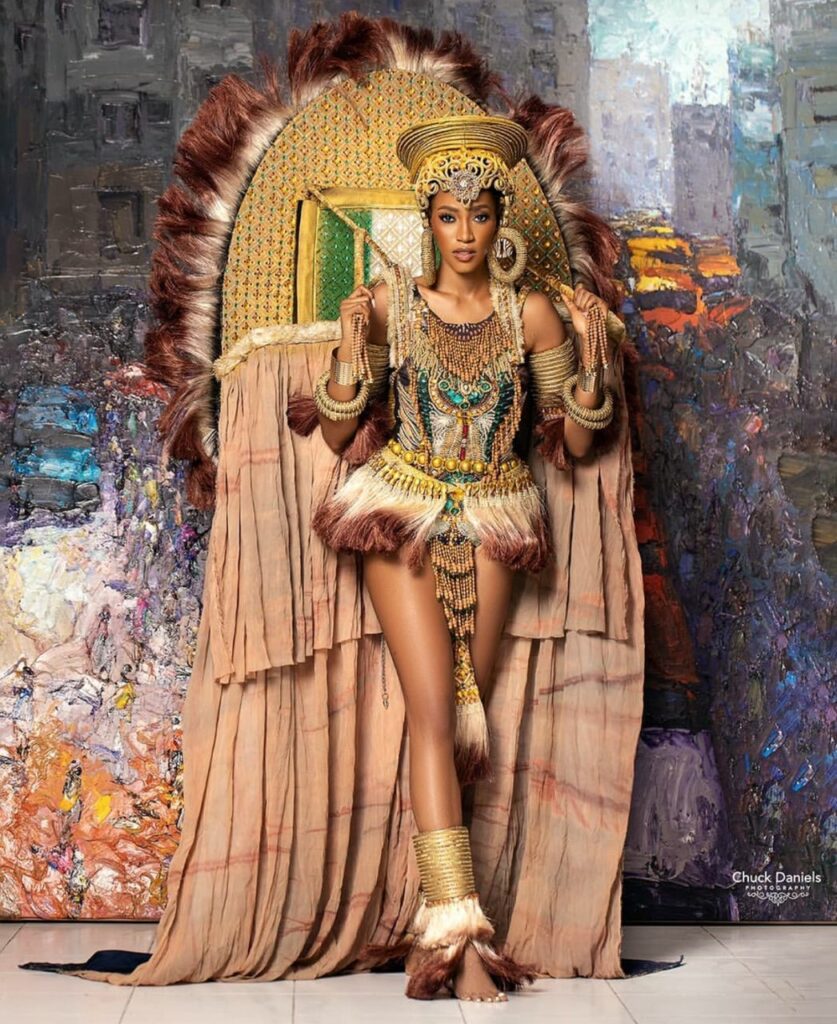 The costume was designed by filipino designer, Kennedy Jhon Gasper.
About Maristella Okpala
Maristella Okpala is a trained international airline flight attendant who's very passionate about education and the environment.
She obtained her Masters' degree in public health from the Imo State University in Nigeria. She's a strong advocate for early childhood education and the prevention of child abuse. Through her work, Maristella has been able to empower over 1,000 children with free education. This she does by providing all the essential materials needed for them to study. Maristella also provides humanitarian services to people living in the slum area of the Makoto community in Lagos, Nigeria.